A flaming good torch for the woodshop
May 19, 2023 | 2:09 pm CDT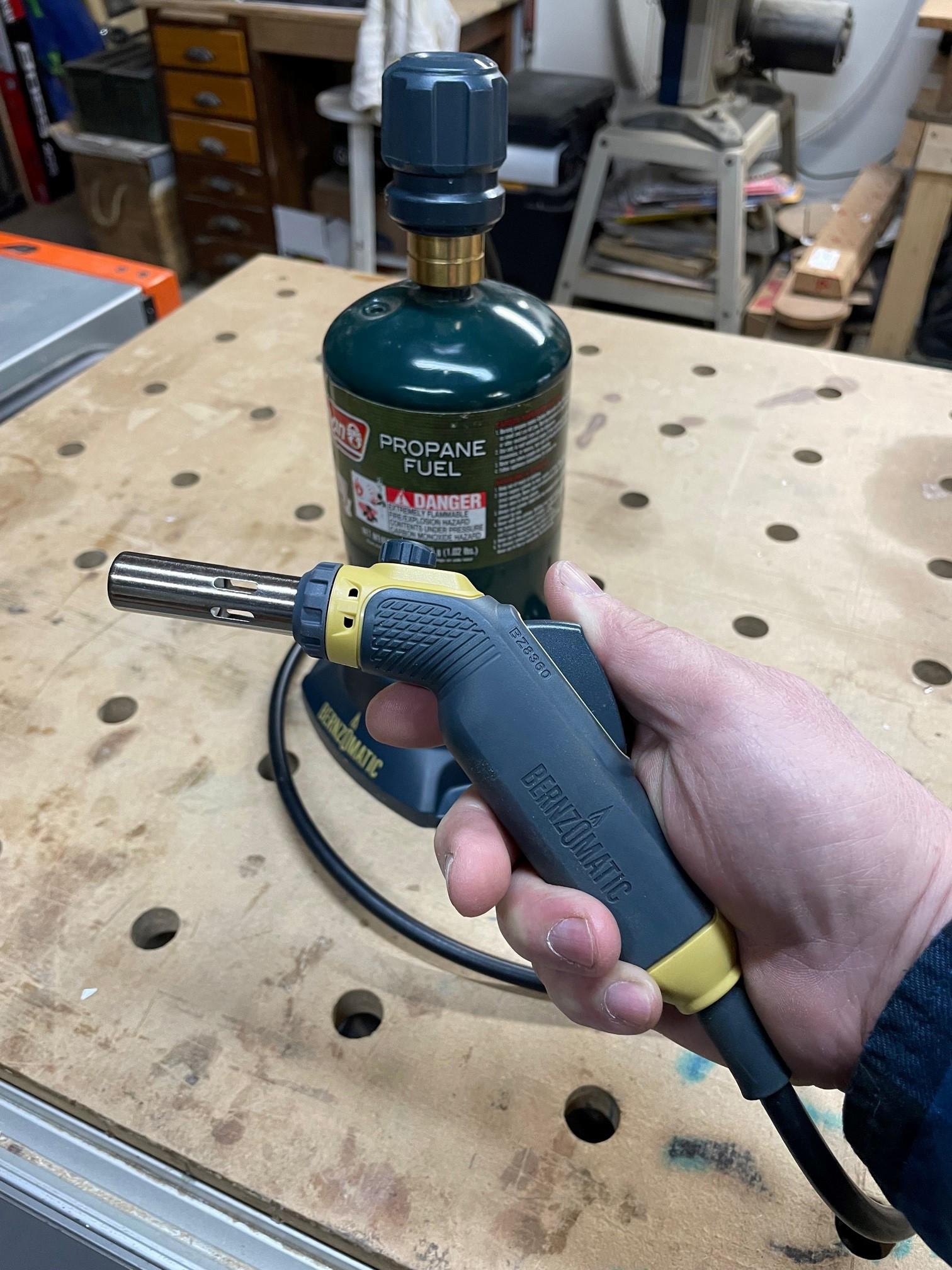 Most woodworkers probably don't think of a propane torch as a woodworking tool, but fire and wood are not mutually exclusive, and recent woodworking trends have brought torches into the woodshop. I had the opportunity to try out a new torch that makes those occasional uses of fire in woodworking more precise and easy.
Why fire with wood?
So, why would you even need a torch in a woodworking shop, and isn't that dangerous? Indeed. With all the sawdust and combustible dust hazards possible in a woodworking operation, we mostly try to keep fire and flame out of the shop. But some recent trends go against that tendency.
Fire as a treatment for wood is not new. Stone-age humans fire-hardened wood spear tips. Shou sugi ban, an ancient Japanese finishing technique, uses flame treatment of a dried wood surface to provide a unique and surprisingly durable finished surface that has been somewhat trendy in recent years.
Today, probably the most common use of a torch in the woodshop relates to epoxy as a wood decoration or finish. When epoxy is poured on wood, it frequently develops bubbles that could create flaws in the finished product. The easiest way to remove the bubbles is with heat, either an electric heat gun or a propane torch, with most considering the torch superior.
FirePoint option
I've done a few wood epoxy projects and used both heat guns and propane torches to remove the bubbles. The standard propane torch works pretty well, but it can be awkward to control. I like having a choice of tips with the heat gun, but sometimes the powerful stream of air directs the epoxy to flow in ways I don't want.
Bernzomatic, the iconic propane torch brand, offers a solution in their new FirePoint "creator tool." It's a fine-point torch handle attached by a 41-inch hose to a conventional propane or MAPP gas cylinder with an on-off valve. The cylinder mounts in an included stand, which also has a dock to safely store the torch while it is still hot.
The torch itself has a built-in ignition system and a gas control that allows for precise adjustment of the already fine-point flame. This gives you control approaching that on professional oxy-acetylene rigs.
I found the whole system is simple and a pleasure to use. The ignition system and lock worked really well. The hose is long enough and the torch handle light enough to give you real freedom of movement when maneuvering the torch. And the control dial gives really fine adjustment to the pinpoint flame produced by the unit.
Learn more at bernzomatic.com.
Have something to say? Share your thoughts with us in the comments below.