Chalk marker goes where pencils can't
April 8, 2022 | 3:40 pm CDT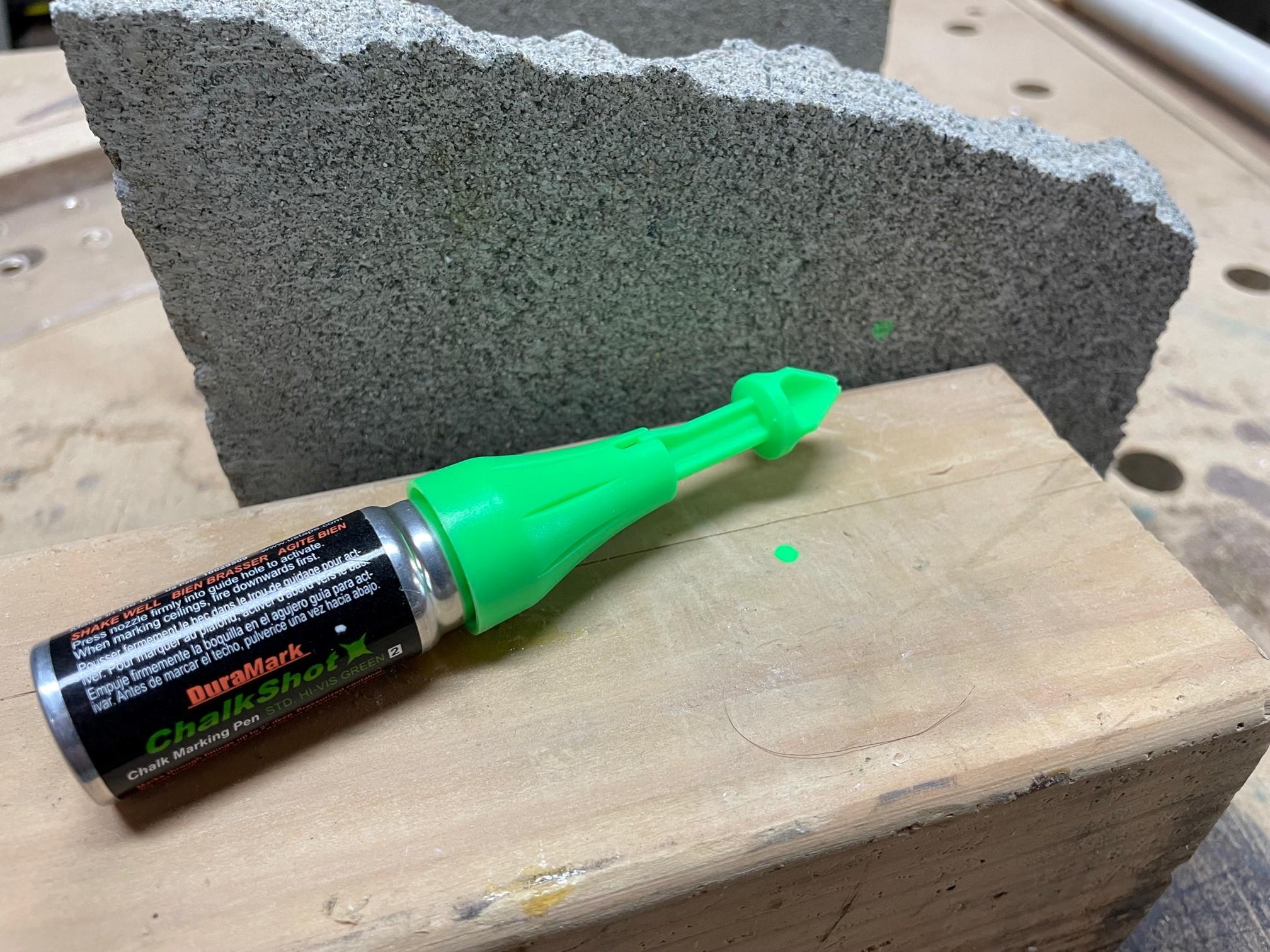 The best tools are ones that solve problems. In this case, the problem is trying to mark drilling locations precisely on a wide variety of materials. The tool to solve the problem is a clever chalk marker from DuraMark called the ChalkShot.

This marker solves a number of problems related to marking and layout. It makes a highly visible chalk dot mark. It works on materials that are famously difficult to mark. And it even marks through deep templates or mounting plates in which a pencil or pen won't reach.

What it is
ChalkShot has a small, pressurized container filled with high-visibility green chalk. When the nozzle end is pressed against a surface or a hole in a template or mounting plate, it fires a jet of chalk that adheres to the surface to make a mark. The chalk sticks well to concrete, tile, wood, metal, and just about any surface you can imagine.

Each canister, which is similar in diameter to a fat Sharpie pen, holds about 250 shots of chalk, so you can make a lot of marks before you have to replace the marker.

How it works
Easy to use, ChalkShot works in many situations that are really frustrating for marking. For example, if you have a deep mounting hole that a pencil or pen will not fit in to reach the bottom. That's no problem for ChalkShot. The marker is designed to work in holes up to 2 inches deep.

Another situation is awkward marking locations. ChalkShot will mark in any position at any angle including overhead. You just press the nozzle to the template or mounting plate hole, then you hear a little blast of air as the chalk dot fires.

After you use it, you can rotate the nozzle to a safe position so you can't accidentally fire it. When it's time to use it again, rotate the nozzle to the firing slot, shake the cannister to get it ready, then press it to mark as usual.

ChalkShot is made in the U.K. and is distributed in the U.S. by U.S. Tape Co. Typical cost of a unit online is less than $12. For more information, visit ustape.com.
 
Have something to say? Share your thoughts with us in the comments below.