It takes a strong plywood to make a portable dance floor
February 17, 2016 | 11:58 am CST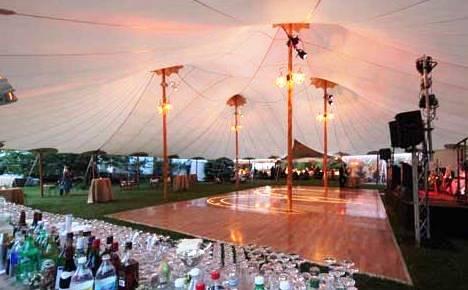 Dance floors have to be able to withstand much abuse, especially portable, rental ones that will be used outside. when they have to be portable. take a lot of abuse. The California Portable Dance Floor Company (CPDFC) has to create dance floors that could be exposed to the elements, and can take a beating while still being beautiful and functional.
To build such a floor, a strong plywood base is required. It also needs to have a tight core with no voids. And with the rising cost of AB grade Douglas Fir plywood, CPDFC needed a panel that was durable, but cost-effective.
The company chose Roseburg's BB radiata pine plywood as an alternative to Douglas fir plywood due to its similar durability at a lower price point, according to Roseburg. Roseburg says its radiata pine plywood meets the same criteria as sanded and underlayment panels under APA and U.S. National Standards while being exceptionally strong and stiff.
CPDFC now manufactures its custom, portable dance floors with BB radiata pine plywood panels for the base.
Have something to say? Share your thoughts with us in the comments below.