Tooling up for CNC manufacturing
April 7, 2020 | 4:30 pm CDT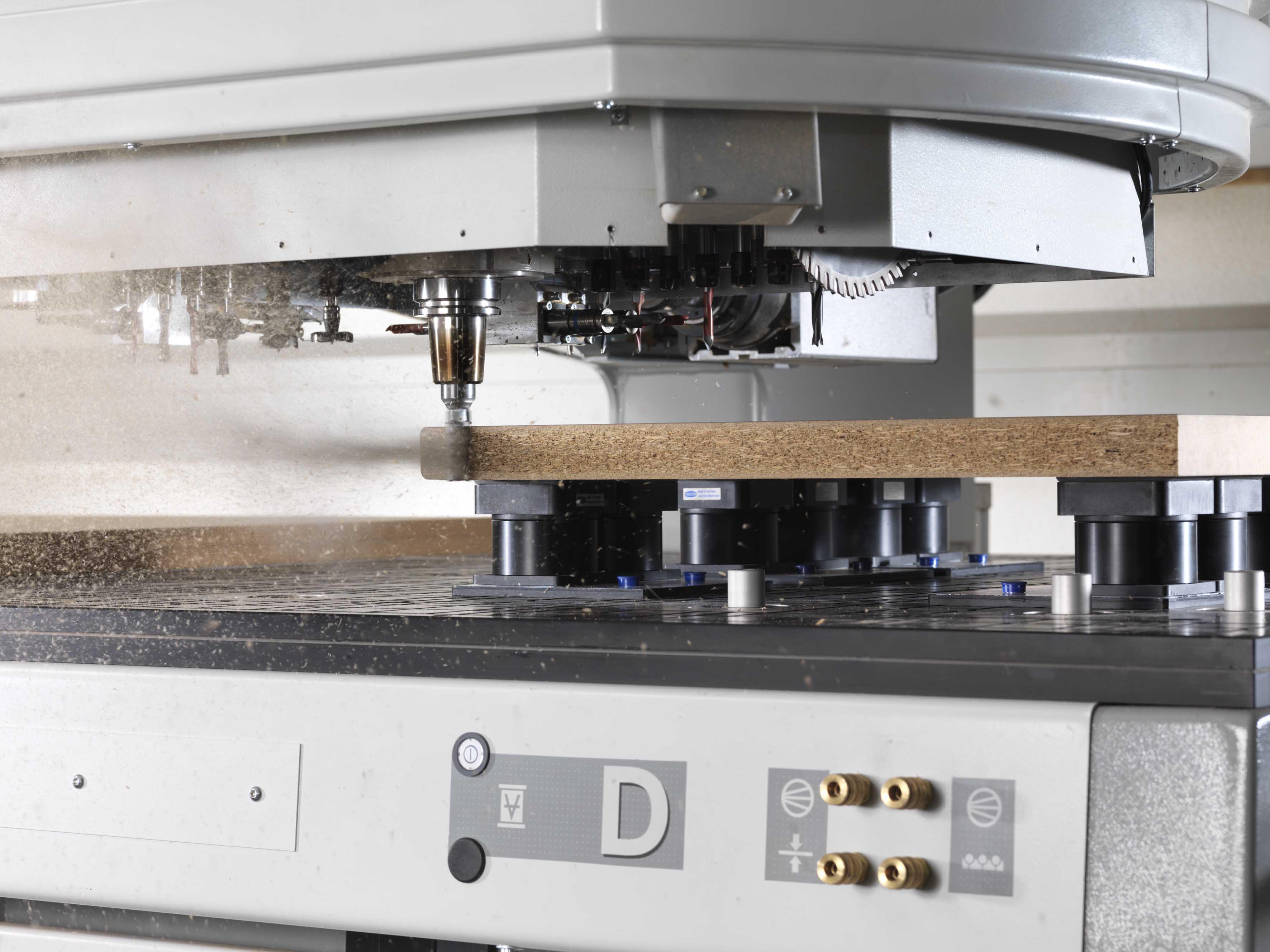 Photo By Leitz Tooling
Manufacturers commonly buy CNCs because these flexible machines promise to replace several manual machines and dramatically improve the capabilities and efficiency of the production shop. This transition is, of course, very achievable, but because of inaccurate tooling and application choices, many buyers are missing out on fully optimizing their CNC machine performance.
When key machining principals such as proper part fixturing, achieving ideal cutting velocity and chip load are overlooked it can significantly affect process efficiency and ROI. Developing strong relationships with your router supplier and qualified tooling experts will prevent catastrophic errors and expedite the integration and optimization of this critical machine technology.
Making the right tool choice
Many first-time CNC buyers will continue to use their inexpensive carbide-tipped tools on their new high-tech machine. These brazed carbide tools may "work," but are generally not rigid, precise, balanced or durable enough to provide ideal CNC performance. Brazed carbide tools are, by necessity, much softer and less wear-resistant than solid carbide or carbide insert tools. Tools designed around the CNC's operational specifications and your output will yield more efficient and higher quality results.
Solid carbide tools are also available in a range of hardness and durability levels that cannot be differentiated by eye. Carbide is essentially tungsten particles held together with a cobalt binder. Softer, less expensive routers are formed with 10% cobalt glue; harder more durable carbides generally have 3% cobalt concentration and may also include trace elements that resist thermal or mechanical dulling.
CNC operators may inadvertently settle for "softer/less durable" solid carbide tools because they've broken harder versions. Understanding why these higher quality tools broke (vibration, part movement, improper chip load, etc.) and addressing the issue will help you extend tool service-life and lower annualized tooling expenses.
Carbide coating options that improve surface lubricity, heat deflection, or increased cutting-edge hardness offer the next level of enhanced performance. These coatings are relatively inexpensive and generally provide much greater value to the user. Depending on how the tool must be sharpened, these coatings can sometimes provide extended performance over multiple service cycles.
Polycrystalline diamond (PCD) routing tools can provide the lowest tooling cost per unit of production, but the higher initial tool cost and risk of damage can be intimidating. It's recommended that operators transition to diamond tools only after they are comfortable with the operation of the CNC. It's also recommended that you form a partnership with a PCD tooling supplier who can guide you through the proper utilization and care of these tools.
The baseline cost comparison for PCD vs. solid carbide routing tools is generally less than 7:1, but the average performance comparison should exceed 15:1. Used correctly, PCD tooling will dramatically reduce tooling inventory and required tool changes, while maximizing machine uptime and efficiency.

Tool holding
Tool holding generally drives most CNC processing issues. Machine tooling start-up kits generally include basic collet chucks in one of three common collet versions (ER32, ER40 or SYOZ25/RDO35). Collets provide dimensional flexibility, allowing an operator to hold cutting tools with 1/8-inch to 1-inch diameter shanks in the same chuck body.
Apart from their benefits, collets are, however, the first weak link in an otherwise very rigid and precise machining process. The multi-directional torque applied to the collet when tightening or releasing tools can push the tools out of concentricity, and slight rotation or slipping of the tool will create internal damage which compounds tool run-out. Even the premium SYOZ25 collet system, which due to its 52mm grip length and 2.5-degree taper is the most precise option, can induce tool eccentricity and allow tool deflection. Collet systems also require significant maintenance and wear out over time, but issues which lead to poor tool performance are not always easy to visualize.
There are also several collet-free chucking options available. Your tooling representative can advise you on the products available.
In conclusion, in order to optimize your CNC-based manufacturing process, you must be aware of available cutting tool-related technologies and understand how to properly implement and utilize the technology. Tooling is the single machine accessory which can either limit or optimize your manufacturing efficiency and success. Having a knowledgeable tooling partner, with a worldwide perspective, will greatly enhance your ability to continuously improve your internal processes and keep your company at the forefront of the industry.
Source: Leitz Tooling Systems LP. For information call 800-253-6070 or visit LeitzTooling.com.
Have something to say? Share your thoughts with us in the comments below.