Can speed and accuracy in machining be maximized without compromise?
By Leitz Tooling
April 1, 2017 | 3:13 pm UTC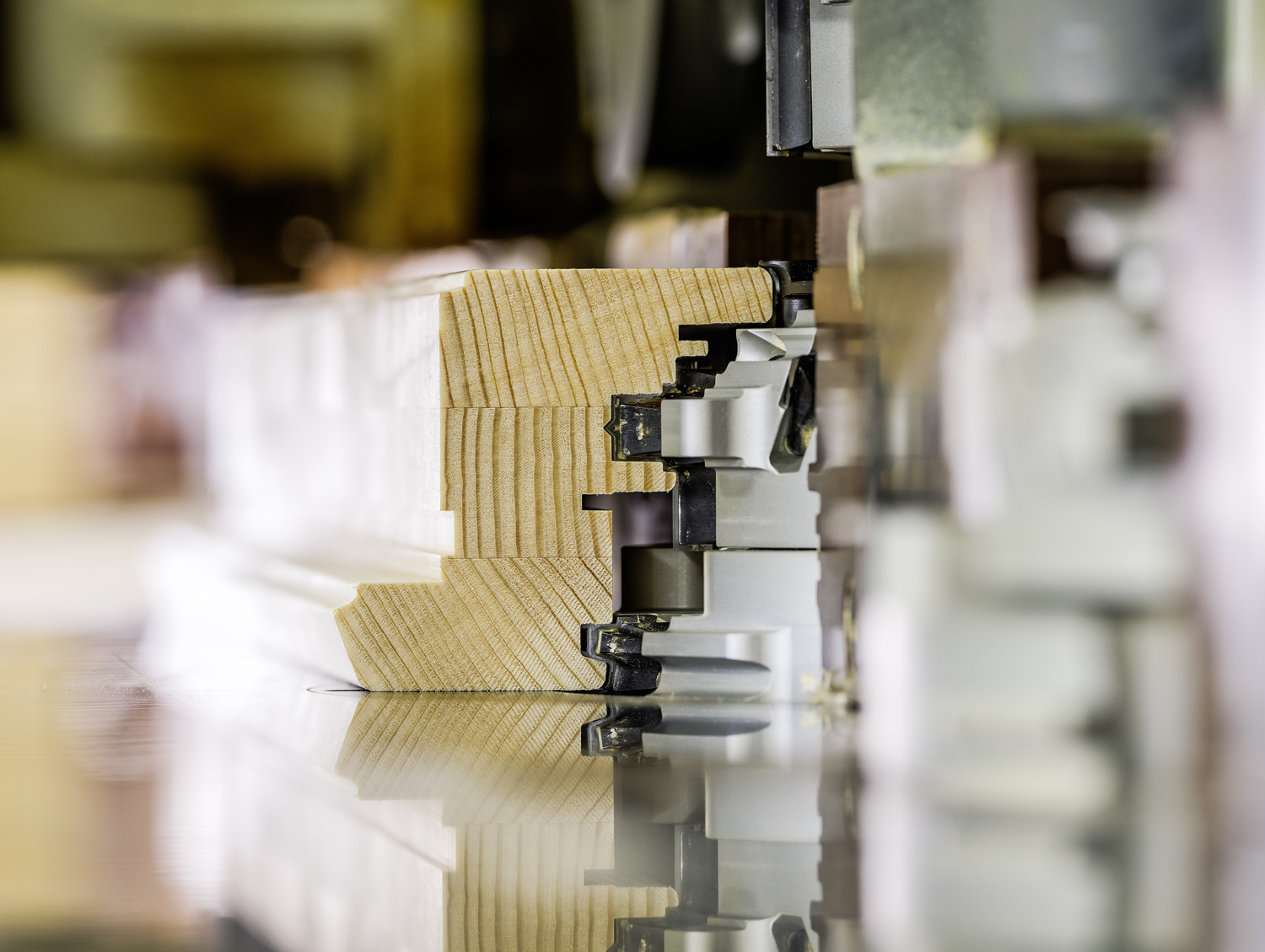 Today's manufacturers are pressured to produce more for less cost and at a faster rate than ever before.  The increase in production speed can lead to inefficiencies in the manufacturing process that cost organizations millions of dollars a year in waste, labor, and defective products.   Cutting tools that can stand up to the rigorous demand of today's advanced machining technology and production requirements, including repeatable accuracy and safety protocols, can help manufacturers eliminate these issues, ultimately lowering production expense, and increasing output and overall revenue. 
Where Do Problems Originate? Wood processing machine manufacturers have responded to ever greater production expectations by building machines that are capable of much faster workpiece feed rates.  This puts heavier demands on tooling systems to live up to the requirements of the machines.  It's important to note that there is a high-end and low-end of the spectrum when it comes to insert tooling systems.  Basic clamping systems and bolt-on insert systems compromise accuracy and safety when faced with the current manufacturing parameters and customer demands.  This creates more opportunity for defects such as plucking, tearing, ripping, and exit blow-out.  Poor finish quality also leads to additional sanding and finishing work, raising manufacturing costs.  Additionally, average carbide inserts won't give the edge life needed to overcome the opportunity cost of machine downtime to replace inserts or change over cutterheads.
Factors to Consider: Implementing a tool system guaranteed to perform at high cutting speeds, 90m/second, or exceptionally high cutting speeds of 120m/second, is necessary to keep pace with today's advanced machinery and the superior finish that customers demand. In addition to a high-performance tool system, using top-grade inserts optimize your production process.  Quality micro-grain carbide inserts coated with the most advanced formulas available will extend edge life and seriously reduce downtime.
Up to 120 mps processing speed with easy knife changeover and maintenance.
Tooling Advancements: When cutting quality matters, Leitz ProfilCut Q is the preferred tooling solution, even in the most demanding applications. The uniform clamping system utilizes profile knives and standard turnblade inserts to get the job done economically with the best finish quality. The unique clamping system places zero stress on the tool body, allowing for the use of aluminum alloy and closed-bodied designs to reduce weight, noise and vibration while optimizing balance, dust flow, and finish quality.  Clamping elements are protected from dust and resin build-up for quick and easy knife changes – without setting gauges or other measuring equipment or the need to completely disassemble the cutter set.  ProfilCut Q provides perfect accuracy and repeatability with every knife change.
With a cutting speed of up to 120 m/second, the ProfilCut Q Premium system outperforms any insert system available on the market in terms of productivity and surface quality — saving time and money. The new clamping system has been designed and tested for the highest peripheral speeds, with a surface coating to reduce abrasion, shock loads, and heat build-up.  The innovative design provides noise reduction of up to 3dB(A). Pre-loaded clamping elements result in fast, easy, and accurate knife changes that can be completed in the cutter set without disassembly. 
Leitz has set the standard in knife performance with the exclusive Marathon Coating technology.  Only available on Leitz cutting tools, Marathon Coating improves knife life by 25% to 200% in solid woods. The optional high-performance coating TDC (Tungsten Diamond Coating) is an innovative development using tungsten carbide coated with diamond, known for its strength and heat durability. TDC-coated carbide increases performance by up to three times in hardwoods, panel materials and plastics.  Wear resistance and reduced abrasion protect resources and reduce costs.
The ProfilCut Q Premium
Real Results: Organizations that have upgraded to the ProfilCut Q and ProfilCut Q Premium are quickly seeing the return on their investment. A large producer of kitchen cabinet doors has significantly reduced scrap associated with profile mismatching and tear-out on cross grain coping cuts. What's more, they did so at faster feed rates than ever before, and the life of their insert knives nearly doubled.  Another organization, a major producer of exterior doors, eliminated virtually all customer claims of rejects of their high-end doors. The doors are engineered to withstand high humidity without losing any structural integrity, so profile design, accuracy and repeatability are imperative to their success. 
To be competitive in today's fast-paced environment, manufacturers must strive for organizational efficiencies without compromising quality products.  Straightforward applications, like upgrading to a premium, reliable, and accurate tooling system, can make a positive impact on your manufacturing process, productivity, and bottom line.  The ProfilCut Q and ProfilCut Q Premium are the choice cutting tool systems to ensure cost savings while maintaining manufacturing excellence. 
For information call (800) 253-6070 or visit LeitzTooling.com
Have something to say? Share your thoughts with us in the comments below.