Smart manufacturing helps office furniture maker boost output
September 2, 2020 | 11:38 am CDT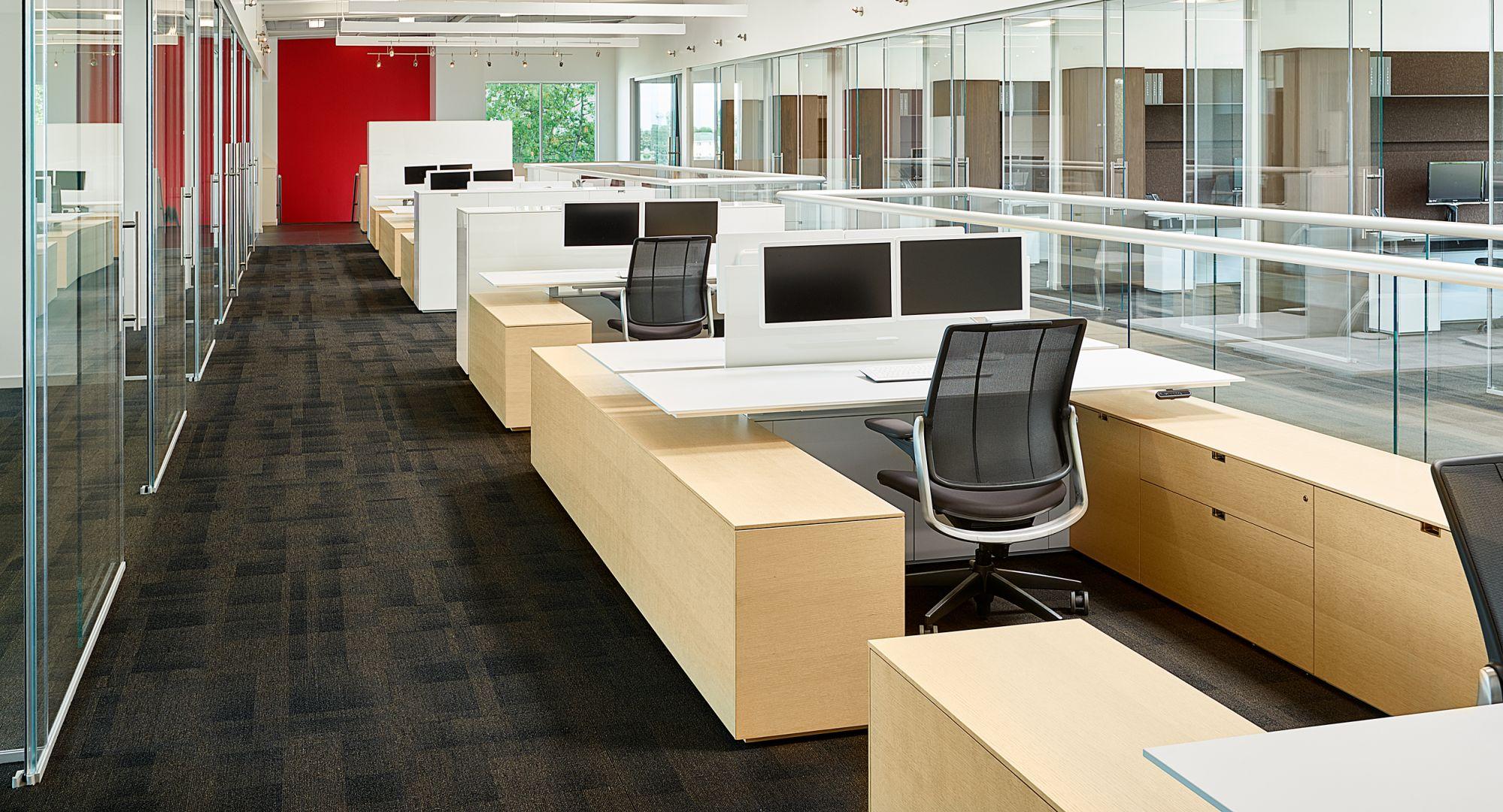 Halcon Furniture is improving its efficiency and output while maintaining the award-winning quality it is known for.
Based in Stewartville, Minnesota, Halcon designs and manufactures high-quality contemporary wood office furniture. The company is developing attractive designs and smart technical products in its market and has won numerous design awards at industry events such as NeoCon.
Halcon's special features include a balanced and matched wood grain on both front and corner surfaces, a sophisticated miter folding technique, an edge that is designed to prevent damage to chairs and tables, and invisible cable laying.
The company has been on a growth path for a number of years and had already undergone several changes. It needed to renew existing concepts and technologies while expanding its production operation.
Expansion plan
Casegoods and conference tables have both grown at a steady pace over the years. Halcon continues to launch award-winning products such as the Halo conferencing line which took the NeoCon Best of Competition award several years ago.
For Halcon, it was time to re-think the entire area of parts machining and milling, as well as the cabinet assembly area. All this was to be done with the goal of increasing output by 50 percent.
Halcon expanded manufacturing 18,000 square feet in 2019, increasing the total to more than 300,000 square feet. The 2019 expansion allowed them to add equipment as well as reorganize nearly 75,000 square feet of current manufacturing space to increase total capacity, capabilities, and product quality. Schuler Consulting, part of Germany's Homag Group with offices at the Stiles Machinery headquarters in Grand Rapids, worked with Halcon on its expansion.
Two CNC routers, two edgebanders, and a widebelt sander were added. On top of the new equipment, every piece of machining and milling equipment was moved to help increase production flow.
Also, double end tenoning was replaced by several CNC routers. As a result of a productivity calculation, Schuler recommended this technological replacement and advised on the line specification. Based on this, Halcon made its own decision about brand and model, said Florian Hauswirth, Senior Manager America, Schuler Consulting GmbH.
Halcon continues to launch award-winning products such as the Halo conferencing line which took the NeoCon Best of Competition award several years ago.
Goals for investment
Halcon's prerequisites for any investment or reorganization included not compromising on product quality, increasing output without increasing labor, and allowing for flexibility and the possibilities for product customization.
When Schuler first saw the Halcon manufacturing operation, they saw that due to historical growth, the material flow had become quite complex, Hauswirth said.
Frequent manual part handling with unstacking, re-sorting and re-stacking was also observed, an activity that can be time and cost intensive.
"We were also able to observe organizational improvement potentials in the area of assembly," Hauswirth said. "This concerned the provision of parts, work processes and especially the aspect of 'let the work simply flow' of the assembly process.
"It became clear that value stream optimization was one key approach. Eliminate or move bottlenecks in production in a way that the (work-in-process) is pulled out from part manufacturing instead of being pushed in."
Hauswirth said another goal was to reduce set-up times of workstations by distinguishing "internal" and "external" set-up operations. External set-ups are those that can be carried out while the equipment is still operating. They need to be organized appropriately so that machine stops are reduced to only what is absolutely necessary for internal set-up operations.
Sorting and stacking
The production organization was complex. Parts were sorted before and after tenoning as well as before and after the routing processes, so the system required a relatively high handling effort.
The processing sequence of the parts was not always clear. Visibility of the part routing was limited. Sorting decisions were mainly determined by experienced operators. The number of stacks grew after each sorting process so the status of a work order with all its stacks was difficult to control.
Schuler's approach was to restructure both manufacturing processes and the sorting practices. In close collaboration with Halcon's specialists from manufacturing, engineering and IT, the existing processes were first analyzed in detail. Alternative concepts were jointly developed, calculated and evaluated. Costs and benefits were assessed and a set of measures was adopted.
Tenoning was removed from the process. The CNC department was redesigned and reorganized. Cutting parts was transferred from the tenoner to the CNC routers. Sorting was simplified and reduced to essential tasks to achieve a higher production flexibility.
Through the change in machining processes, combined with a smart stack definition and an intelligent part-to-stack allocation, four sorting processes became two.
Hauswirth said a consequent "sort by routing" was applied, with clear decision criteria that do not require personal intervention and that leaves no room for misinterpretations.
Halcon's IT department now took on the tasks of mapping the new sorting rules in the IT concept and implementing it for the shop floor.
Handling and assembly
The changes led to many positive effects. Part routings have become absolutely clear. Intuitive decisions are no longer necessary. There is a high visibility of the work in progress. The effort for sorting and handling has been substantially reduced. And productivity has approximately tripled.
In the next step, Schuler developed a concept to optimize the assembly area, with the objective of achieving significantly higher productivity.
For years, cabinets had been assembled on individual tables because of their complexity. With Halcon's production specialists providing detailed data of the assembly approaches and methodologies, Schuler mapped out an entirely new workflow for those cabinets that can be clamped. Pre-assembly processes were redefined. Material supply and feed, as well as part staging and item kitting, was re-organized. As a result, the assembly area is now part of a real flow.
All these measures led to fewer material handling efforts, a reduced work-in-process, highly accelerated throughput times and much higher productivity.
Ultimately, Halcon went a step further and entrusted Schuler with redesigning the factory layout so that the new organizational principles could be implemented. Here the focus was on designing the material flow in such a way that the building conditions and minimum possible handling are integrated. Machine positions were completely rearranged. Workflow was converted to mainly roller conveyors. Cul-de-sacs and manual interruptions were removed and the material was allowed to flow.
Rewarding employees
"We're incredibly happy to be sharing success with our entire Halcon family (the company has 400 employees). This team works tirelessly to produce innovative, award-winning office furniture of the highest quality," said Ben Conway, president of Halcon Furniture, after the expansion. "Their absolute dedication and pride is why we continue to be the very best in the industry."
Peter Conway, Halcon founder and chairman, said earlier, "We've continued to invest heavily in facility expansions and equipment, and our entire team has done a truly amazing job of managing change while product demand remains at record highs. I'm extremely proud of what our people continue to achieve."
This project showed how the intensive cooperation between the specialists of the producer, Halcon, and the engineering specialists, Schuler, can lead to successful results. The concept developed by Schuler has enabled Halcon to make investments with accuracy. Manufacturing flexibility has been extended even further and finally the productivity was greatly increased.
The resulting new manufacturing concept is promising for the future of Halcon and already meets the requirements of tomorrow.
Schuler Consulting worked with Halcon on its expansion and manufacturing reorganization.
FACTS:
Halcon Furniture
Stewartville, Minnesota
Product: Custom office and contract furniture
Plant size: 300,000 square feet
Employees: 400
See http://www.halconfurniture.com
http://www.schuler-consulting.com/
Physical expansion
It would have been possible to streamline organizational aspects of the production without expansion. It would have resulted in a reduction of physical part handling and in higher productivity and accelerated throughput, said Florian Hauswirth, of Schuler Consulting.
"However the fact that Halcon had decided to increase the capacity of the line provided Schuler with the possibility of a fully integral approach," he said. "We were given the freedom to entirely re-think the organism, with its organizational aspects, batching aspects, process sequences, equipment specification and intralogistics.
"Being able to change machine locations was a prerequisite for us to re-arrange the intra-logistics. Not only to eliminate unnecessary material handling and part travel distances, but also to implement the 'pull principle' with new equipment and production organization."
Have something to say? Share your thoughts with us in the comments below.