Smart Manufacturing To Look at Industry 4.0
December 7, 2015 | 9:15 pm CST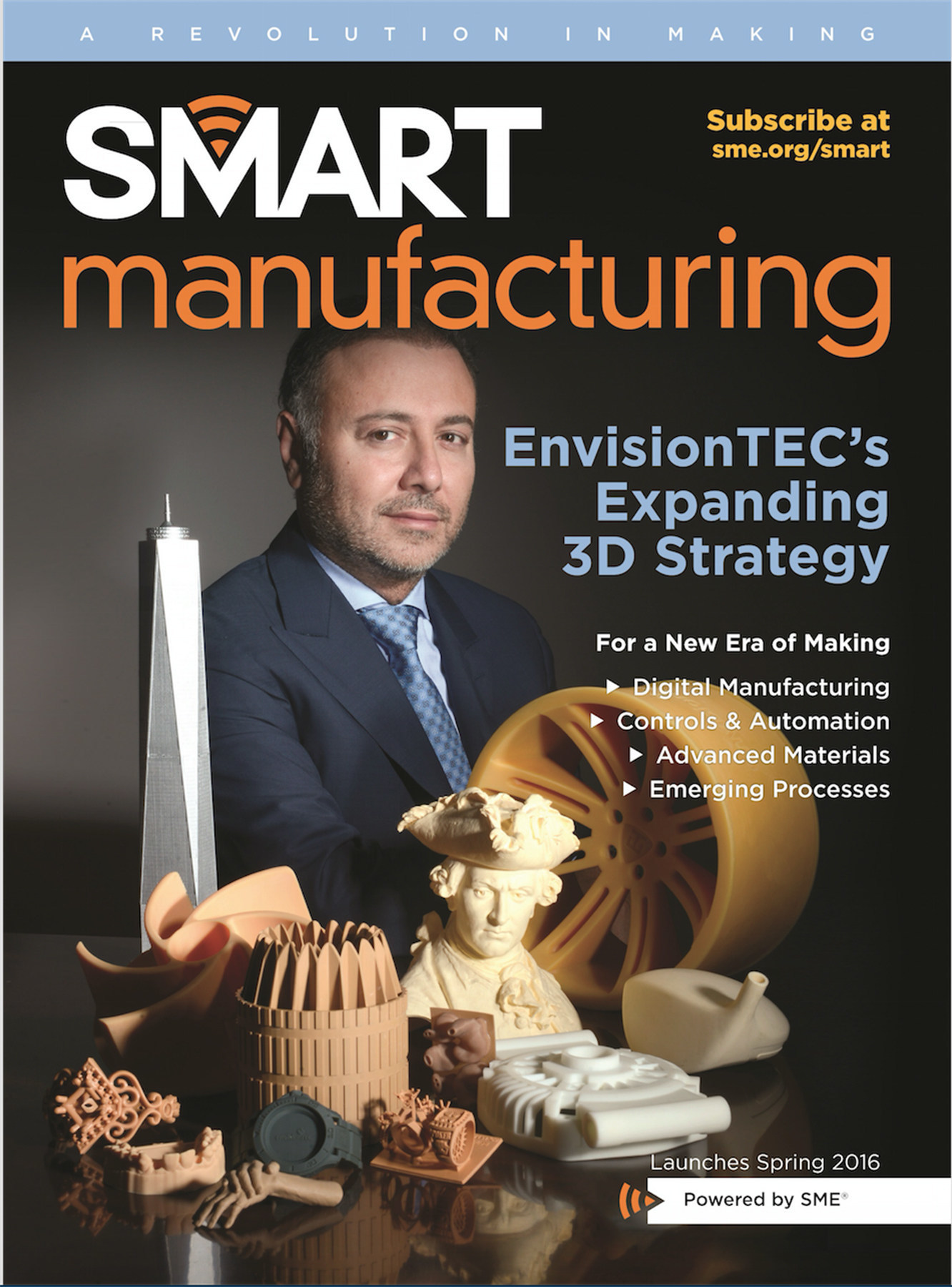 DEARBORN, MI - The digital revolution that has disrupted and simplified a variety of industries – from music and books to shopping, travel and banking – is about to transform the way virtually everything is made. A new magazine, Smart Manufacturing, will launch in the spring of 2016 to help educate manufacturing professionals about the new and emerging technologies used to make things in this digitally connected new era, known as the Fourth Industrial Revolution or Industry 4.0.

The magazine will be published by Advanced Manufacturing Media, a division of SME – a nonprofit organization serving the manufacturing industry by promoting advanced manufacturing technology and developing a skilled workforce.

To be published quarterly in print and digitally, Smart Manufacturing will circulate to at least 80,000 qualified manufacturing professionals across a full range of industries affected by the budding Industry 4.0 revolution. Its content will focus on digital manufacturing, software, controls and automation, advanced materials, emerging processes – such as 3D printing – and the integration of new technologies.

"We are excited to lead the Industry 4.0 conversation with Smart Manufacturing, and help guide manufacturers of all sizes through this period of change," said Dave O'Neil, director  of Advanced Manufacturing Media.

"A new level of digitally enhanced manufacturing technology is coming to the floors of machine shops and factories across North America, and we expect it to transform manufacturing just as it has other industries," added Sarah A. Webster, editor in chief of Advanced Manufacturing Media. "We at SME believe this new revolution in making can help secure U.S. leadership in global manufacturing."

The first industrial revolution, at the end of the 18th century, transformed manufacturing with water and steam power, as well as machine tools. The second, at the end of the 19th century, led to mass production, enabled by electricity and the division of labor, increasingly on a production line. The third revolution, in the early 1970s, was enabled by programmable electronic controls and IT to further automate production. Now, the Internet-enabled digital revolution is beginning to transform manufacturing again.

Advanced Manufacturing Media will continue to publish Manufacturing Engineering magazine, which is in its 40th year and is a successful magazine serving 90,000 qualified manufacturing professionals in the aerospace, defense, motorized vehicle, medical and energy industries.

A preview of Smart Manufacturing magazine is published inside the December issue of Manufacturing Engineering. Readers can see the preview and subscribe to the new publication at sme.org/smart.

Smart Manufacturing magazine features a masthead with a radiating wireless symbol emanating from the "M" in smart -- an image that captures the new digital era of manufacturing, in which tools, machines, manufacturers and their suppliers can communicate digitally with one another. This symbol will now serve as the icon for all of Advanced Manufacturing Media content on social networks such as Twitter and Facebook.

A launch event for the new magazine will be held during SME's MFG4 – Manufacturing 4 the Future – event, which runs from May 3-5, 2016, in Hartford, CT.

SME will also begin offering a Smart Manufacturing Education Series in 2016 in Detroit, with one and two-day seminars on additive manufacturing, the Internet of Things, automation, lightweighting and composites. More information is available at sme.org/smartmfgseries.

Advanced Manufacturing Media
SME's Advanced Manufacturing Media is a leading source for news and in-depth technical information about advanced manufacturing in North America. It serves an audience of more than 100,000 manufacturing professionals who subscribe to the monthly magazine, iTunes app, e-newsletters and other publications. Coverage is focused on some of the world's most critical industries: aerospace and defense, motorized vehicles, medical and energy, whether that's oil and gas, nuclear, electric, solar or wind. Learn more at advancedmanufacturing.org, follow @MfgEngNews on Twitter or facebook.com/AdvancedManufacturingMedia.

About SME
SME connects all those who are passionate about making things that improve our world. As a non-profit organization, SME has served practitioners, companies, educators, governments and communities across the manufacturing spectrum for more than 80 years. Through its strategic areas of events, media, membership, training and development, and the SME Education Foundation, SME is uniquely dedicated to the advancement of manufacturing by addressing both knowledge and skill needs for the industry. Follow @SME_MFG on Twitter or facebook.com/SMEmfg.
Have something to say? Share your thoughts with us in the comments below.