Kitchen trends for 2022: Superior Cabinets' experts scour the data
December 22, 2021 | 9:14 am CST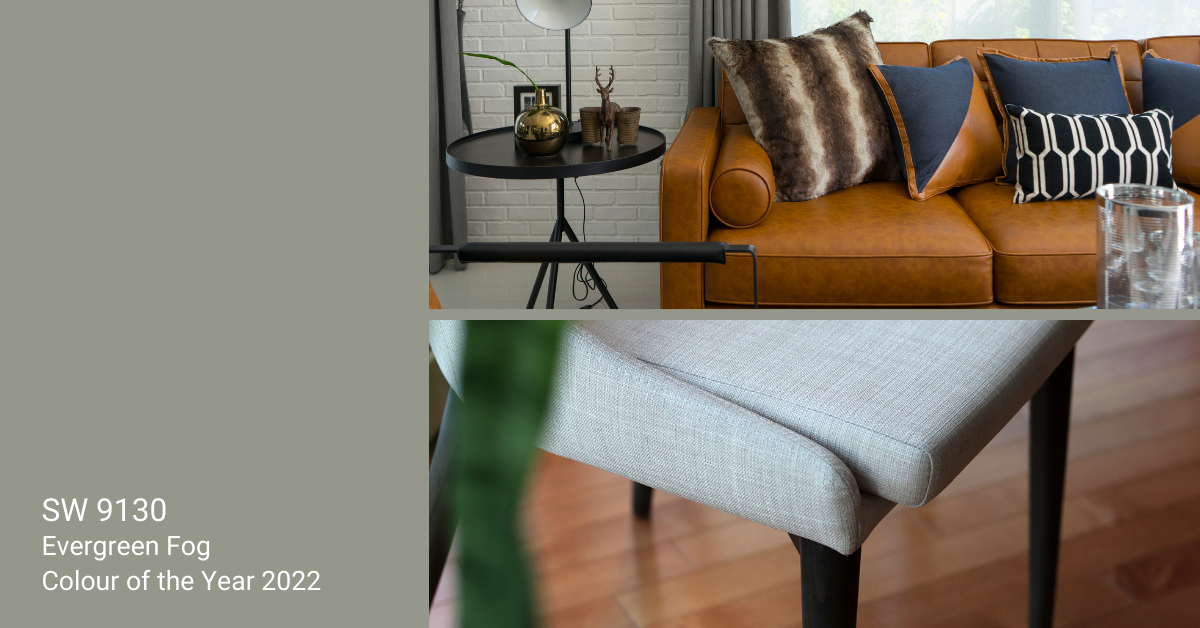 SASKATOON -- Trend spotting has been challenging due to the COVID-19 pandemic, as larger industry trade shows have been on hold or have gone virtual. These shows are where vendors and manufacturers display their new wares, which can help drive trends.
Having these points of inspiration, somewhat on hold, leaves limited sources to spot trends. Experts have been mostly relying on the internet, social media, and sales trend data to spot trends. 
That said, the Superior Cabinets' Trends Experts have been scouring this data to bring you their 2022 Kitchen Trends.
Quality prevails
The COVID-19 global pandemic exposed deeper thinking on how people view and use their homes. Many people now work from home and see their spaces differently than once before. There have also been shifts towards multigenerational living, which is why improved space utilization has been top of mind for many homeowners.
That said, with more time spent at home and more people living in one dwelling, our kitchen design experts have noticed that people are willing to invest in higher quality items that will last, rather than selecting items that may need to be replaced sooner.
People are willing to invest in higher quality materials and products that will surpass normal wear and tear usage. While this is more of a behavioral or buying trend, it is an important one to note.
Decorative hood fans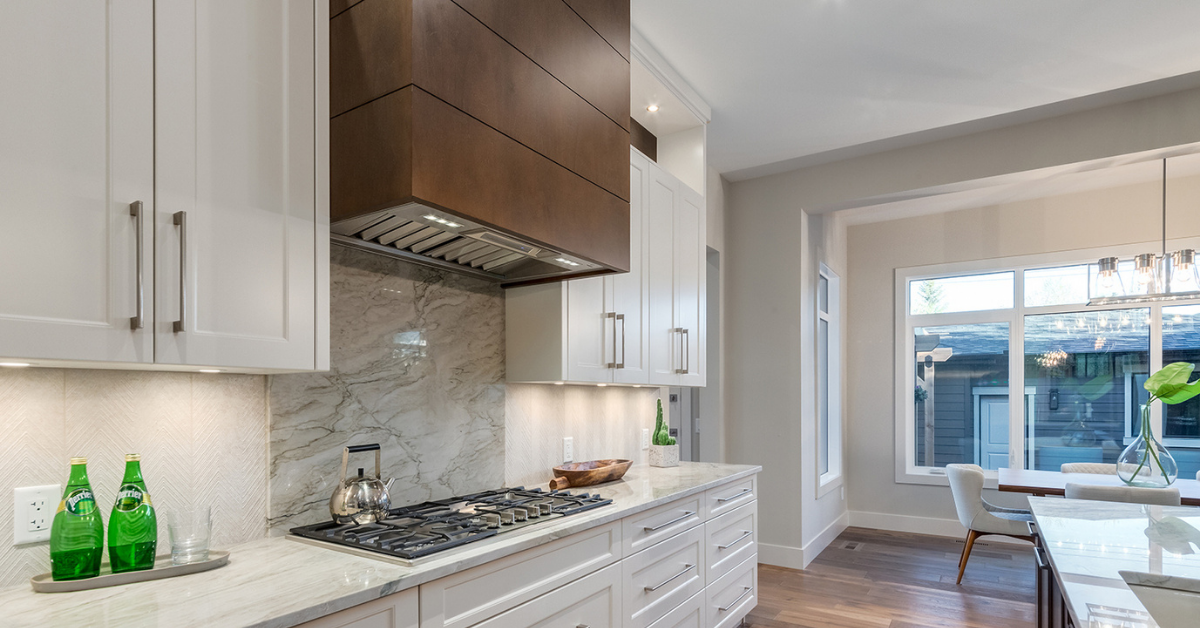 Decorative hood fans continue to dominate as homeowners declared a few years ago that the Over the Range Microwave [OTR], although convenient, was not the kitchen centerpiece that defined them. Even the freestanding canopy hood fan appliance crept onto the kitchen design trends to avoid watch list, back in late 2019 for some buyers.
Right now, custom, or semi-custom modern styled wood hoods are hot. One observation is that they are often two-toned, especially in Canada. They are typically done with embellishments of stained Wood, MDF, or even wood alternatives such as Laminate or Melamine.
Another trend that started in mid-2021 was the use of Plaster Range Hood Fan Surrounds, often in a white or off-white colour. These can be fabricated with either clean straight lines, curved lines, or traditional styles, and offer a beautiful texture to the space. The caveat with these, is that you need to find a local artisan who knows and understands the craft, who can make art with plaster, which can sometimes be challenging to find. 
A nice alternative, and something that is more accessible, is using Quartz as a substrate as a range hood fan surround. This is also trending as clean and modern lines continue to grow in popularity, especially in the United States and Europe. Homeowners want their hood fans to be statement pieces and are willing to invest in this area.
Vertical Quartz application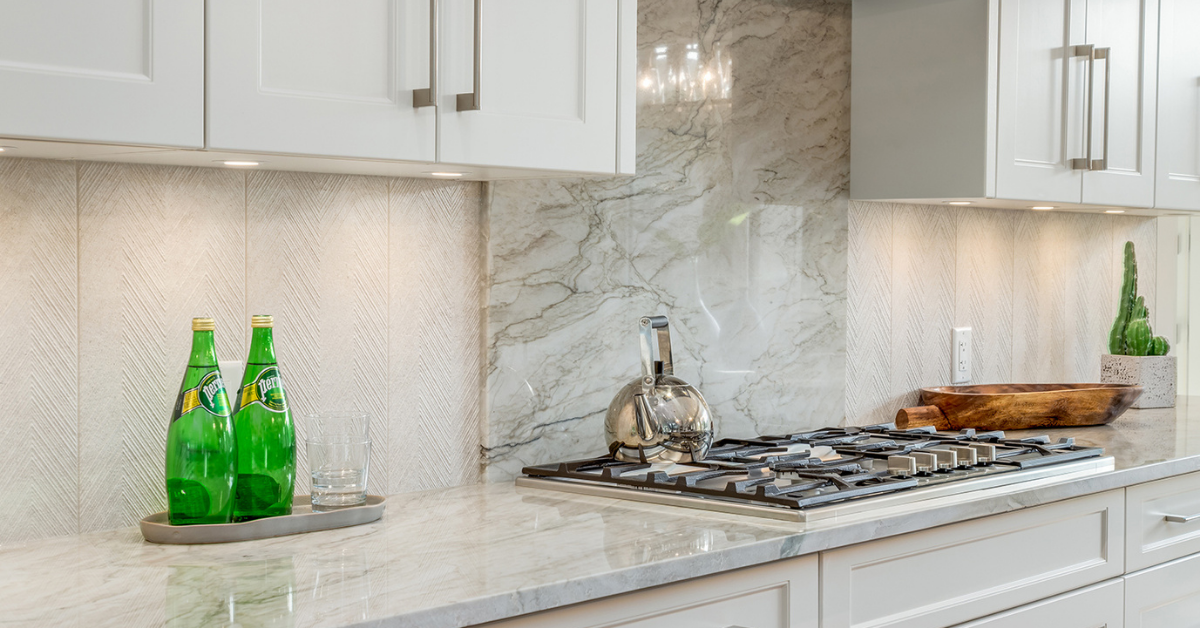 Vertical Quartz application continues to trend in kitchens for 2022.
With the advent of more Quartz, Large Format Tile [LFT], and Ultra Compact surface slab manufacturers offering thinner materials, this makes this material perfect for hood fan cladding or for vertical applications such as backsplashes or even cabinet doors.
Dark wood stains
Dark colors have been trending upwards for the past 3 to 4 years, so our trend experts have kept them on the list again for 2022.
In mid to late 2021, they noticed an uptake in demand for darker wood stains like the English Tea Stain on Maple. While darker embellishments have been re-entering into the kitchen in smaller amounts, our experts feel it will be a while before people select an entire kitchen and island in a dark wood stain.
Dark and bold painted colors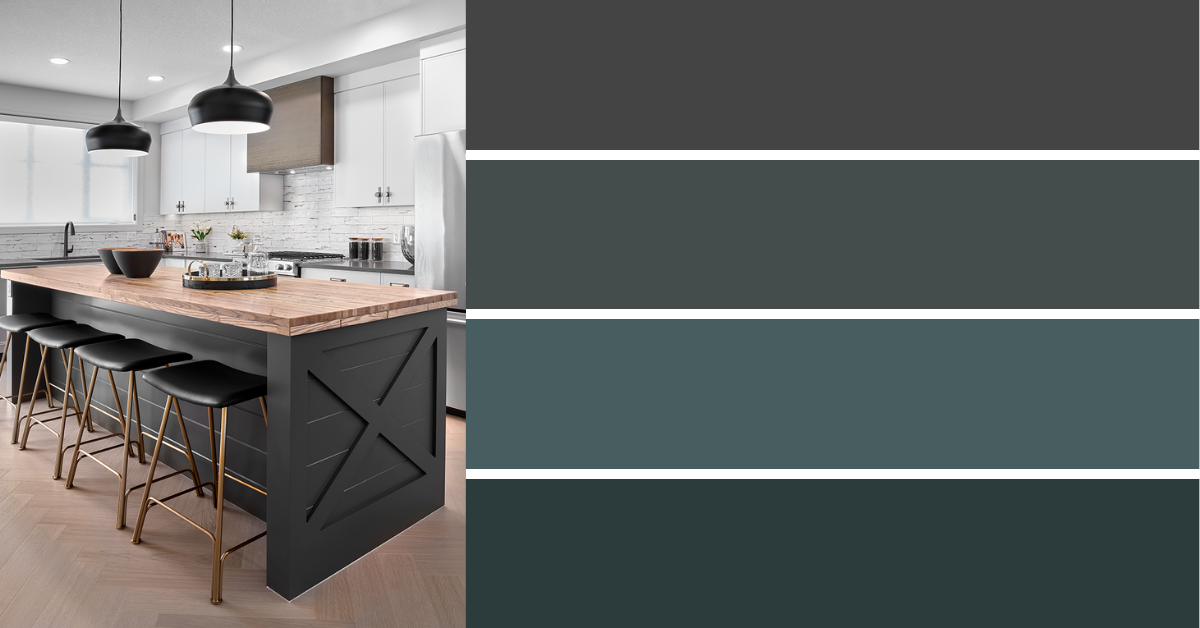 Our experts have identified and have been tracking a few dark and bold colours that some may want to keep their eye on.
Inspired by dark carbon, zinc, graphite, and charcoal elements, these dark painted colours are trending hot. Many of these dark paint colours that are emerging have blue and green undertones, which is no surprise to the trend experts.
Green meets gray
Sherwin-Williams absolutely nailed the 2022 colour of the year, Evergreen Fog [SW 9130], which is classified as the perfect green gray.
Our trend experts thought it deserved a special mention for the 2022 kitchen trends as a great organic-inspired accent colour for walls, art, and decorative accessories. 
This colour will pair beautifully with dark cabinet colours like Fusion Briquette, also known as Urban Bronze, which was their colour of the year for 2021. Evergreen Fog will also pair wonderfully with light linens, tans, warm woods, and warm brown hues with orange undertones, much like a classic leather sofa.
Lighter wood stains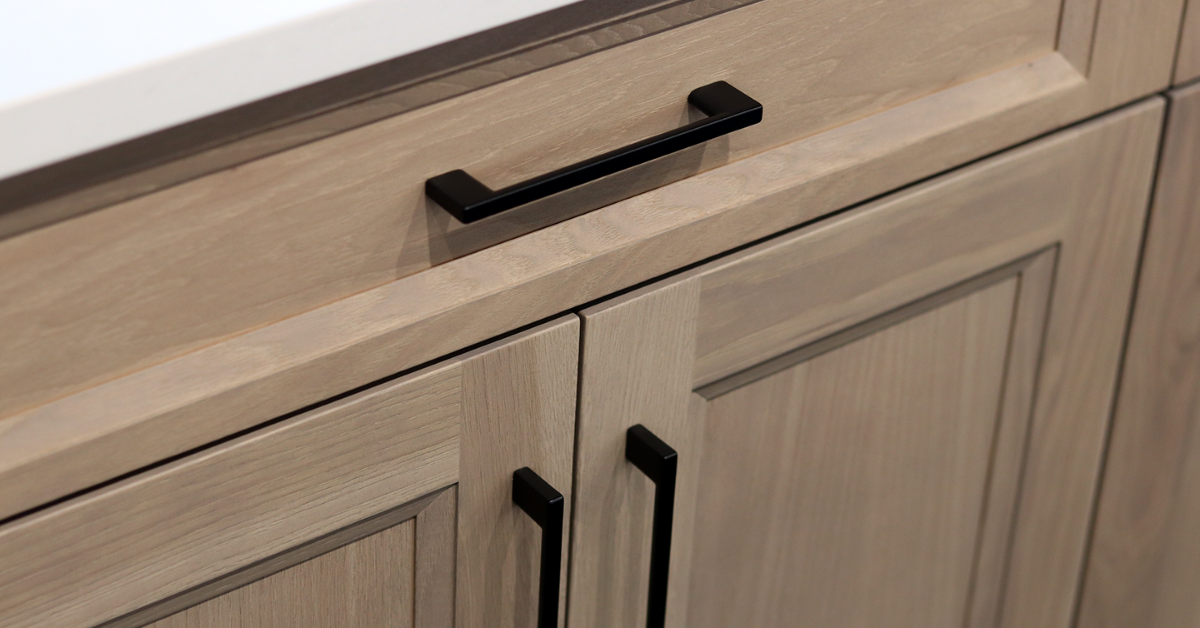 The kitchen trend experts would classify these trending lighter wood stains as natural looking, but without the yellow and gold colours of the natural wood.
This stain genre lends towards a sleek mid-century modern feeling, which has been climbing in popularity for a few years now. Other trending styles that are influencing these wood stains would be Art Deco, Organic Modern, Boho Chic, Eclectic, and Transitional styles.
The Superior Cabinets portfolio and development team is working on a few stains in this category on Maple and Hickory, so stay tuned.
Three-toned kitchens
It's very rare to see an entire kitchen in one colour or a single stain finish right now. Three-toned kitchens became more accepted in late 2020. They have almost become a standard in 2021 and are expected to continue this way into 2022.
The question is, will trends evolve to four-toned kitchens or back to just one? Time will tell.
Graphite decorative hardware
The Graphite finish for cabinet handles and knobs started becoming popular in 2021. Our experts feel this finish hasn't yet peaked and there is still more growth for it in 2022, as it is a great option for two and even three toned kitchens.
Knobs
Knobs on cabinets fizzled out in popularity a few years ago, however some of our trend experts have noticed that knobs are starting to resurface, as homeowners and designers select them for cabinet doors, while maintaining handles on the drawers. You'll see more of this mixed look in 2022.
Floating shelves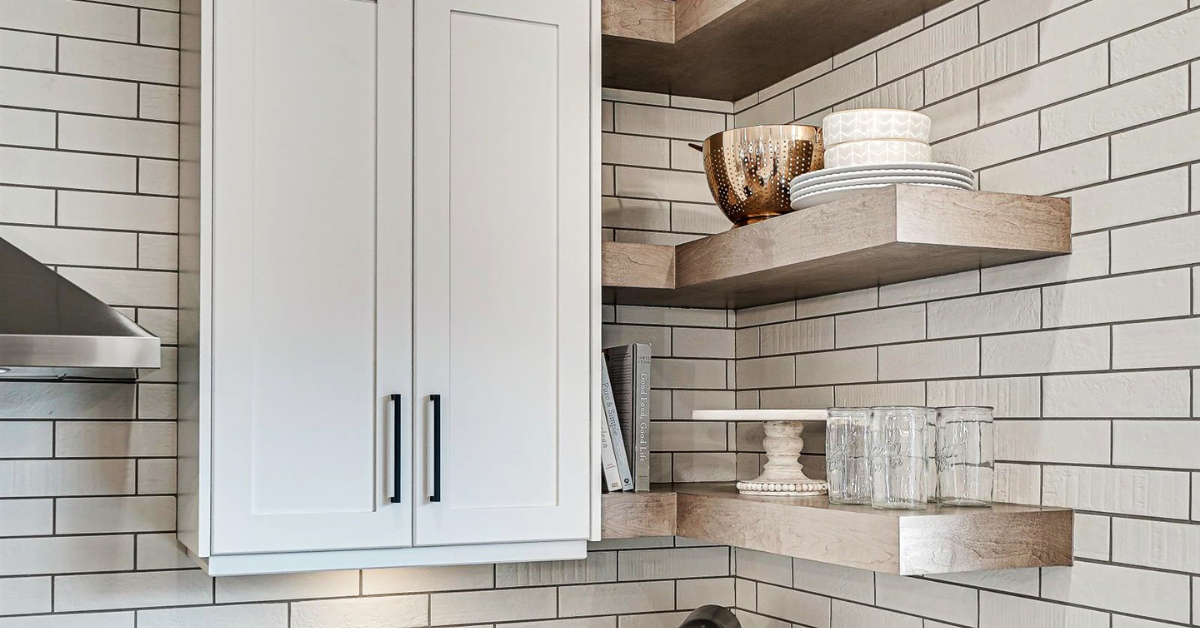 This trend may be better noted as wanting to display decorative items in the home, but to do that, you need floating shelves. What is really driving this trend is the typical Zoom or video chat background, heavily inspired by the COVID-19 global pandemic.
If you have watched any news broadcasts, since the pandemic started, you'll almost always find a standard background with open shelves with Books, a Lamp, Picture Frames, Art, Plants, and a few Vintage Items. That said, people want to highlight their personal style, and kitchens are no different as an expressional space. Open and floating shelves allow homeowners to display sentimental items or to have quick and easy access for high use items.
Taller wall cabinets
Go big or go home will be the motto for upper wall cabinets for 2022. Tall or stacked upper cabinets that cover the full wall is what most homeowners want today for their dream home.
This can be achieved several ways, depending on the ceiling height and budget, whether it be one tall wall cabinet or stacking two. This grand look, or filled in look, has almost become a standard kitchen design element for most who are building or remodeling their forever homes.
Silver drawer slides
Metal drawer slides come in a multitude of colours, depending on the manufacturer. Silver/Grey drawer slides were hot around 2015-2018 until white and anthracite black metal drawer slides came on the scene. 2021 was the year of grey silver metal drawer slides, heavily influenced by global supply chain constraints on other coloured slides, and 2022 will be no different. 
That said, twice as many homeowners chose Silver Grey over Anthracite Black. Many felt the neutral grey colour was better for blending in, rather than making a bold style statement.
Our experts have also heard from client feedback that they visibly show less dust, which is always a good thing. This goes to show you that trends can be influenced by more than style and customer demand.
Pot fillers
The Superior Cabinets Professional Kitchen Designers are seeing more homeowners invest in pot fillers. Incorporating a pot filler is a very convenient plumbing addition. Many have stated that once you have one, you'll never live without it.
Of course, there is the added cost for the faucet and shutoffs, so it may not fit with everyone's kitchen renovation budget. One pro tip when selecting your pot filler faucet is to be mindful of the swing and hinging of the faucet, so it clears the cabinets, and doesn't bump into them when folded in.
Trends to avoid
Each year our experts collect a list from homeowners, renovators, designers, and home builders of kitchen trends that people want to avoid.
Over the Range Microwaves [OTR]:  Although convenient, people would rather not have this as their focal point.
On the watch list
Here are the items on our watch list that may or may not be at risk.
Canopy Hood Fan Appliance:  People are opting for decorative cabinet wood hoods instead.
Modern Farmhouse Style:  Style experts are seeing a potential shift away from modern farmhouse towards cleaner styles such as Boho Chic, Mid-century Modern, Art Deco, and the Organic/Natural Trend.
Farmhouse Apron Sinks:  Our trend experts have noticed a shift away from Farmhouse Sinks in all styles, finishes, and substrates. If you are contemplating one, here are some important considerations.
Summary
Again, trend spotting for the kitchen and bath industry has had its challenges with the lack of trade shows being held, due to the COVID-19 global pandemic.
In February 2022, the Kitchen and Bath Industry Show [KBIS] will be held in Orlando, Florida, which is the premier kitchen & bath design event, a major show for showcasing new and currently trending items. That said, the Superior Cabinets trend experts will have a mid-year update for you, so stay tuned.
If you would like to chat about kitchen cabinet trends for your home, please contact a Superior Cabinets Kitchen Designer in Saskatoon, Regina, Edmonton, Calgary, or Winnipeg. If you are outside of those regions, be sure to reach out to a Superior Cabinets Authorized Dealer Partner in Canada or the USA.
Source: Superior Cabinets. For information visit SuperiorCabinets.ca.
Have something to say? Share your thoughts with us in the comments below.