U.K. kitchen trend predictions from Daval
December 2, 2020 | 10:47 am CST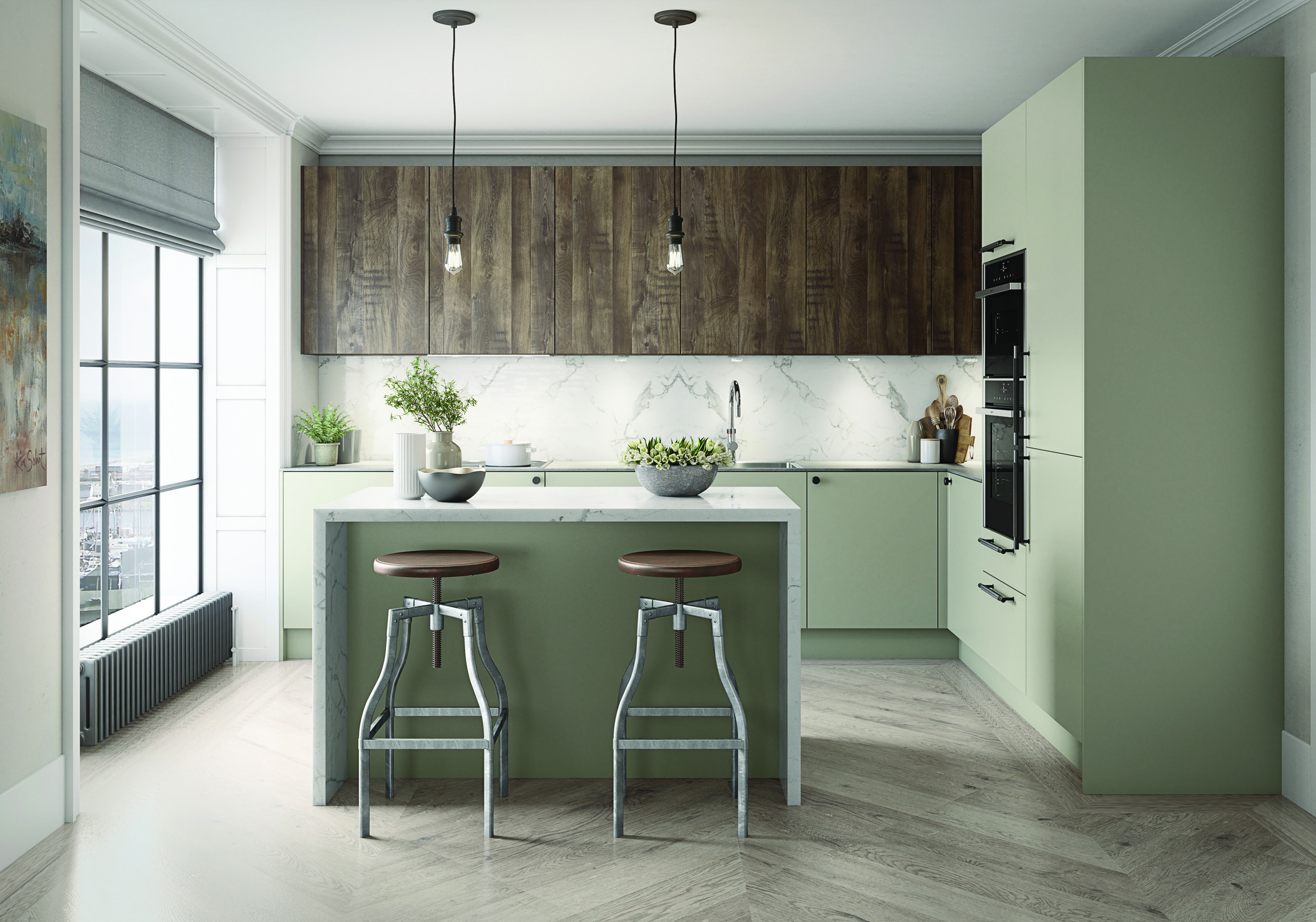 British designer and manufacturer of kitchen cabinets Daval has revealed the latest lifestyle trends it predicts will influence and inspire the shape of kitchen design in 2021.  
Simon Bodsworth, managing director at Daval Furniture, said, "Self-expression is forecast to be at the heart of lifestyle interiors next year, as homeowners and property developers seek to personalize the home and lean towards keystone kitchens where hero details, quality raw materials and custom elements are used to anchor a design and overall style identity."
"Daval's research indicates that meaningful kitchen design is sustainable and evolving the modern home and this has led to a rise in storage requirements and need for space to cook, eat, socialize, relax and work remotely."
The United Kingdom has the second-largest design sector in the world and the largest design industry in Europe, with Germany, France and United Kingdom currently representing 50 percent of the continent's DIY market. With a renewed focus on design innovation and quality in furniture, Daval shared its thoughts on tomorrow's kitchen.
New traditional
Modernizing the classic Shaker-style kitchen has emerged as a consumer-favorite in 2020, as both furniture and the latest fashions continue to focus on authentic product design and quality craftsmanship. Master joinery techniques, eco-friendly materials and special surface treatments will therefore be key in 2021, helping to create a tailor-made aesthetic that is sensitive to the kitchen, homes architecture and personal style.
This type of "layered design" will continue to increase the level of customization in kitchens next year, with custom paint finishes, custom larder options and butler-style pantries being used to give a new sense of style and purpose to the classic kitchen and embrace our return to more traditional values.
Green Contemporary
"We have moved into a post-industrial era in which "reduce, reuse, recycle" has become universally significant in the future of our planet and increased well-being at home," Bodsworth said. "Using environmentally friendly materials in interior design has seen huge growth of late and we are finding that the pure nature of 100 percent recycled furniture continues to lend itself to urban-inspired kitchens, which are sustainable and originally designed.
"To echo the renewable trend, earthy shades of green are predicted to be front runners in 2021, providing a solid foundation in the kitchen with rich tonal value and design authenticity. Taking on a variety of forms next year, softer moss greens and shades of gray will define the contemporary kitchen whereas stronger, more traditional tones like forest green will enrich more classical British schemes. 
"Dark colors in 2021 will look to the different types of wood species available, with browns and blacks being introduced through rustic wood veneers, charred timber effects and matt black accessories. I believe raw, natural materials will continue to define the modern kitchen and increase the subtle interplay of mixed materials.
Oak
"Infinitely stylish, real wood kitchens continue to hit the mainstream with great affection and we are finding that solid oak has become a go-to option for creating a sense of calm and serenity in the kitchen. Durable and lightweight with defined wood grain, this choice of hardwood is a natural beauty, able to be easily molded, hand painted and specially treated with oil or wax.
"To further amplify the markets love of wood products and their positive effects in the home, oak will create areas of light and dark dependent on your choice of surface treatment. If you're looking for Nordic inspired interiors, which have a strong focus on textures and light colours then you need opt for a white-washed to brighten the space. Classic oak is also available in warmer mid-tones, which is great if you want to create balance between light and dark through natural raw materials.
Family focus
"Everyone wants to make the most of time spent with family and friends right now and so the desire to create a welcoming kitchen and living area will only intensify next year," Bodsworth said. "Placing huge importance on 'community at home,' tomorrow's kitchen needs to be able to cater to different needs like entertaining at home. Now more than ever, the home is the one safe place and I believe the desire to host and entertain friends and family will only increase as we continue to adapt to new social distancing measures: in and outside of the home.  
"Another lifestyle trend has taken a four-legged approach to furniture design and storage. With approximately 45 percent of U.K. households now owning a pet, it makes sense to accommodate this furry friend from the outset, however now we're spending more time at home, there is huge potential for custom designed furniture to not only house pet food and accessories, but the dog or cat too."
See Daval Furniture.
Have something to say? Share your thoughts with us in the comments below.