Architectural millwork and retail fixture manufacturers see gains: FDMC 300 special report
May 4, 2022 | 3:19 pm CDT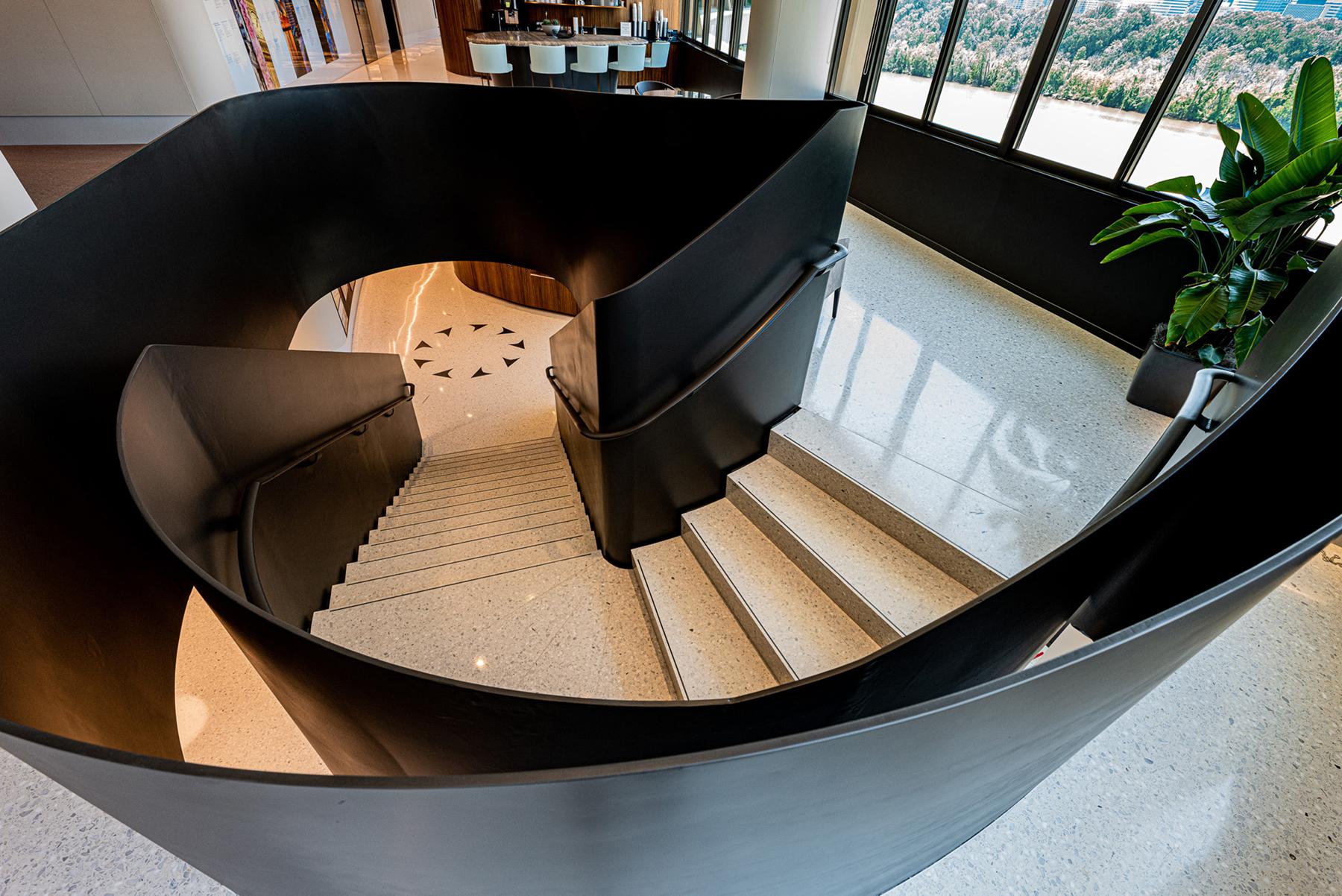 Despite the continuing labor and supply chain issues stemming from the pandemic, wood products manufacturers in the architectural woodwork and retail fixtures segments remain relatively optimistic for 2022, with projects, and revenue projections on the rise.
According to Doug Hague, CEO of the Architectural Woodwork Institute, "The initial thought was that Q1 would be slower, but I feel it was stronger than some might have expected. With that said, the rest of 2022 appears very strong and with current momentum should carry our industry past 2021. We are seeing greater percentages of larger contracts hitting the market which is an encouraging factor."
Projections for 2023, he added, are also looking up. "Given all things happening in the world I would elect for good. It could all change at moment's notice but in general, it appears very positive with lots of backlogs being currently created for 2023."
At 58.0, March's Architectural Billing Index (ABI) shows architecture firm billings are continuing to increase at a steady pace despite supply chain disruptions impacting projects. Three of the four regions on American Institute of Architects' ABI scored above 50, indicating growth: the South (57.2), Midwest (56.2), and West (54.0), with the Northeast slightly below at 46.3. The sector index breakdown also shows residential at 57.2, commercial/industrial at 55.3 and institutional at 50.5.
Although the store fixtures market was among the hardest hit during the pandemic, it also looks to be on the rebound, with many retail and food chains such as Five Below, Batteries Plus, Dollar General and Popeyes rolling out expansions this year, while many others have announced plans for remodels and/or concept stores. Also boding well for the industry, the Mastercard Spending Pulse saw retail sales increase 8.4% in March compared to 2021, with in-store sales rising 11.2% for the same period. Placer.ai's Mall Index also reported increased traffic in March, up 16.6% at indoor and 11.0% at outdoor malls.
See Strategies for Success - sidebar below
Renewed optimism for 2022
The FDMC 300, an annual ranking of the largest wood products producers in North America, saw sales for those in the architectural woodwork/millwork and retail fixtures segments reach an estimated $2.7 billion and $1.9 billion respectively in 2021. Overall, sales in both segments are positive for 2022, with those interviewed projecting the same or better revenues as last year.
Mike Jones, president and CEO of 3C Store Fixtures (#223) said his company is already seeing an increase in existing customer orders, plus business from new customers coming online. The outlook for 2023, he added, is excellent.
Also bullish for 2022 and beyond is the Washington Woodworking Co. (#209).  "2022 sales are on track to outpace 2021," said Frankie Jordan, CEO.  "We had a fantastic first quarter. There's a lot of work going around right now, so we choose wisely what jobs to add as backlog."
Jordan added, "It's still early to tell what sales will look like for 2023, but we anticipate going into the new year with a healthy backlog, approximately 50% of our yearly revenue."
"We expect a 20% sales increase in 2022 mostly due to our existing product offering and the new 'Primary Kitchen' residential cabinetry line we launched in 2020," said Andy Wilzoch, president of Premier Eurocase (#181). He noted the company's vertical integration and strong relationship with suppliers "has also been a big reason we have fewer supply chain issues." And barring a recession, Wilzoch projects good growth not only in 2023, but in "every year that isn't interrupted by a negative financial event."
Supply chain issues also didn't stop Mock Woodworking (#231), which had "a very strong sales year in 2021," said Andrew Dix, president, and therefore he is anticipating a softer 2022.  "The projects that were stalled in 2020 or earlier due to COVID all advanced in 2021. That spike of activity was a one-time event and a tsunami of demand." He added, "We are normalizing our sales projections and see steady demand in 2022, but not exceeding 2021." The outlook for 2023, Dix continued, is good.
"The ROOMI Group (#158) is excited for 2022, and the future beyond," said Faisal Hussain, chairman and president. "We have a strong sales force which is servicing multiple markets and happy to report we have over two dozen projects in our opportunity pipeline.  2023 has only another $14 million left in capacity as we are well underway to have steady support from our clients."
Challenges and opportunities
Labor, or lack thereof, is unquestionably the top concern by many architectural woodwork and retail fixture manufacturers alike, with supply chain issues a close second.
"For both 2022 and 2023 I would say labor," said Hague when asked what AWI members see as the top challenge facing the industry. "While relief may come for supply chain issues or inflation may come down eventually, there is no – on the horizon or overnight – solution for the jobs that are required to be filled in our great industry. This is not a new problem but one that we must work towards diligently to find solutions that can allow our industry to be vibrant for many generations to come."
Jordan agreed. "Many skilled craftsmen are approaching retirement age. With a lack of younger talent to train, there is uncertainty about what our workforce will look like in 3-5 years," he said.
Jones and Dix also cited the availability of labor, along with wage escalation, material escalation and material availability as the top challenges facing the market.
"The economy had been very consistent without much inflation or supply chain issues leading up to COVID," Dix commented. "Today's economy and marketplace is forcing our company's team to manage and solve more complex issues that have not been required previously.  Due to shortages of labor and material for all trades, general contractors and projects are fighting to keep schedule. Projects off their schedule often have general contractors demanding trades, like ours, to make up time and shorten our durations. 
"Like other trades, finding labor to flex up staffing, as well as, keeping labor with wage escalation and job hopping, has been difficult. It's been equally difficult to contain material cost escalation the following bid, especially when projects are pushing for expedited completion," he added.
"As an industry, we see a need for young people [who have been] losing interest in woodworking and construction," Hussain said. "ROOMI is often at the local schools recruiting but we are facing the tech boom of social media and sawdust is not something anyone wants to endeavor.  As we lead our tribe, we are developing local partnerships to help young men and women find value in devoting their lives to one of the oldest crafts in history."
Hague also noted the industry's need to "further embrace the technology and innovation explored during the pandemic." Companies were often forced to adjust at a moment's notice, and elements of that adaptation process will strengthen them for the future. "Most all of our members were deemed essential during the pandemic, and many found their equipment and skills transferable to the world's immediate needs during the pandemic. Not all industries can tout this. Share the message and encourage new people to join our amazing industry with fantastic career opportunities."
The AWI also conducts an annual Cost of Doing Business survey which provides benchmarks for companies to gauge their performance compared to industry peers, including expenses, staffing, profitability, and productivity and helps track industry trends. For information visit awinet.org/publications/codbs.
FDMC 300 offer strategies for success
We asked some of the FDMC 300 architectural woodwork and retail fixture manufacturers to share a tip for succeeding in the coming year. Here's what they had to say:
• "Think outside the box," said Mike Jones, president and CEO, 3C Store Fixtures (#223).
• "Raise your prices and don't give anything away. People are paying up for millwork," said Frankie Jordan, CEO, Washington Woodworking Co. (#209).
• "Having a strong balance sheet and investing in talented employees to help navigate the marketplace this year will be key," said Andrew Dix, president of Mock Woodworking (#231). Additionally, he said, "having a strong backlog of sales will help if the economy does sour due to inflation or outside influences like new variants of COVID, or the impact of the Ukrainian conflict."
• Ensure your "tribe" knows it's valuable to the company. "The past two years our leadership opted to work on low margins to help maintain full staffing without cutting back on any EAP benefits.  We did not stop any 401K contributions and we did not reduce any of Health, Vision or Dental benefits company-wide," said Faisal Hussain, chairman and president of ROOMI Group (#158).
(More tips by large, mid-size and small wood products manufacturers are in the WOOD 100: Strategies for Success at WoodworkingNetwork.com/WOOD-100.)
About the FDMC 300
More than 50 architectural woodwork and retail fixture firms are included in the 2022 FDMC 300, an annual report that tracks the largest manufacturers in North America and ranks them by sales. Updates of the FDMC 300 firms can be found at WoodworkingNetwork.com/FDMC-300, with future issues also including industry snapshots and interviews. For information on how to be included, contact [email protected].
Have something to say? Share your thoughts with us in the comments below.