'Phygital' shopping trends boost retail fixtures market: Infographic
December 6, 2021 | 4:20 pm CST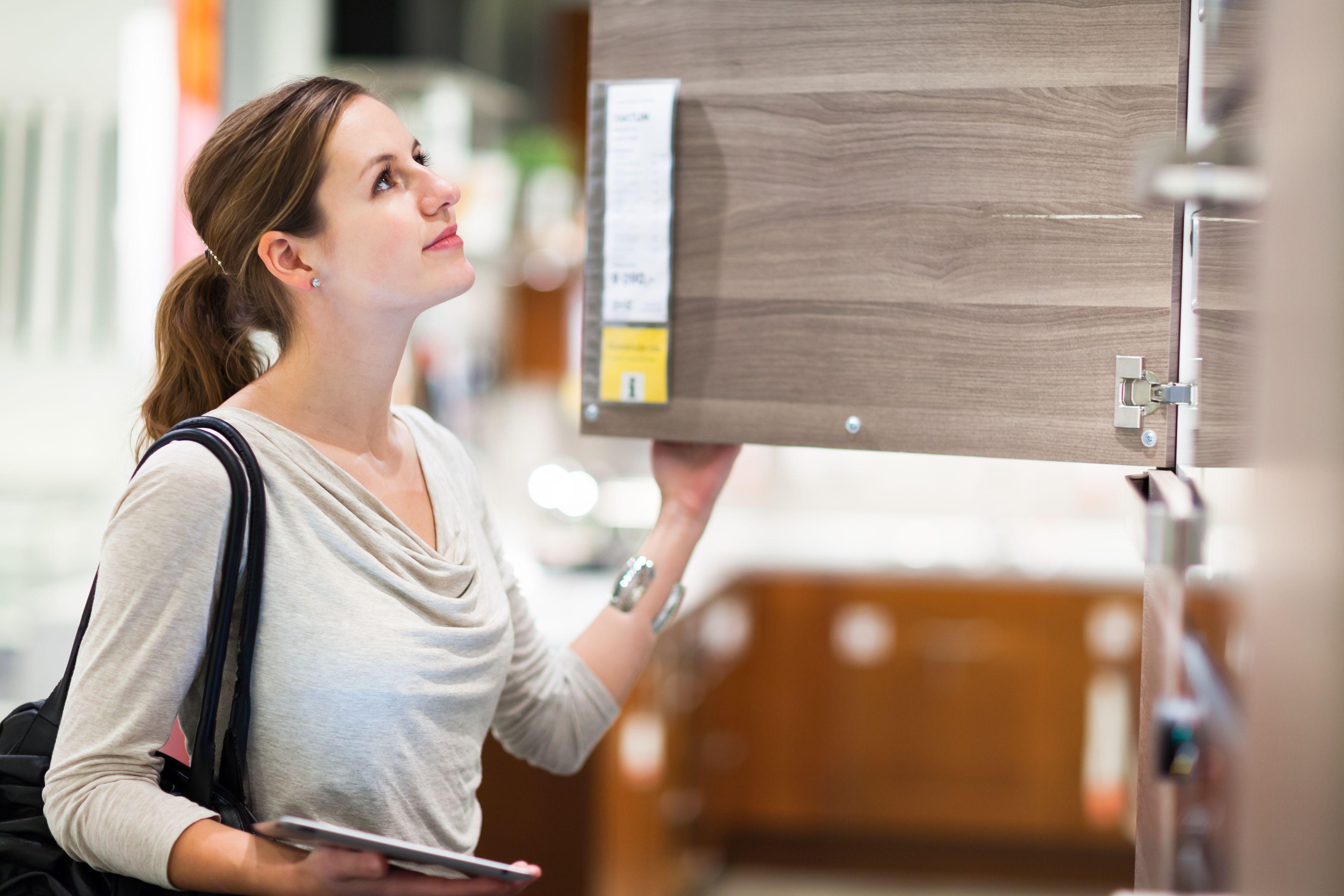 The word that's been used recently to best describe the post-COVID shopping experience is "phygital," a combination of physical/brick-and-mortar stores and the digital experience.
While consumers are returning to the stores, they're not necessarily returning to their pre-pandemic shopping habits. According to the 14th Annual Global Shoppers Study by Zebra Technologies, while two-thirds (64%) of shoppers plan to return to brick-and-mortar locations in the coming months, most (73%) plan to get in and out quickly. Of those that do venture into the store, half also research product pricing online, and nearly one-third check inventory before they leave home.
That has not stopped firms from also investing in physical locations, whether through expansions or new formats. According to Chain Store Age, IKEA is opening small store formats in city centers, Dick's Sporting Goods is rolling out new experiential and discount store formats, PacSun's is expanding with a new kids' concept, Petco has opened a store devoted to dogs, Ulta plans to open 50 stores annually, and Jack in the Box has signed an agreement to open 47 fast-food stores. Meanwhile, Amazon has opened another high-tech brick-and-mortar grocery store and reportedly plans to open department-like retail locations.
Brick and mortar will continue to play a larger role in e-commerce sales as well through omnichannel shopping, BOPUS/BOPIS (buy online pick up in-store), curbside pickup, and other fulfillment options, notes Propmodo, an analysis firm that identifies trends for commercial real estate professionals.
See the infographic below. Find more market data in the December 2021 FDMC Wood Industry Almanac.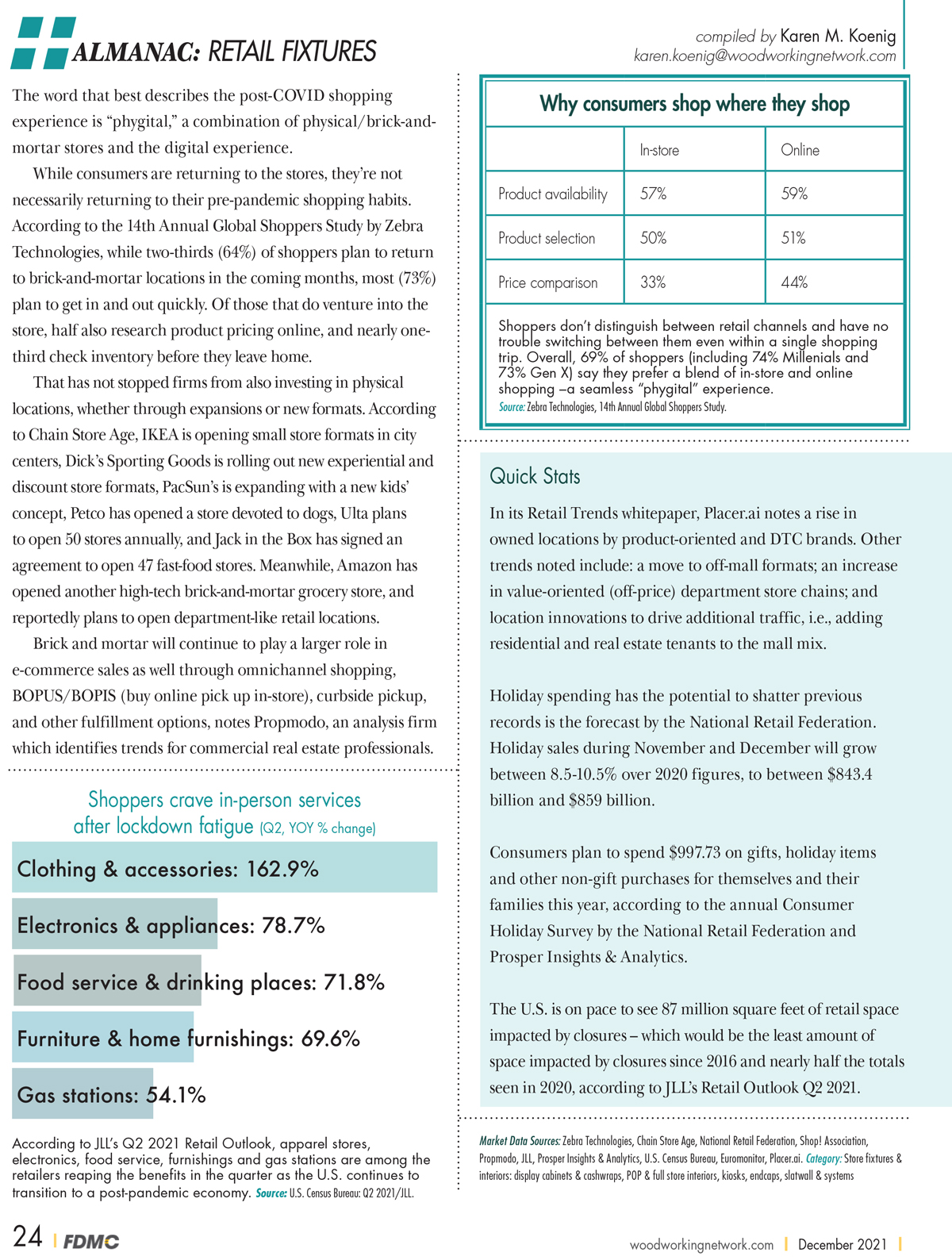 Quick Stats
• In its Retail Trends whitepaper, Placer.ai notes a rise in owned locations by product-oriented and DTC brands. Other trends noted include: a move to off-mall formats; an increase in value-oriented (off-price) department store chains; and location innovations to drive additional traffic, i.e., adding residential and real estate tenants to the mall mix.
• Holiday spending has the potential to shatter previous records is the forecast by the National Retail Federation. Holiday sales during November and December will grow between 8.5-10.5% over 2020 figures, to between $843.4 billion and $859 billion.
• Consumers plan to spend $997.73 on gifts, holiday items and other non-gift purchases for themselves and their families this year, according to the annual Consumer Holiday Survey by the National Retail Federation and Prosper Insights & Analytics.
• The U.S. is on pace to see 87 million square feet of retail space impacted by closures – which would be the least amount of space impacted by closures since 2016 and nearly half the totals seen in 2020, according to JLL's Retail Outlook Q2 2021.
• Despite the recent boom in e-commerce and the shift away from stores, physical stores remain a critical part of the global shopping journey. Euromonitor International estimates in 2025 76% of goods will still be bought in-store, although marks a reduction from 81% in 2020.
Market Data Sources: Zebra Technologies, Chain Store Age, Shop! Association, National Retail Federation, Prosper Insights & Analytics, Propmodo, JLL/JLL Research, Placer.ai, U.S. Census Bureau, Euromonitor.
Category: Store fixtures & interiors: display cabinets & cashwraps, POP & full store interiors, kiosks, endcaps, slatwall & systems
Find more market data in the December 2021 FDMC Wood Industry Almanac.
Have something to say? Share your thoughts with us in the comments below.