What's ahead for the cabinet industry?
March 31, 2022 | 1:25 pm CDT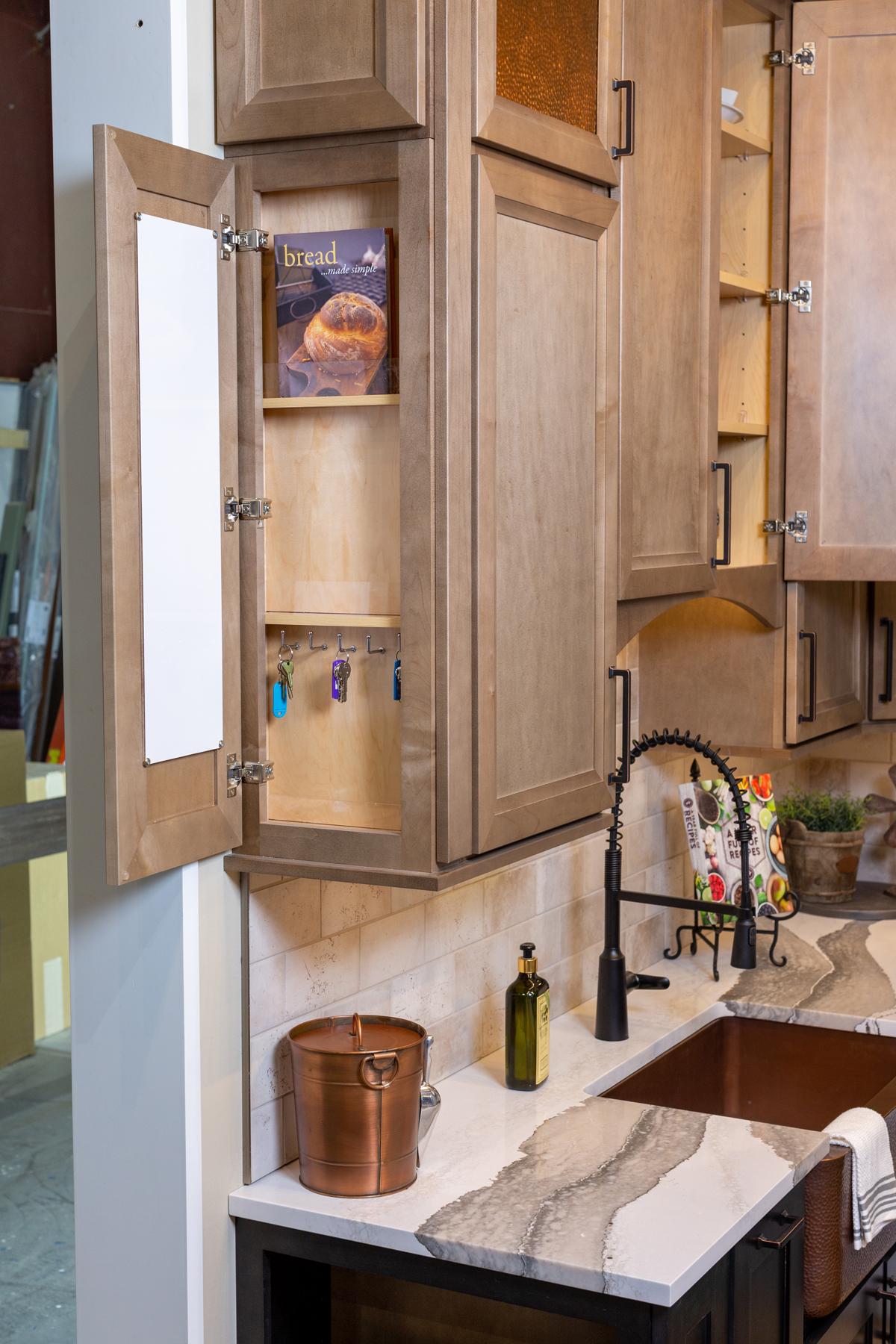 Supply chain and labor issues notwithstanding, the continued rise in kitchen and bath remodeling projects should bode well for the cabinet industry. Recent reports show the global industry remains on pace to reach $17.3 billion by 2023, a figure previously projected by The Freedonia Group. 
"The impact from COVID is rapidly declining. Sales seem to be on track to increase, but some of that is more relative to higher prices than volume," noted Betsy Natz, CEO of the Kitchen Cabinet Manufacturers Association. The latest KCMA Trend of Business Survey shows sales in January rose 11.7 percent compared to 2021, with custom sales rising 19.7 percent, semi-custom up 0.9 percent and stock sales increasing 17.6 percent. The monthly report includes companies whose combined sales represent approximately 75 percent of the U.S. cabinet market.
Canada is also seeing a positive trend in cabinet sales, with guarded optimism for what's ahead, said Sandra Wood CMP, executive director of the Canadian Kitchen Cabinet Association. Most members didn't see a slowdown in business despite the pandemic, she added. "I've had conversations with some of them, and their sales have gone through the roof. But others are telling me they can't [increase production] because they don't have the manpower – the lack of labor is holding them back. Then of course you have the supply shortages which are bottlenecking everything."
CKCA will survey members later this year with regard to 2022 and 2023 projections, but early indications are the vast majority expect to maintain or increase their production levels, which should translate to the same or higher sales numbers.
See Strategies for Success - sidebar below
Guarded optimism for 2022
The FDMC 300, an annual ranking of the largest wood products producers in North America, saw sales for those in the cabinetry segment reach an estimated $11.7 billion in 2021. Although the number is expected to grow as manufacturers adjust to a post-pandemic "new" normal, many say they are cautious as to how much.
"As long as there are no supply chain failures, we are in a position to see increased sales in 2022," said Kraig Vondran, CFO of Custom Wood Products (#219). New products, including a closets line, and dealer sales, in conjunction with expected price increases will contribute to revenue growth in 2022 as well as 2023, he added.
Conestoga Wood Specialties (#61) is also projecting 2022 sales to be higher. "If we look at sales strictly by dollars, we do expect our revenue to increase this year over 2021," said Jeff Eichenseer, director of Marketing and Product Development. "However, if we look at pieces, we expect that number to decrease due to labor shortages and extended lead times." Eichenseer referenced escalating material costs, resulting in product price jumps, as a primary reason for the revenue increase.
The pricing and availability of materials, along with labor issues, are also impacting sales and production at Wellborn Cabinet Inc. (#64), said Angela O'Neill, director of Marketing. Unfortunately, she said, "there does not seem to be an end to these conditions in sight. We are projecting a 10- to 15-percent increase only because this is reasonably all that we can handle with the current challenges that will continue through the year." Beyond that, she added, "It's still too early to plan."
Perry Miller, president of Kountry Wood Products (#65), also noted supply chain issues while still projecting sales growth for 2022. "I do expect [sales] to increase by a small margin. Cost and price increases alone will drive an increase even if the production level remains the same," he said. "I expect production to remain close to flat due to raw material availability."
Looking ahead, Miller added, "It is hard to predict at this point. With interest rates increasing coupled with other international turmoil it seems inevitable we should see an easing but there is still a lot of pent-up demand."
"If we listen to the economic forecasts, the economy will slow in the third or fourth quarter of 2022, and carry over into 2023," noted Eichenseer. "Should that happen, prices for key materials will decrease, lowering the average product price, resulting in declining revenue."
However, he added, "I am skeptical that this will actually happen because I've been hearing about the economy cooling off for several years prior to the pandemic and it just didn't happen."
Challenges & opportunities
When asked what members see as the top challenges facing the industry, the overwhelming responses heard by both Wood and Natz were: workforce-related issues, material availability and rising prices.
"Every modality of manufacturing seems to be facing some level of challenge, whether it's the transportation of the products, the production of the products, the labor, the supply of the raw materials to create the products – it's a global problem," Wood said.
Those we talked to agreed. "Supply chain, labor and logistics," said Miller. "These are ongoing issues and although I expect to see improvement, it will take some time to catch up with the demand that is out there."
"Getting all the materials to make our products – this is a day-to-day issue," O'Neill said. "The condition of our country, inflation, gas prices…these rising changes [also] will affect remodeling and new home construction."
"Undoubtedly our biggest concerns are rising prices and supply issues," Vondran agreed. "If inflation continues at the current pace, we fear all renovation projects, as well as new builds will decline significantly."
"Lack of employees is our biggest concern," Eichenseer added. "We have turned away tens of millions in business because we just don't have the people."
Despite the challenges of doing business during the pandemic, opportunities have arisen. A few noted by Natz include increased usage of 3D virtual showrooms and design, increased investments in automation to offset low employee numbers, and onshoring of the supply chain.
"I believe there is tremendous opportunity to procure more materials domestically," Miller said. "With all the logistical issues with long distant shipping it is making more sense to purchase locally. It also makes it more advantageous for end consumers of cabinetry to purchase a domestically made product."
Vondran and O'Neill also noted opportunities to expand both product and market segments. Eichenseer also added, "Assuming a large number of people continue to work from home, we anticipate there will be a continuation of upgrading their home offices, kitchens, etc., although the rate may slow."
FDMC 300 offer strategies for success
We asked some of the FDMC 300 cabinetry manufacturers to share a tip for succeeding in the coming year. Here's what they had to say:
• "Keep pushing forward – take some risks and work to make them successes," said Kraig Vondran, CFO of Custom Wood Products (#219). Also, he added, "People, people, people – don't pass on any good hires, even if you don't have an immediate position."
• "Maintain current relationships because relationships are more important today than ever," said Perry Miller, president of Kountry Wood Products (#65). "That is true in supplier relationships as well as with customers."
• "Stay close to your supplying vendors keeping as much inventory on hand as possible," noted Angela O'Neill, director of Marketing at Wellborn Cabinet Inc. (#64) Also important, she added, make sure to work closely with your employees, and with your current dealers.
• "Don't overcommit, and when you do make a commitment, do everything within your organization's power to meet those obligations," Jeff Eichenseer, director of Marketing & Product Development, Conestoga Wood Specialties (#61). And, he added, "If you find yourself unable to meet your commitments, over-communicate to your customers."
(More tips by large, mid-size and small wood products manufacturers can be found in the WOOD 100: Strategies for Success.)
About the FDMC 300
More than 100 cabinetry and cabinet-related firms are included in the 2022 FDMC 300, an annual report that tracks the largest manufacturers in North America and ranks them by sales. Updates of the FDMC 300 firms can be found at WoodworkingNetwork.com/FDMC-300, with future issues also including industry snapshots and interviews. For information contact [email protected].
Have something to say? Share your thoughts with us in the comments below.