Bids tighten up in Pricing Survey
November 7, 2022 | 8:37 am CST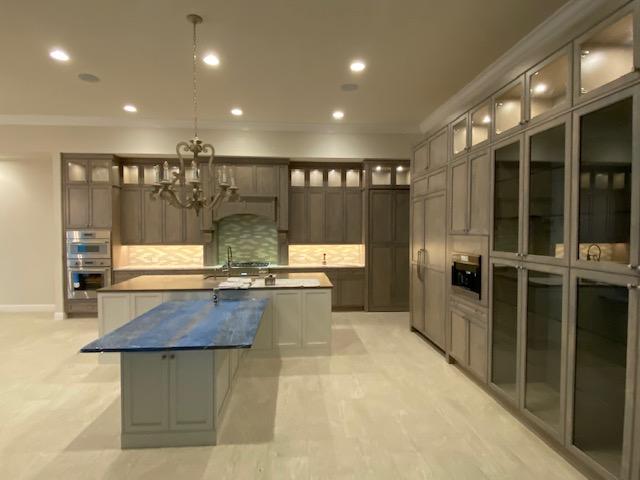 After two dozen years of reporting astounding variations in pricing for the same projects in the annual FDMC Pricing Survey, this year's results are remarkable for how close the bids are.

Whereas past bids often varied by multiples of five or six, with the high bid as much as six times the low bid, this year's bids are dramatically different. High bids are as close as only about 40 percent higher than the low bids.

This year's survey featured just three kitchens. Kitchens have always been the most popular projects in the survey. But none of the kitchens attracted huge numbers of bids. Many people who had expressed interest in bidding in the survey earlier in the year said they were just too busy. Those bidders who did participate spent an average of more than two hours on their bids, so it is understandable that many did not want to invest the time.

But those who did bid seemed to be on the same wavelength. Prices quoted for materials and hours were much closer than in past years and final bids were quite competitive, with one kitchen ranging from $32,000 to $46,000 and another from $39,000 to $56,000.

How the survey works
The Pricing Survey is an attempt to understand wide variances in pricing custom woodwork. It takes real projects done by real shops and makes the original bidding information available to any shop that wants to try to price the work. Submitted bids are itemized with breakouts for materials, hours, and shop rates for construction, installation, and finishing, as well as for the total price.

All bidders remain anonymous except for their state or province.


Lockdowel difference
This year's survey was sponsored by Lockdowel, and we asked them to connect us with a shop using their joinery system to provide one of the projects. Lockdowel is an innovative polymer joinery system that makes for fast and secure assembly without tools. It does require CNC machining and special equipment for manufacturing.

We did not require bidders to use Lockdowel as a construction method, but we were curious to see if there were dramatic differences in the bids. This is similar to projects in past surveys in which the original project was frameless, and some bidders priced it based on a full-overlay face frame construction that would have the same look or the reverse of that, substituting frameless construction for full-overlay face frame.

The pricing tends to counter the perception of ready-to-assemble systems as being relegated to lower priced projects. In this case, the original Lockdowel shop price was the highest bid submitted for the project, which was a high-end kitchen with lots of custom features. 

Construction vs. price
Despite long-standing arguments about the superiority of one construction method over another, we have long taken the position that construction methods are immaterial to the final price and value as perceived by customers. 

Certainly, some construction methods should affect costs, using more or less materials and requiring more or less labor, but there appears little effect on final prices. That means the differences in construction methods have more impact on profitability than price.

In one of the bids in this year's survey, a bidder from Virginia provided both face-frame and frameless bids for the same project. The frameless bid was $39, 700. The face-frame bid was $44,000. We wonder if the kitchen would have the same perceived value to customers and maybe they should be charging the higher price for frameless, as well, and enjoying the additional profit.

This is similar to the affect of CNC manufacturing on price. Over the years, we've seen CNC shops show up as low bidders, high bidders, and in the middle of the pack. There has never been any correlation between CNC use and the final price. We have found that some shops use production, precision, and efficiency gains from CNC to lower their prices to be more competitive. Other shops see those same gains as adding value to their product and raise prices accordingly.

Shop rates
Another interesting number we've been tracking in the survey over the years is the amount quoted by bidders for their shop rates. We've had lots of comments about the wide range in shop rates. This year, they range from a low of just $35 an hour to a high of $125. Shop rates should reflect overhead costs, and we find it difficult to believe that in 2022 shop rates lower than $50 an hour can have any chance of covering overhead anywhere in the country. 

Even trades that operate largely out of a truck and on jobsites, such as plumbers and electricians, post hourly rates much higher than this even in rural areas. Try finding a plumber for less than $85 an hour these days. 

Most woodworking operations have huge investments in stationary equipment. That investment should be reflected in what they charge for their work. We suspect many shops should revisit their overhead costs and revise up their shop rates.

Materials estimates
One of the most dramatic areas of variance in past surveys was found in the quotes for materials costs. Often the numbers bore little resemblance to other bids or the original bidders' numbers. It was common to see high materials quotes to be four or five times the low quotes for the same job, even when elaborate and detailed materials information was provided in the bidding specifications.

This year was different. For whatever reasons, bidders came closer together on materials quotes this year. In the Lockdowel kitchen project, the numbers were amazingly close, varying only $1,000 from top to bottom, with two bids identical at $17,000 each.

Hours estimates
One place where this survey is little different from past ones is in the hours quoted for construction, installation and finishing. The range is typically double or triple from low to high. It raises the question: Do different shops really vary in efficiency that much?

Chances are that there is indeed a wide range in efficiencies, staffing, and methods of work among the shops reporting to the survey. That might be reflected in how different shops estimate how much time a particular job will take. We know many shops are notoriously bad at estimating the time custom work will take, and they often err on the low side. 

How to use the survey
We are always asked how individual shops can use this information. We strongly urge everyone to participate in the survey as more responses provide a better picture of what the industry is doing. But even if you do not submit a bid, you can use the survey information to better inform your own pricing.

The first step is to download the bid package and price the projects just as you would in your own operation. Compare your results. Are you high or low? Are your materials and hours estimates in line with the shops in the survey? Do you need to update your shop rate? 

There are lots of subjective decisions in estimating custom work, leading to price variations. If you have more than one estimator in your business, you can use the survey to address those differences. Take the bid package and have your estimators bid the same job, but without talking to each other. Then compare the results. This is an opportunity to talk about subjective differences and assumptions.

Quarter century of pricing
Next year marks the 25th anniversary of the Pricing Survey. While interest in the results seems to remain high, we've noted a reduction in participation in recent years. Whether this has to do with the pandemic, increased activity in shops, or some other reason, we don't know. What should the survey do differently in its 25th year?

This year, we limited projects to just kitchens. Normally, we've included freestanding furniture and commercial work, too. We have gotten calls for closet and bathroom vanity projects. What would you like to see in the survey?

If you have any suggestions or would like to submit a project for the survey, please contact Will Sampson at [email protected] or phone 203-512-5661.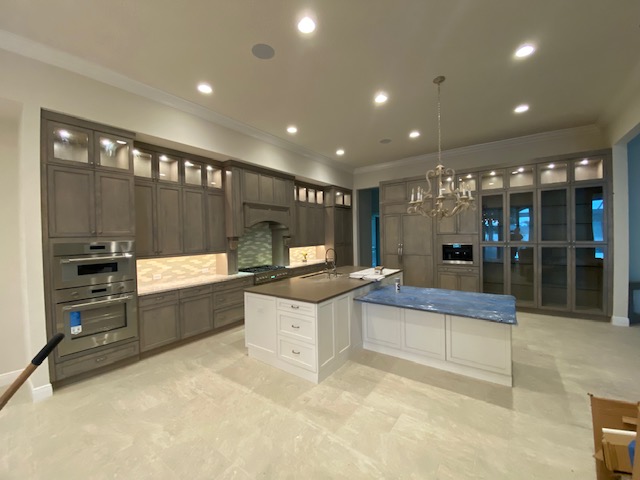 Maple Lockdowel kitchen
This large high-end kitchen features a full-overlay design and uses Lockdowel construction. Bidders who don't use Lockdowel were encouraged to bid the kitchen using their standard construction method. Some distinctive features of this kitchen include the T-shaped, two-level island, lighted glass door top cabinets, a section of tall glass doors with interior glass shelves, and a custom wood stove hood with Arts & Crafts corbel details. There is a 1-inch-thick door that provides hidden access to a pantry room behind. 

Analysis 
Although this is a large and elaborate project, bids were surprisingly close together. The two lowest bids were within $300 of each other. The two highest bids, including the original bid, were only about $150 apart. For a job that originally went for $56,689, that's amazingly close bidding. Although specifying the Lockdowel construction was an attempt to see how construction relates to price, the sample size is too small for real comparison, but we suspect construction methods relate more to internal profitability than they do to customer perceived value.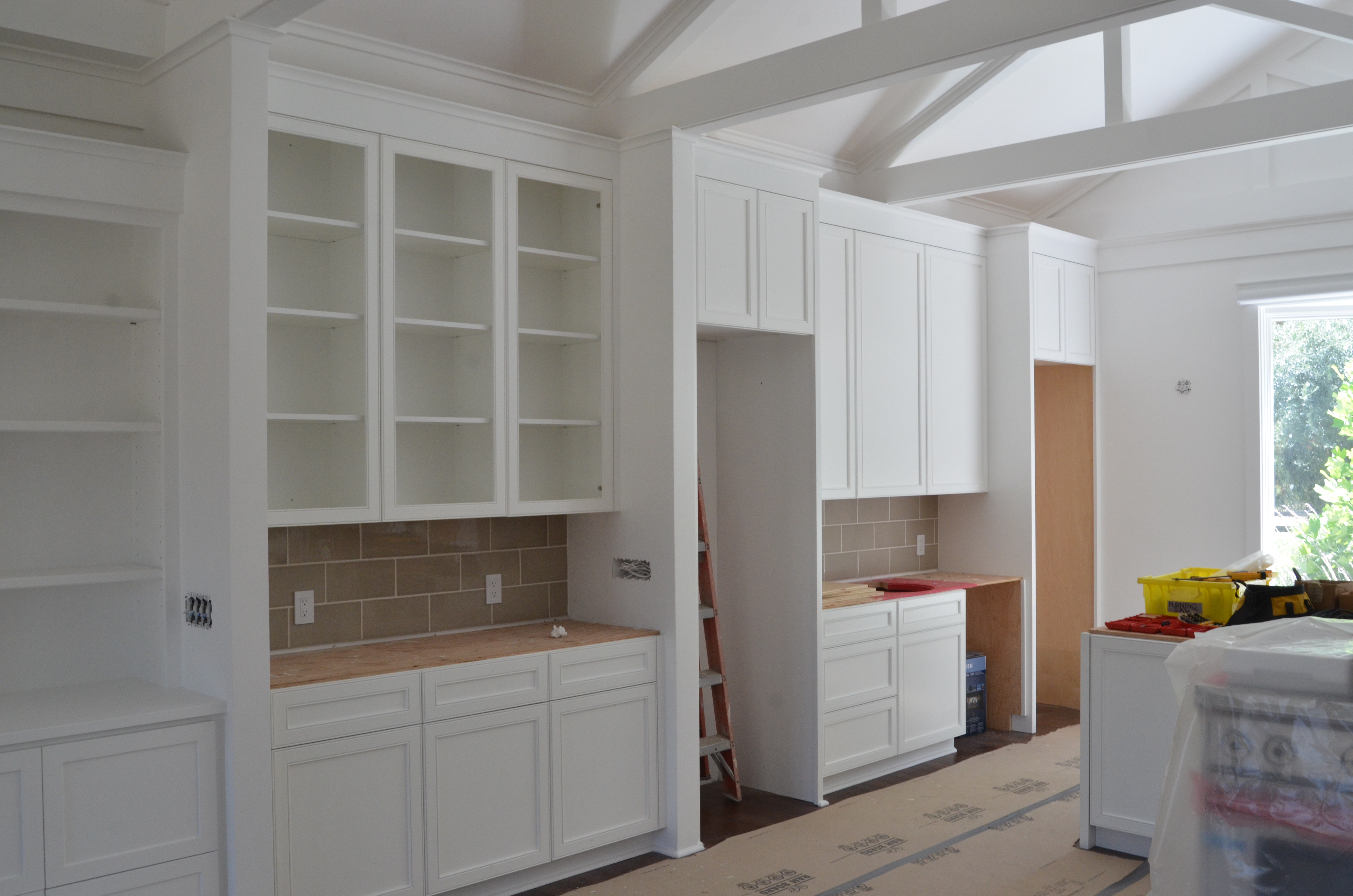 White painted Shaker-style kitchen
There is nothing still more in demand than a white painted Shaker-style kitchen. This one features full overlay doors so it can be done in face-frame or frameless style without changing the appearance, although the original was done as face-frame construction. The basic plan is two facing walls of cabinets with the island in the middle.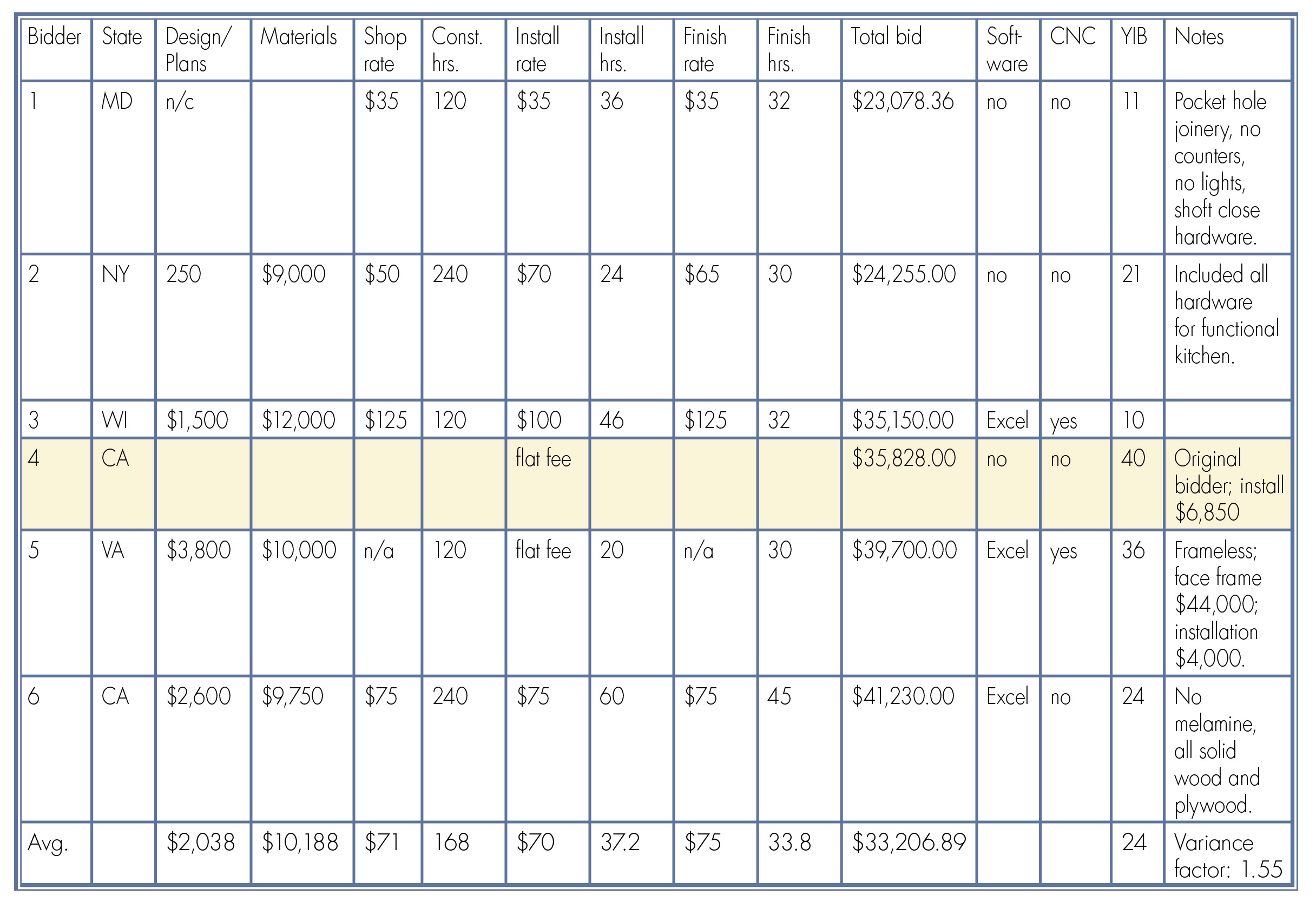 Analysis 
This kitchen had the widest variation in price in this year's survey, going from a low of $23,078 to a high of $41,230. That's still a high that is less than double the low, very narrow bidding by past Pricing Survey standards.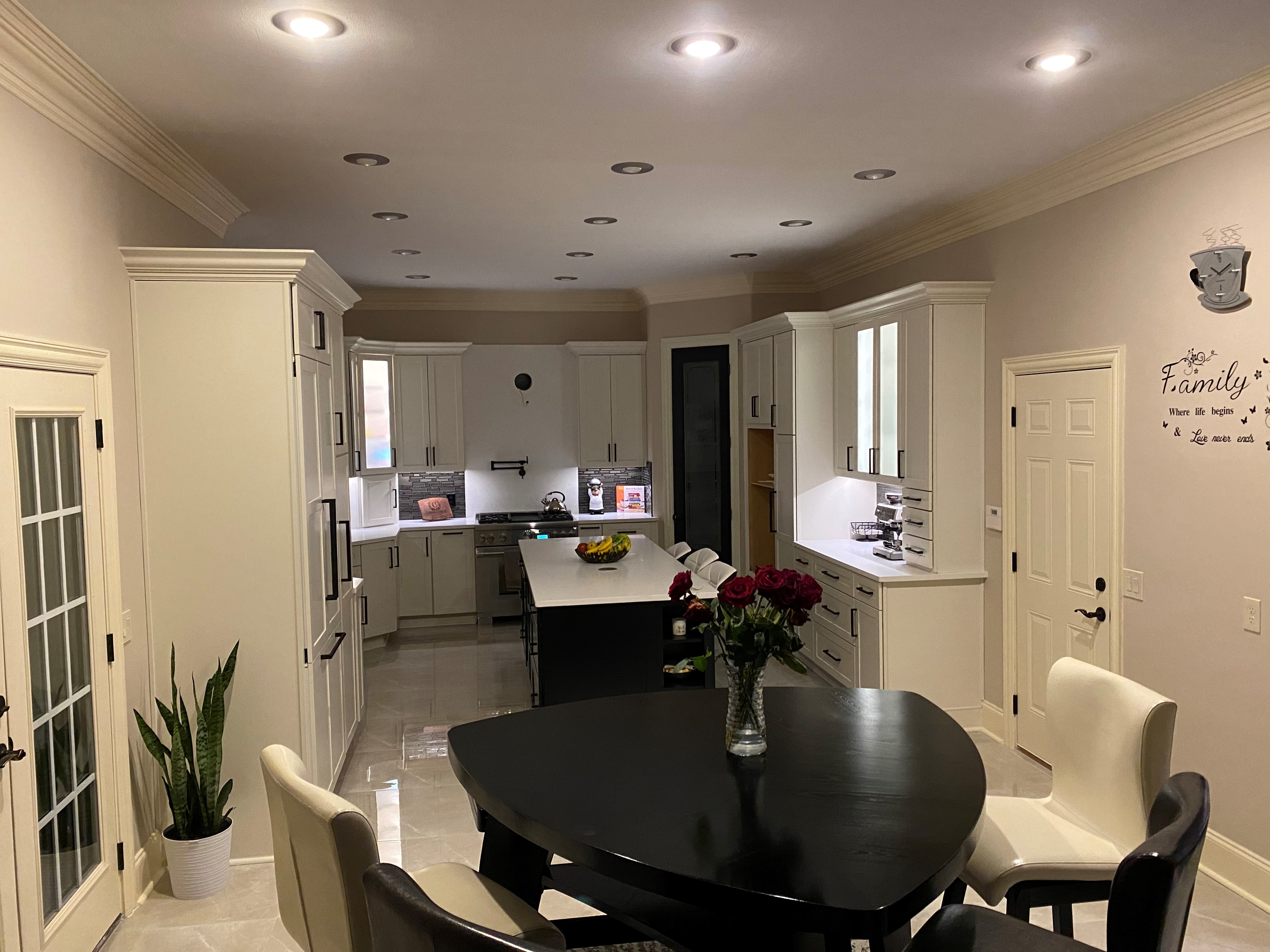 U-shaped Shaker kitchen
This kitchen flows Shaker style into a U-shaped room with an overflow cabinet and wine storage around the corner. The full-overlay face-frame design could also be done in a frameless construction without losing the stylish features. The white kitchen with white quartz countertops surrounds an island with espresso cabinets and a white quartz top. Dishwasher and refrigerator panels are included in the cabinets, as are custom angled shelves for the corners. There is also under-cabinet lighting. Crown moulding tops the cabinets throughout the installation. Interior details include a small cutlery tray, a 9-inch spice pullout, a Docking Drawer, wood pegboard, wood insert large drawer, bread drawer cover, base pullout utensil bins with knife block, a mixer lift and shelf, and three tray dividers.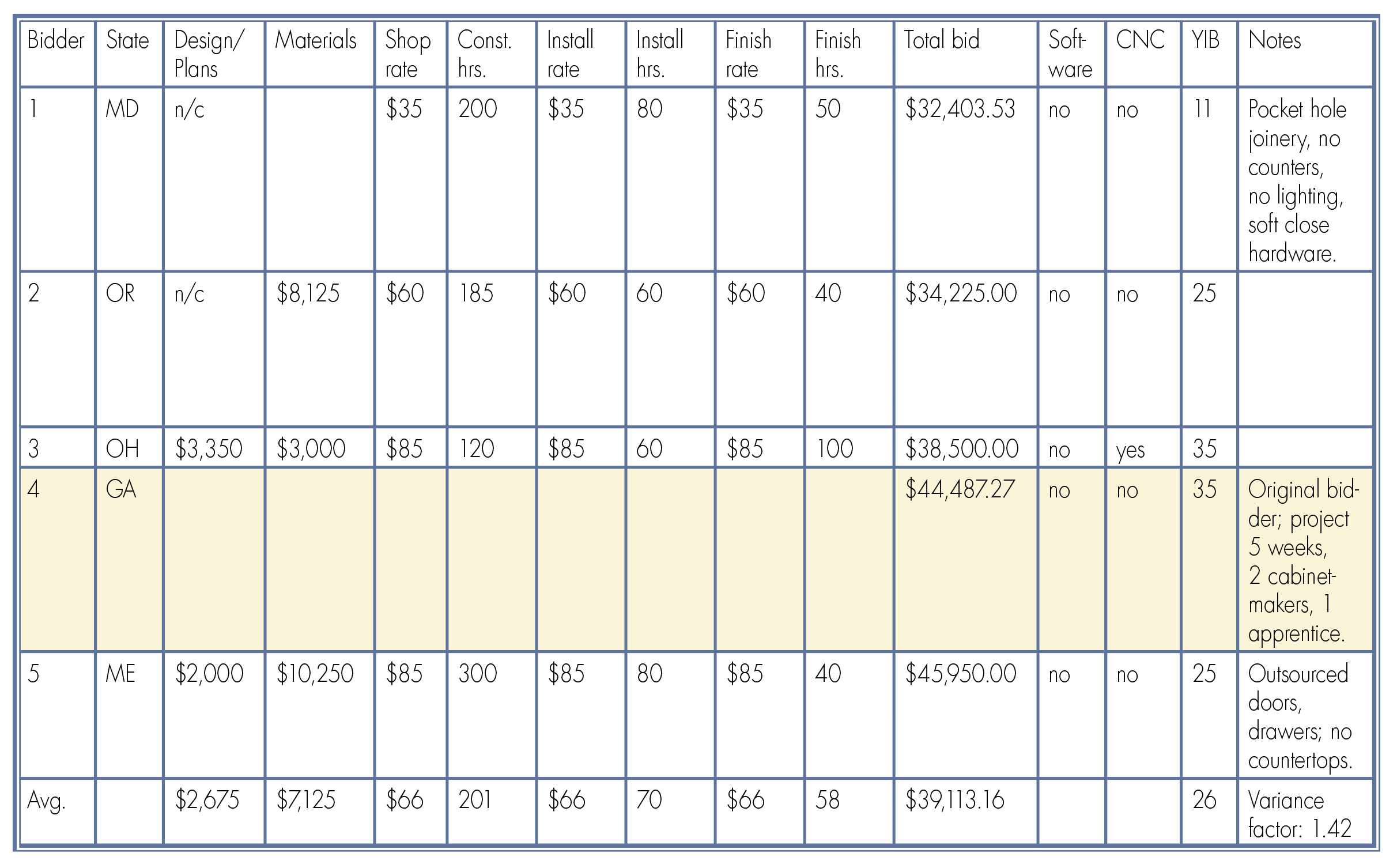 Analysis 
Bids came in very close for this project with the high of just $45,950 and the low coming in at $32,403. That means the high bid was just 42 percent higher than the low bid. Other breakout numbers such as materials, construction hours, and installation hours were all similarly close together. Installation hours ranged from a low of 60 to a high of 80, a very close range compared to previous surveys.
Have something to say? Share your thoughts with us in the comments below.