November 9, 2021 | 2:24 pm CST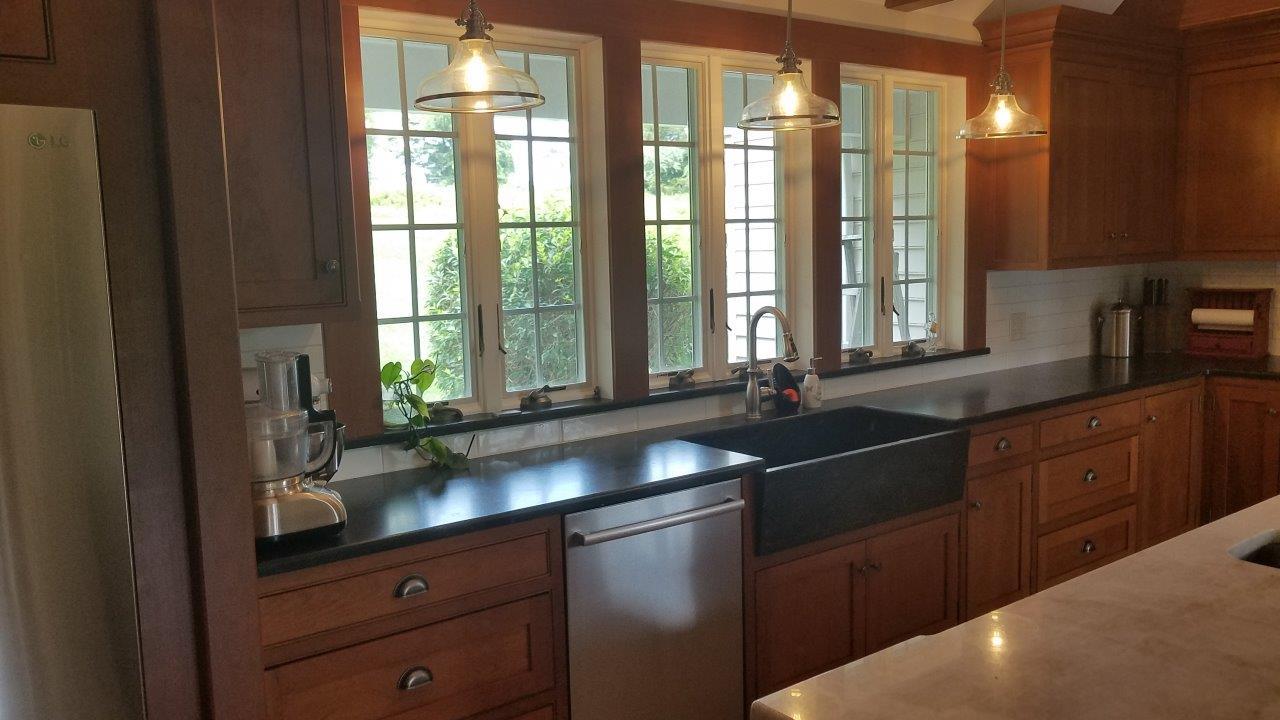 Pricing in custom woodworking has been disrupted by the pandemic, but while results for the 2021 FDMC Pricing Survey reflect rising costs and price turbulence, they show less variance in what is perceived as a volatile market.

While prices for popular projects like kitchens have in the past shown a variance of up to six times between the high and low bids, this year's results show variances of triple or less. 

This year's survey was sponsored by Lockdowel.


How the survey works
We take real jobs done by real shops and share the original bidding specifications with any shop in North America that wants to price the projects. The idea is to try to create an apples-to-apples comparison of custom work.

But the results always show wide variations, reflecting the real world. Custom woodworking shops all approach work differently, and that affects how the work is priced and the survey bids they submit.

This year's results
It's hard to extrapolate pricing trends from any given survey, but prices this year feel like they are on the rise. None of the kitchen projects garnered extremely low bids. All the bids are closer together and moving higher.
 
Participation in this year's survey was down a bit, which also could be attributed to the pandemic and how busy most shops are. Still, this year's survey participants reported investing serious time in the effort, some saying they spent three or more hours to complete bids.

Shop rates higher
Another trend that can be gleaned from the survey is a rise in shop rates to reflect the cumulation of rising prices affecting the overhead of every shop. This year's survey has no shop rate below $35, and the average across the board is closer to $75. Shops should look at the survey and revisit their costs, particularly rising overhead costs, and then recalculate their shop rates to better reflect current and rising obligations. It is hard to believe any shop can actually cover its overhead costs today with a shop rate less than $50.

How to use the survey
The best way to use the Pricing Survey is to download the bid package and price the projects appropriate to your shop. Then compare your results with the results reported here. 

Don't pay so much attention to the end price. Look closer at estimates for hours and materials. That will give you clues as to where your pricing can run afoul of bad estimates.

Another great way to use the survey is if you have more than one estimator. Give each of your estimators a copy of the bid package and put them in separate rooms to work out their bids. Then compare all the bids to see where they vary. You might be surprised to find that each of your estimators is operating on different assumptions when working up bids. Get them on the same page.

Odd things: experience, equipment
One of the strangest things we've noted about the survey is how some factors don't seem to affect pricing.
When this survey was launched 25 years ago, lots of people suggested the wide variation in pricing had to do with experience. So, we asked bidders how many years they've been in business. There is no correlation between experience and high or low bids. Shops with decades of experience show up in both the high and low ranges.

Automation is a similar area. We ask whether shops use software and CNC machines. Again, the surprising response is no correlation to pricing. Think of it this way: One shop sees automation as a way to be competitive, so it lowers its prices. Another shop sees automation as a way to be more precise, creating more value for customers, and the shop raises prices.

The value question
Speaking of value for customers, this is the biggest issue in pricing that we cannot cover in a survey like this. All pricing is ultimate tied to the value as perceived by customers. If customers see more value, they will gladly pay more. If they see less value, they will be very resistant to higher prices.

Shops that focus on customer perceived value tend to eliminate production waste and increase pricing. They attract more discriminating customers who demand quality but are willing to pay for it because they appreciate the value of excellent work and will pay.

Historically, we know many small shops resist raising prices. They worry about losing sales and even seem embarrassed about charging more. We hear shops say things like, "I wouldn't pay that price myself."

But remember that you are not your customer. You need to put yourself in your customer's shoes to see the value of your work as they do. 

You might be surprised to learn it's worth more than you think.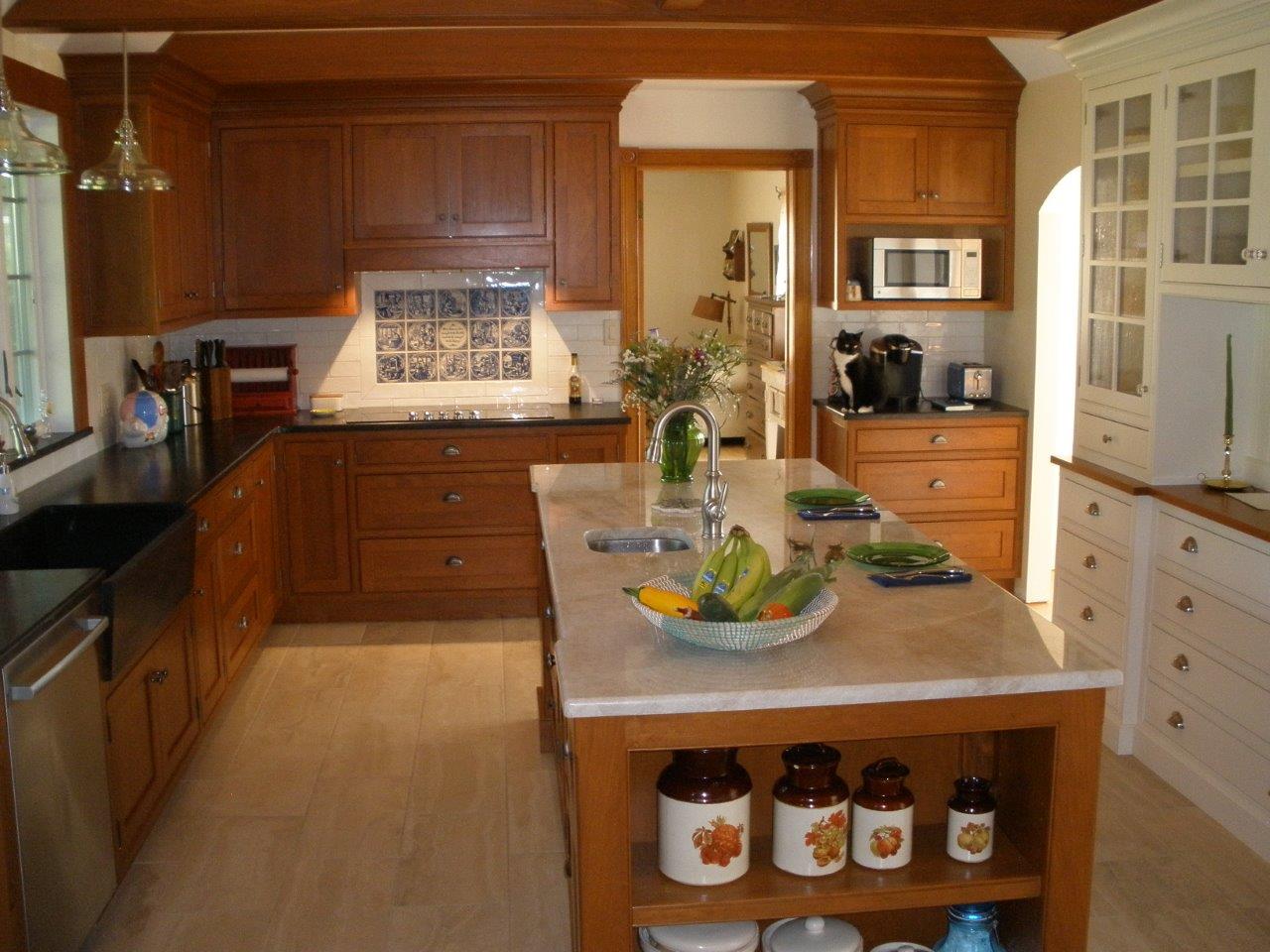 Cherry two-tone kitchen
Kitchens that combine multiple wood species or marry painted and wood finished cabinets are increasingly popular. This kitchen combines a classic beaded faceframe wood look in cherry with a wall of painted cabinets. Note also the contrasting countertop colors especially between the main kitchen countertops, the island, and the cherry countertops.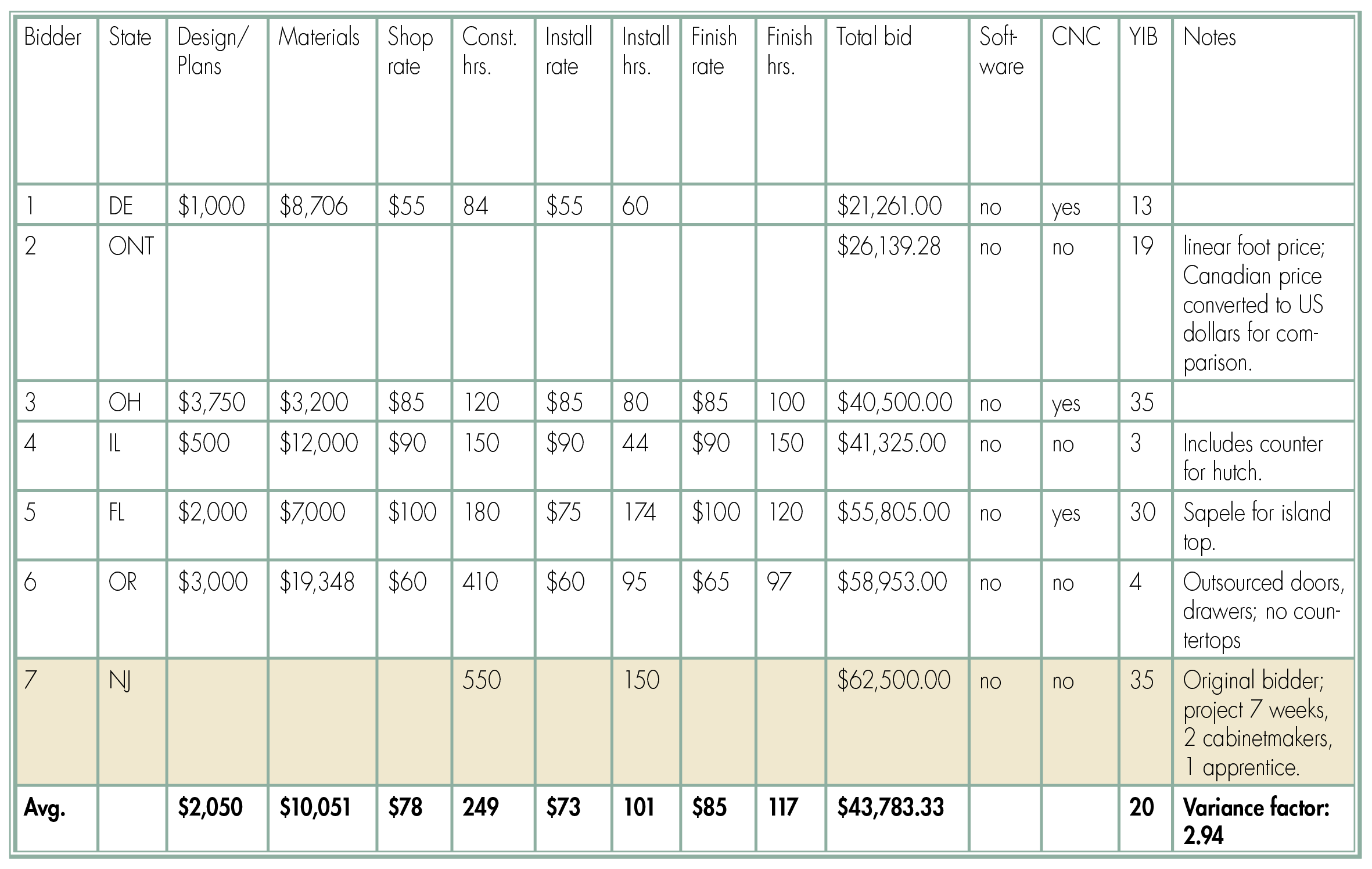 Analysis
The original bidder posted the highest price for this kitchen, indicating that most bidders underestimated the costs, labor, and potential customer-perceived value of the project. The time involved reported by the original bidder is more than double the average of construction time reported by other bidders. The lowest bid of $21,261 is about one-third of the original/high bid of $62,500.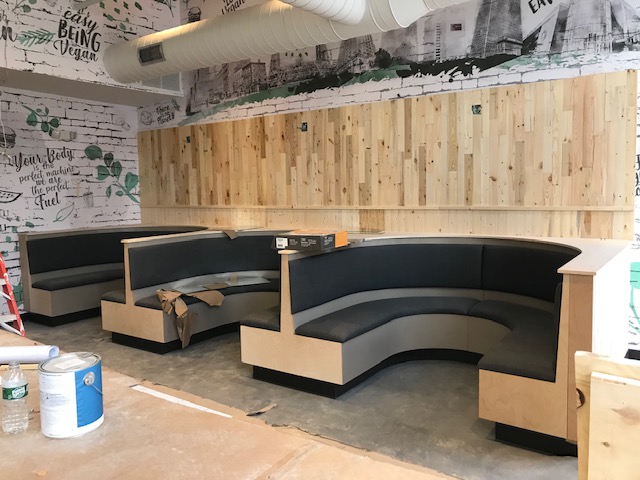 Restaurant booths 
These curved restaurant booths presented a challenging commercial build-out project. Besides the obvious challenge of the curved work, the booths required upholstery, with high-density foam for the seats and back, fabric, and attaching the fabric and foam to precut seats and backs. Plywood, laminate, and "wiggleboard" were used in the construction. The booths were built in six halves to fit through a narrow doorway, and a separate toekick was supplied. A delivery charge is included in the price, but actual installation was done by a contractor onsite and is not included in the price. 

Analysis
Although the bids are relatively close on this project, the original bidder was the lowest at just $15,300. Other bidders included information on installation and finishing even though the project called for those services to be handled by others, so that easily could account for the difference. The highest bid of $25,785 was more than $10,000 higher than the bid of the shop that actually did the work.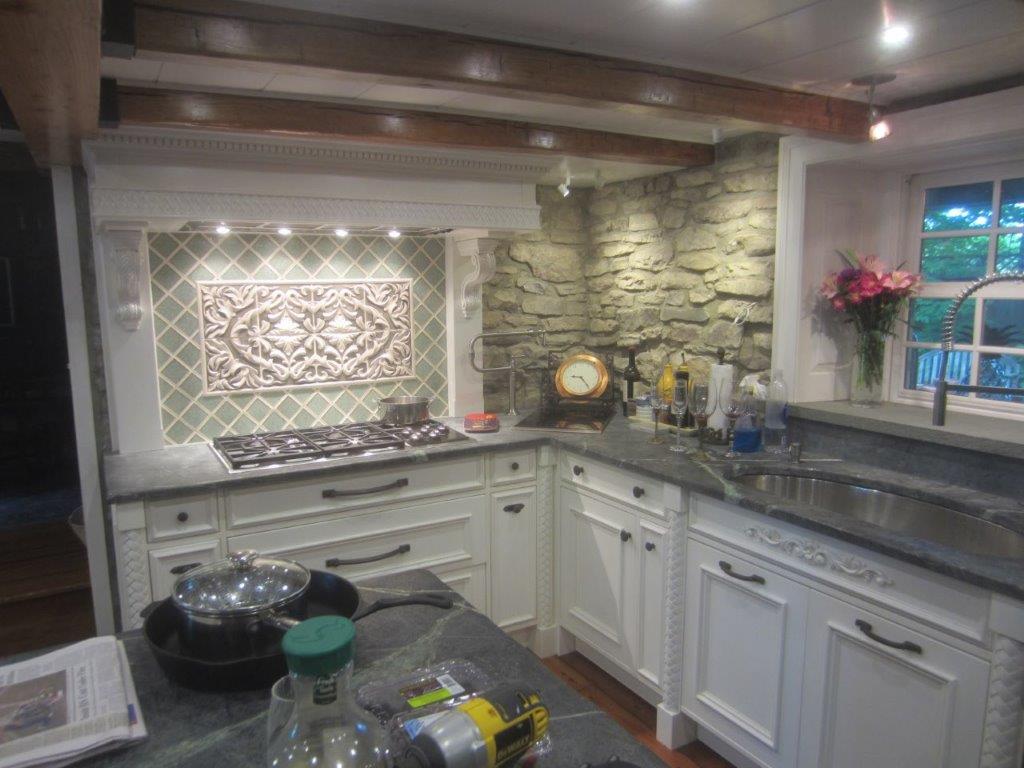 Maple painted inset kitchen 
This kitchen transformed a cramped and busy kitchen with low ceilings and a big colonial fireplace into a brighter, more inviting space with white painted maple cabinets and plenty of lighting. Construction was with soft maple wood substrate with ¾" maple ply interiors finished. Other details included maple dovetailed drawers with soft-close hardware.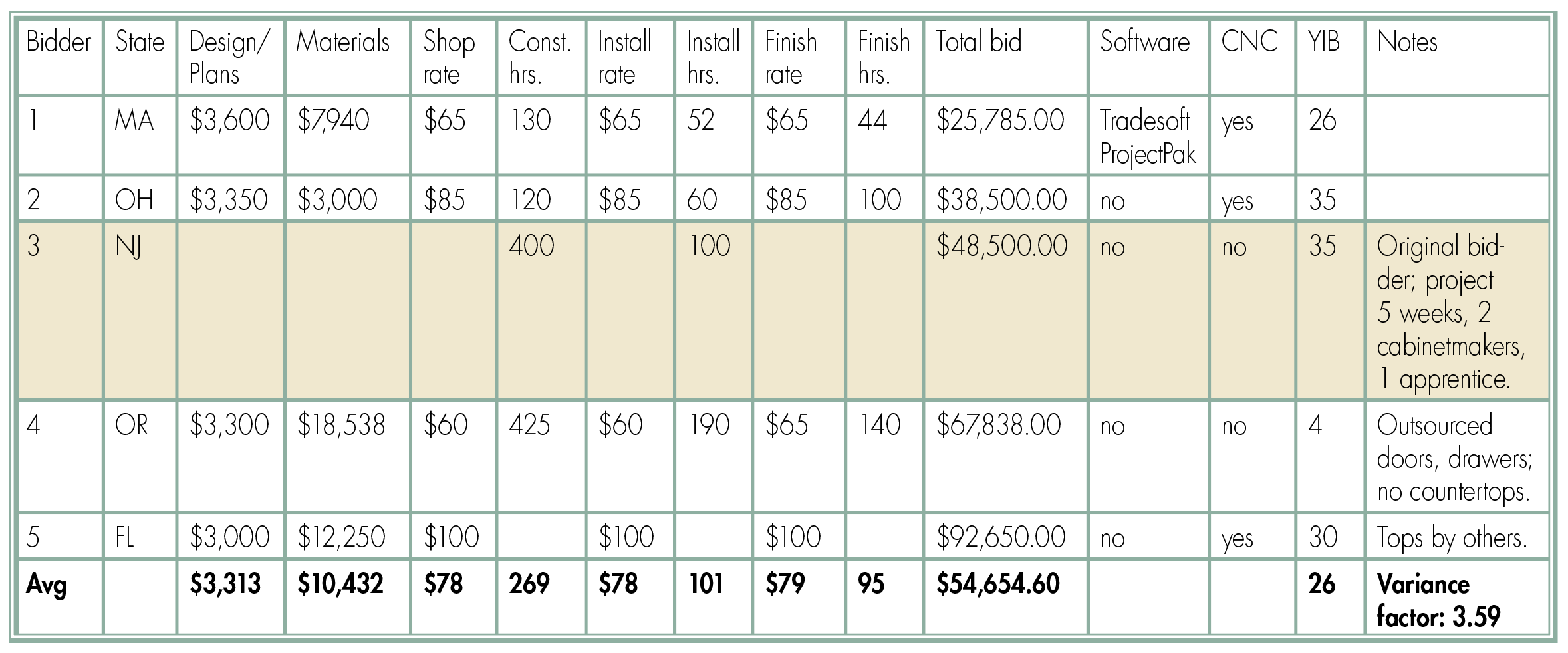 Analysis
This is a case where the original bidder came in at about the middle of the pack. His bid of $48,500 is still lower than the $54,654 average of all the bids. A Florida shop was the highest bid at $92,650, while the lowest was just $25,785 from a Massachusetts shop.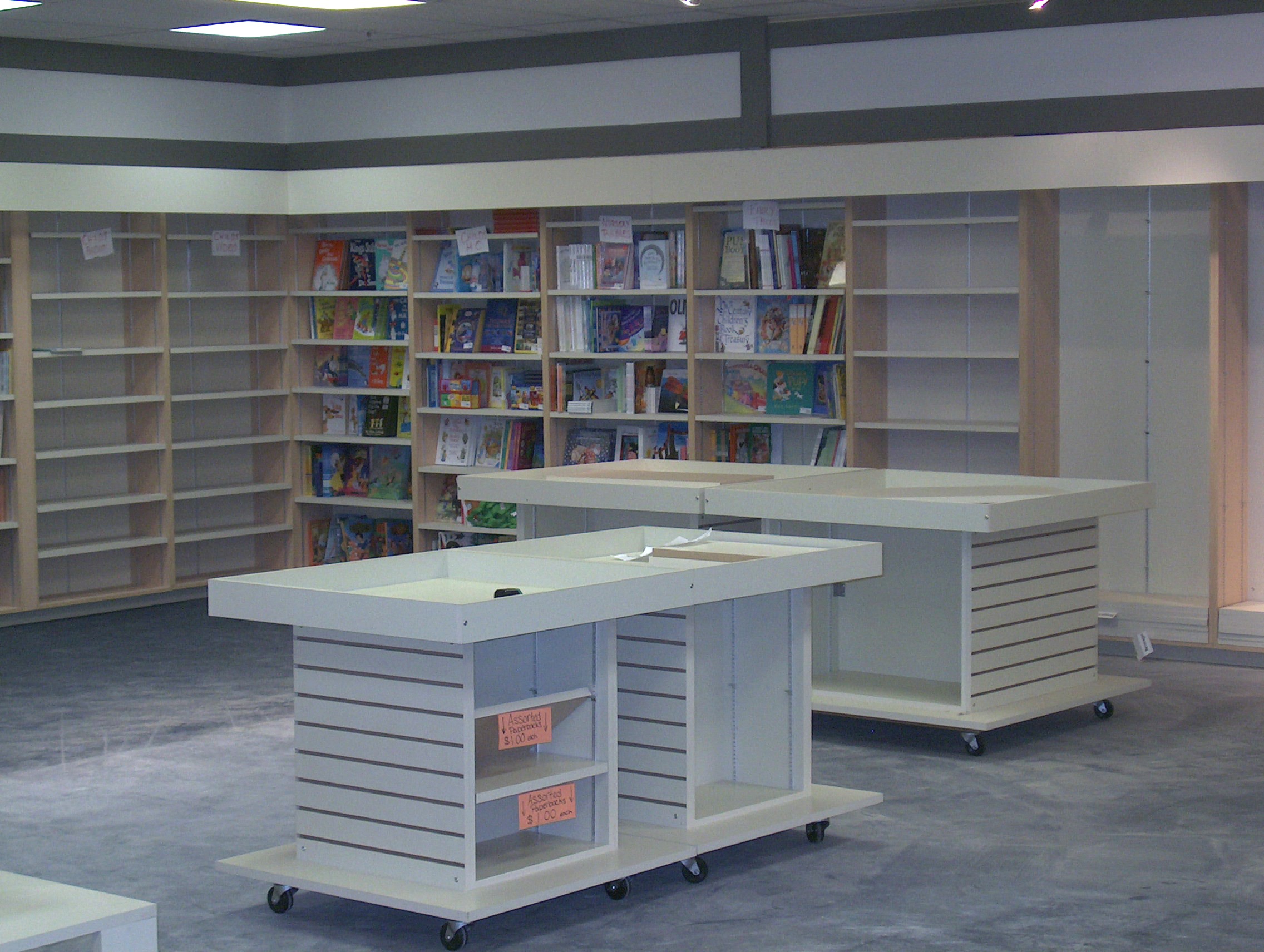 Book Store Project 
This book store project included just about all the features you might expect in a retail store fixture job. There are 43 wall units, shelves, slatwall, 13 rolling dump tables, 18 gondolas, a cashier's credenza, and a light valance system. Most of the work was done in melamine coated particle board or hard rock maple. Panels cut to size and edgebanded were outsourced. The actual cutlist for the job was included in bid materials.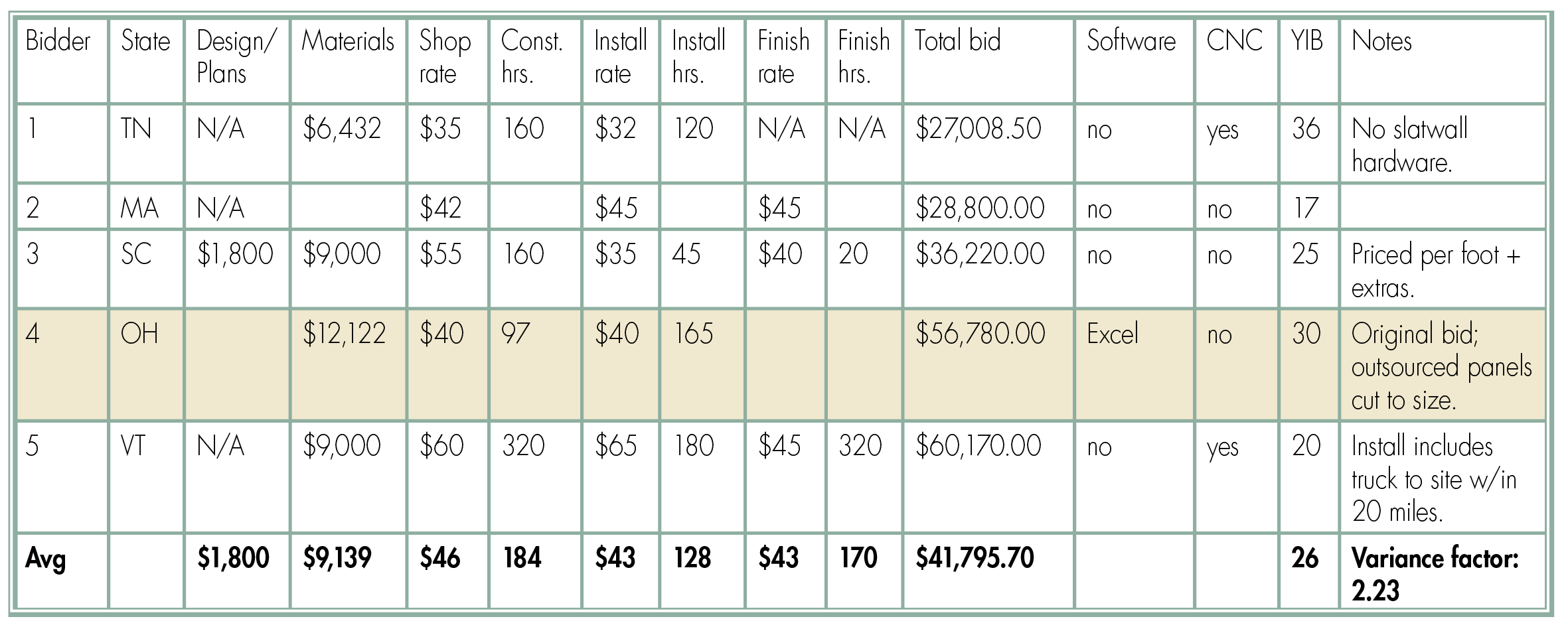 Analysis
Even with such a detailed bid package (the actual cutlist for the job), bids varied dramatically on this project. The low bid of just $27,008 came from a shop in Tennessee, while the high bid of $60,170 came from a shop in Vermont. The original bidder from Ohio came in close to the high bid at $56,780. The average bid was lower at $41,795.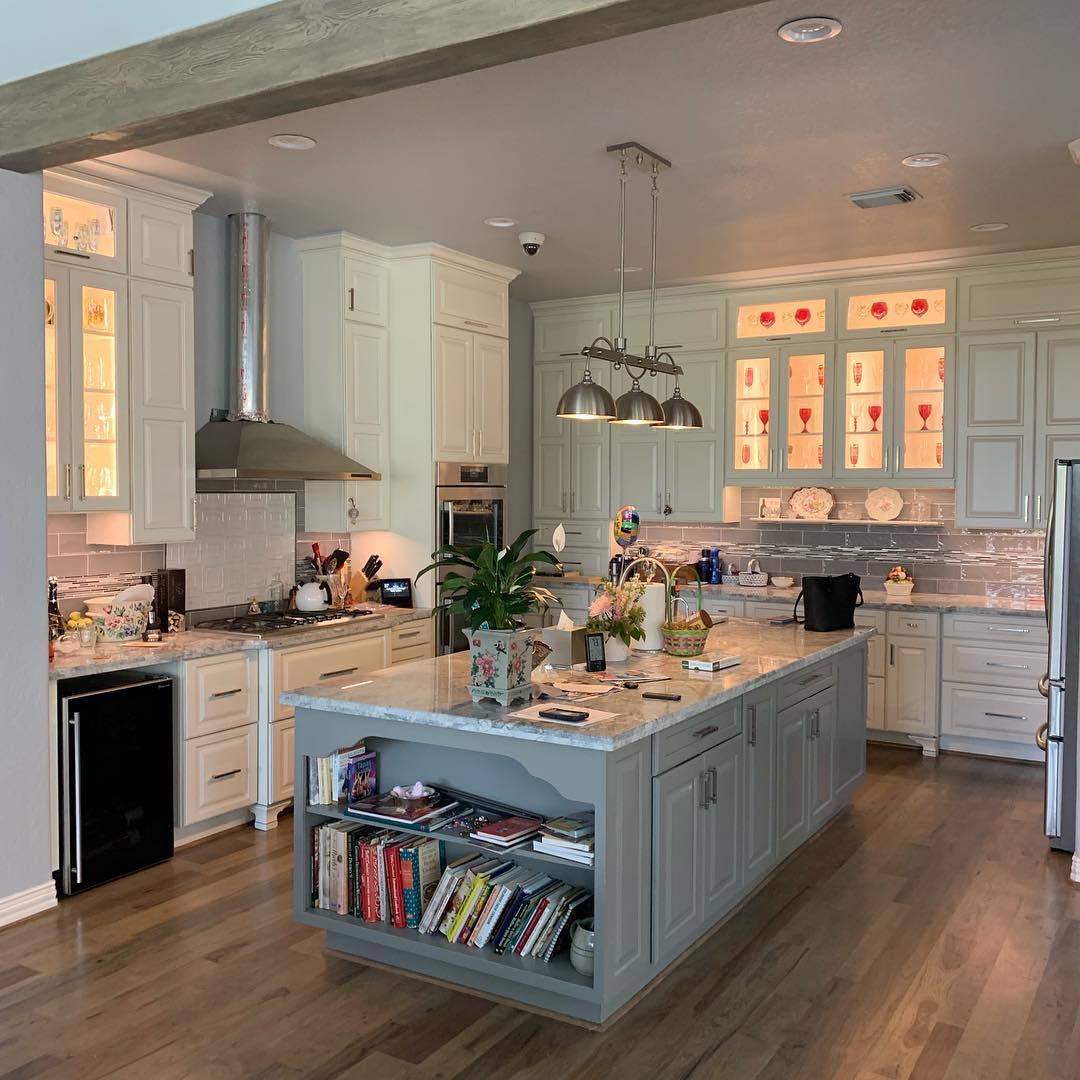 Full-Overlay Maple Kitchen 
This kitchen represents a very popular current style of a painted maple kitchen in shades of gray with full-overlay doors. This could be done in either faceframe or frameless construction.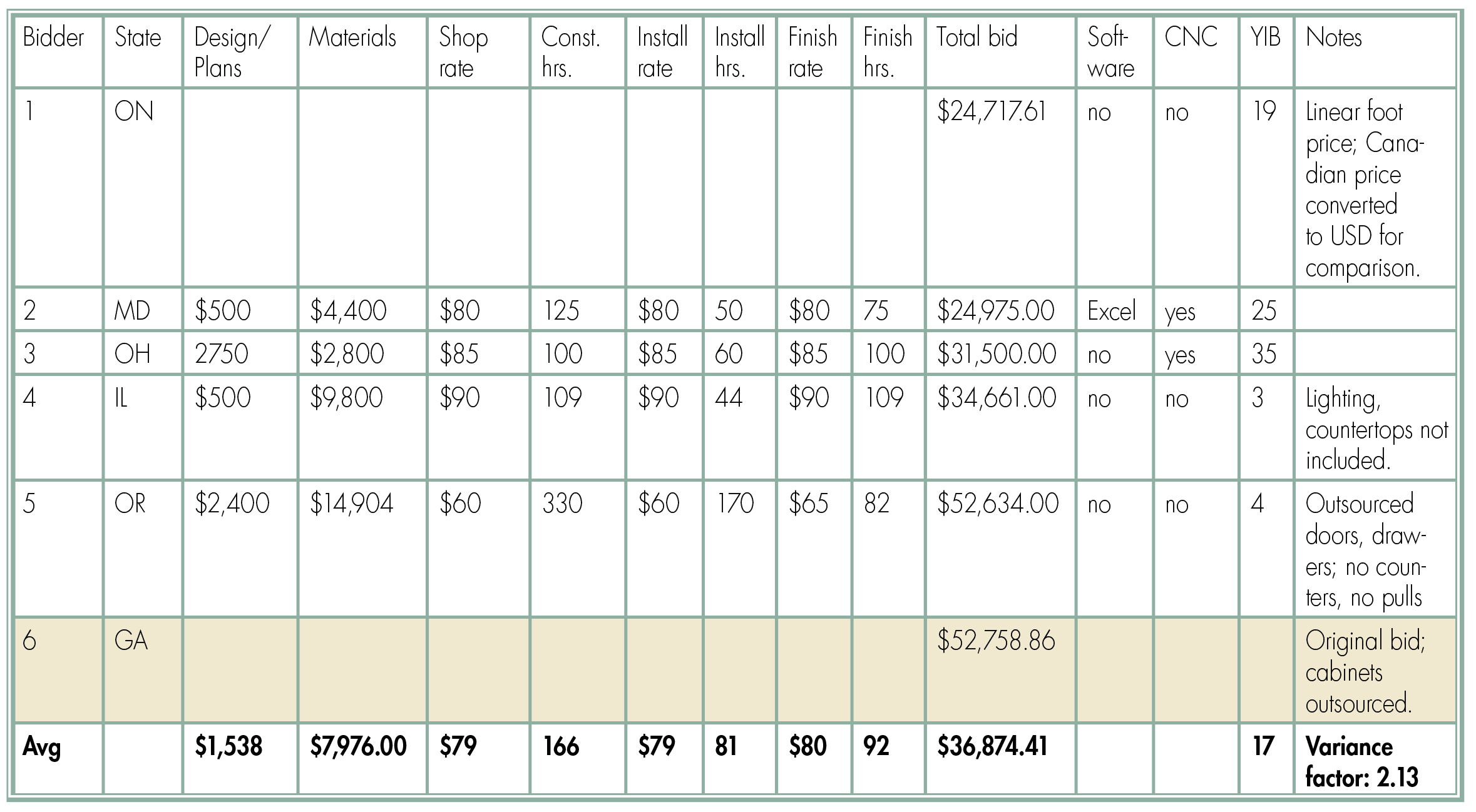 Analysis
This project is another case where the high bid is the original bid. Interestingly, the original bidder actually outsourced the cabinets. 
The original bidder was in Georgia, and the cabinets were installed in Texas. 
The original bid of $52,758 was almost $20,000 higher than the average bid of $36,874. If the original bidder was doing the job today, they said they would adjust the prices higher.
Have something to say? Share your thoughts with us in the comments below.