Bidding competitive in annual Pricing Survey
September 26, 2018 | 11:24 am CDT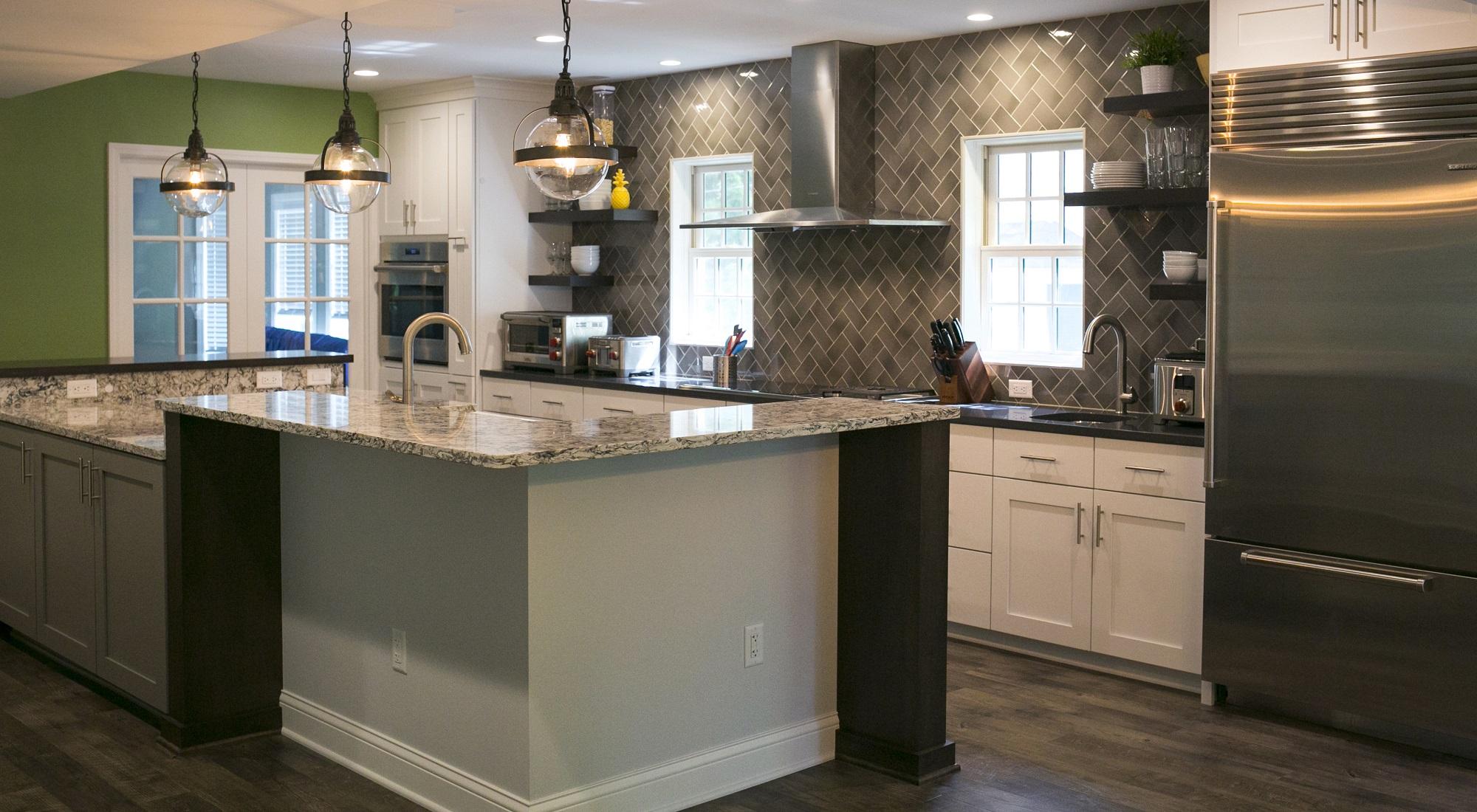 With the exception of one particularly complex project, bids in the annual FDMC Pricing Survey were much more competitive this year. Still, variances point to common problems that trip up bidders and account for wide ranges in pricing that continue to plague shops.
This year's bidders for most projects stayed within a variance factor of about 2.5 or less, but that still means the highest price was two and a half times the lowest price. In the worst-case scenario, a complex beaded inset kitchen, the variance skyrocketed, with the highest price almost eight times what the lowest price was quoted. Clearly, prices can vary considerably more as job complexity of  goes up, but before we delve into the details, let's first review how the survey works.
Collecting the data
For two decades, we've been tracking pricing in custom woodwork by taking real jobs done by real shops and then sharing the original bidding specifications with our readers. Shops all across North America are asked to go through the exercise of bidding these projects as if they were proposals for their own shops. The idea is to try to create an apples-to-apples comparison for custom woodworking projects. To make that comparison more valuable, we ask shops to break down their prices in several categories, such as materials, construction hours, install hours, and finishing hours, although not all shops do that.
To further identify where the variances occur, we ask shops to report their hourly shop rates, whether they use software for bidding, whether they use CNC manufacturing, and what state or province they are from. We also ask them how long they have been in business. Most of our respondents are very experienced shops with decades of woodworking under their belts. One other note just to clarify, in the case of bids from Canadian shops, we do convert the numbers from Canadian dollars to U.S. dollars so there is a more ready comparison in the tables. In some cases, we report original Canadian prices in the Notes column as a convenience to Canadian readers.
What does the data show?
The most obvious lesson from this year's survey is that as the project gets larger and more complex, the opportunity for price variances increases. A traditional beaded inset kitchen came in for the widest variation in price, attracting a low bid of less than $8,000 and a high bid of $60,000, early eight times the low bid of just $7,601. Those bids compare to the original shop that did the project in Ohio for $47,500. Contrast that with the average bid of just $32,000.
The most obvious category that shows where shops can go wrong is the materials cost reported. The original bidder in this case reported $8,000 in materials costs for this kitchen, but bidders estimated costs as low as just $820 and as high as $17,325. 
Similarly, estimates of construction hours can be way off. The average estimated hours was 184, which compared favorably to the original bid of 200 hours, but other estimates ranged from half that to double that. Interestingly, whether the shop is automated with CNC manufacturing or has decades of experience seems to make no difference in the variations.
Now contrast those results with a project that was similar in scope, but perhaps more straightforward in design. The kitchen with two islands garnered a high bid of $61,400, very similar to the beaded inset kitchen, but the two-island kitchen did not attract nearly as many low bids, and all the bids were closer together. 
The lowest bid was $24,595, which is not that far removed from the original Canadian bidder once his price was converted to U.S. dollars and became $29,512. The average of all bids was $40,573. Once again, we do see a wide range in materials quotes, from $7,000 to $23,777, and the average is $13,481, significantly higher than the materials quoted by the shop that actually did the job ($8,250 in U.S. dollars). Constructions hours are also all over the map, ranging from less than 100 to more than 400.
Beyond estimating errors
Of course, all of the variations in price can't be chalked up just to estimating errors. Some custom shops do work for less or more than others. Some shops have more or less overhead. And shops have different clientele who are used to paying more or less for products. All of those factors come into play.
While there are not enough respondents in the survey to make any scientific conclusions about regional pricing, you can get a bit of an idea about whether a bidder is an upscale shop or in more of a lower market situation by comparing shop rates. More than any other factor, higher shop rates seem to conform to high total prices.
As noted in previous surveys, some shops are likely basing prices on dangerously low hourly shop rates that likely do not even cover their real overhead. In this day and age, even a shop in a very low-rent area with exceptionally low overhead would be hard pressed to make a go of business with a shop rate at or below $35 an hour. But there are a number of bidders in the survey in that range, many of whom have been in business for many years and presumably know what they are doing. Still, maybe they ought to consider raising their rates. Other bidders report shop rates up to $100 per hour, and the average seems to be between $50 and $60 per hour.
Other factors
Many other factors can dramatically affect the cost of doing a particular job, and if they are not considered, a shop might come in with a low bid that leaves them holding the bag. The classic example is having to deal with site installation issues that add significantly to costs. These can include long distances to the job site or challenging site conditions such as working in an urban highrise with issues of parking, access, and perhaps even special building rules that affect the work.
We try to call these kinds of special considerations out in the bidding specifications for the projects in the survey, but it is hard to measure how much participants consider those factors when estimating the cost of work.
Why these projects?
Longtime fans of the Pricing Survey will notice the lack of freestanding furniture or commercial work in this year's survey. Generally, we have tried to include a wide cross-section of projects from the major interests of most of the FDMC and Woodworking Network audience. That includes both residential and commercial cabinets, millwork, and furniture. In the past, commercial submissions have had especially high levels of complexity in the bidding specifications and received few bids. Similarly, furniture projects rarely attract as many bids as mainstream kitchens. We're open to including those projects in future surveys if more people express an interest.
Learning from the survey
Some shops with multiple estimators like to compare how they bid the same jobs in the survey.
You can also submit your own projects or volunteer to bid for the 2019 survey by emailing
[email protected]
. 
Here's the breakdown of pricing on individual projects: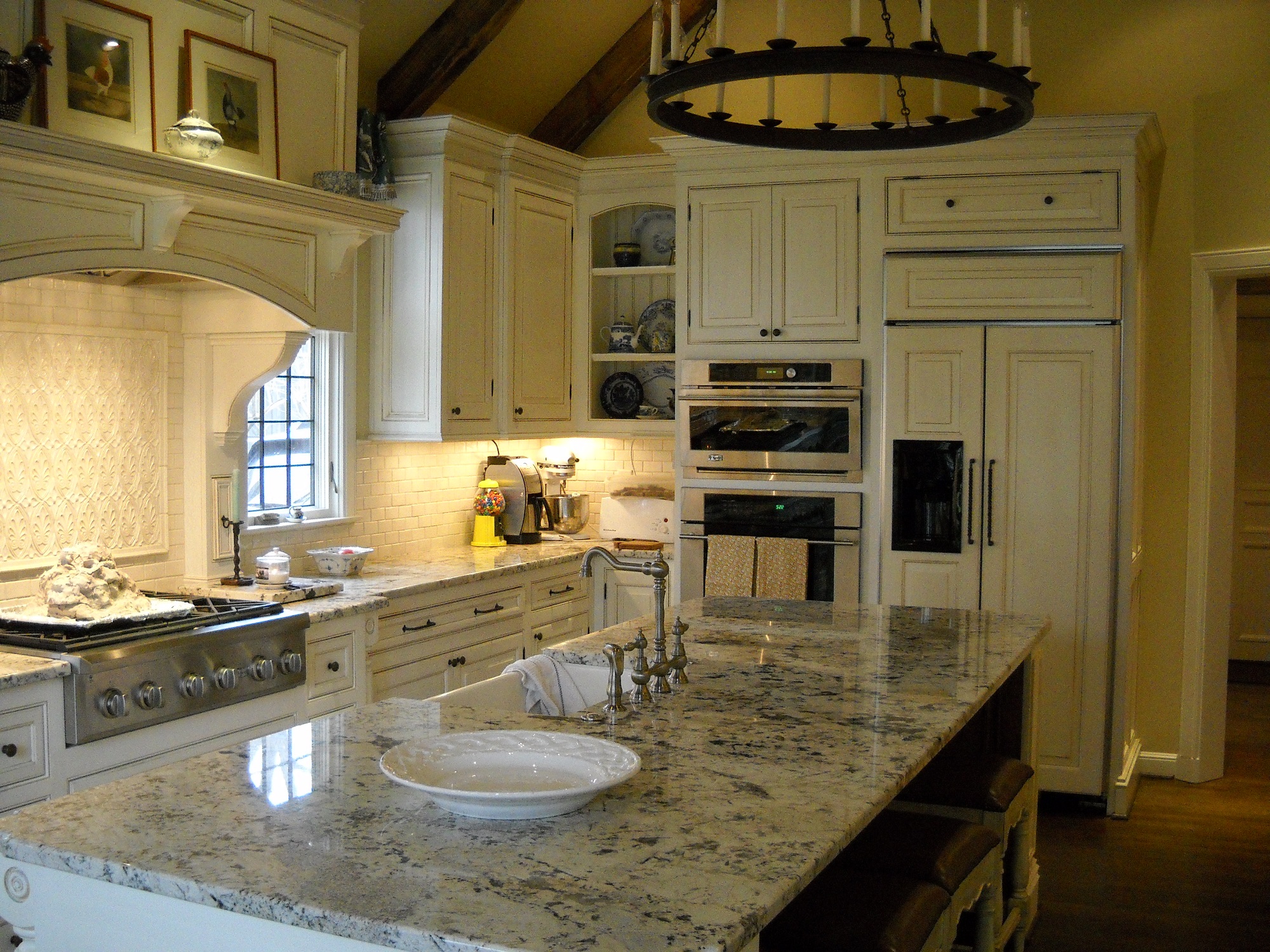 Beaded inset doors and drawers gives an elegant look, but is a major factor in construction and bidding. The high bid for this kitchen was nearly eight times the low bid.
Traditional beaded inset kitchen
This kitchen features all drawers and doors with beaded inset construction for a traditional look, but beaded inset can dramatically affect the cost and time in manufacturing. There were also field applied mouldings, including crown, baseboard, and also a light rail. 
Inside the cabinets are plenty of specialty features, including pullouts for trash, cookie trays, decorative columns, and seven spice doors with electrical outlets. A white pigmented undercoat with glaze and clear topcoat finished the look.
Analysis: This was perhaps the most complicated project in the survey this year, and it earned by far the widest variance in pricing. The high bid of $60,000 was nearly eight times the low bid of just $7,601. Wide variations in materials costs and construction hours estimates point to how complexity can introduce the potential for estimating errors. The original bid of $47,500 was well above the average bid of $32,071, suggesting that too many shops underbid when the job is very complex.
A straightforward Euro-style office kitchen looks simple, but it has its own bidding challenges and still earned a high bid two and half times the low bid.
Frameless office kitchen
Done in the Euro style with frameless cabinetry, this office kitchen shows clean lines and straightforward design. It features melamine boxes with foil-wrapped MDF doors and laminate countertops. An additional bidding consideration was the two-hour drive to the installation site.
Analysis: Even straightforward projects can result in significant variations in pricing. The high bid ($12,490) on this job was still two and a half times what the low bid was ($4,912). The original bid came it at almost exactly the average price ($9,750) once adjusted from the original Canadian price to U.S. dollars. Also note how one of the higher bidders had the lowest shop rate reported ($35).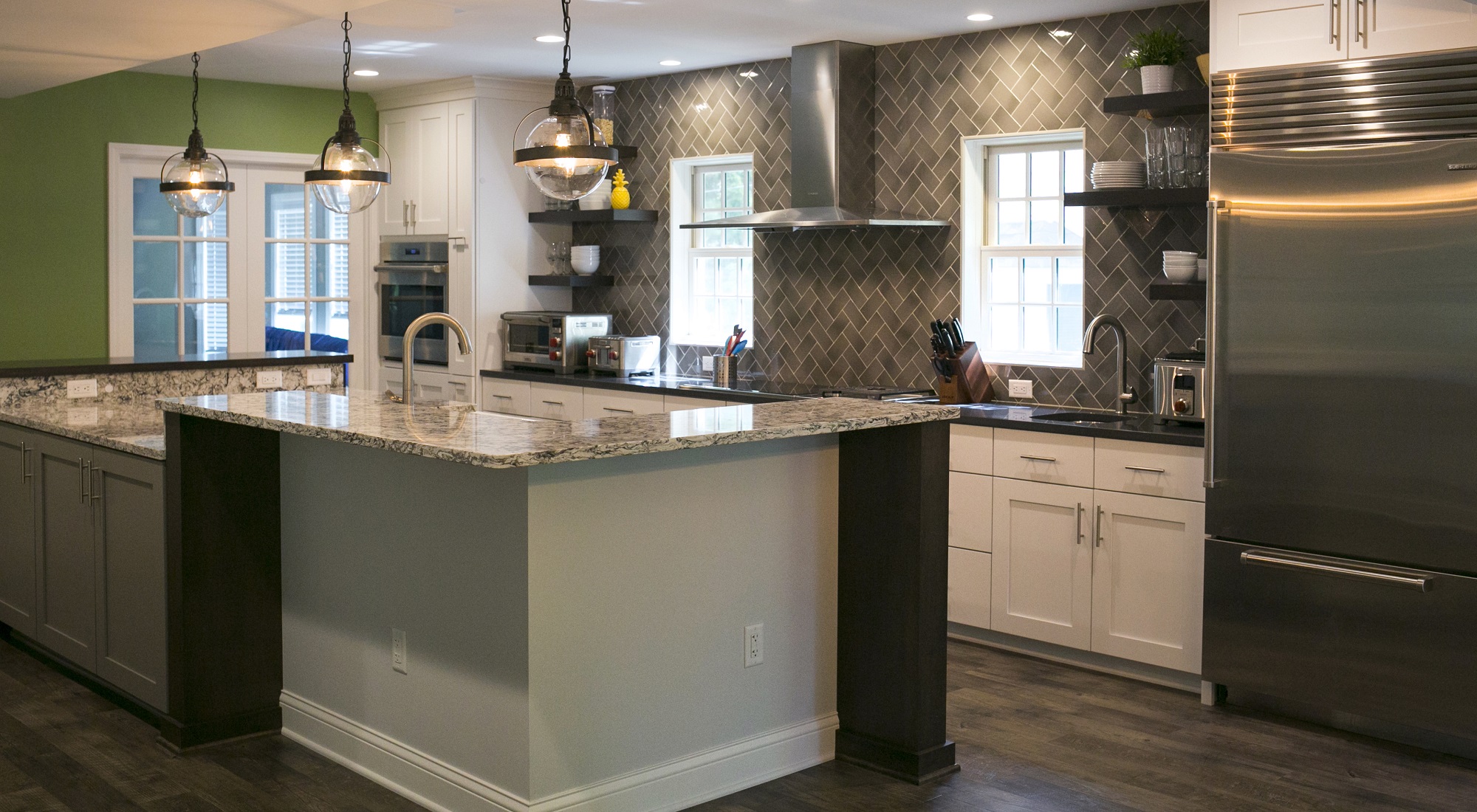 This contemporary faceframe kitchen earned a high bid of more than $27,000.
Contemporary face-frame kitchen
The young couple who owns the house likes to cook together and has quite a large collection of pots and pans and cooking accessories. They wanted to make this a space that would be comfortable for two cooks, with organized storage of cookware and food. The shop's solution was a full-overlay faceframe kitchen with a contemporary look. A contrasting color island adds appeal.A mixer lift, pullout pantry, and rollouts are incorporated.
Analysis: A popular project in the survey, this kitchen attracted a high bid ($30,500) more than double what the low bid ($12,855) was. However, the average bid of $20,959 was very close to the original bid of $19,000. Wide ranges in materials and construction hours estimates seem to account for much of the variance, with experienced and automated shops showing up at both ends of the pricing spectrum.
This elegant den built-in was done in walnut with frameless construction and flip-down doors. It was the most competitively priced project in this year's survey.
Walnut built-in den project
This built-in project for an urban apartment den was done all in frameless walnut boxes. Plain sliced walnut was used for exterior surfaces, and walnut was also used for drawers and interiors. Individual boxes were used for upper cabinets with veneer-taped edges. Base cabinets have flip down doors.
Analysis: The only non-kitchen project in this year's survey, this was also the project with the most competitive bidding. The high bid of $23,500 was just above the original bid ($21,800) and nearly double the lowest bid of $12,999. Variations in shop rates and markets might account for much of difference in prices for this project.
This large kitchen features two full islands. It was a big project but not technically as complex and so earned more competitive pricing.
Kitchen with two islands
This striking kitchen features two large islands and lots of cabinets. Cconstruction was face-frame with prefinished birch boxes throughout and a white lacquer finish. Glass doors form the top row. Bids considered a five-hour drive to the installation location.
Analysis: Comparable in price range tof the beaded inset kitchen, this project's apparently more straightforward construction garnered more competitive pricing. The original Canadian bidder's price of $29,512 (adjusted to U.S. dollars) shows up well below the average price of $40,573. Lower overhead and lower shop rates almost always result in lower total pricing regardless of what the same project might earn from shops with higher rates.
Have something to say? Share your thoughts with us in the comments below.