ROI focus of Manufacturing Strategies panel at EBC
August 15, 2021 | 1:37 pm CDT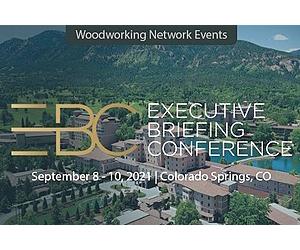 COLORADO SPRINGS, Colo. -- Manufacturing strategies are ever-evolving in the wood products industry. Advancements in technology make passe what was once state-of-the-art. Design trends come and go. The economy rises and falls. New competitors and market opportunities emerge and with them come new sets of challenges. Then there's the mad scramble to adapt to an unanticipated disruptive event, ala the coronavirus pandemic.
At the Executive Briefing Conference, representative of three tech-savvy companies will share their perspectives of the importance of making strategic investments in capital improvements. They will not only discuss how to adapt technologies that will boost productivity, but that will also facilitate a high degree of flexibility to allow manufacturers to adapt to changes in the market and the economy.

The Manufacturing Strategies panel presenters will include:
Jill Meredith, technical service manager of Haworth, one of the biggest and best-known global manufacturers of office and contract furniture. Meredith has been involved with Haworth's manufacturing operations for more than 25 years. In the 2016 video below, she compares her passion for contributing to Haworth's manufacturing success, to winning bike races.
 
Andrew Campbell, founder and CEO of Eastern Millwork, was named a 2020 Wood Industry Market Leader by Woodworking Network. Campbell is credited for helping Eastern Millwork achieve a high level of success by leveraging design innovation, automation, technology, and lean manufacturing. The company has made major investments to become a batch-size-one producer.
 
Gary Wernlund, office furniture products manager for Stiles Machinery, will moderate the panel. He will set the table for the panel discussion with his much-anticipated Technology Forecast presentation. Wernlund said a portion of the panel discussion will focus on how the presenter's companies "approach their ROI strategy to make investments that provide a good solution not only now, but even when changes come in the future."

The EBC is scheduled for Sept. 8-10 at The Broadmoor. Learn more and register. 
Have something to say? Share your thoughts with us in the comments below.