Plant tours showcase technology, components best practices
February 14, 2020 | 10:30 am CST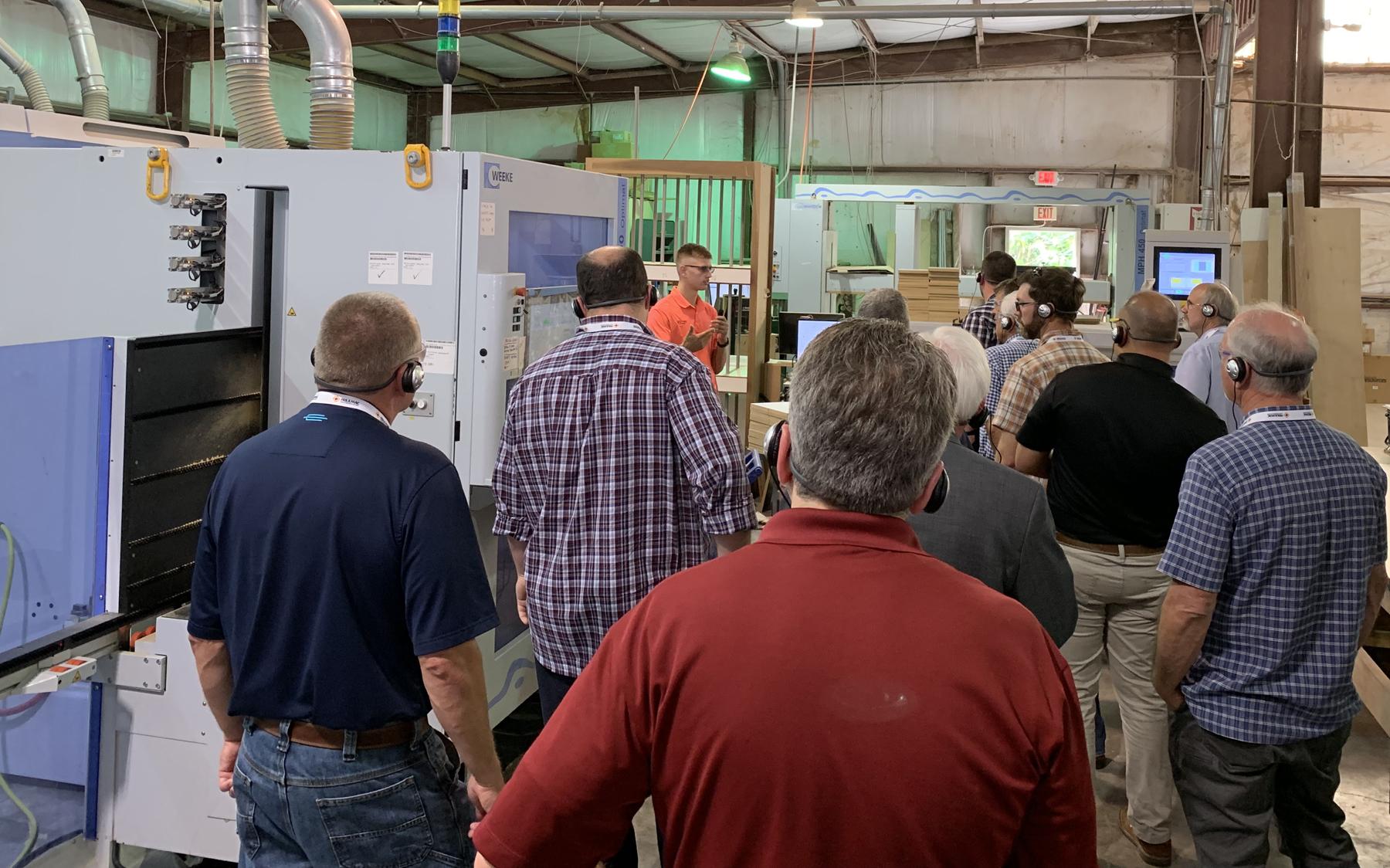 Best practices for manufacturing wood components were shared by more than 50 North American woodworkers and industry suppliers during the Fall Conference & Plant Tour Event hosted jointly by the Wood Component Manufacturers Association and the Moulding & Millwork Producers Association.
Held Sept. 22-25 in New Orleans, the event included Productivity Information Exchange (PIE) sessions which wood products manufacturers could schedule with technology suppliers for ways to increase productivity. Panels discussion by members of each association also addressed a variety of topics, including industry challenges and opportunities, as well as technology to optimize production and increase competitiveness.
Highlighting the event were tours of manufacturers of a wide range of products, including architectural mouldings and millwork, dimension stock and specialty wood products. The four companies toured were: Acadian Millwork, Gator Millworks, Riverside Lumber and Barnett Millworks.
What follows are brief highlights from the tour. For information on other WCMA events, including the 2020 European Plant Tours or Fall Conference & Plant Tour Event, visit WCMA.com. For more on MMPA and its events, visit WMMPA.com.
Inside Acadian Millwork & Supply
At Acadian Millwork & Supply, tour participants got a quick look at the company's architectural millwork operation. Founded in 1981, the Covington-based company manufactures and supplies wood mouldings, interior and exterior doors, windows, casework and other millwork for commercial and residential construction and remodeling. Styles range from pre-Victorian to Contemporary. 
Products are available in a variety of species. At the 80,000-square-foot facility the company uses a variety of equipment, including a Weinig moulder, Holz-Her vertical saw and SCM shaper, as well as technology for making arched window frames.
 In addition to custom items, Acadian supplies products from companies including Masonite, GlassCraft, Marvin, Hurd, Haas, White River, and Simpson.
 "We're a one-stop shop," said Barry French, vice president. "We can provide pretty much anything the customer throws at us."
On tour at Gator Millworks
Next on the tour, Gator Millworks specializes in architectural millwork for commercial and residential projects, including large-scale projects throughout the Southeast region of the United States. Based in Denham Springs,  Gator offers cost estimating and design, project management, manufacturing, finishing, delivery and installation.
The company has grown significantly since its founding in 1994 – and despite devastating damage from 6 feet of water during the 2016 Louisiana floods.
Now, in addition to its roughly 24,000-square-foot plant, the company recently opened a 72,000-square-foot facility, with both locations utilizing a large amount of CNC technology, along with lean manufacturing techniques, to produce the high-end products.
Everything is spec driven, said owner Chad Foster, a 2018 Wood Industry 40 Under 40 honoree.
During the tour, panels were cut-to-size on a Homag HPP 300 feedthrough panel saw and machined on Homag BHX CNC vertical machining centers. Edges were banded on a Homag Ambition single-sided edgebander, or SNX contour bander. Other machines in use throughout the facility for both panel and solid wood processing include: a Ligmatech MPH 450 Optimat case clamp, a Doucet clamp, Weeke Vantech CNC router,  Heesemann sander, TigerStops, an Ironwood shaper, and Castle pocket cutter.
"We try to be as turnkey as possible," said John Williams, marketing director.
Equipment is installed at Gator Millworks' new facility (September 2019).
Equipment was still being installed in Gator's new facility at tour time, but it was already a highlight of high technology. Homag CNCs on tap include: SawTeq panel saw, a DrillTeq drilling and dowel inserters, routers, edgebanders, and StoreTeq intelligent panel storage and retrieval systems.  'One of the things we saw a need for at the old plant was material handling. Here, we have two saws integrated with StoreTeqs," said a Gator rep.
On tour at Riverside Lumber
Next up, the family-owned and New Orleans-based Riverside Lumber has served the Gulf South since 1920, providing top lumber grades in a variety of domestic and exotic species, milled to specifications, including S2S and rip-to-size. "We do a lot of poplar and cypress, but can do runs out of anything," said Michael Hayden, owner.
Mouldings are also a major product line. Along with hundreds of patterns available in stock, the company can customize or duplicate any moulding pattern desired, Hayden, said. He cited restoration, hotels and boutiques as top market segments for the company's products.
Riverside can also supply many custom millwork items including wooden appliques, corbels, dowels, finials, post caps and rosettes. Live edge lumber is another product offered.
Among the equipment used in the 12,000-square-foot shop, are IIDA moulders, Lobo planer, Lobo laser-guided ripsaw, a bandsaw, Omga radial arm saws, and an IIDA profile grinder.
One of Barnett Millworks' many operations, the door manufacturing area
The last day of the tour took us to Theodore, Alabama, home of Barnett Millworks, the largest single-site millwork distributor in the Southeast. Founded in 1945, Barnett is a family-owned business supplying a range of products, including interior and exterior doors, windows, stair parts, mouldings and shutters. Among the brands distributed by the company are: Simpson Door, Steves Doors, GlassCraft Door, PlyGem, Woodgrain Millwork, Young Mfg. and American Stairways.
The company manufactures as well as distributes, with a 300,000-plus-square-foot facility – 7 acres of manufacturing, assembly and storage – all under one roof. More than 200 people are employed at Barnett.
The roughmill area processes tens of thousands of board feet daily, with poplar and loblolly pine the primary species. It boasts a mix of new and older equipment, including Newman ripsaws and Ultimizer cutoff saws equipped with Ulti Vision scanning, which enable the operator to view a digital representation of the board as it passes through the machine.
Barnett Millworks' roughmill operation
Also used in the plant are Weinig CNC moulders as well as older Mattisons for mouldings and other parts.
It's a fast-paced environment at Barnett. "Pretty much everything we build today, loads today," said Buddy Terry plant manager.
Doors are another product that Barnett produces in-house as well as distributes for other brands. It's no small amount, with hundreds of single doors and more than 70 double doors produced daily. Among the equipment used in the production is a Full House Machinery 484-CNC which machines the door and jamb simultaneously, then predrills and applies the hinge in a precise and efficient process, Terry explained. This enables the operator to easily control hinge locations, sizes, depths, backsets and lock specifications.
Along with CNC routers, other equipment throughout the facility includes TigerStop saw systems, SawStops and equipment from Lobo Machinery. 
Have something to say? Share your thoughts with us in the comments below.