Firsthand look at finishing: Italian style
January 29, 2019 | 2:07 pm CST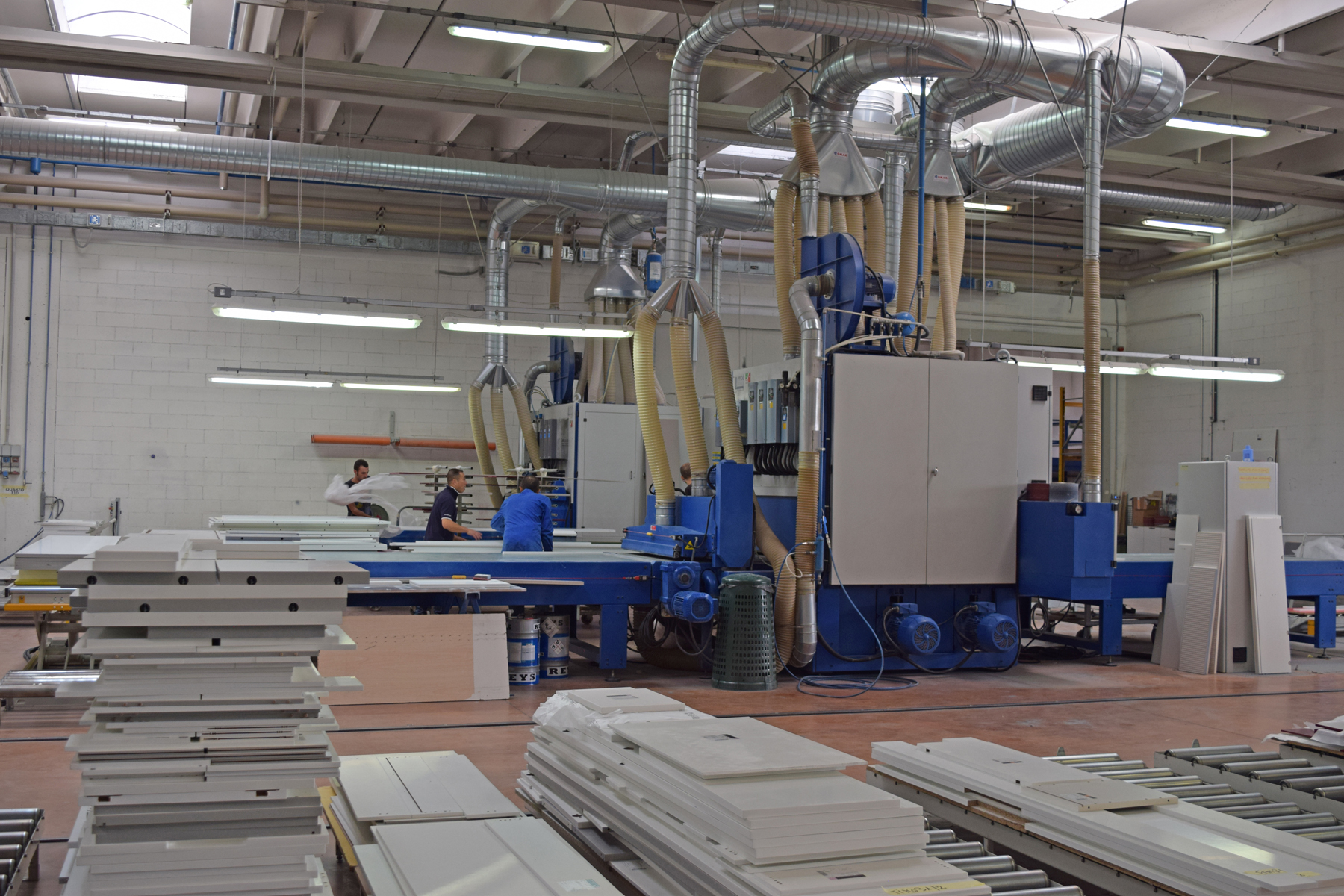 Finishing innovations and European woodworking best practices were the center of attention as a dozen North American woodworking professionals joined Cefla North America on a recent technology tour of Italy.
The week-long event kicked off with a visit to the Cefla Live event at the company's headquarters in Imola, Italy. An annual event, the international Cefla Live included demonstrations of digital printing, robotic and edge technology for the finishing and decoration of wood and other materials.
The North American contingent, which included representatives from Hoffman Cabinets Inc., Innovative Custom Trimworks & Woodmatrix, Widner Product Finishing Inc., Universal Woods Inc., Maze Machinery and Woodworking Network,  also visited cabinet, furniture and closet component manufacturers Ilcam, LAPM, Italdecor, Arbi and Novamobili.
Included was a tour of Friulmac's facility in Pavia di Udine, where the production of machinery for flooring, doors and other applications takes place.
The North American contingent included representatives from Hoffman Cabinets Inc., Innovative Custom Trimworks & Woodmatrix, Widner Product Finishing Inc., Universal Woods Inc., Maze Machinery and Woodworking Network, along with representatives from Cefla.
Italians show their finishing finesse
High-speed production is the hallmark of Ilcam, the first stop on the tech tour. The Cormons-based cabinet door maker produces 70,000 parts per day at its roughly 646,000-square-foot facility, with styles ranging from traditional to contemporary.
The tech-savvy Ilcam uses robotics extensively throughout the manufacturing and assembly processes. The finishing area is no less high tech, where the company boasts 10 lines for high-gloss, semi-gloss and matte finishing.
A high-production manufacturer, Ilcam offers both high-gloss and matte finishes on its cabinetry doors.
The high-gloss line features Sorbini/Cefla Smart Clean double brush stations which feed into an iBotic spray robot, before moving into two sets of Cefla ovens. Nearby, a matte line for finishing MDF doors includes Cefla Roctre reciprocating sprayers in line with Biesse Viet sanders. The line also features two sets of Cefla Omnidry vertical ovens with the Flexpro function for variable load thicknesses.
Also noteworthy is the company's 656-foot-long (200-meter) U-shaped paint and stain line. Parts are conveyed from the Viet sander to the Cefla rotary stain machine for the first coat. The line utilizes Cefla's Smart Conveyor system with sensors to optimize panel positioning for charging into the UV ovens, after which a CMB turner flips the panels for finishing on the front.
After sanding on a Quickwood, the panels go through the Cefla Rotostain, are dried, then moved directly into Cefla sprayers and Quickwood sanders for the sealer and topcoat applications, before drying in Cefla vertical ovens.
The company also recently installed a Cefla cogeneration system.
In addition to finishing, Ilcam's capabilities include: CNC machining, veneering, flat lamination, membrane pressing, profile wrapping and edgebanding. The company recently installed a Cefla cogeneration system at the plant. It's also worth mentioning a division of Ilcam, LICAR SpA recently formed a joint venture with Olon Industries to manufacture Euro-style cabinet doors in the United States. OL Frontal Solutions is set to begin production in early 2019.
LAPM utilizes Smartedge technology to coat and sand both straight and shaped panel edges. The company specializes in gloss and matte lacquered cabinet doors.
Another large producer, Pasiano di Pordenone-based LAPM specializes in gloss and matte lacquered panels and doors, including slab, Shaker, integrated handle and curved doors.
The focus of the tour was on the pre-finishing and finishing of the edge and face. LAPM utilizes Cefla Smartedge technology on MDF parts to coat and sand the straight and shaped panel edges. In an adjacent area, the panels are run through a Viet sander and Sorbini Smart Clean panel cleaner, then into the Cefla Roctre reciprocating sprayer which applies primer and base coats onto the face and edges before drying in a Cefla six-chamber vertical oven.
Final coating application is performed at a nearby location, where LAPM uses a Roctre reciprocating system to apply the topcoat in various gloss levels. LAPM, which has four facilities and more than 226,000 square feet of production space, manufactures more than 5 million lacquered doors per year, according to its website.  See LAPM's lacquer application in this YouTube video, below.
At another high-volume MDF doors and components manufacturer, Italdecor, production has increased almost 18 percent in the last year, said a company representative. Headquartered in Pramaggiore, Italdecor processes thousands of parts per day and has three production plants.
Doors are manufactured in a variety of styles, in both matte and high-gloss finishes. At one plant, roughly 327,000 square feet in size, Italdecor uses Cefla Smartedge inert coating technology in a two-sided model and applied by vacuum, to sand and seal the exposed MDF edges with an acrylic basecoat, before UV drying.
Another line at Italdecor has parts moving from the Sorbini panel cleaner into a Roctre reciprocating sprayer and, utilizing the Smart Conveyor, into three sets of vertical dryers. Nearby, a UV line has parts moving down a series of Sorbini/Cefla SmartCoater EVO roll coaters and UV dryers, including a Superfocus, with Viet sanders strategically located along the line.
Also in use is a SmartCoater with a Smart Conveyor that feeds into the curtain coater and linear oven, for building the high-gloss finish. Another recently installed Roctre line feeds into four-chamber and six-chamber vertical ovens.
Along with its finishing capabilities, Italdecor also offers laminated backs to match the front finish. See Italdecor's operation in this YouTube video, below.
The finishing of components for bath and laundry room storage solutions was next on display at Maron di Brugnera-based Arbi. In addition to full panel processing capabilities, the company produces modular units and multifunctional units at its approximately 237,000-square-foot facility. Known for its colorful cabinetry, it's not unusual for Arbi to have more than 40 color changes a day with a variety of gloss levels available, said a representative.
At Arbi, tech tour participants get a firsthand look how the company finishes components used for bath and laundry room storage.
More than 5,000 square feet of parts are processed daily. Sanded on Costa sanders, parts on one line are fed into a Roctre two-arm oscillating spray system that scans the workpiece shape to optimize the spray trajectories and paint consumption. A Smart Conveyor charges the parts for feeding into the Sorbini UV, then moves them into a Cefla two-chamber vertical oven followed by a four-chamber oven.
Also in use at Arbi is a Cefla Big Bag Skimmer, which uses treated water to separate out the solid particles from the overspray material.
Known for its colorful cabinetry, it's not unusual for Arbi to have more than 40 color changes a day, in a variety of gloss levels. Photo: Arbi website.
Another sustainable manufacturer, Novamobili specializes in flexible, modular systems, including wardrobes/closets, bedroom and living room furniture. The company has been using matte water-based lacquers since 2005, with more than 20 colors available.
At Novamobili's 646,000-square-foot facility in Pieve di Soligo, the focus was on the processes used to finish the roughly 13,000 square feet of parts per shift. One finishing line includes a Cefla/Sorbini Smart Clean brushing machine feeding into an iBotic interpolated axis Cartesian spraying robot.
Novamobili specializes in matte, water-based laquer finishing. Smart Clean panel cleaners are integral parts of both the iBotic and Roctre finishing lines.
Quality control is critical and is checked throughout the process. In addition, covered conveyors are used to move the parts to the four-chamber Cefla oven; depending on the time required, the parts exit into a UV-R dryer, or go to a second four-chamber oven before curing.
Nearby, a second line moves product from the Smart Clean brushing machine to a Roctre oscillating spray system. Once the matte finish is applied, the parts transfer via a covered conveyor system to the four-chamber oven, then to the UV-R before they are offloaded. Both sides of the product receive finishing.
A full-service manufacturer, Novamobili's furniture is FSC and Eco Panel certified for sustainability. The company is part of the Battistella Co., one of Italy's leading producers of furniture and systems.
For more information on Cefla North America, the Italian school for finishing, or its finishing products, visit CeflaFinishing.com.
Have something to say? Share your thoughts with us in the comments below.