December 19, 2017 | 10:05 am CST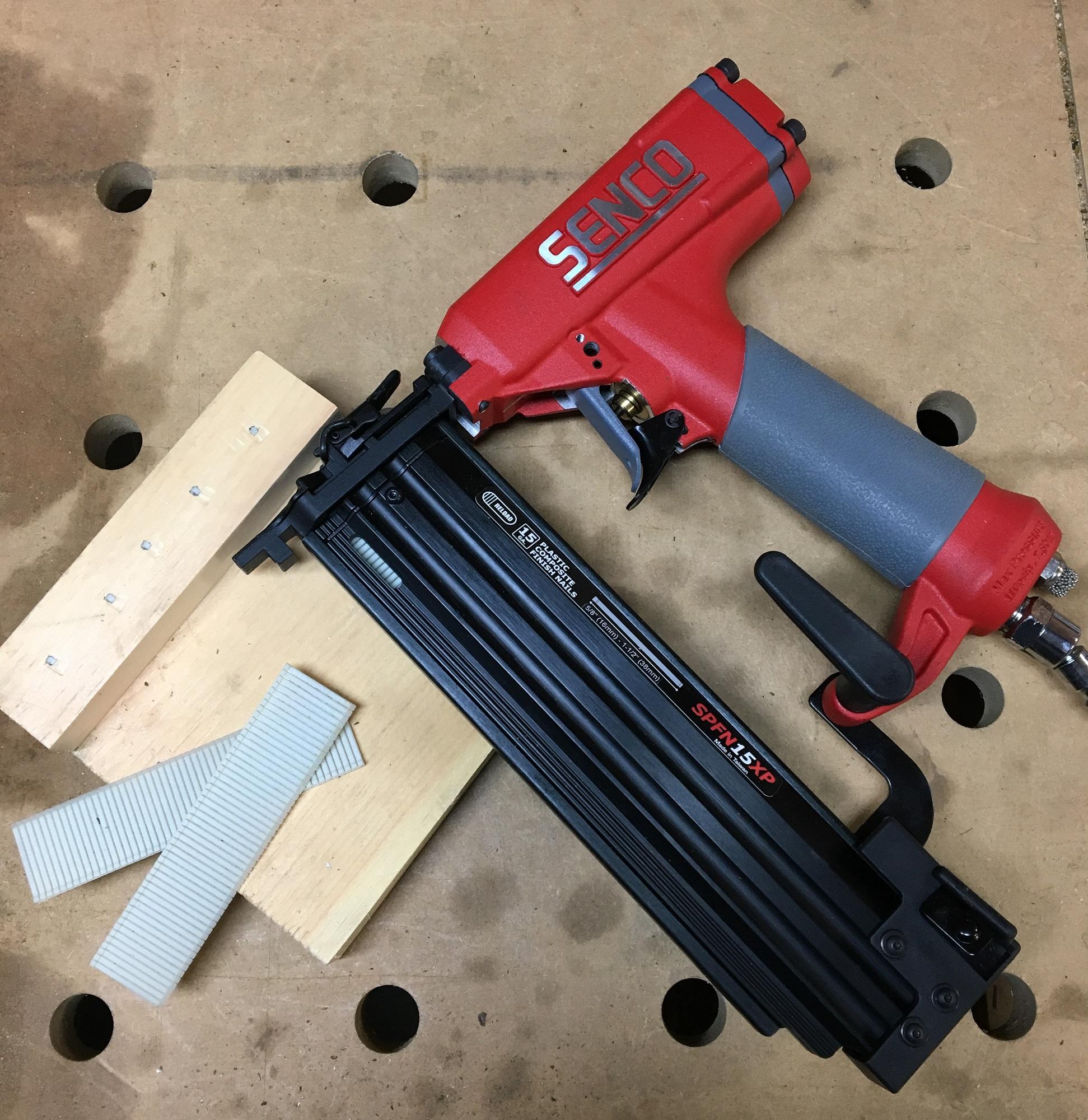 Just the thought of plastic nails seems counter-intuitive. Can they really work? What are they good for?
We previously tried Raptor brand composite nails and answered those questions in the affirmative. Now Senco has jumped into the plastic nail arena with their own line of fasteners and nailers, offering new choices for woodworkers.
Why plastic nails?
Plastic composite fasteners have a number of advantages over conventional metal nails in specialized applications. In the modern woodworking shop, the most common application for composite fasteners is in fixturing for CNC machining. Rather than relying on vacuum hold-down power or for unusual fixturing challenges, you can use plastic fasteners. You can cut right through the fasteners without damaging router cutters or saw blades. You can even stack parts on the CNC and break them apart after machining. Plastic fasteners also will not trigger a SawStop safety brake.
You can use plastic fasteners as a clamping aid in glue-ups and not have to wait for the glue to dry before machining or sanding. The fasteners take sanding well and won't clog or damage conventional abrasive belts.
Plastic fasteners aren't just temporary. Boat builders and other woodworkers making projects that will be subjected to moisture and weather can use plastic composite fasteners without fear of rust.
Senco's version
Senco offers composite fasteners in a variety of staple and nail configurations and sizes. We tried the 15-gauge fasteners with the SPFN15XP nail gun, which is specifically designed for the plastic nails. (You cannot use plastic fasteners in nail guns or staplers not specifically designed for them.) Operation is very similar to using conventional metal fasteners, and holding power is excellent. Composite nail manufacturers, including Senco, tell us that heat generated by friction when the plastic fastener enters the wood actually melts the fastener to some extent to create a glue-like bond with the wood.
We used the fasteners in a variety of test applications, including cutting through them on a SawStop saw. There was no visible damage to the saw blade, and the safety device was not triggered. The Senco gun performed flawlessly, and was light and handy to use. We particularly liked the ball-and-socket air connection on the gun that allows for more freedom of movement with your air hose.
You can learn more about the Senco composite nailers and fasteners at www.senco.com.
Have something to say? Share your thoughts with us in the comments below.