Stunning stairway captures 2022 Craftsman's Challenge
August 29, 2022 | 3:08 pm CDT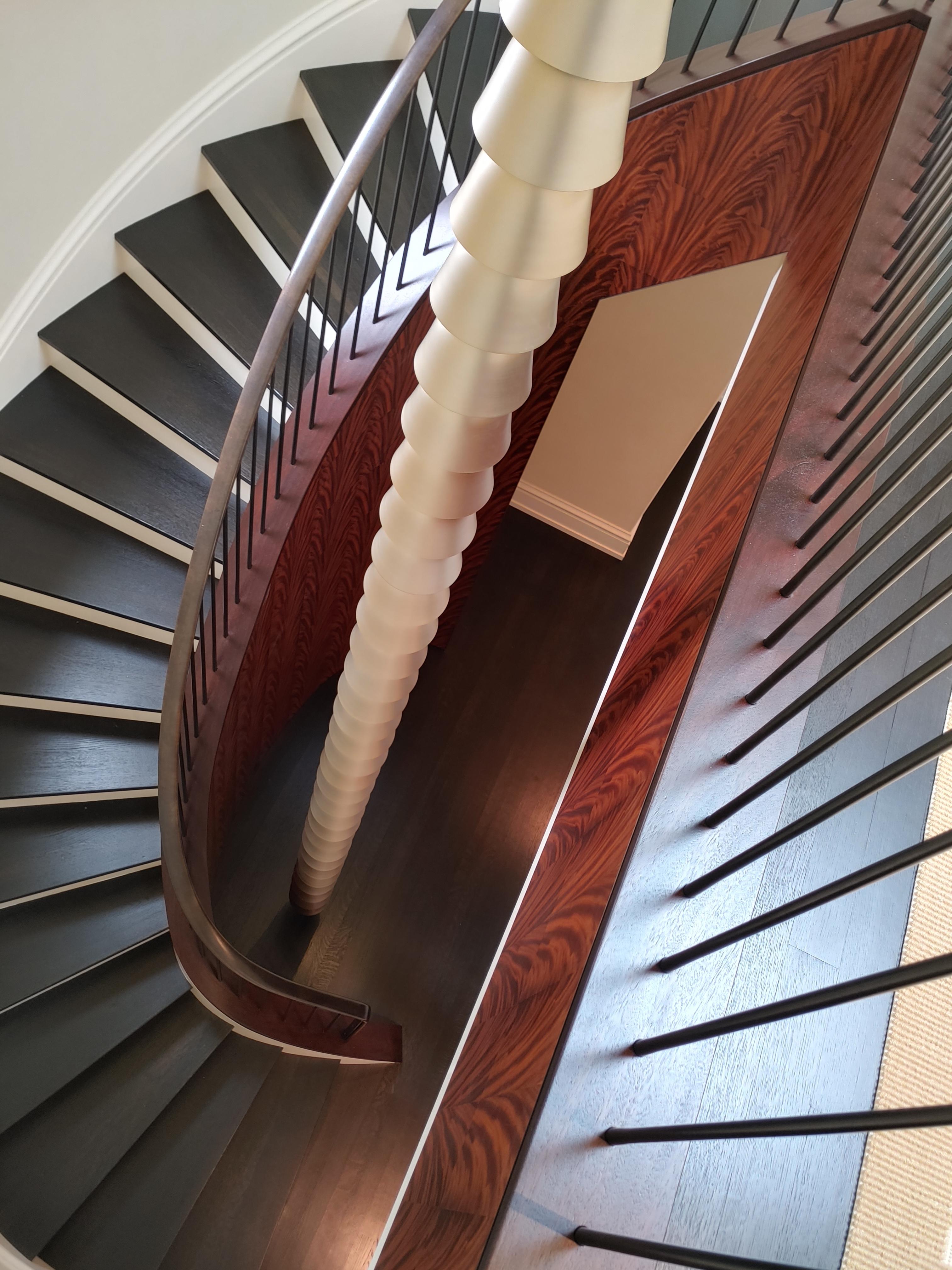 Skillful work to complete a challenging project in spectacular African crotch mahogany veneer all combined to capture the Grand Prize in the 2022 Veneer Tech Craftsman's Challenge, which was announced August 25 at the International Woodworking Fair in Atlanta.

A team effort between Fritz Cabinetry & Furniture of Shakopee, Minnesota, and Indiana Architectural Plywood, the winning stairway project involved a panel layout in the entry staircase, art wall, and passage doors in the vestibule of a residence. 

"To make the split African crotch mahogany consistent, care was taken to maintain the waterfall effect from the center point of each adjoining leaf," said Mark Dvorak of Indiana Architectural Plywood. "Each wall required small adjustments to the leaf widths and lengths to ensure common dimensioning."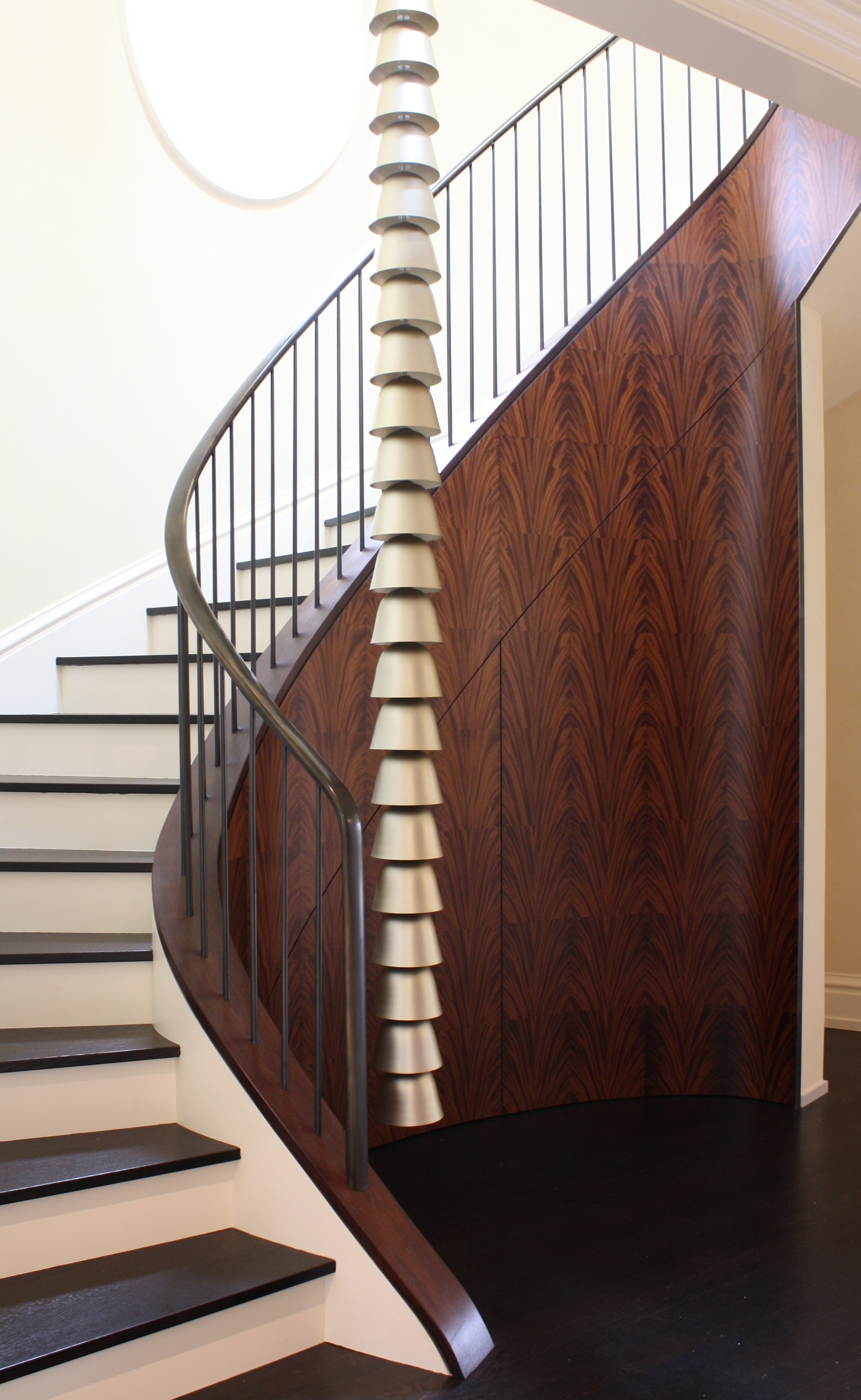 Then they had to correlate the sizing to actual site conditions to allow joint alignment at corners and from panel to panel while matching the AWI premium standards. "Detailed flitch selection and precise veneer clipping was critical to produce this masterpiece of wood veneer panel product," said Dvorak.

Fritz Cabinetry and Indian Architectural Plywood will share the $3,000 Grand Prize.

But that was only the top winner out of more than 80 entrants in six categories. Judges said it was great to see the large number of high-caliber entries. Here are the category winners.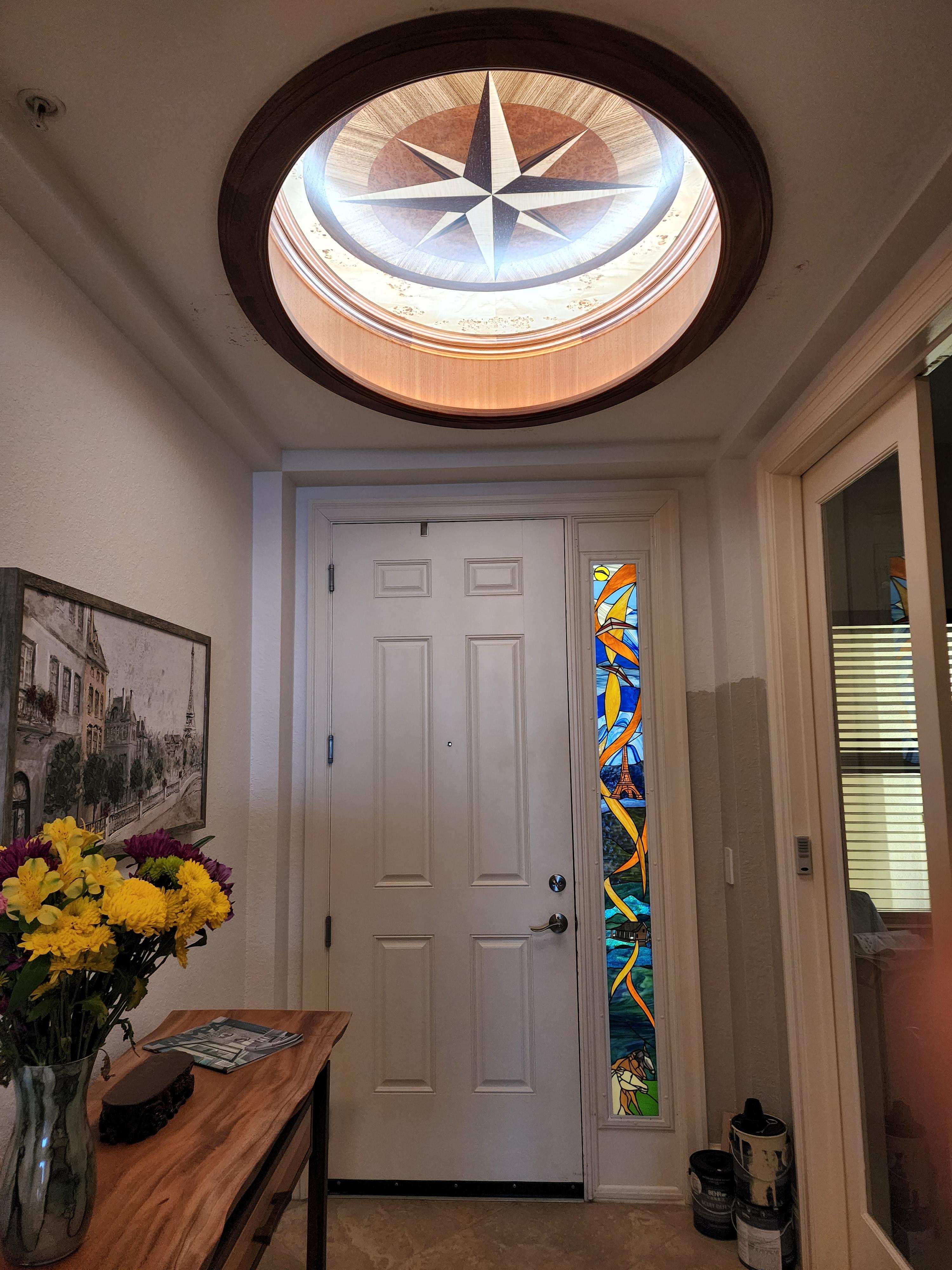 Architectural Woodworking
A compass rose ceiling medallion captured the top prize in the Architectural Woodworking category. Designed and crafted by S+L Millworks Inc. in Tampa, Florida, using veneer from Certainly Wood, the installation involved mappa burl, rosewood, zebrawood, redwood burl, wenge, curly sycamore, ebony, and bird's-eye maple to create a 42 x 54 inch compass rose with a depth of 12 inches in a recess framed with quartered sapele veneer trimmed with sapele hardwood. A perimeter of LED tape lights illuminates the veneer field.

Ron Sato designed the project, and craftsmen Diego Duran, Garcia Rosa, and Bill Ledger completed the work to capture the $1,000 category prize.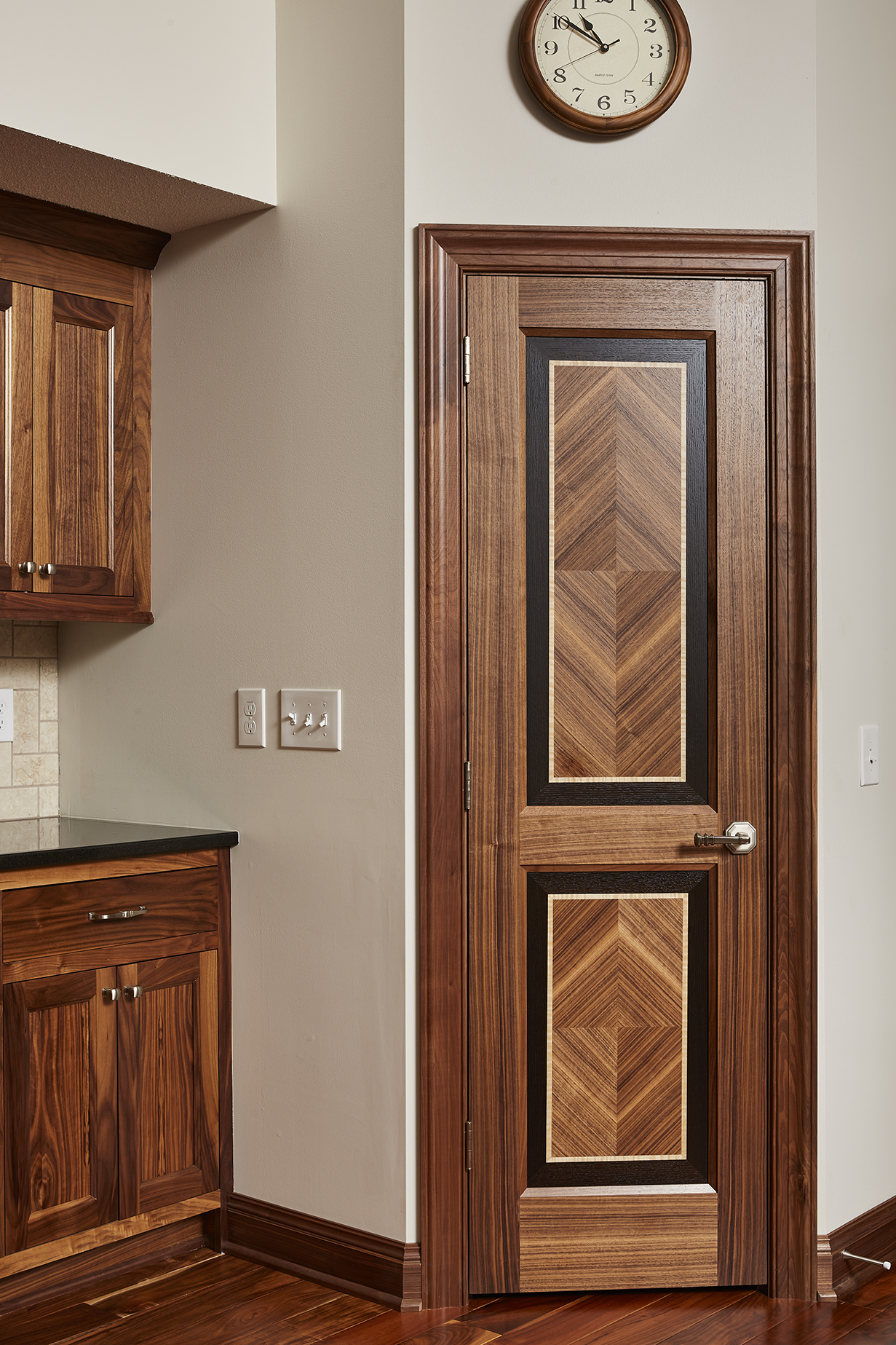 Cabinetry
A project dubbed "Diamond of Elegance" won the Cabinetry category of the competition for Dmitry Ivanovs of Elegance Custom Cabinetry in St. Louis Park, Minnesota. The project involved walnut veneer in a diamond pattern layup in several locations to highlight doors, cabinetry, and a fireplace. The winner receives a $1,000 prize.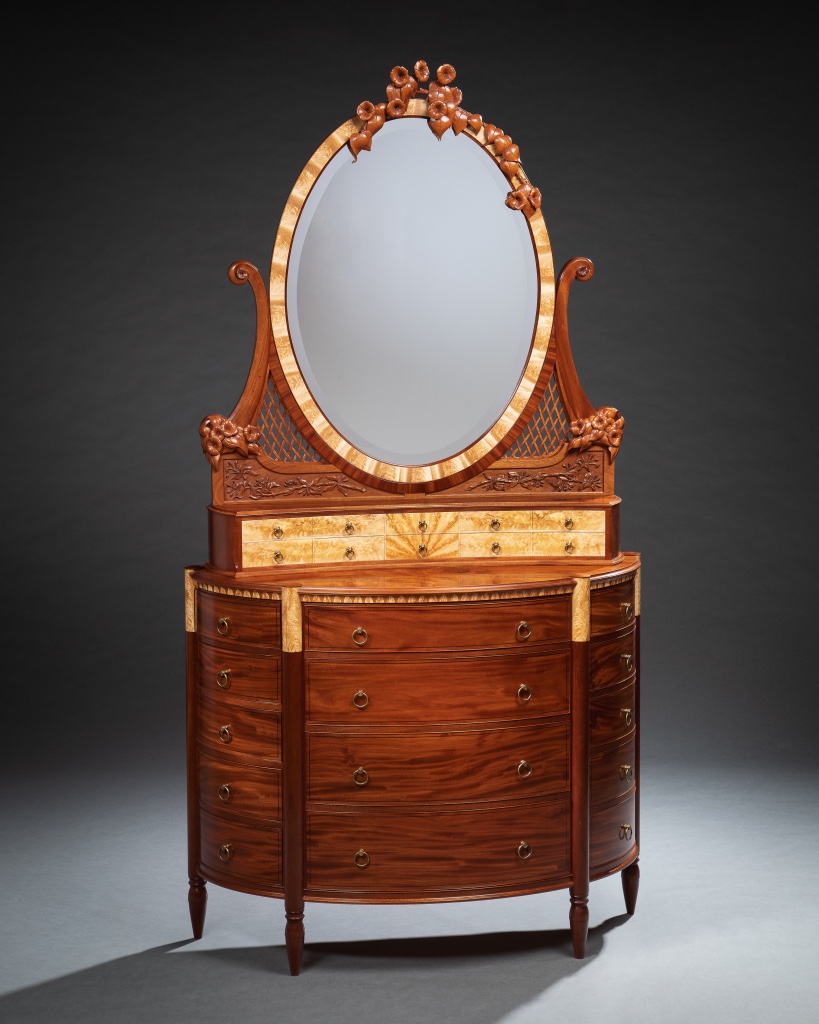 Furniture
David Lamb of Canterbury, New Hampshire, who won the Grand Prize in this contest last year, contributed another spectacular entry to win the Furniture Category and $1,000 this year. The piece is a finely crafted bureau with mirror that stands 88-1/2 inches high and is 47 inches wide and 20 inches deep. It's made with mahogany, Cuban mahogany, poplar, and white birch and combines tour-de-force veneer work with carving.

"Veneer was used extensively for curved drawer laminations, curved moldings and facing of drawers, mirror frame, and leg faces," said Lamb. "The molding work was done utilizing an overlay method to create the pattern work seen in Gothic arches. Interior drawer parts were also laminated from poplar veneer to create the curved components."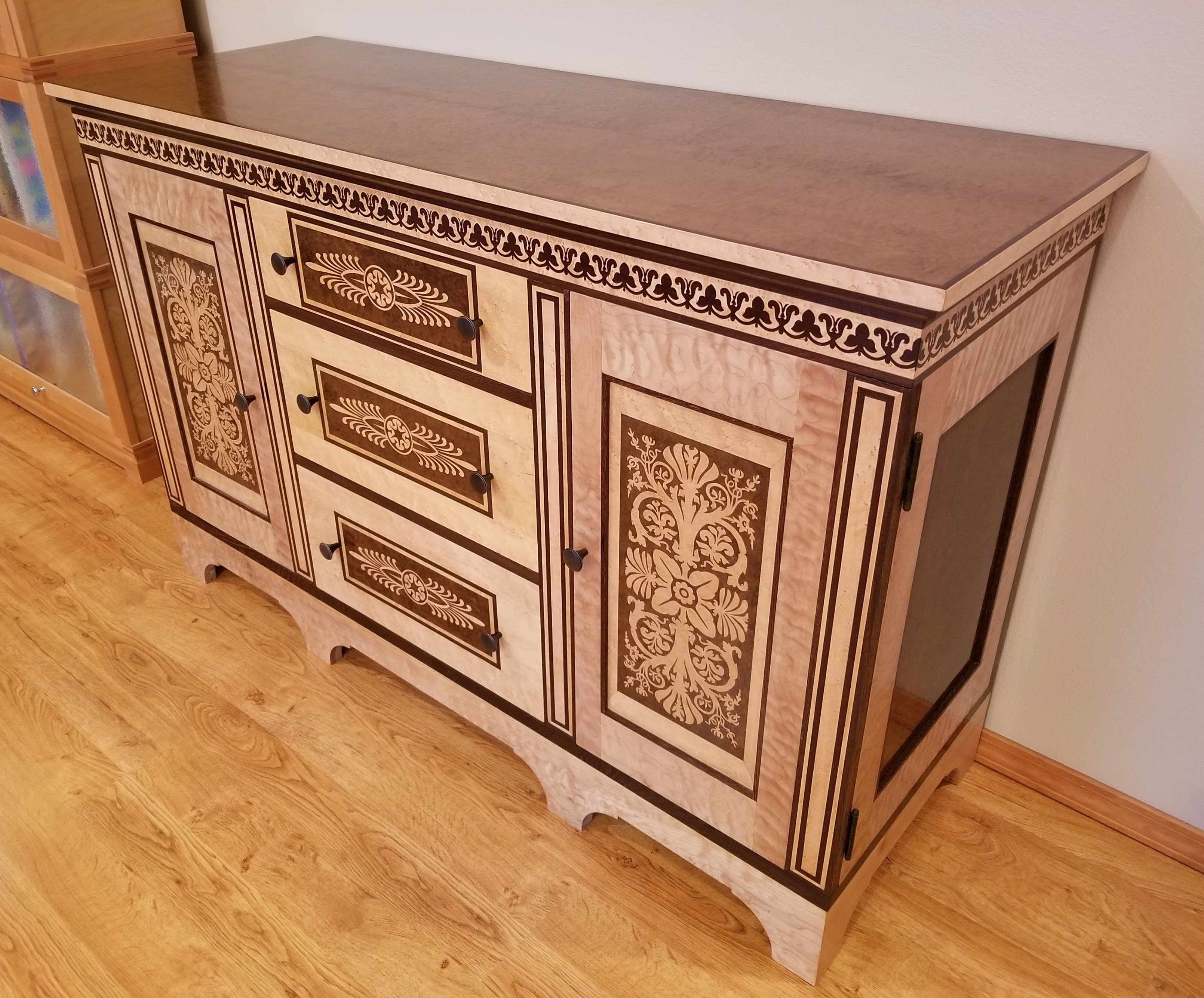 Marquetry
John Kilzer of Port Angeles, Washington, earned the Marquetry category prize of $1,000 with his marquetry buffet. It uses quilted maple, imbuia burl, bird's-eye maple, and wenge. "The goal was to produce a buffet inspired by the works of George Bullock, a talented furniture artist of the Regency Period," said Kilzer. "Using the Boulle technique, the four patterns were cut on the Chevalet de Marqueterie."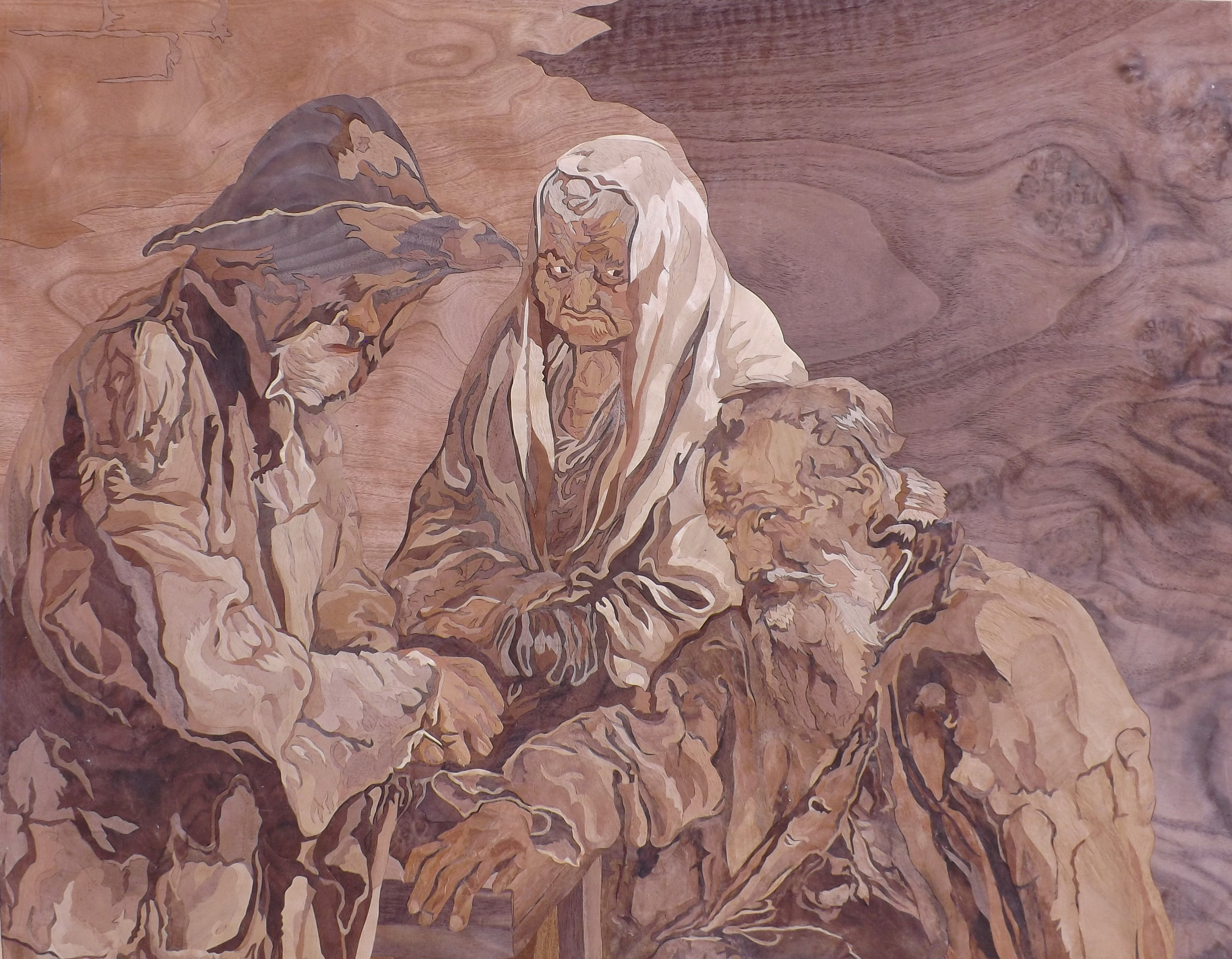 Specialty Products
Dušan Rakić of Serbia, who has won this category twice before, earned the $1,000 prize for a third time with a masterful marquetry veneer interpretation of the painting by Giacomo Ceruti titled "Three Beggars." More than 30 types of walnut veneer were used, in addition to cherry, pear, olive, bird's-eye maple, maple, elm, birch, madrona, and mahogany. The piece has "about 2,500" cut details, said Rakić.

"The work is part of the extensive project 'Marquetry interpretation of the old masters of drawings and paintings' in the world history of art, which aims to promote the world's artistic, cultural and historical heritage, but also to promote the old technique of artistic craft, the technique of marquetry," he said.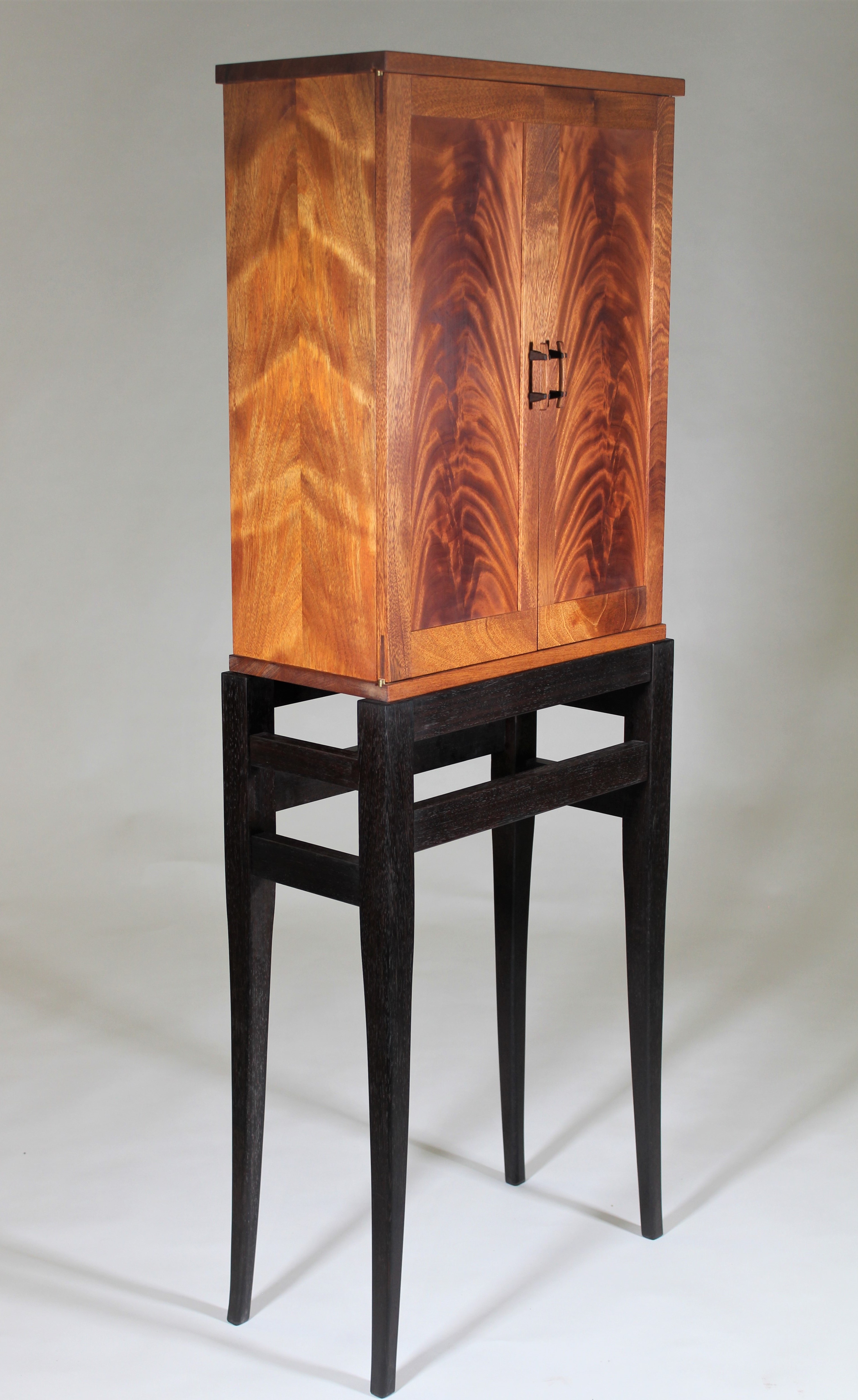 Student work
Ethan Kroetsch of Kitchener, Ontario, Canada, and a student at Conestoga College, won the Student category and $1,000 with his Kroetsch Cabinet fashioned after the style of cabinets-on-stands done by famous woodworker James Krenov. Kroetsch said he had actually originally planned to do a project inspired by another famous woodworker, George Nakashima, over the course of a semester in school, but he changed direction.

"This meant that I had to start from scratch, an idea followed by three sketches, then 3D modeling, shop drawings, bill of materials, and then I start building once school started," Kroetsch said. "This project took four months of hard work and dedication."

He said he was inspired by Krenov's seminal book, "A Cabinet Makers Notebook." Like many of Krenov's pieces, Kroetsch's cabinet uses shop-sawn veneer, including book-matched genuine crotch mahogany for the doors. Door pulls are made of wenge and mahogany. 

In talking about the project with his high school shop teacher, Kroetsch discovered the teacher was familiar with Krenov and that Krenov's books had inspired him to become a teacher and cabinetmaker.

Originally created by Veneer Technologies to promote the use of veneer in woodworking, the Veneer Tech Craftsman's Challenge is now owned and conducted by CCI Media LLC, the parent company of Woodworking Network and FDMC magazine. Veneer Tech continues to sponsor the contest.

Judges for this year's contest included: Marc Adams, founder of the Marc Adams School of Woodworking in North Franklin, Indiana; Joe Knobbe, a consultant for Bovelli Custom Millwork and a former president of the Cabinet Makers Association; and Will Sampson, Editorial Director of Woodworking Network, and a former editor of Fine Woodworking magazine.
Have something to say? Share your thoughts with us in the comments below.