Robotics revolution in woodworking
September 21, 2021 | 11:01 am CDT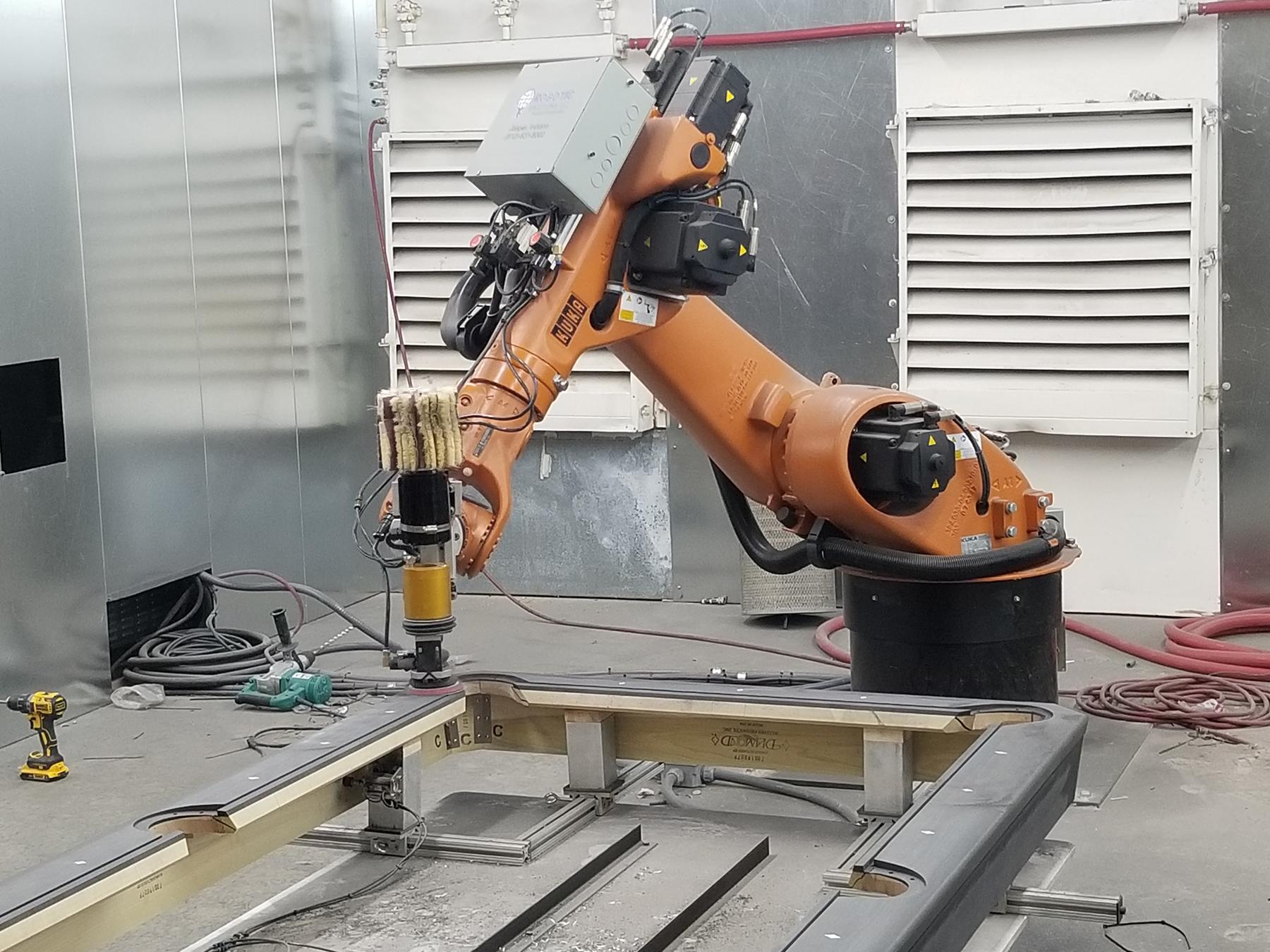 While some woodworkers still cling to an 18th or 19th century image of the craft, the reality of 21st century woodworking is increasingly one of automation and robotics.
Driven in part by the near impossibility of finding enough skilled workers, robots are making huge inroads in woodworking. They have grown beyond simple repetitive tasks and now tackle sophisticated jobs including finishing and sanding of complex parts. New developments give robots vision to better identify work, artificial intelligence to learn how to do the work better, and safety controls to work alongside humans.
Tasks that only a few years ago would be considered to require a skilled human with years of experience are taken over seamlessly by a new generation of robotic machines. These modern robots can outperform their human predecessors in some of the most complex tasks such as spray finishing intricate parts and sanding a wide range of shapes and profiles.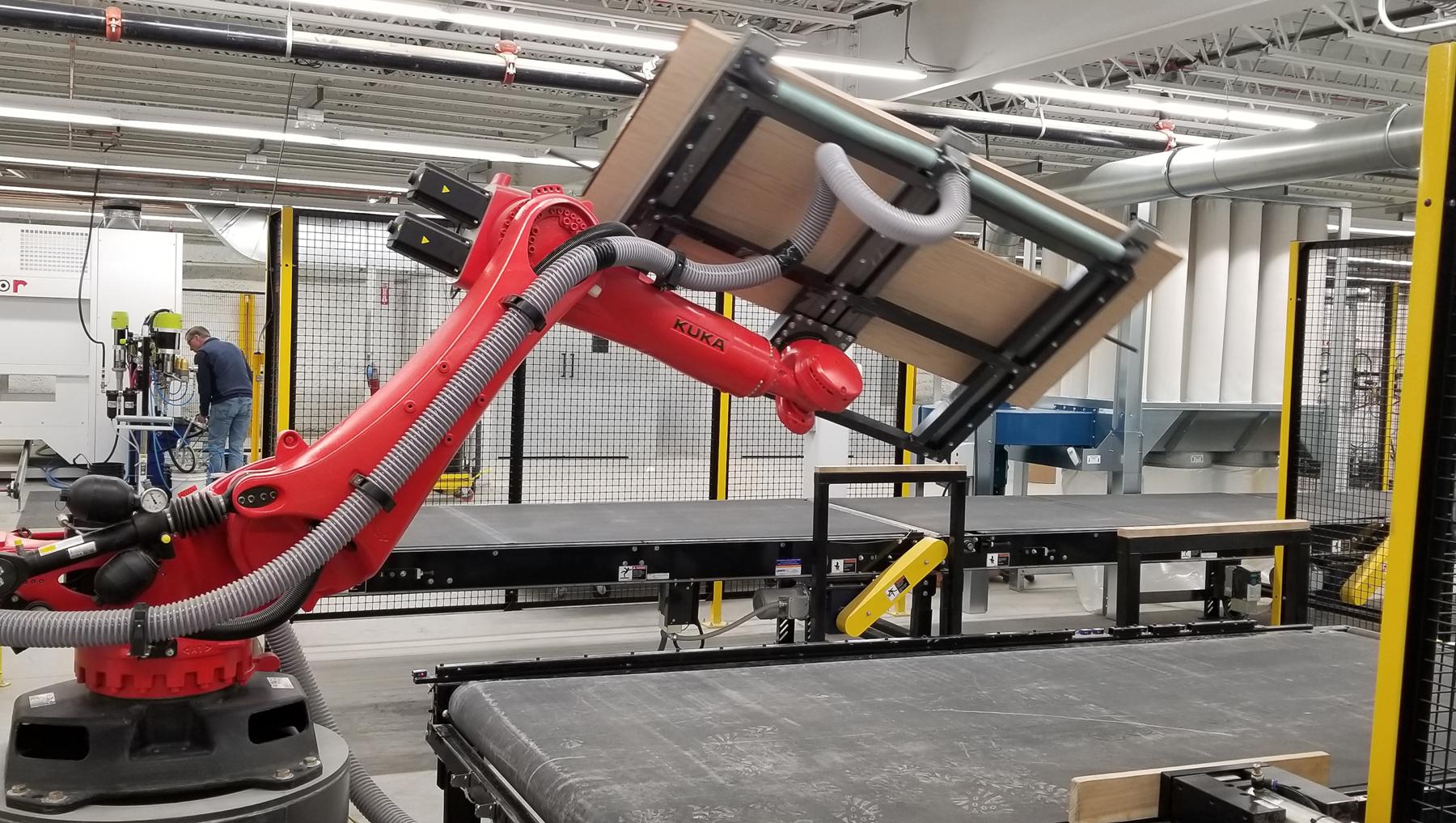 When properly integrated into a modern woodworking manufacturing setting, robots show their value in not just filling in for skilled workers, but also for boosting production and manufacturing efficiency while maintaining or more likely exceeding quality expectations.
Woodworking is behind some other industries in integrating robots, but as labor pressures mount and consumer demand remains high, the impetus to explore robotic solutions has spread from big manufacturers to smaller operations.
Robots in the hundred thousands
Perhaps nothing illustrates the growth of robots better than a notice from FANUC, a major international player in robotics. The company announced in July that they had built their 750,000th industrial robot.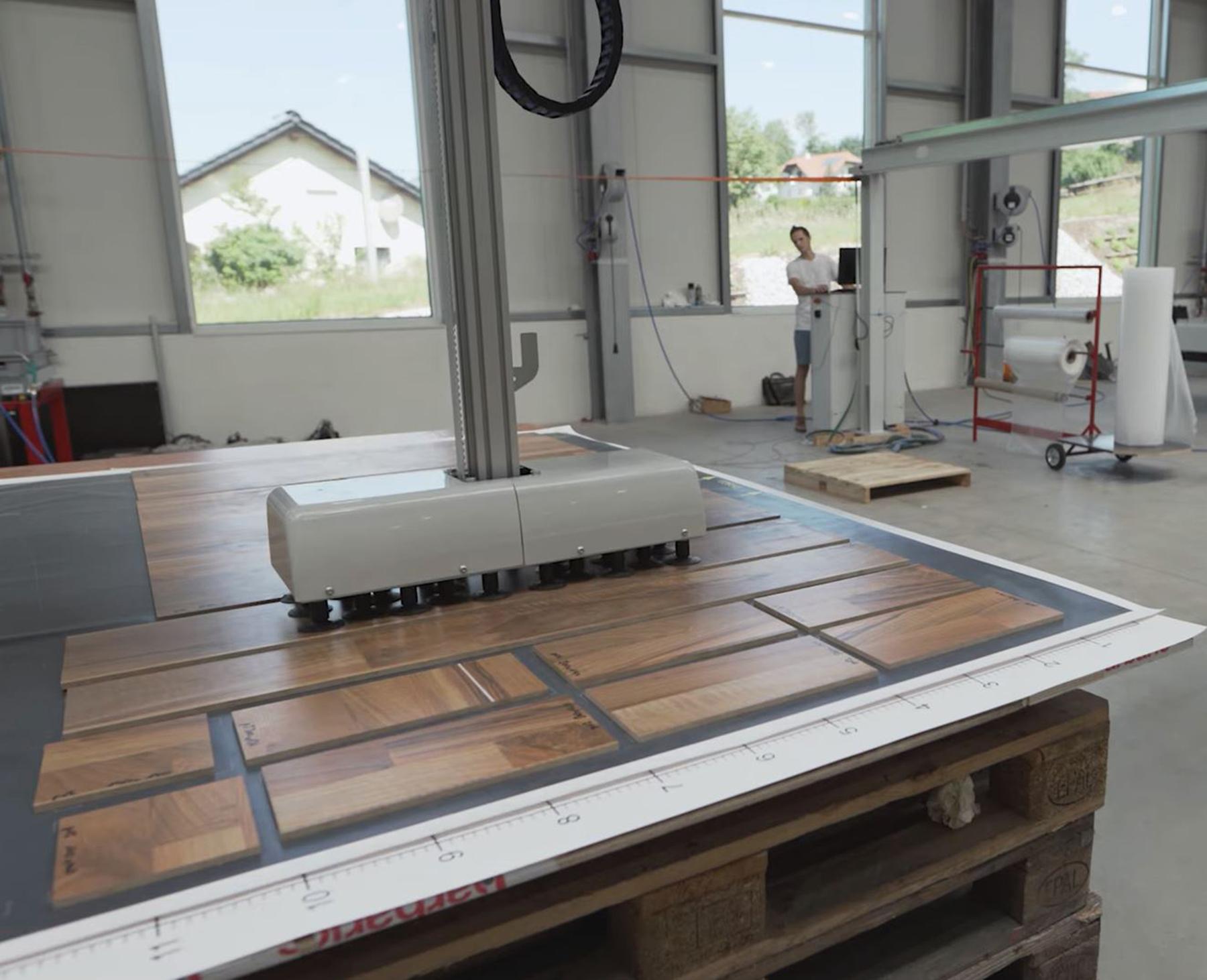 Headquartered in Japan, FANUC (which is an acronym for Fuji Automatic Numerical Control) bills itself as the world's leading supplier of CNCs, robotics, and factory automation. Currently, the company says it is capable of producing 11,000 robots per month in fully automated factories that use its own robots to make robots, as well as controllers and machine tools.
"With 750,000 robots installed globally, Fanuc has become a household name in manufacturing," said Mike Cicco, president and CEO, FANUC America. Of course, only a small portion of those robots are in woodworking. FANUC's customer base covers a wide range including automotive, aerospace, food and beverage, consumer goods, medical and pharmaceutical, warehousing, and more.
"Now more than ever manufacturers are embracing automation and robotics to solve production challenges," said Cicco.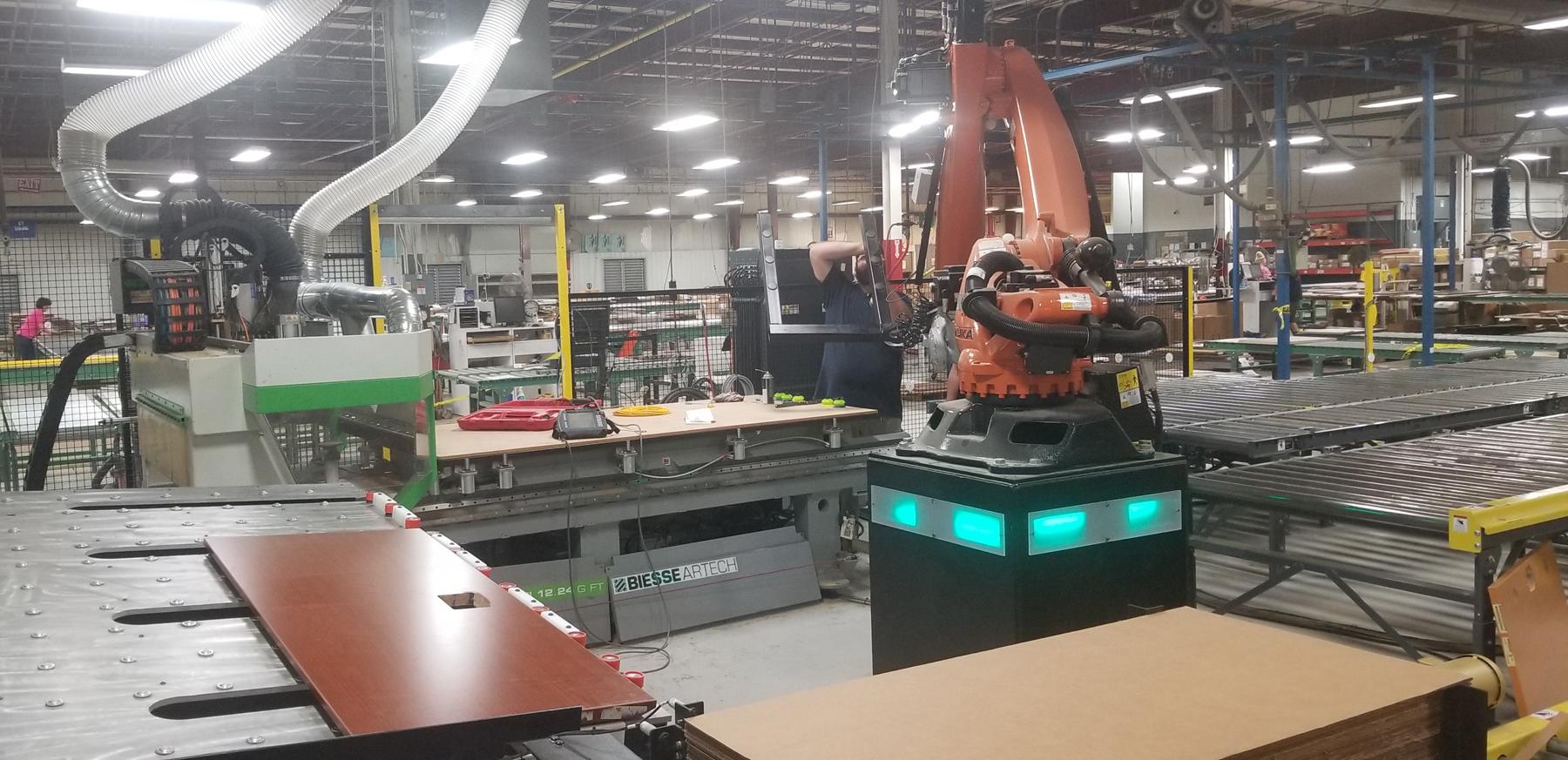 Challenges and advances
When it comes to woodworking, there are special challenges for robots and automation.
"The woodworking industry is highly competitive with applications that require high-performance machining of complex shapes of production or built-to-order custom components," said Cathy Powell, FANUC America PR & Communications Manager. "The complex shapes and nested-based manufacturing systems drive the need for large-part program management. In some instances, 5-axis machining is also required."
As orders for woodworking products continue to climb in the wake of the pandemic, pressure continues to adopt robotic automation as a solution.
"An increased demand for wood products has driven the industry to look closely at the speed and precision provided by robotic automation," said Powell.
But most woodworkers are unfamiliar with the ins and outs of adding robots to their production environment. Even understanding the potential capabilities can be daunting. Many companies turn to robotic specialists called integrators to successfully marry robotic automation to a woodworking production system that might not follow typical manufacturing paths.
"FANUC America and our Authorized System Integrators are experienced in providing automated systems for sanding, polishing and finishing, as well as machine loading and part transfer," said Powell.
Robots for custom
There's a common misconception in woodworking that robotic automation is not compatible with custom, one-off woodworking projects. Rick Braun from Robotic Solutions explains that is the challenge he and other robot integrators enthusiastically embrace.
"We are a robot integrator. Everything we do is a custom application," Braun said.
Although he works in other industries besides woodworking, he said more and more requests are coming to him from the wood industry.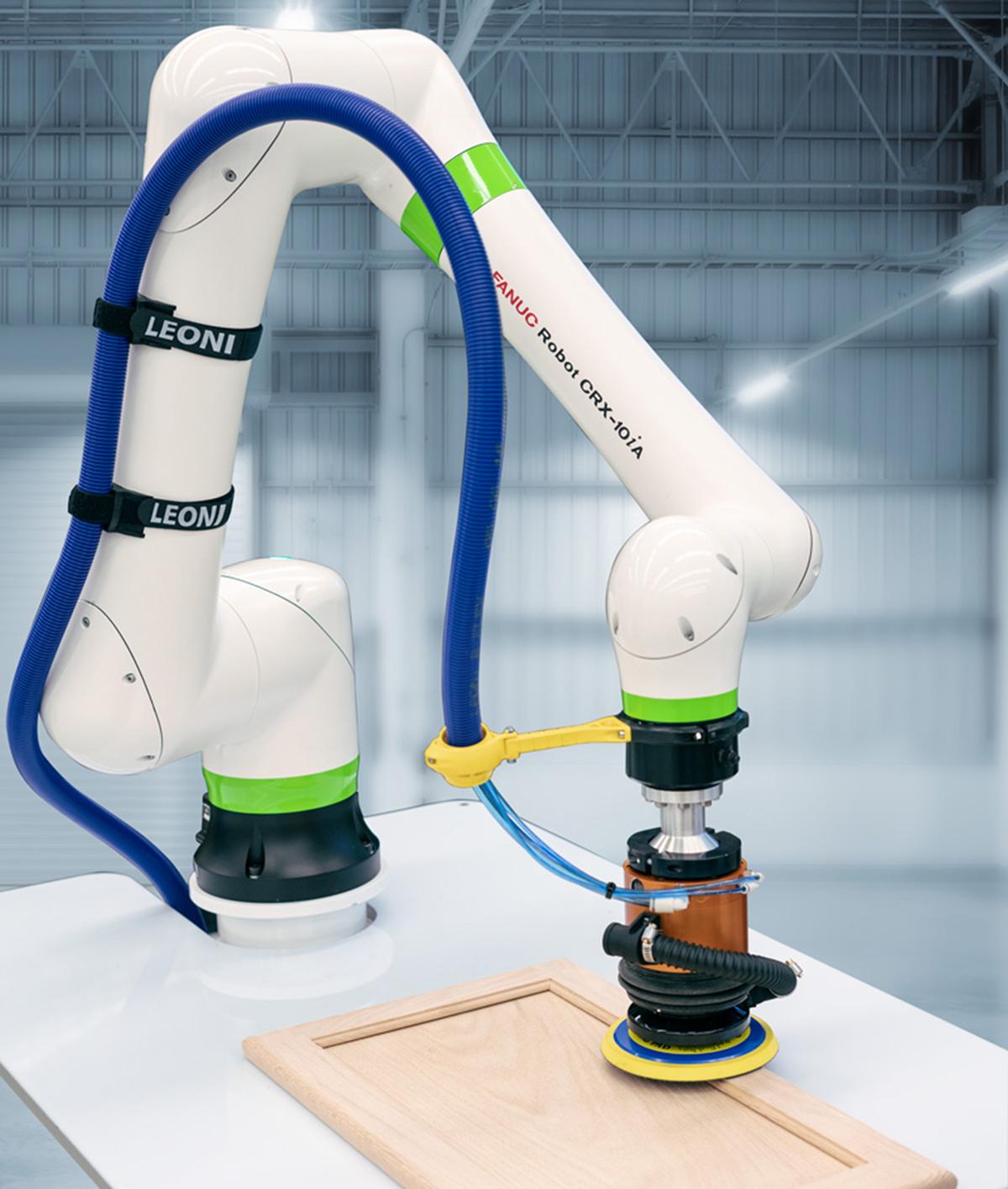 "Every day is a new story a new project a new challenge," he said. "What we're being asked for is full automation, to completely automate a process."
That could mean material handling for the arrival and stacking of panel products to sorting and ongoing storage of those products. Then integration of the sorting and storage to automatically feed CNC routers and computerized beam saws. As parts are produced, robots again answer the call to sort, stack and direct those parts to further production such as edgebanding and assembly. Robots can also take over sanding and finishing duties. Finally, the robots are there to load the truck with finished goods.
Labor issues
Like most involved with robotic integration, Braun says labor issues are driving the growth of robotics in woodworking. "If you have job openings you can't fill, you've got to call the robot integrators," he said. "Simply buying a machine is not the answer. You have to have someone to feed the machine. The labor shortage is the key."
But Braun says filling in for missing human workers or increasing efficiency aren't the only things driving the rise of robots. He says there are safety concerns that make robots an attractive choice over human workers.
"When you have a dangerous area such as with volatile chemicals, the robot doesn't care," Braun said. Modern robots can be built to be explosion proof. In finishing applications, they can improve transfer efficiency and create less waste. They can also take over heavy lifting and twisting jobs that can too easily lead to human injuries.
New applications
Braun and others in the robotic industry say the potential for robots to take on new tasks is unlimited.
"The latest questions we're getting are for mobile robots to replace pallet jacks and forklifts," he said. "Fleets of robots are ready to satisfy those needs."
He also noted that a new kind of robot can work side by side with humans as collaborators, hence the name "cobots" for this new class of robots.
Aiding in these new robot applications are new robot skills, such as being able to see things.
"The next level is with vision recognition technology required," Braun said. That includes identifying parts, scanning labels, and following shapes and contours.
There are also robotic software advances that aid human operators and automated machines to perform better with more precision.
FANUC's Factory Automation division has introduced a new way to see part production. "Our Visual Twin demonstration highlights FANUC's end-to-end digitalization solutions for the machine shop," said Powell. "By seamlessly working with various machine tool builders as well as Mastercam and ModuleWorks, FANUC's Visual Twin is an exact software replica of real CNC machine tools. The Visual Twin will display a virtualized 5-axis machine tool cutting a part, which mirrors the real-world machine's behavior."
The whole process can be set-up and proven out in the virtual world to improve the part and product quality, according to FANUC. The twin enables a computer machine code (G-code) program to be tested and the process simulated, showing a realistic feel of the cutting. This allows new designs and concepts to undergo evaluation before production, not after.
Integration example
To see how robot integration can actually work in the real world, let's take one example from a line developed by C.R. Onsrud in conjunction with IMA Schelling and Barbaric.
In a video demonstration, C.R. Onsrud shows an in-line automation system that combines a Barbaric LCV material handling system with the C.R. Onsrud RH-Series roller-hold-down CNC Router and the Barbaric NST picker to offer a turnkey, reliable, efficient solution for high volume sheet processing.
The system is completely automated from the loading of sheets, machining and off-loading, and stacking of parts with no human intervention. The system demonstration starts with loading from a single bunk of material, but there are options to expand to a full mass storage and retrieval system. The system can handle material from 2x7 feet to 7x13.5 feet weighing up to 440 pounds.
The system uses a pre-stage table as a buffer between the loading and processing cycles. This can be an opportunity for automated labeling or stacking sheets for stack cutting. The demonstration showcases the C.R. Onsrud RH-Series router equipped with roller hold-downs designed to handle warped panels such as frequently occur in cutting plywood for upholstered furniture frames. A pusher-sweeper system cleans and clears the cutting table after each sheet is machined.
A Barbaric NST nesting picker automatically offloads the parts from the offload table. It can place parts on pallets or another conveyor to transport parts to edgebanding or other processes. The system can handle parts from 3x12 inches to 51x110 inches weighing up to 132 pounds. The system uses a camera to recognize parts even if they have shifted in the nest, all while unloading up to seven parts per minute.
The process completes with scrap or debris being pushed off automatically to a bin or hopper.
Who should automate?
While a lot of woodworking operations might have the impression that automation is only for the largest factories, modern robot integrators say that is not necessarily the case. Smaller shops can reap rewards, too.
"You're paying by the part. It doesn't matter if you are making 10,000 cases or 10 cases a day," Braun said. He also sees additional benefits in efficiency of assembly using such things as hidden fasteners that can be fully automated and allow for assembly on the job site, shipping everything to the job site flat for reduced cost and easier handling with less chance of damage.
Powell from FANUC says even smaller custom operations should consider the benefits of robots.
"FANUC helps smaller shops increase their production and efficiency. With customer customization now becoming standard, the landscape of manufacturing has changed from High Volume/Low Mix to Low Volume/High Mix," she said. "This new reality coupled with production challenges like global pressures, labor shortages, tight tolerances, cycle time reduction and OEE (Overall Equipment Effectiveness) is requiring smaller shops and contract manufacturers to consider automation and robotic technologies."
Have something to say? Share your thoughts with us in the comments below.