New hollow core panel technology throws woodworkers a curve
June 1, 2018 | 11:06 am CDT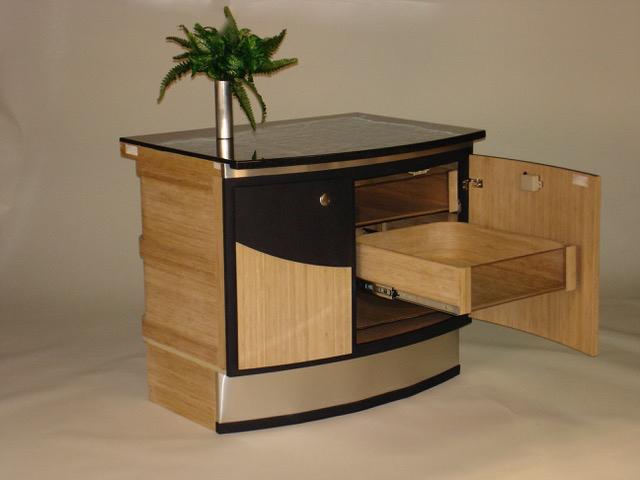 LOS ANGELES, Calif. - A new technology for curving hollow core panels is being introduced by CFM Group Inc. The lightweight Hollow Core Technology (HCT) eco-panels can be used for cabinetry, furniture, RV, airplane, closets, decorative walls and other applications where design and weight are factors.
Invented by Hector Coronado, senior designer and principal at CFM Group Inc., the HCT panels utilize a patented technology that eliminates the "dead weight" from the internal core of the panel while retaining the panel's stability and performance capabilities.
The back side of the cabinet shows the curve capabilities available with HCT panels.
In addition to an estimated 35 percent reduction in weight and material, other benefits, as noted by the company, include additional thermal insulation due to the technology's "air assembly," and the panel construction is naturally fire retardant. CFM is marketing HCT panels as a lightweight alternative to laminated and veneered MDF, but with the added versatility of use in flat or curved applications. The panels also contain no-added formaldehyde, and are compliant with CARB II and EPA formaldehyde regulations, CFM said.
Based in Los Angeles, California, CFM Group Inc. (Coronado & Fis Menache Group) is a woman-owned industrial design firm that also specializes in bent plywood components and technology. In business for more than 40 years, the company has been awarded several process and utility patents. CFM also has won numerous design awards, and a number of pieces are included in the Permanent Design Collection at the Museum of Modern Art in New York City, and the Smithsonian Institution at the Cooper-Hewitt Museum Library, also in New York City.
A closeup of the U-shaped drawer construction.
The design opportunities available with HCT should prove to be just as noteworthy, said company CEO Olga Menache.
"It offers total design flexibility," she added.
According to the patent and results, Coronado said, HCT panels can be made as thin or thick as desired, and are available in unlimited lengths and radii, including U-shaped. Their light weight and formability expands design opportunities for products such as overhead cabinet doors, drawers, cabinet boxes and tables. Also underway at CFM is the manufacture and marketing of full-size soft radius curved access and closet doors for modern architectural settings. The doors will be available with electrical operation, via remote, push-button, or motion/solid objects detector.
HCT panels can be used to construct a range of products, including cabinetry and furniture. Note the curves on the overhead cabinet frames and doors.
"It's our belief that both of these innovative technologies will open new horizons in access doors, front doors, closet doors, etc. in the new buildings that will represent change in the architecture of interiors in the 21st century," Menache said.
'Endless' panel opportunities
The unlimited length feature in the HCT panels are derived from another of Coronado's recent technology innovations: The Endless Panel.  Applications for the Endless Panel include decorative walls, RVs or pre-fabricated home interiors, and signage. 
Made from renewable and recyclable materials, the lightweight Endless Panel is available in various thicknesses and heights of 10, 12 or 15 feet. The company said it can make the custom panels or license the patented technology to manufacturers interested in producing their own panel product.
Menache said the company is "looking for entrepreneurs who are anxious to integrate new and innovative products, designs and technologies made in America." To contact CFM Group Inc., call 310-855-4791 or email [email protected] net.
Have something to say? Share your thoughts with us in the comments below.