Editors' picks: 2017 top products show innovation
December 5, 2017 | 1:53 pm CST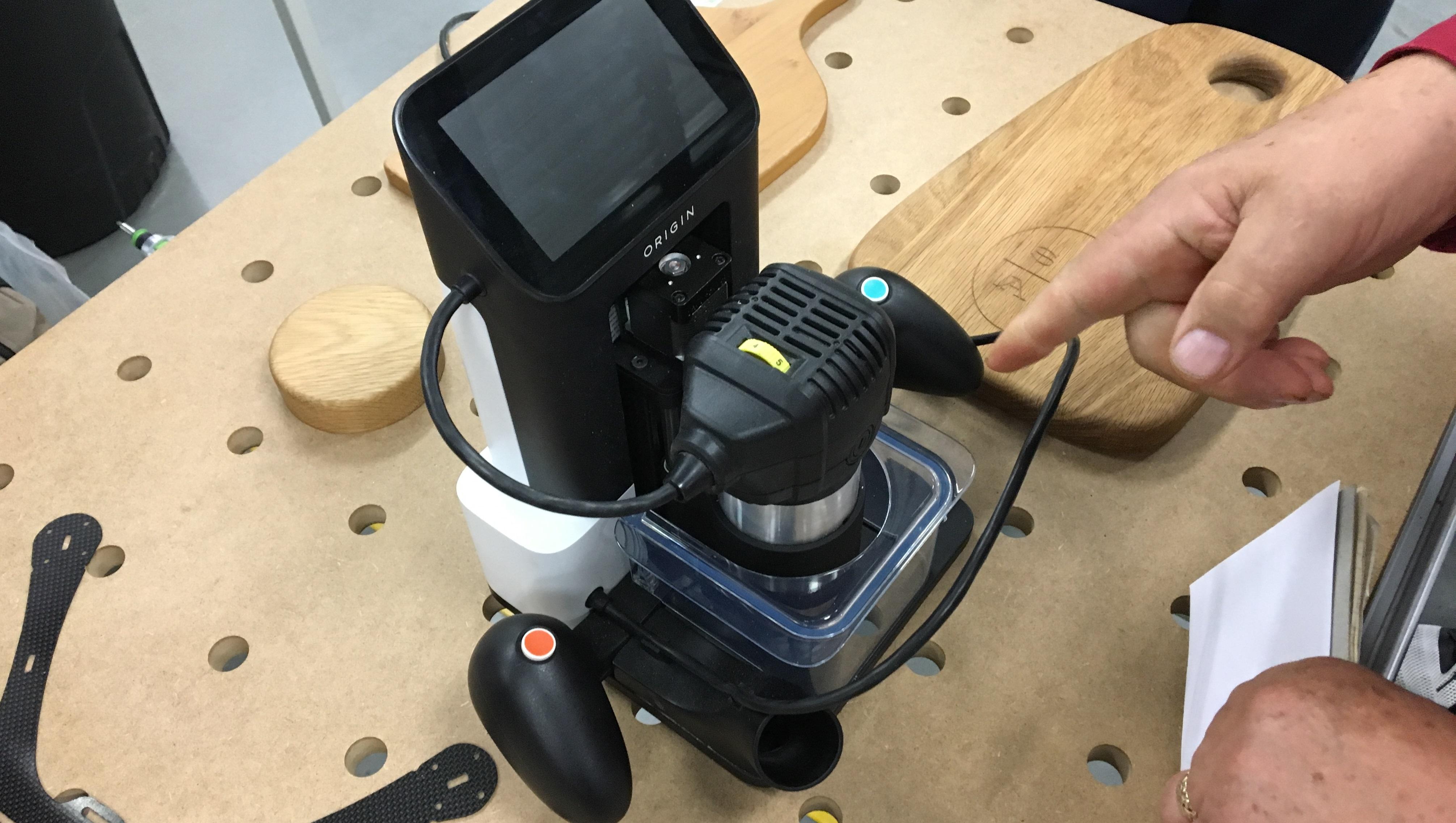 Technology is impossible to ignore in the cavalcade of new products targeted at the woodworking industry in 2017. Whether aimed at big factories or small shops, everything from hand tools to hardware seemed to have a hi-tech spin this year. Here's a sampling of products that caught our editors' attention over the past 12 months.
Hand-held CNC router
We've seen CNC technology become ever more accessible regardless of the size of the shop, with benchtop CNC routers becoming more robust, and CNC technology in general becoming more affordable. But this year, a new product brought that technology to the hand-held router. Shaper Origin by Shaper Tools Inc. won the AWFS Visionary Award for Productivity and Product Innovation in Power Tools. It is a hand-held router that can be steered by a smart-phone sized guidance system. The user guides the router's cursor within a general guide shown on the display, and the system keeps the cutting head precisely on track, cutting even and consistent curves, engraving patterns and logos, and executing other precision cuts.
Digital drill press
If we can have hand-held CNC routers, why not digital, computer controlled drill presses? The Nova Voyager DVR drill press from Teknatool International marries a computer and a heavy-duty floor-standing drill press. It gives the operator not only computer-controlled, continuously variable speeds, but also it makes it a breeze to choose exactly the cutting speeds you need. A computer menu lets you select bit type, material, and depth of cut to help precisely automate drilling tasks.
Industry 4.0
No discussion of new products in 2017 would be complete without including something about Industry 4.0. That phrase describes new initiatives to use technology to get machines communicating more seamlessly with their operators, with each other, and with manufacturers and suppliers. The result is more streamlined maintenance and more efficient production. At the AWFS Fair, two special Visionary awards highlighted advances in Industry 4.0 initiatives.
Osync Machine Analytics v2.0 by C. R. Onsrud is designed to provide production managers with real-time monitoring for their CNC machinery. The continual feedback allows minor adjustments to be made, shaving precious seconds from run times and maximizing cutting performance. The C.R. Onsrud service and support team can also be plugged in for remote monitoring of machine functions off-site.
SCM's Lean Robot Cell 4.0 was also honored for Industry 4.0 technology. The cell takes Industry 4.0 concepts and puts them to practical use with a system that is completely automated, served by two anthropomorphic robots and requires only one operator. On display at AWFS, the Lean Robot Cell 4.0 produced components for wardrobes and consisted of a Morbidelli M600 nesting machining center and a Stefani edgebander, fitted with a panel return device and a drilling center. At the end of the process, the finished panels were grouped into their different order lots by robots on special carriages, with parts ready to be assembled in the CPC clamp.
One Industry 4.0 innovation we saw at the big Ligna woodworking show in Hannover, Germany, this year was Vecoplan's Live Service system. This technology equips Vecoplan machinery customers with special glasses based on Google Glasses. Using the glasses, the customer can directly connect to Vecoplan technicians to help troubleshoot and service their machines.
New RTA hardware
Last year saw the rise of several new plastic-based joinery systems from companies like FastenLink and Lockdowel. This year the march was on for more plastic hardware and joinery solutions. 
Lockdowel won a Visionary Award in the Hardware category for its snap-on drawer slides. Designed to significantly reduce cabinet drawer installation time and costs, the slides feature the company's E-clips fastening technology, allowing users to quickly and easily install drawer slides for complete tool-less installation. 
Lamello, represented by Colonial Saw in the U.S., introduced its Cabineo RTA fastener for use with nested-based CNC routers. Without the need for edge boring, a toolpath is machined into the workpiece surface so the one-piece connector can be tapped into place. Using 5mm shelf pin holes, the connectors are screwed into the cabinet.
But you don't have to have a CNC router to join the plastic fastener revolution. OVVO worked with Virutex to come up with a hand-held joinery tool that can be used to install the OVVO connectors, giving even less automated shops an opportunity to offer fast and reliable RTA joinery.
Paint spraying robot
What's a more iconic symbol of technology than a robot? But can a robot handle more complex tasks than just moving parts from one station to another? Enhancement Technologies/Stiles Machinery captured a Visionary award for the Dürr Ready2spray Paint Robot. Designed for the wood, plastics, and metal industries, Dürr's Ready2spray consists of a small six-axis robot equipped with high-end technology for the application of solvent- and water-based, one- and two-component paints. It is available with matching dosing pumps, paint pressure regulators and color changers. Dürr says the robot system is fully Industry 4.0-ready.
New shop supports
Not all the new products that caught our eyes this past year were full of electronics, but they represent cutting edge advances all the same. Two in particular help solve the age-old problem of providing work and tool support in the shop and on the job site.
Introduced by Centipede Tool LLC, the Centipede work table is an ingenious table support made somewhat like those popular collapsing canvas and aluminum tube chairs people bring to outdoor events. But unlike those chairs that are notorious for collapsing at the wrong moment, the Centipede uses spring steel support braces with the lightweight tubes, making each table incredibly strong. In fact, the larger Centipede will support an entire 4 x 8 sheet of plywood and up to 3,000 pounds of weight. The smaller 2 x 4-foot unit is no slouch either, supporting up to 1,500 pounds.
Most portable supports for miter saws feature some kind of tubular scissor structure, but the Portamate Portacube goes cubist, with a square construction. It not only holds your miter saw, but also can double as a portable flat work surface. It can even accommodate other tools such as portable planers and it still can wheel away to wherever you need it, just like those other less adaptable and not-so-square-tool stands.
Have something to say? Share your thoughts with us in the comments below.