Robotic technology installed at Cefla's USA Lab
November 2, 2021 | 12:22 pm CDT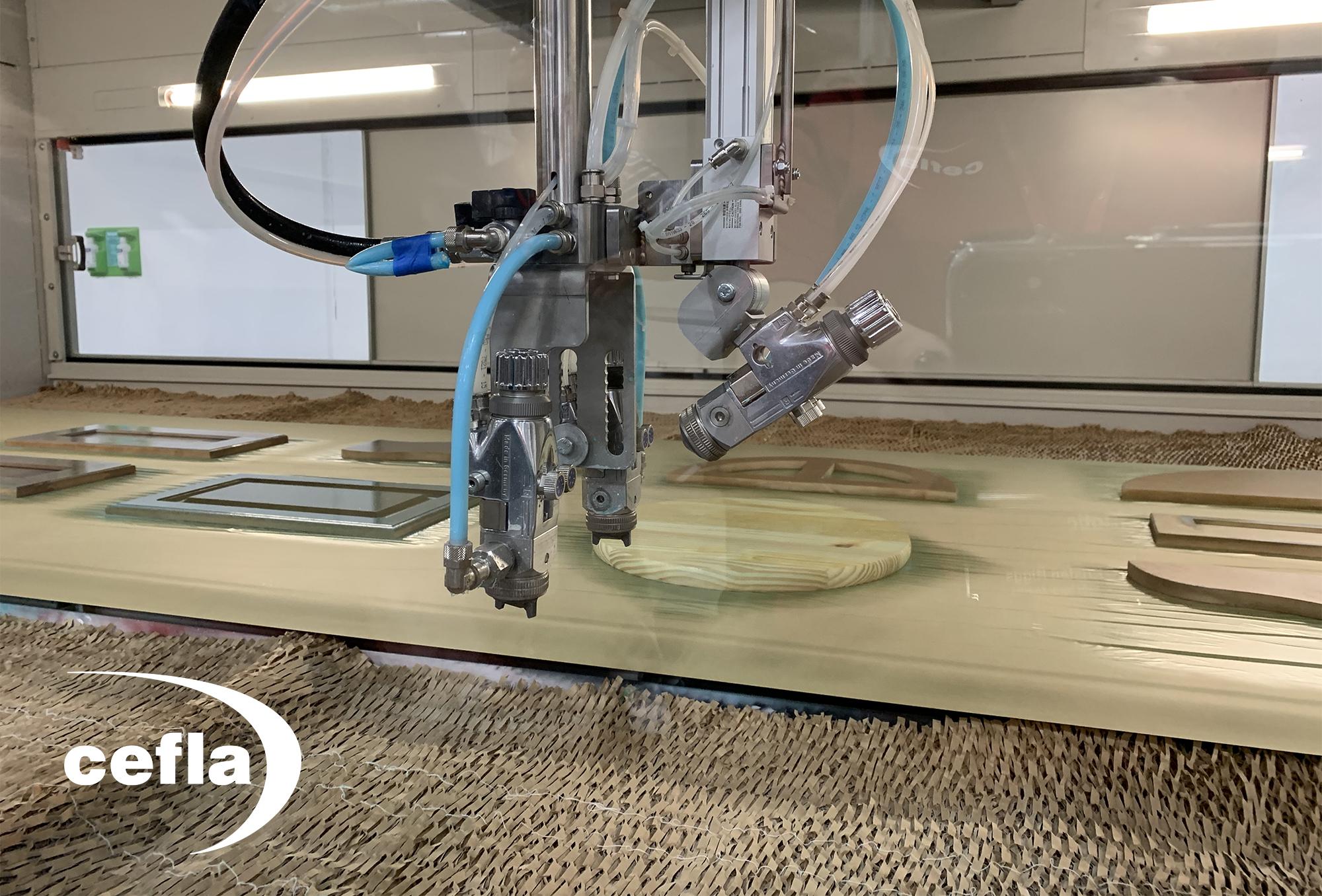 CHARLOTTE, North Carolina -- Cefla North America, a supplier of surface enhancement technologies in the USA and Canada, has installed an advanced robotic spray machine in its finishing laboratory. The robotic technology is known as the iBotic. 
The finishing technology is the largest and most advanced of all finishing technologies housed in the Cefla North America testing laboratory. It has been installed to enhance the customer testing experience and expand the company's line up of first-in-class surface enhancement equipment. To commemorate the machine's installation and commissioning, on October 28, 2021, the Cefla team hosted a number of North American companies to a focused event highlighting its adhesive glue spray capabilities.
With two arms working harmoniously, one gun arm can focus on edges while the other reciprocates for thorough yet precise coverage. As well, iBotic spray technology accurately scans and finishes pieces of varying shape and thickness with the conveyor either stationary or in motion. It is available in working lengths of 3,000 to 5,500 millimeters, depending on gun and spray arm configuration as well as application choice. Other notable features include improved hardware control that reduces energy consumption, improved HMI graphics, simultaneous function control on the same arm for quicker adjustments, automatic adjustment system for exhaust fan with less need for operator intervention, and an option for internal camera for monitoring purposes or remote servicing/troubleshooting by Cefla technicians. 
Cefla North America houses the largest laboratory dedicated to finishing professionals second to its global headquarters in Imola, Italy and is the company's largest investment outside of Italy. The lab also serves a center for research on the latest trends, techniques and technologies available to the finishing industry. Cefla North America in particular is a center for vacuum technology and manufactures a line of vacuum coating finishing systems in it's Charlotte, North Carolina-based finishing factory.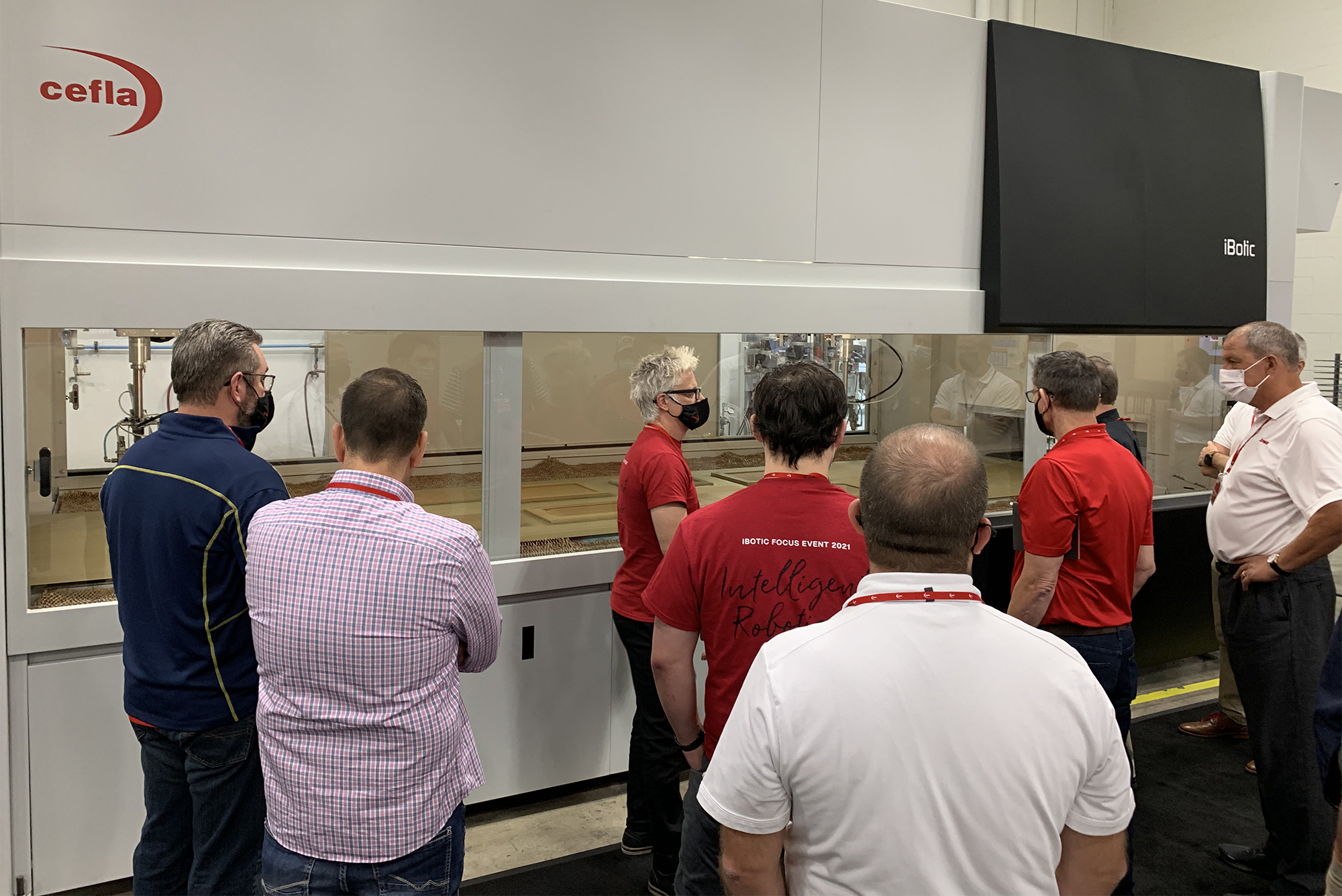 The iBotic cartesian robot sprayer was used to apply a tinted adhesive glue throughout the day. The event was kicked off with a guest speaker, a well-known thermofoil door producer and Cefla customer, to provide insight on their decision to automate and the ease of working with Cefla's sales and service teams.
Technical presentations were provided on both the iBotic and related technologies including automated cleaning, drying, and cutting systems. Companies in attendance learned about the benefits automation can provide to the adhesive glue market, including reductions in glue consumption and reliable labor. In fact, the iBotic spray system can improve transfer efficiency up to 50% when compared to manual spraying. 
"This event format is very effective," said Steven McNeilly, national sales manager, "we purposefully keep our focus events small to ensure everyone gets a chance to ask questions and explore the world of finishing technology at their own pace."
To learn more about iBotic technology, visit https://bit.ly/3E2XT5M.
 
Have something to say? Share your thoughts with us in the comments below.