Fractal burning makes the news
September 6, 2022 | 3:28 am CDT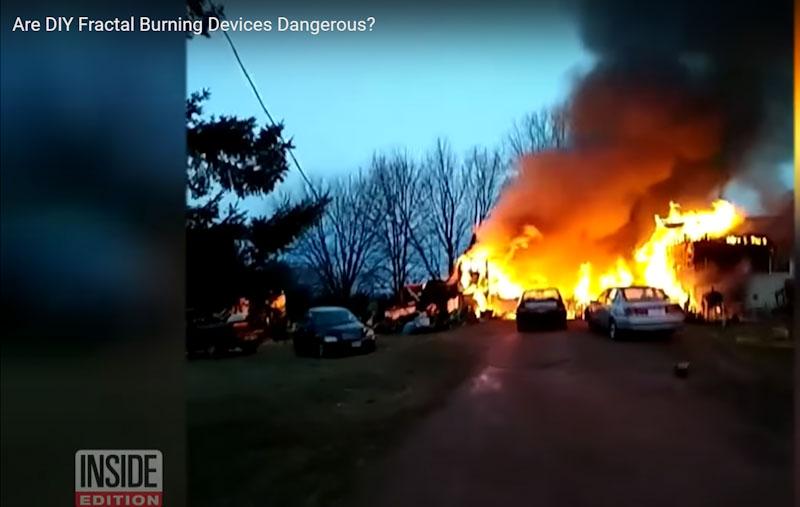 Photo By Inside Edition
"You don't usually associate beautiful works of art with death," is how the TV news program Inside Edition began its Sept. 2 report on the dangers of fractal burning, also known as Lichtenberg.
The practice, which has extensively been written about on WoodworkingNetwork.com including an April 2022 report after two Wisconsin men died while performing the process, has made national news in recent months.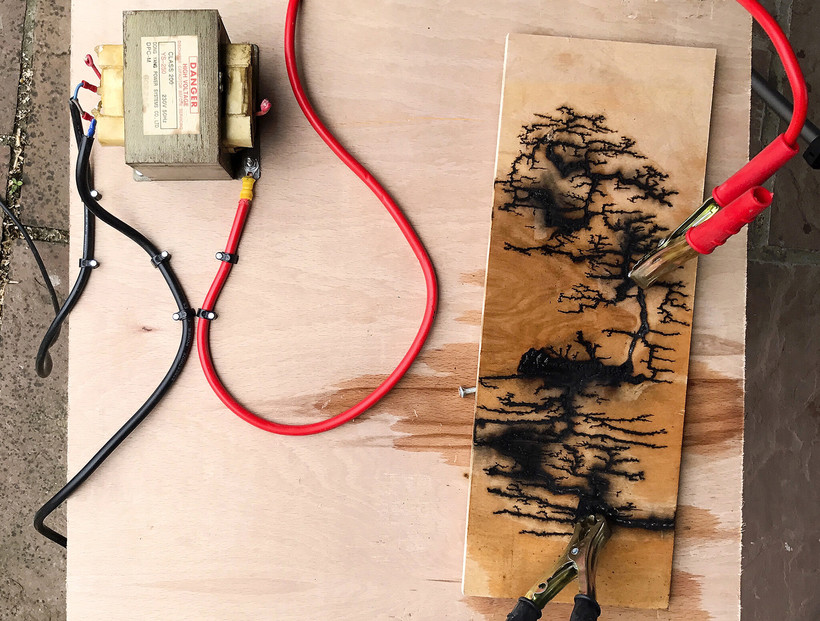 "People around the nation," the report continued, "are using intense currents of electricity to create unique patterns in the wood. They're making the designs with homemade built devices from microwave parts which are capable of generating thousands of volts of electrical current … while the process may result in mesmerizing designs, simple mistakes can prove fatal."
The report interviewed the family of two men who were electrocuted and died from fractal burning. "All these people think it is not going to happen to them," said Brenda Trudell whose husband, James, died after being electrocuted using the practice.
The Inside Edition story is just one of the recent reports on the sometimes deadly design process that h aas killed At least 33 men and women in the U.S. alone. The Toronto-based National Post recently urged its readers to not use the fractal, as did the Bob Villa web channel.    
In July, Review Geek a website that reviews products, also covered the topic when a video decrying the practice was briefly banned by Youtube.
The website reported that there are dozens of YouTube videos online that describe the process, how to do it, and how to convert old microwaves into a transformer that provides electricity.
"The problem is, it's incredibly dangerous," the report stated. "You plug a transformer into the wall; electricity flows through that transformer and into two metal spikes embedded in the wood. Common DIY techniques involve holding battery jumper cables that touch the pins (or even clamp and move the pins). But the process of transforming that energy steps the 120 volts you get from a wall plug to 2000 volts—while decreasing the amps."
The danger is not news to many in the industry. The American Association of Woodturners Safety Committee issued a policy against fractal burning, banning it from AAW events. The ban was initiated in 2017 and remains in effect. 
"It is the policy of the American Association of Woodturners (AAW) that the process known as fractal burning is prohibited from being used in any AAW-sponsored events, including regional and national symposia, and that AAW-chartered chapters are strongly urged to refrain from demonstrating or featuring the process in chapter events," said the policy. "Further, the process of fractal burning shall not be featured in any written or online AAW publication, except for within articles that warn against its use. AAW publications will not accept advertisements for any products or supplies directly related to the process."
The Electrical Safety Foundation International (ESFI) is warning woodworkers against fractal wood burning. "Using electricity safely and properly is vitally important," said ESFI President Brett Brenner. "This form of wood-burning is highly dangerous and should never be used as fires, injuries, and electrocution can easily occur."
Fractal wood burning pairs high-voltage electricity and a chemical solution to etch intricate designs into slabs of wood. The process creates what is referred to as Lichtenberg figures, a pattern discovered in 1777 by German physicist Georg Lichtenberg while he conducted static electricity experiments. 
People using the method often cannibalize microwaves or car batteries to remove the power supply, which is then connected through jumper cables to nails attached to a piece of wood slathered with a conductive solution of baking soda and water.
"It only takes one small mistake and you are dead; not injured, dead," the woodturning association wrote in a warning on its website. "Some of those who died were experienced at using the process and some were not. What is common to all of them: fractal burning killed them."
Have something to say? Share your thoughts with us in the comments below.