Ethan Allen's Vermont facility recovering after July floods closed plant
September 19, 2023 | 4:59 pm CDT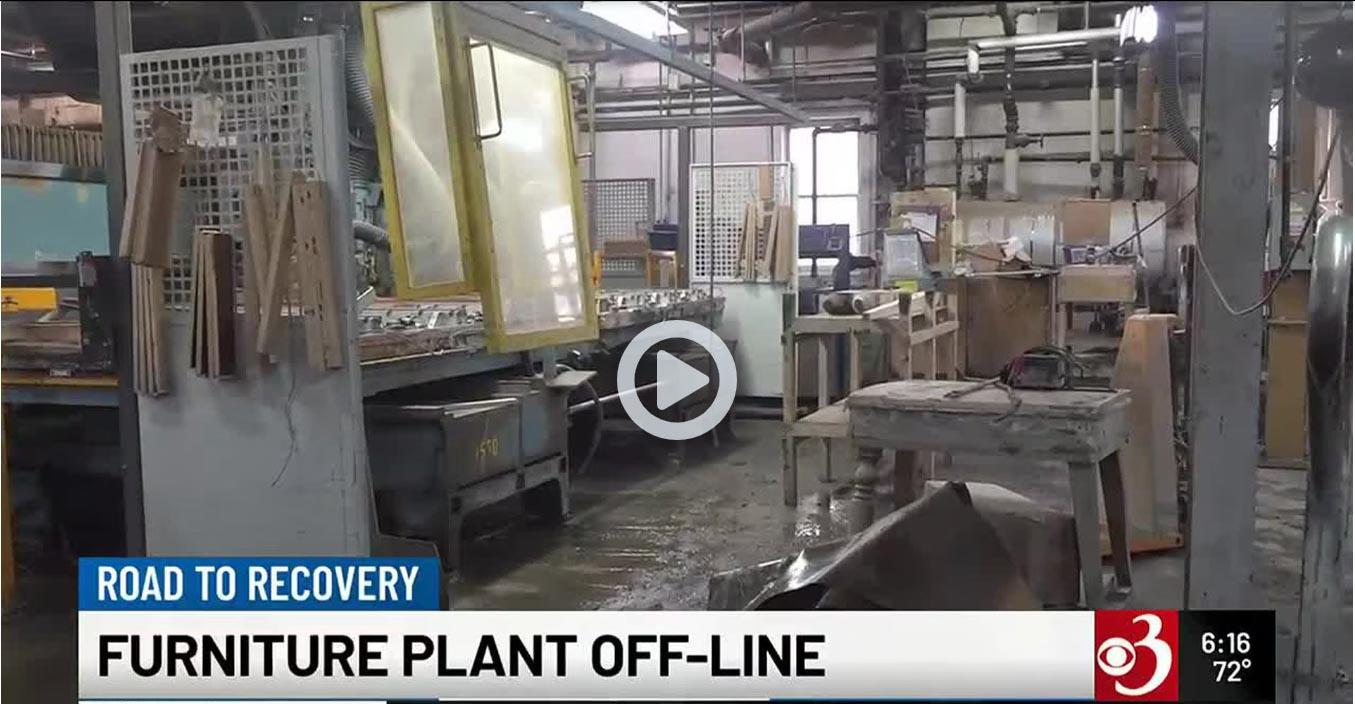 DANBURY, Conn. — Ethan Allen Interiors' Orleans, Vt., manufacturing plant has resumed operations following flooding in July, and work continues to get it up to full operation.
In July 2023, Ethan Allen's wood furniture manufacturing operations located in Orleans, Vermont, sustained damage from heavy flooding of the nearby Barton River. In addition to losses related to wood furniture inventory parts and state-of-the-art manufacturing equipment, the flooding also resulted in a temporary work stoppage for many Vermont associates and a disruption and delay of shipments for approximately seven weeks. 
Ethan Allen's roots in Vermont were first established in 1936 when the company's founders purchased a sawmill in Beecher Falls. The Orleans workshop employs approximately 250 dedicated local associates and serves as an important economic engine, not only in the Orleans and Barton areas but also for businesses and workers throughout the Northeast Kingdom. Ethan Allen's sawmill and wood machining operation, located about an hour away in Beecher Falls, provides wood parts to Orleans.
"We are proud of our roots in the Northeast Kingdom," said Ethan Allen's chairman, president and CEO, Farooq Kathwari. "We are fortunate to have maintained our manufacturing facilities in North America, which enables us to be in a better position to serve our clients. I recently had the opportunity to visit both Orleans and Beecher Falls and meet with our dedicated associates. While the July flooding has caused substantial damage to our Vermont wood furniture manufacturing plant, we are pleased to see our business resume operations and actively work down existing backlog."
Ethan Allen is currently working through insurance to recover a portion of incurred losses, which will be included in the Company's fiscal 2024 first quarter financial results. Losses incurred from the disposal of damaged inventory, inoperable machinery equipment from water damage, facility cleanup, and restoration, are currently estimated to be approximately $2.5 million, net of insurance recoveries and grant proceeds. In addition, the flooding has resulted in a delay in the production of custom orders, which is expected to reduce the Company's consolidated net sales by approximately $15 million during the first quarter of fiscal 2024.
Thanks to the hard work of Ethan Allen's associates as well as external specialized teams, the Company is making good progress towards equipment repair and cleanup of the plant. Kathwari credits Governor Phil Scott, members of the Vermont state legislature, and the state's Department of Economic Development, which awarded Ethan Allen a $500,000 grant through its Business Emergency Gap Assistance Program. These funds will be used toward cleanup and restoration efforts as well as for local capital projects to further enhance the Orleans workshop. "We appreciate the State of Vermont's ongoing partnership and its commitment to our business and our local associates," Kathwari stated.
 "Our wood furniture manufacturing in Orleans resumed limited operations during August 2023, and at this time, approximately 75% of our associates are back to work. We have set aside significant capital to enhance and improve our production workflows as we move forward. Although we continue to assess the costs of cleanup and repair, as our work is ongoing, we are pleased to say that we remain open for business in Vermont," Kathwari concluded.
Have something to say? Share your thoughts with us in the comments below.