Ethan Allen reports 3Q sales drop
April 27, 2023 | 7:42 am CDT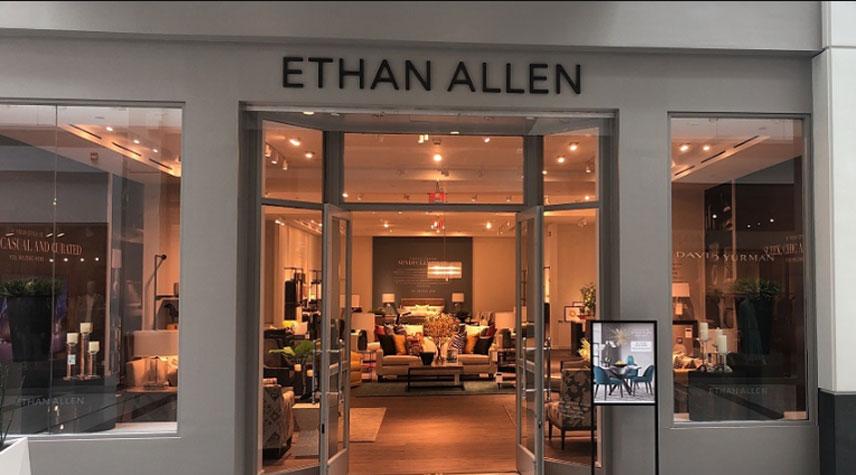 DANBURY, Conn. — Ethan Allen Interiors Inc. reported, April 26, that its consolidated net sales in the third quarter totaled $186.3 million, down 5.7% from $197.7 million for the same period last year.
Despite this, Farooq Kathwari, Ethan Allen's chairman, president and CEO said, "We are pleased with our third quarter operating performance. We delivered consolidated net sales of $186.3 million, gross margin of 59.9%, operating margin of 15.5% and net income of $22.4 million. Our adjusted diluted earnings per share of $0.86 remained strong. We continue to generate strong operating cash flow and as of March 31, 2023, we had total cash and investments of $156.2 million and no debt. Our retail written orders surpassed pre-pandemic levels by 3.6%. We are also pleased to announce that on April 25, 2023, our Board approved an increase to our regular quarterly cash dividend to $0.36 per share, a 13% increase, payable on May 25, 2023."
Kathwari continued, "Last week we had a grand reopening of our flagship design center located in Danbury, Conn., positioning us as a leading Interior Design Destination. Our product programs continue to be enhanced under the umbrella of Classics with a Modern Perspective. We also continue to strengthen technology options for our interior designers to work with clients. Over the next six months, the projection of most of our 172 design centers in North America will be refreshed to reflect our Danbury, CT design center."
"We are confident in the investments that we are making for the future, but recognize the need to remain cognizant of the slower economic environment in which we are currently operating in. We remain cautiously optimistic," concluded Mr. Kathwari.
FISCAL 2023 THIRD QUARTER HIGHLIGHTS
Consolidated net sales of $186.3 million decreased 5.7%
Retail net sales of $150.9 million decreased 9.5%
Wholesale net sales of $114.2 million decreased 5.7%
Written order trends
Retail segment written orders increased 3.6% compared with the pre-pandemic third quarter of fiscal 2019; down 12.3% compared with the third quarter of fiscal 2022
Wholesale segment written orders decreased 5.9% compared with the third quarter of fiscal 2019; decreased 9.3% from a year ago
Consolidated gross margin decreased to 59.9%, down from 60.4% a year ago due to a change in sales mix and lower delivered unit volume partially offset by product pricing actions taken over the past 12 months, disciplined promotional activity and lower input costs including reduced inbound freight and raw material costs
Operating margin of 15.5%; adjusted operating margin of 15.2% compared with 15.8% last year due to lower consolidated net sales, a gross margin reduction and higher retail delivery costs partially offset by our ability to maintain a disciplined approach to cost savings and expense control; selling, general and administrative expenses decreased 5.7% and equaled 44.7% of net sales in both periods presented, as the Company carefully managed expenses in a declining net sales environment
Advertising expenses were equal to 2.2% of net sales compared to 2.3% in the prior year third quarter; continued to utilize various advertising mediums including digital, direct mail, national television and radio; disciplined promotional activity remained comparable to the prior year
Diluted EPS of $0.87 compared with $0.97; adjusted diluted EPS of $0.86 decreased 7.5%
Generated $33.4 million of cash from operating activities, up 93.2% over the prior year
Paid regular quarterly cash dividends totaling $16.3 million
Ended the quarter with $156.2 million in cash and investments with no debt outstanding
Lowered inventory levels to $151.7 million as of March 31, 2023, down $24.8 million from June 30, 2022
Have something to say? Share your thoughts with us in the comments below.