Broadmoor library's woodwork is worth checking out
May 22, 2020 | 1:29 pm CDT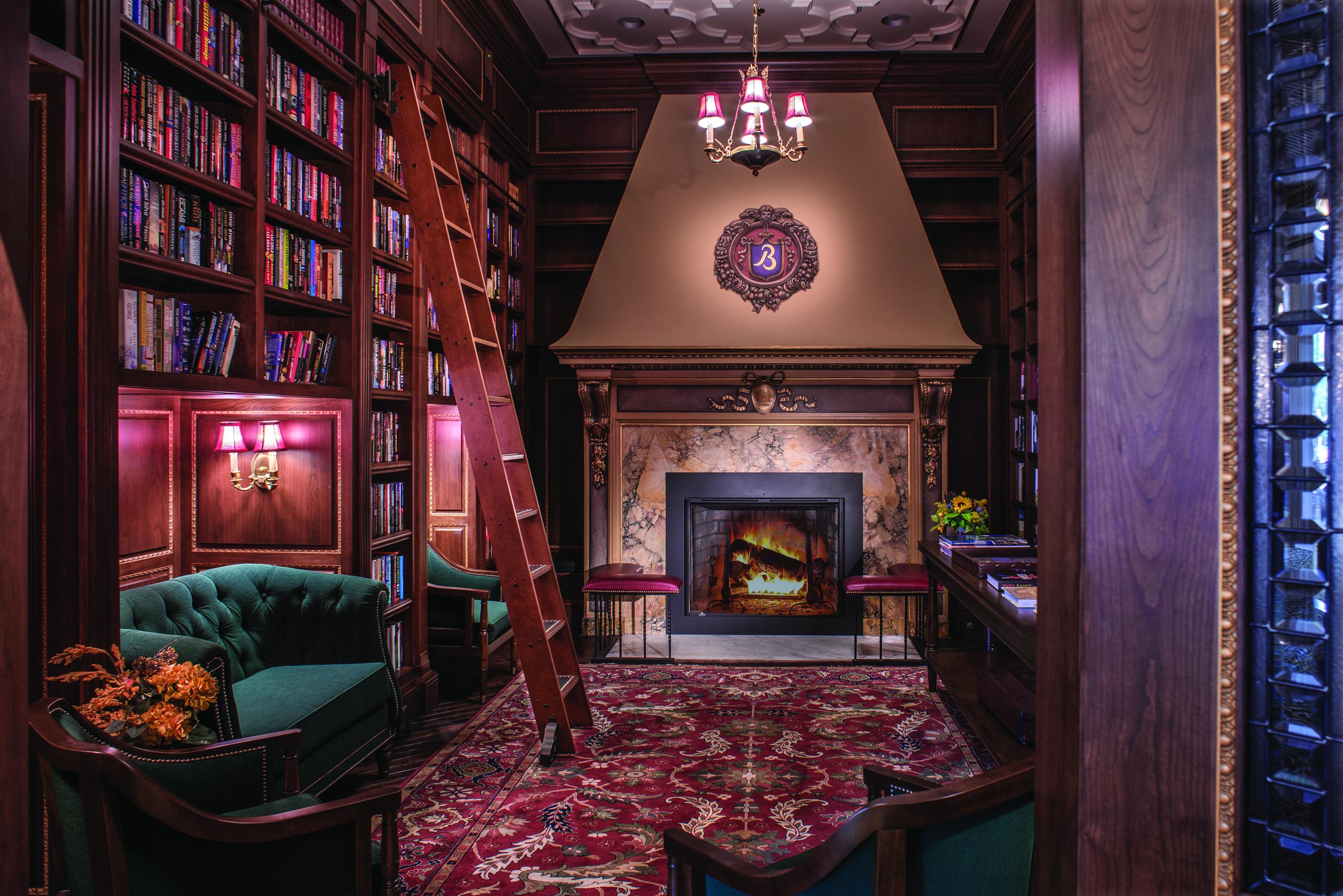 Editor's note: The Broadmoor will host the 2021 Executive Briefing Conference September 8-10. This is one of a series of occasional stories about the five-star resort and conference center.
Colorado Springs, Colo. --
The Broadmoor offers a feast-for-the eyes showcase of classic woodwork from its vaulted ceilings through its classic wood paneled walls and opulent furnishings fit for a king.
Virtually every public room of the luxury resort hotel has a woodworking tale to tell. One of the most compelling of those stories is the Pourtales Library authored by
Woodworks Millshop
, an architectural woodworking firm based in Colorado Springs. The library re-do was part of a $47 million expansion and renovation project completed in 2014.
Originally built as a ladies' sitting room, it was later converted into a library named after James Pourtales. Pourtales was a Prussian count who helped drive the development of Colorado Springs including constructing the Broadmoor Casino. The casino, which burned down in 1897, was the precursor to the Broadmoor Hotel.
Woodworks Millshop was contracted to fabricate and install the library's classic woodwork, working around the room's historic fireplace. Cherry is the dominant hardwood of the stately reading room.
The company's handiwork also is on display in other areas of the resort, including the chef's table of the Penrose Room Restaurant and entry doors for the Broadmoor's ballroom, plus front doors of newly constructed brownstone homes located across the street from the Broadmoor.
"Woodworking for a property like the Broadmoor is different because not only does the quality need to be impeccable, but the craftsmanship needs to stand the test of time," said Laird Snow, head of engineering for Woodworks Millshop. "This is a special property and one that has been around for generations and will be for generations to come."
Doing work for a "special property" comes with a fair share of "functional challenges," Snow added. "Specifically, this is a living space. The hotel did not want to shut down for the project. Working within the confines of the guests it was really important to make sure we are not hurting their experience at the property."
Another challenge cited by Snow was manufacturing and installing cabinetry around the room's original fireplace because the manner in which it "comes down from the ceiling at a sloped angle. The cabinets are wider at the top and narrower at the bottom with one side of each of them curved. Each shelf in these cabinets is a different length. They are not symmetrical, even though it appears that they are."
A different example of Woodworks Millshop craftsmanship. The company fabricated the paneling for this master bedroom using white oak painted gold.
"The hallmark of the project for us was the many different elements the Broadmoor wanted to fit into the library and our ability to meet their needs," Snow added. "From the ladder to the seating areas to the strange-shaped cabinets by the fireplace there were a lot of different elements the Broadmoor wanted to incorporate to make it a special room."

Snow said the rolling ladder, which features custom upholstered leather pads on each of the rungs, is his favorite amenity of the library. "I've seen a few rolling ladders similar to this. They can be bought from various companies that make the rolling hardware. They usually feel lightweight and rickety. A person will usually have to wrestle with them when trying to roll them. They don't feel very safe when climbing up them either. We custom-made this one very heavy-duty. I think the weight of it helps it to roll smoothly. It is in a public space that anyone can use, so it has to function well and feel safe."


The Pourtales Library is located off the hotel's main mezzanine. The initial books making up collection - including classics, best sellers and children's books - were donated by an unnamed long-time guest. Hotel lodgers can take a book on the honor system during their stay.

Snow said he will "go in there on random Sundays just to read a book and relax. If I sit in the room for even 30 minutes, the number of impressed visitors I see is incredible."

New owner builds on shop's legacy of fine woodwork
At the time when Woodworks Millshop was working on the Pourtales Library project, Nick Kohli was working for his mother's luxury safe business, Traum Safe based on Madison Avenue. "Often we were asked by our clients to encase the safes in cabinetry or integrate it into existing casework." Kohli said. "We had a partner shop in Switzerland that we used for much of that work. The quality was superb but project communication halfway around the world was difficult."

Kohli set about looking for an "in-house solution." His search led to the acquisition of Woodworks Millshop two years ago, a company that was founded in 1995. One of the custom woodwork manufacturer's strengths is its ability to lay-up veneer panels in house, allowing it to tie any room together with fully grain-matched panels.

Under Kohli's watch, the company has been in a growth mode. The plant was expanded from 11,000 to 18,000 square feet and its workforce has increased from 10 to 18 employees.
In addition to producing all of the woodwork for this client's kitchen, Woodworks Millwork provided the copper paneling on the ceiling.
"The things that made this company great before my arrival are the things that we have to continue doing to maintain our reputation for the quality of our work nationwide," Kohli said. He said one of his goals has been to balance Woodworks Millshop's legacy of crafting fine woodworking with upgrading the company's project management platforms and manufacturing capabilities.

Woodworks Millshop's most recent capital investments include a SCM Sigma panel saw and a Holz-Her Triathalon edgebander. "To be honest, we are in a growth phase, but we are growing conservatively," Kohli said. "That means we are buying good quality used equipment. We put solid edges on everything, so the Triathalon edgebander that bands up to 1-inch thick edges at 2.5 inches wide will be a huge asset so that we can edge 2-1/4 inch doors."

"We have a number of skilled woodworkers who can transfer their knowledge by training our younger employees," Kohli said. "That's one thing that I'm really about our company. In this age when it's tough to attract young talent, I'm really proud of the mentorship that we have. I think that's real important asset for any woodworking company to succeed."

Learn more and register for the 2020 Executive Briefing Conference.
Have something to say? Share your thoughts with us in the comments below.