What to expect at EBC 2020
February 14, 2020 | 2:09 pm CST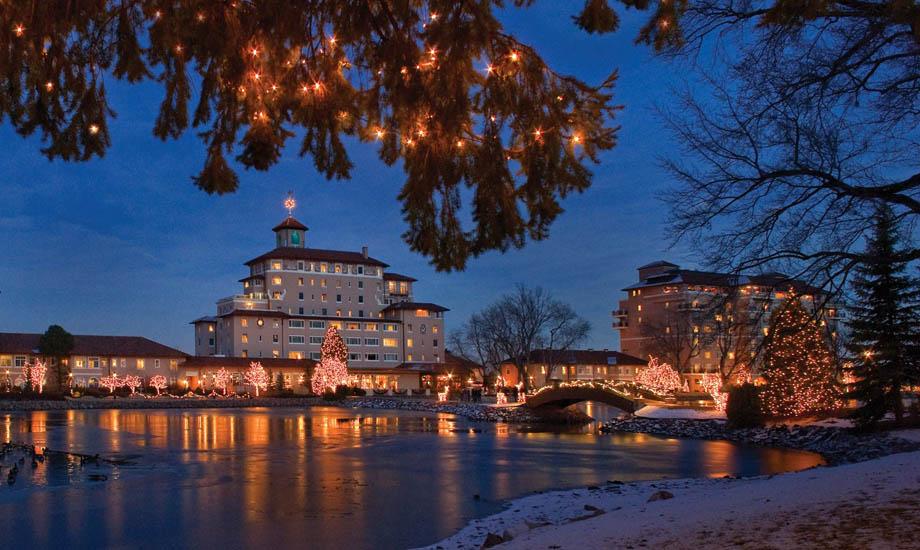 COLORADO SPRINGS -- The destination alone for this year's Executive Briefing Conference offers multiple compelling reasons to save the date (Nov. 8-10) for a trip to the Broadmoor in Colorado Springs.  The Broadmoor's impeccable accommodations and service and Colorado Springs' reputation as one of best outdoor activity spots in the world set the stage for one of the most memorable EBC's ever.  
But the business of inspiring and educating today's woodworking industry leaders is what the EBC is all about.  "EBC 2020 offers the opportunity to network with a rarified group of the wood manufacturing industries' top managers who are setting the pace for business leadership," said Tim Fixmer, president and CEO of Woodworking Network, which owns and manages the event.
EBC agenda highlights
Jim Bouchard, author of several books and founder of the Sensei leader movement, will be the opening keynote the for 16th Executive Briefing Conference with a presentation titled "How to inspire, empower, and guide your people to their very best."
Jim Bouchard, founder of the "Sensei Leader" movement, will deliver the opening keynote on Sunday, Nov. 8 followed by a workshop in the morning on Day Two.  Bouchard's keynote is titled, "The Sensei Leader:  How to inspire, empower, and guide your people to their very best."   
Bouchard discussed some of the elements of his presentation and workshop.  "People perform at their best when they know their leaders care, their work has meaning, and they have a chance to learn, grow and develop," he said.  "Leaders today need emotional intelligence, and strong interpersonal skills and awareness."
According to Bouchard, the workshop will do a deep dive into what it takes to succeed and sustain that success as a leader.  "This is not a technical management discussion," said Bouchard.   "We'll focus on the essential human aspects of leadership and what leadership means to you as a human being.   Please come with an open mind, open heart and rolled up sleeves."
Alan Beaulieu, president and a principal of ITR Economics, will return as a keynote with his economic outlook for 2021 and beyond. Beaulieu has been a frequent speaker at the Executive Briefing Conference.
Returning as a keynote is Alan Beaulieu, president and a principal of ITR Economics.  Beaulieu has been a frequent keynote at the Executive Briefing Conference.  In his 2019 EBC keynote, Beaulieu referred to the next decade as the "Roaring 20s."  He predicted an overall prosperous decade followed by a very painful correction in 2030.  Beaulieu is famed for his "moving averages," year-over-year accuracy, and ability to inject cutting humor into the science of economics.
Additional high-level presentations are planned for EBC 2020.  Core curriculum will cover:
• Case studies:  Top CEOs share how they've prepared for the disruptive change, incredible new opportunities and unheard-of challenges of the new decade.
• How to meet the challenges of finding, training and keeping qualified employees.
• Manufacturing Strategy Panel: Technology Investment discussion – Hear from a panel of top managers who have deployed the latest technology.
• Kenn Busch, founder of Material Intelligence, will host a state-of-the-art design and material trends in the industry from a global perspective.
• Enjoy dinner at the breathtaking Cheyenne Lodge at the Broadmoor as part of Woodworking Network's audience recognition reception (Woodworking Network 40 under 40, WOOD 100, Women of Woodworking, Market Leaders, FDMC 300).  The evening is sponsored by Weima America.
Tours:  Concepts in Millwork and The MiLL
EBC attendees will tour two nearby facilities, Concepts in Millwork and the MiLL.  Concepts in Millwork has been recognized for many of its high-profile projects including the Pentagon renovation after the 9/11 attacks and the new St. Anthony's N. Hospital in Westminster, CO.  EBC attendees will also tour the MiLL National Training Center.  Education at the 46 thousand square-foot facility focuses on Lean manufacturing using the latest woodworking technology to develop work-ready employees for the industry.
About the Broadmoor
The Broadmoor welcomes guests to a legendary Forbes Five-Star and AAA Five-Diamond resort with impeccable service and distinctive amenities. Here, the spirit of the West inspires the adventurer within, providing endless opportunities to explore the picturesque mountains, streams, and canyons that have inspired generations. Whether you are interested in zip lining adventures and horseback riding, Colorado fly fishing, or an indulgent day at the spa, you'll find endless activities for every age in every season.
Stiles Machinery will return as a Platinum Partner in the technology category for EBC 2020.   Additional Partner Program sponsorship opportunities are available. Registration for the EBC will open April 1.  For more information go to executivebriefingconference.com.
Have something to say? Share your thoughts with us in the comments below.