CKCA regional event to include tours of six B.C. cabinet plants
December 7, 2022 | 11:15 am CST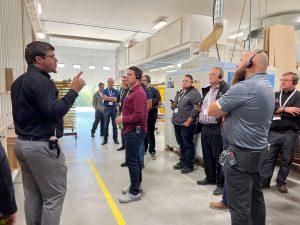 OTTAWA, Ontario – The Canadian Kitchen Cabinet Association (CKCA) will hold its Western Regional Event, Feb. 6-8, 2023, in Richmond, British Columbia.
Tours of six area cabinet manufacturing operations highlight the three-day event. As one CKCA member put it, "To see how other companies are handling new technologies in manufacturing and to be able to share ideas and gather information from others experiencing some of the same challenges that we are facing (is valuable)."
The tour will include bus stops at:
Nickels Cabinets;
Sunrise Kitchens;
Lauten Woodworking;
Leon Lebeniste;
Fraserwood Timber; and
Sofo Kitchens.
The tour group will also visit the Centre for Advanced Wood Processing at the University of British Columbia. Presentations on important industry issues, manufacturers roundtables and plenty of networking opportunities are also on the docket.
The Sheraton Vancouver Airport is the headquarters hotel for the event.
Registration for the event is open to non-members, as well as manufacturing and supplier members of the CKCA.
 
Learn more and register.
 
Have something to say? Share your thoughts with us in the comments below.