Contract furniture: Industry trends & projections
December 6, 2022 | 10:00 am CST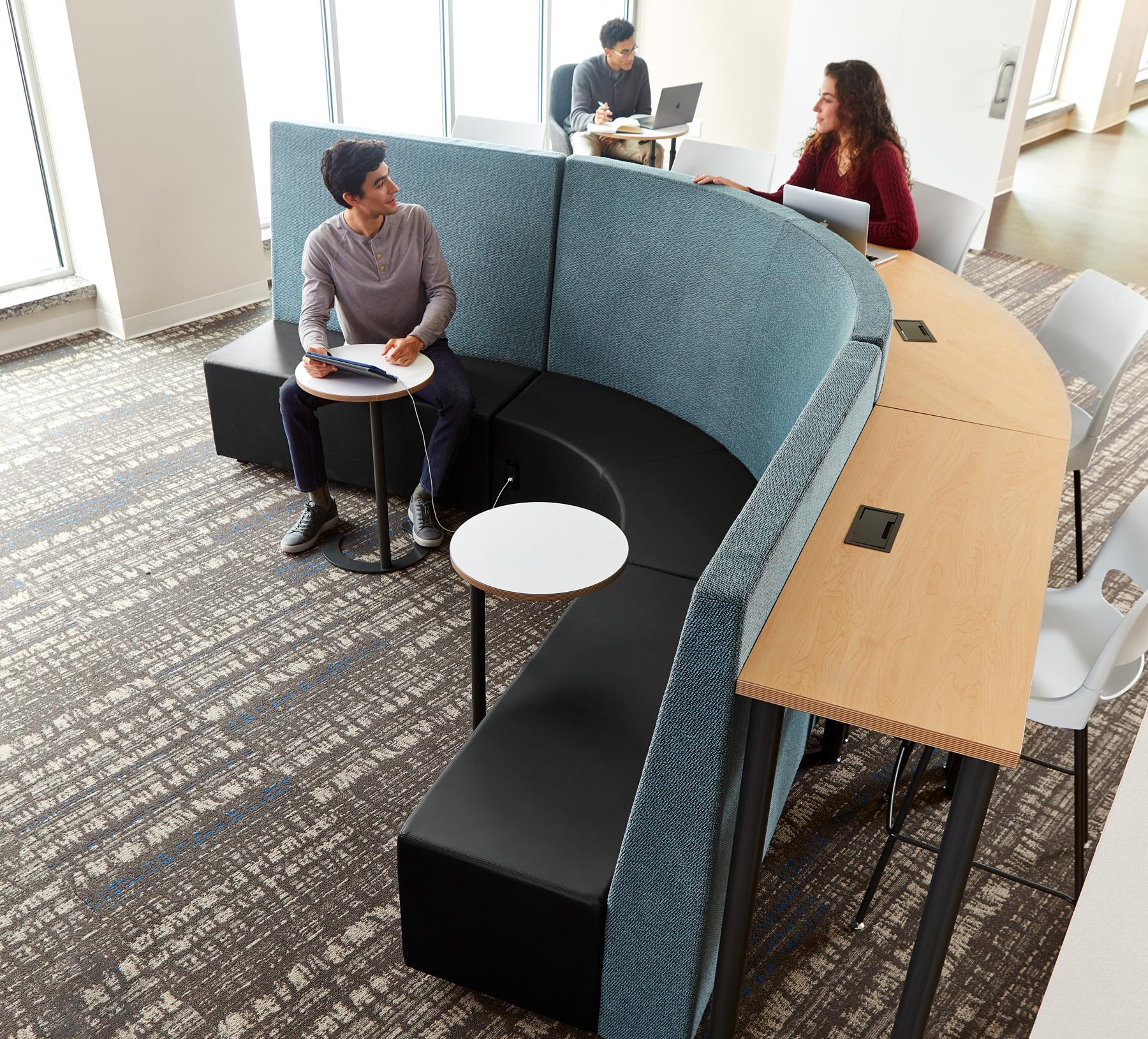 Post-pandemic, nearly three-quarters of Americans have returned to the office, or at least partially, according to the Consumer Trends: Employee Workspace study by Provoke Insights. That said, more than two-thirds said they would prefer to work from home, although Gen Z – known for being tech-savvy – report being the least productive working virtually compared to their older coworkers. The survey of 1,500 Americans between the ages of 21 and 65 was conducted in autumn.
A separate study by Eden Workplace has found 63% of high-growth organizations are using a hybrid model, mixing in-person and remote work options. Eden reports employees also favor this work style, with 83% saying they prefer hybrid.
The popularity of the hybrid model offers design and sales opportunities for office furniture manufacturers. As seen at recent NeoCon shows, many manufacturers now offer furniture in colors and styles designed to bring the comfort of the home into the office, and the functionality of the office workspace into the home.
Click on the infographic to enlarge. Find more market data in the December 2022 FDMC Wood Industry Almanac.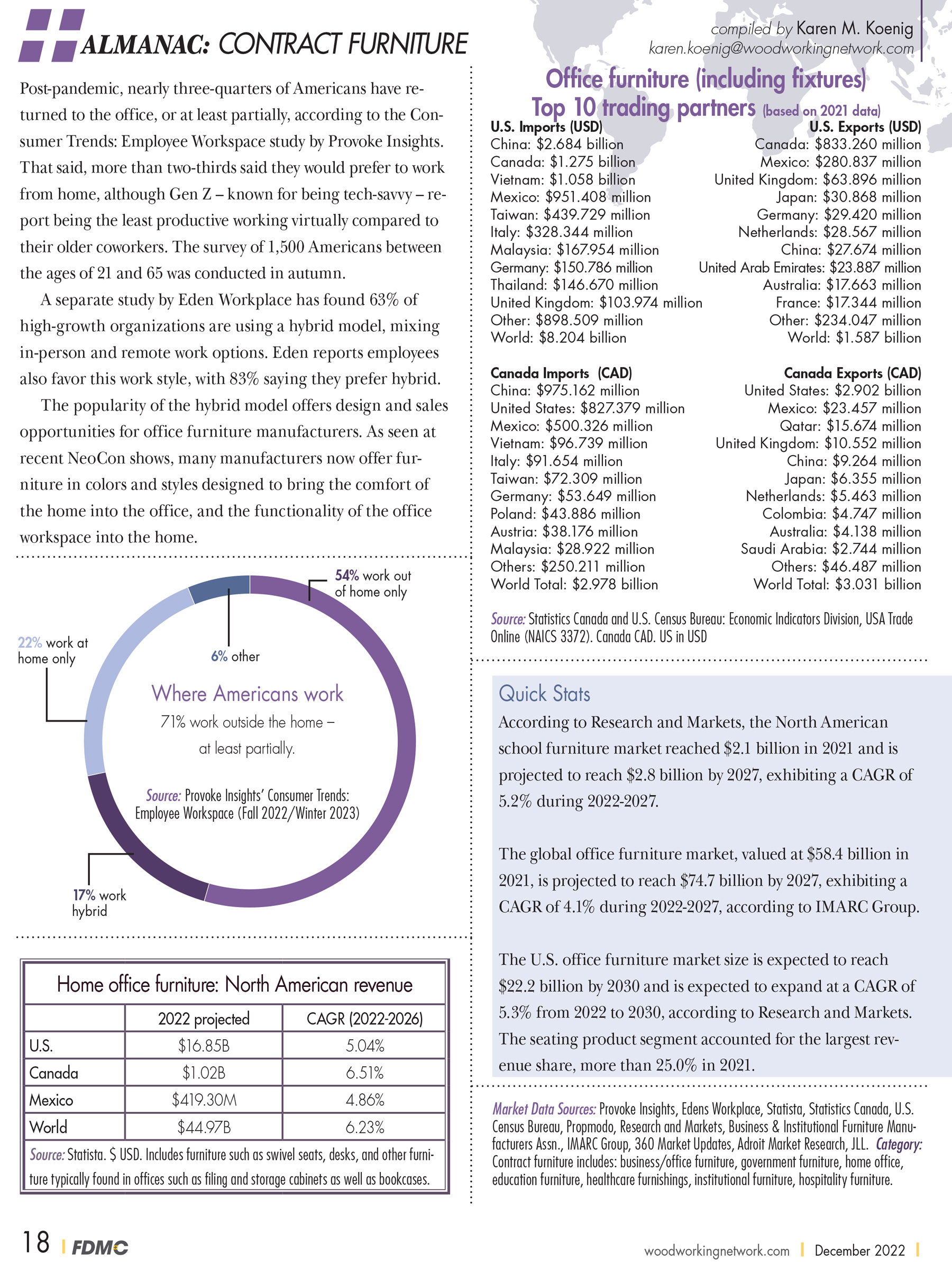 Quick Stats
• According to Research and Markets, the North American school furniture market reached $2.1 billion in 2021 and is projected to reach $2.8 billion by 2027, exhibiting a CAGR of 5.2% during 2022-2027.
• The global office furniture market, valued at $58.4 billion in 2021, is projected to reach $74.7 billion by 2027, exhibiting a CAGR of 4.1% during 2022-2027, according to IMARC Group.
• The U.S. office furniture market size is expected to reach $22.2 billion by 2030 and is expected to expand at a CAGR of 5.3% from 2022 to 2030, according to Research and Markets. The seating product segment accounted for the largest revenue share, more than 25.0% in 2021.
• The global hotel furniture market size was valued at $6.4 billion in 2021 and is expected to expand at a CAGR of 4.73% during the forecast period, reaching $8.5 billion by 2027, according to 360 Market Updates.
• The global office chairs market is currently valued at $13.6 billion and is anticipated to rise to $23.8 billion by 2028, with a CAGR of 7.3%, according to Adroit Market Research.
• According to JLL's Q3 Office Outlook, tenants increasingly opt to upgrade office space while downsizing footprints.
Market Data Sources: Provoke Insights, Eden Workplace, Statista, Statistics Canada (StatCan), U.S. Census Bureau, USA Trade Data, Propmodo, Research and Markets, Business & Institutional Furniture Manufacturers Assn. (BIFMA), IMARC Group, 360 Research Reports, Adroit Market Research, JLL Research.  Category: Contract furniture includes: business/office furniture, government furniture, home office, education furniture, healthcare furnishings, institutional furniture, hospitality furniture.
More data on North American woodworking and the specific wood product market segments can be found in the December 2022 FDMC Wood Industry Almanac. Also, find market data year-round at WoodworkingNetwork.com/news/almanac-market-data.
Have something to say? Share your thoughts with us in the comments below.