Residential furniture: Industry trends & projections
December 6, 2022 | 10:02 am CST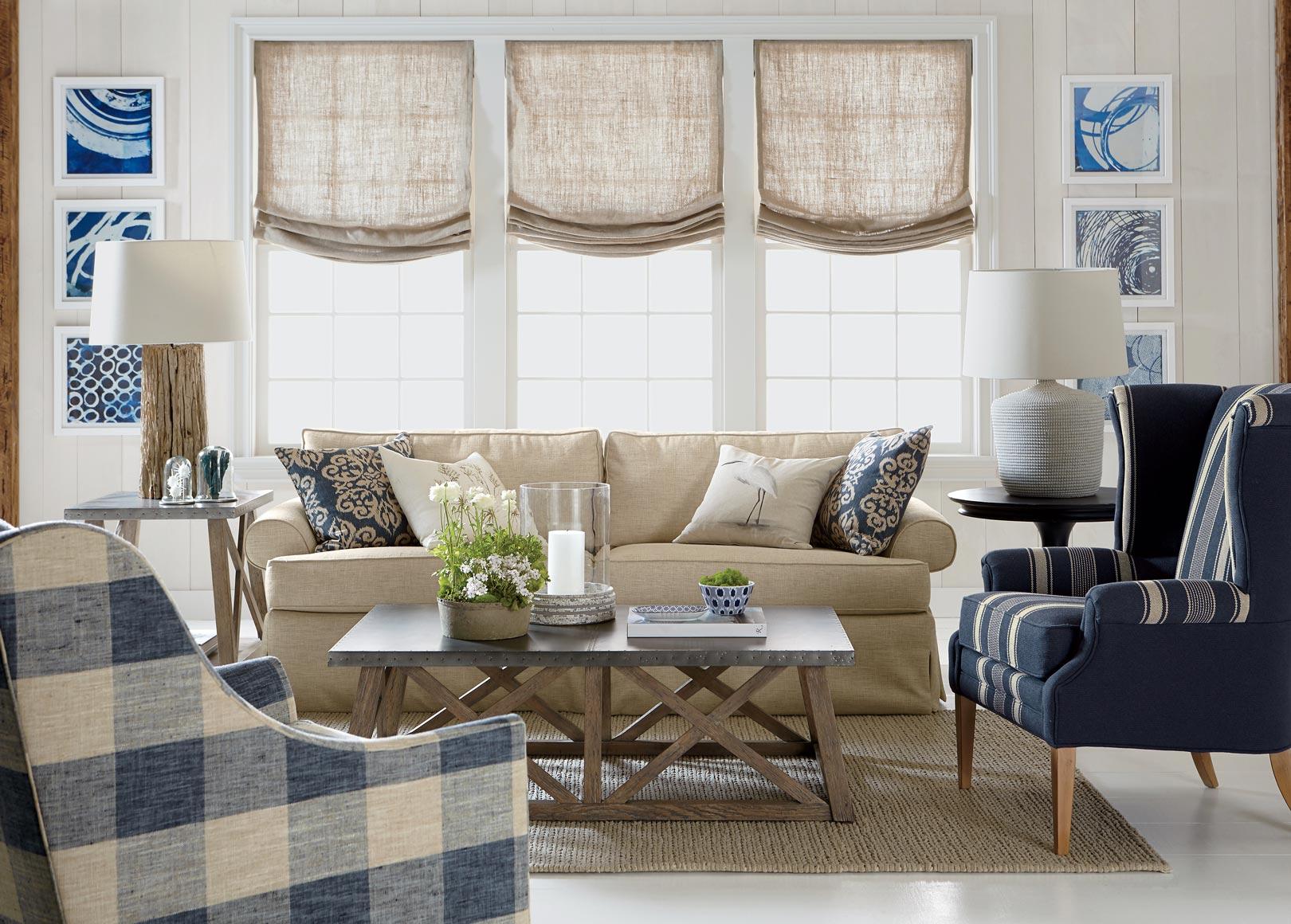 Photo By Ethan Allen: Comfort Zone living room
While the "buzz" has been generally positive following the High Point Market, "Higher interest rates are still a drag on much of the spending of consumers. Whether the economy is in a recession or not, clearly parts of the economy are. We think the same is true for furniture. Not all segments are recovering as fast as others," said Ken Smith, managing partner at Smith Leonard.
As noted in the October Furniture Insights, new residential furniture orders dropped "substantially" in August, down 34% compared to 2021 figures and marking the eighth straight month of year-over-year double-digit declines. Year-to-date new orders were down 29% from last year. "But remember that these new orders are net of cancellations and are also likely affected by some clean up of backlogs since backlogs are usually not part of the accounting systems," he said.
Shipments were up 9% over August 2021, with year to date figures up 6% compared to the same period in 2021. Year-to-date shipments were up for 70% of the participants. Backlogs in August were down 11% compared to July, and down 35% from last year. "Receivable levels continue to be in line, increasing 3% over last year and up 3% from last month. Hopefully all are keeping customer's balances from getting aged out as business slows a bit at retail," Smith added. Inventories remained high, up 37% from August 2021 and up 29% from July 2022.
Click on the infographic to enlarge. Find more market data in the December 2022 FDMC Wood Industry Almanac.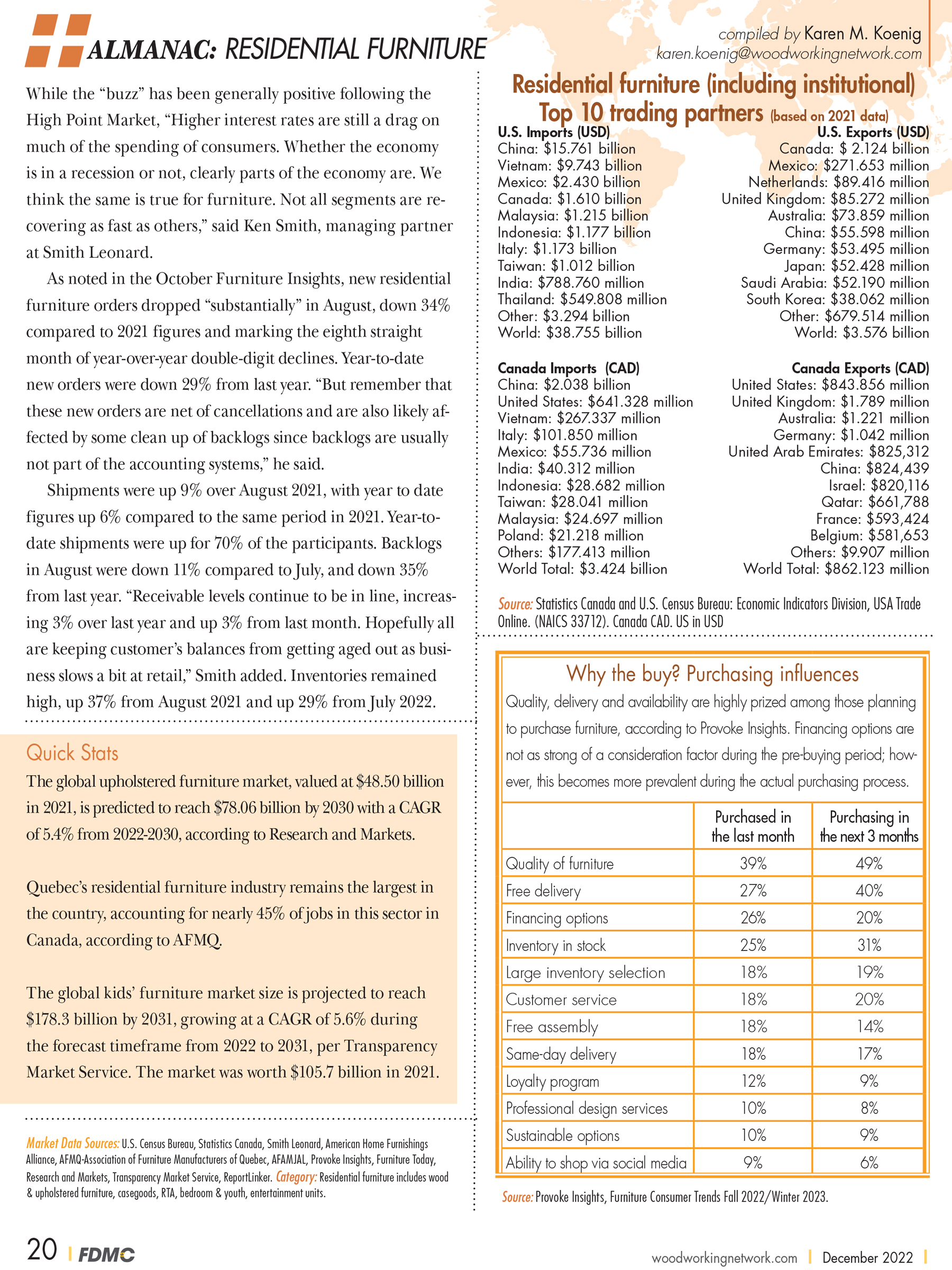 Quick Stats
• The global upholstered furniture market, valued at $48.50 billion in 2021, is predicted to reach $78.06 billion by 2030 with a CAGR of 5.4% from 2022-2030, according to Research and Markets.
• Quebec's residential furniture industry remains the largest in the country, accounting for nearly 45% of jobs in this sector in Canada, according to AFMQ.
• The global kids' furniture market size is projected to reach $178.3 billion by 2031, growing at a CAGR of 5.6% during the forecast timeframe from 2022 to 2031, per Transparency Market Service. The market was worth $105.7 billion in 2021.
• In October, the U.S. Consumer Product Safety Commission approved a new federal safety standard for clothing storage furniture, which would take effect 180 days after it is published in the Federal Register. Related to that, in September the U.S. Senate unanimously passed an amended version of the STURDY Act, bringing a mandatory furniture stability standard within one final vote of becoming law. The Stop Tip-overs of Unstable, Risky Dressers on Youth Act (S. 3232) was modified from the version passed by the House in June 2021 and must therefore go back for a final vote. STURDY requires the CPSC to adopt a mandatory stability standard to help protect children from furniture tip-overs. Both require the industry to use a test weight of 60 pounds, and both require testing that simulates "real-world use."
Market Data Sources: U.S. Census Bureau USA Trade Data, Statistics Canada (StatCan), Smith Leonard, American Home Furnishings Alliance (AHFA), AFMQ-Association of Furniture Manufacturers of Quebec, AFAMJAL, Provoke Insights, Furniture Today, Research and Markets, Transparency Market Service, Houzz, ReportLinker, Technavio. Category: Residential furniture includes wood & upholstered furniture, casegoods, RTA, bedroom & youth, entertainment units.
More data on North American woodworking and the specific wood product market segments can be found in the December 2022 FDMC Wood Industry Almanac. Also, find market data year-round at WoodworkingNetwork.com/news/almanac-market-data.
Have something to say? Share your thoughts with us in the comments below.