Cabinets & countertops: Industry trends & projections
December 6, 2022 | 9:24 am CST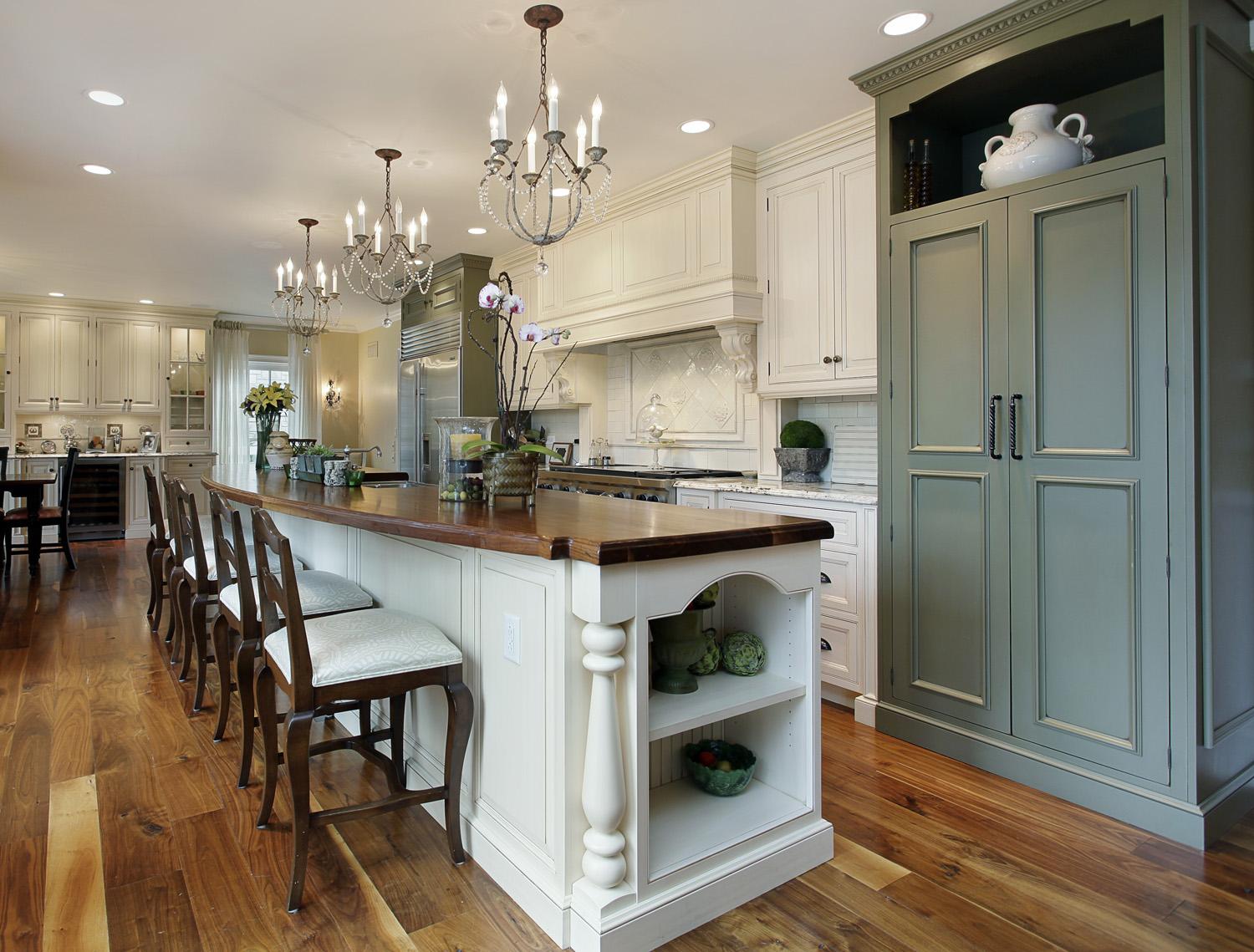 Changing economic conditions are resulting in a slowdown in kitchen and bath cabinet demand. The Kitchen & Bath Market Index (KBMI) for Q3 shows an overall market index of 63.2, the lowest it has been since Q3 2020, and the future conditions rating of 55.4 is at its lowest level since Q1 2020, said the National Kitchen & Bath Association. Additionally, the Q3 KBMI indicates a 1.3% decline in full-year 2022 sales expectations, versus the full-year growth expectations of 9.4% reported in Q2.
For Q4 2022, 31% of design firms expect a decrease in new project leads, the report found. Additionally, project cancellation/postponement rates are the highest they've been in 2022, as reported by 75% of building and construction firms, and 65% of design firms.
Previously, NKBA's 2022 Kitchen & Bath Market Outlook: July Update, projected total industry revenues for the year to reach $189 billion, an increase of 16% over last year, but $10 billion below the initial 2022 forecast. Most of the growth had been set to come from new construction, with year-over-year gains forecast at 21%.
Click on the infographic to enlarge. Find more market data in the December 2022 FDMC Wood Industry Almanac.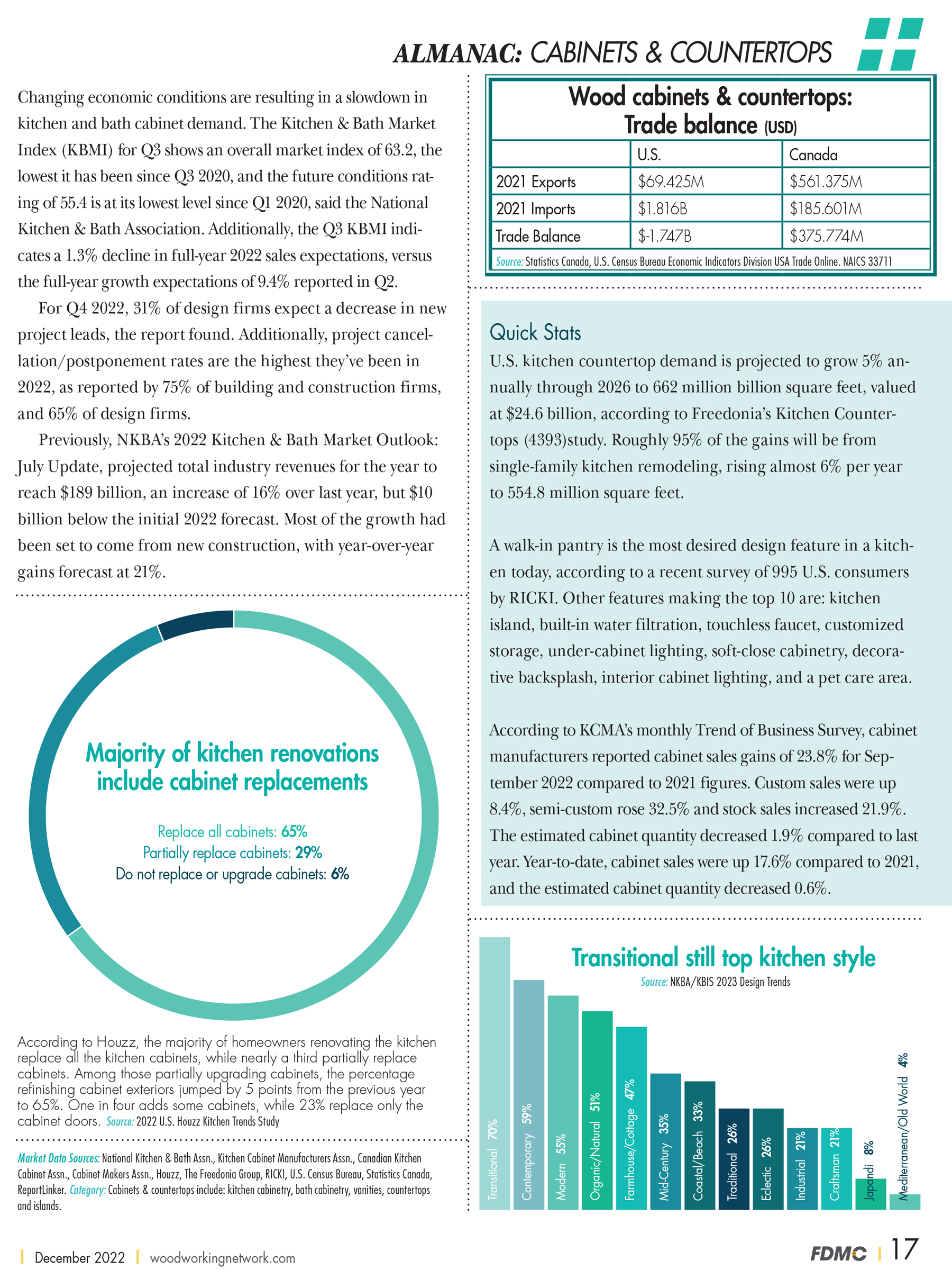 Quick Stats
• According to KCMA's monthly Trend of Business Survey, cabinet manufacturers reported cabinet sales gains of 23.8% for September 2022 compared to 2021 figures. Custom sales were up 8.4%, semi-custom rose 32.5% and stock sales increased 21.9%. The estimated cabinet quantity decreased 1.9% compared to last year. Year-to-date, cabinet sales were up 17.6% compared to 2021, and the estimated cabinet quantity decreased 0.6%.
• U.S. countertop demand is projected to grow 4.4% annually through 2026 to 1.1 billion square feet and valued at $56.8 billion, according to Freedonia's Countertops study, published in April. Gains will come from increased residential kitchen and bathroom remodeling, the trend toward larger kitchens and multiple bathrooms, as well as homeowners' willingness to use more expensive materials such as engineered stone.
• Meanwhile, U.S. kitchen countertop demand is projected to grow 5% annually through 2026 to 662 million billion square feet, valued at $24.6 billion, according to Freedonia's Kitchen Countertops (4393) study. Roughly 95% of the gains will be from single-family kitchen remodeling, rising almost 6% per year to 554.8 million square feet.
• A walk-in pantry is the most desired design feature in a kitchen today, according to a recent survey of 995 U.S. consumers by RICKI. Other features making the top 10 are: kitchen island, built-in water filtration, touchless faucet, customized storage, under-cabinet lighting, soft-close cabinetry, decorative backsplash, interior cabinet lighting, and a pet care area.
• With 70% of the pie, renovations of medium-sized kitchens (150-350 square feet) far outpaced the large (28%) and small (2%) projects designed and specified by respondents of the NKBA/KBIS 2023 Design Trends study. The typical spend for a medium kitchen was $66,000, compared to $130,000 for larger kitchens.
• The global outdoor kitchen market is projected to reach $32.2 billion by 2028, rising at a CAGR of 8.0% (2022-2028), according to ReportLinker.
• The NKBA/KBIS 2023 Design Trends research report found designers consider a manufacturer's sustainability practices 64% of the time when making recommendations. These include: VOC-free paints and stains (49%), formaldehyde-free MDF cabinets (33%), FSC-certified cabinets (30%) cabinets made from local woods (23%), and cabinets made from salvaged wood (18%).
Market Data Sources: National Kitchen & Bath Assn., Kitchen Cabinet Manufacturers Assn., Canadian Kitchen Cabinet Assn., Cabinet Makers Assn., Houzz, The Freedonia Group, RICKI, U.S. Census Bureau, Statistics Canada, ReportLinker. Category: Cabinets & countertops include: kitchen cabinetry, bath cabinetry, vanities, countertops and islands.
More data on North American woodworking and the specific wood product market segments can be found in the December 2022 FDMC Wood Industry Almanac. Also, find market data year-round at WoodworkingNetwork.com/news/almanac-market-data.
Have something to say? Share your thoughts with us in the comments below.