Retail fixtures: Industry trends & projections
December 6, 2022 | 10:12 am CST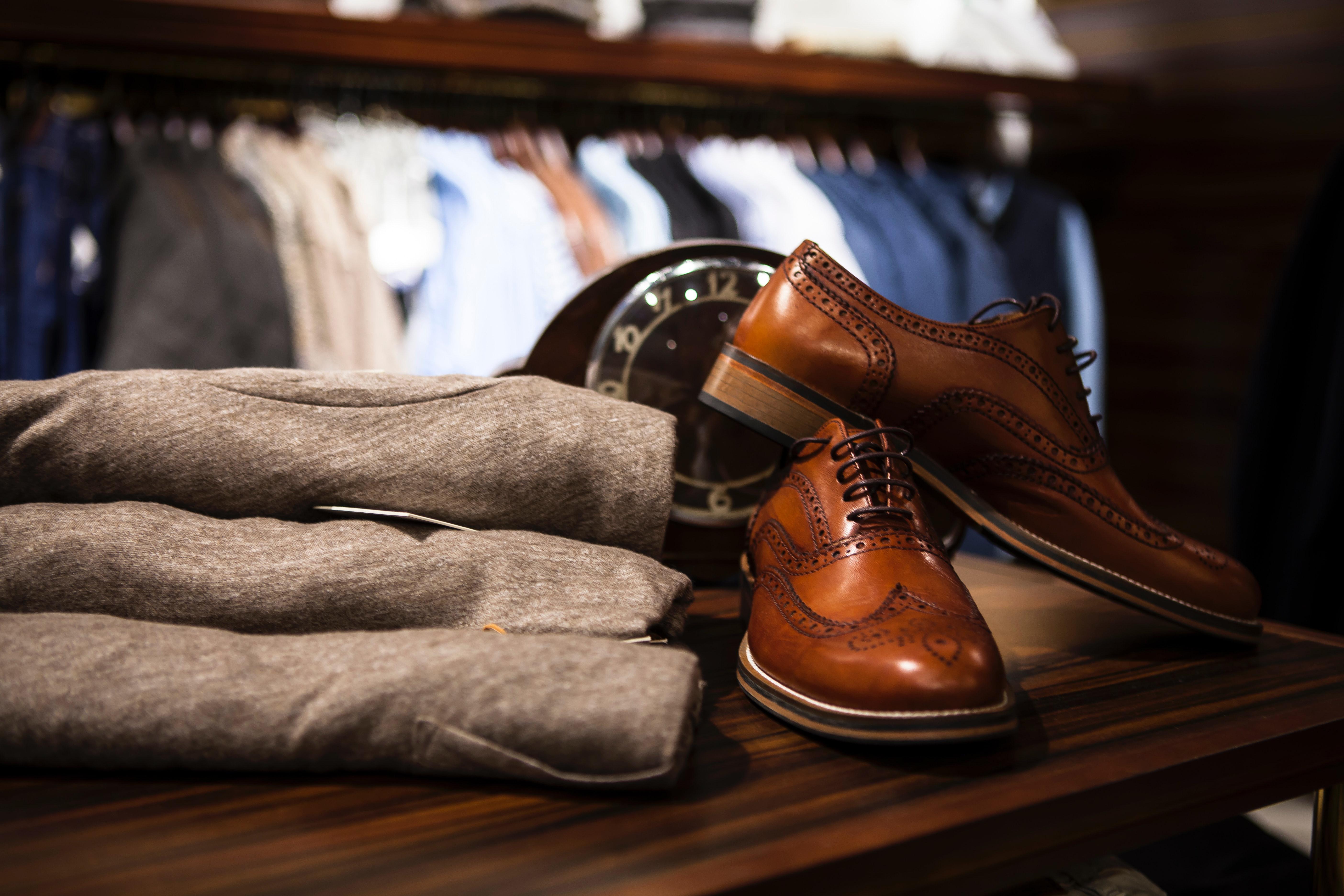 Retailers and consumers alike continue to embrace the "phygital" concept, a combination of physical/brick-and-mortar stores and digital experience. And despite inventory shortages and rising prices, they're also embracing the shopping experience.
Zebra Technologies' 15th Annual Global Shoppers Study found 78% of in-store and 76% of online shoppers are satisfied with the overall experience, with seven out of 10 preferring to shop with online retailers who also have a physical store. Also boding well for the industry: 76% of shoppers are visiting physical stores at the same levels as pre-pandemic. 
This has been spurring store investments.  Retail TouchPoints 2022 Benchmark Survey: Inside the New Era of Store Design found 91% of respondents agree that store design and experience are "somewhat" or "much more" important to their business strategy now than in past years, with 85% planning some redesign/remodeling through 2023, and another 67% planning to open new stores.
Recent news by Chain Store Age back this up, with firms such as coffee chain Dutch Bros. announcing plans for 150 new stores in 2023, Target planning to unveil larger format stores, Kohl's saying it will open a new concept store and more small-format locations, along with Starbucks, Trader Joe's and At Home also announcing plans to expand their footprints. Digitally native stores such as ThirdLove and Parachute have also announced plans to open brick-and-mortar locations, according to CSA.
Click on the infographic to enlarge. Find more market data in the December 2022 FDMC Wood Industry Almanac.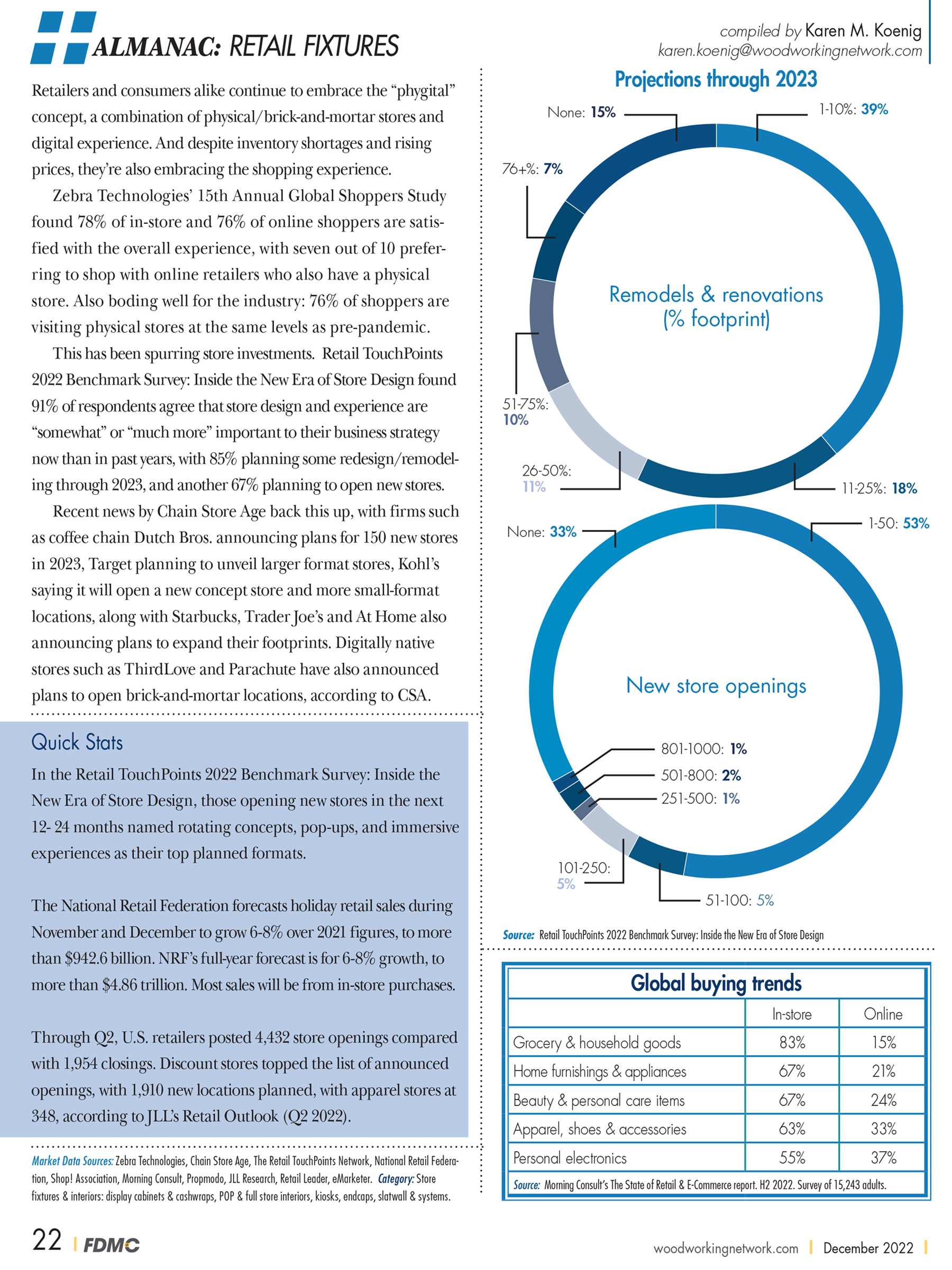 Quick Stats
• In the Retail TouchPoints 2022 Benchmark Survey: Inside the New Era of Store Design, those opening new stores in the next 12- 24 months named rotating concepts, pop-ups, and immersive experiences as their top planned formats.
• The National Retail Federation forecasts holiday retail sales during November and December to grow 6-8% over 2021 figures, to more than $942.6 billion. NRF's full-year forecast is for 6-8% growth, to more than $4.86 trillion. Most sales will be from in-store purchases.  
• Through Q2, U.S. retailers posted 4,432 store openings compared with 1,954 closings. Discount stores topped the list of announced openings, with 1,910 new locations planned. Restaurants were second with a combined total of 838, with apparel stores at 348, according to JLL's Retail Outlook (Q2 2022).
• Although retail e-commerce sales share in the U.S. continue to grow, brick-and-mortar stores are and will remain the preferred mode, with 83.2% of total sales (2020-2026). According to eMarketer's Insider Intelligence report, e-commerce shows its dominance in the categories of books, music and video (68.4%) and computer & consumer electronics
Market Data Sources: Zebra Technologies, Chain Store Age, The Retail TouchPoints Network, National Retail Federation, Shop! Association, Morning Consult, Propmodo, JLL Research, Retail Leader, eMarketer/Insider Intelligence, Placer.ai.  Category: Store fixtures & interiors: display cabinets & cashwraps, POP & full store interiors, kiosks, endcaps, slatwall & systems.
More data on North American woodworking and the specific wood product market segments can be found in the December 2022 FDMC Wood Industry Almanac. Also, find market data year-round at WoodworkingNetwork.com/news/almanac-market-data.
Have something to say? Share your thoughts with us in the comments below.