Architectural & custom woodwork: Industry trends & projections
December 6, 2022 | 11:25 am CST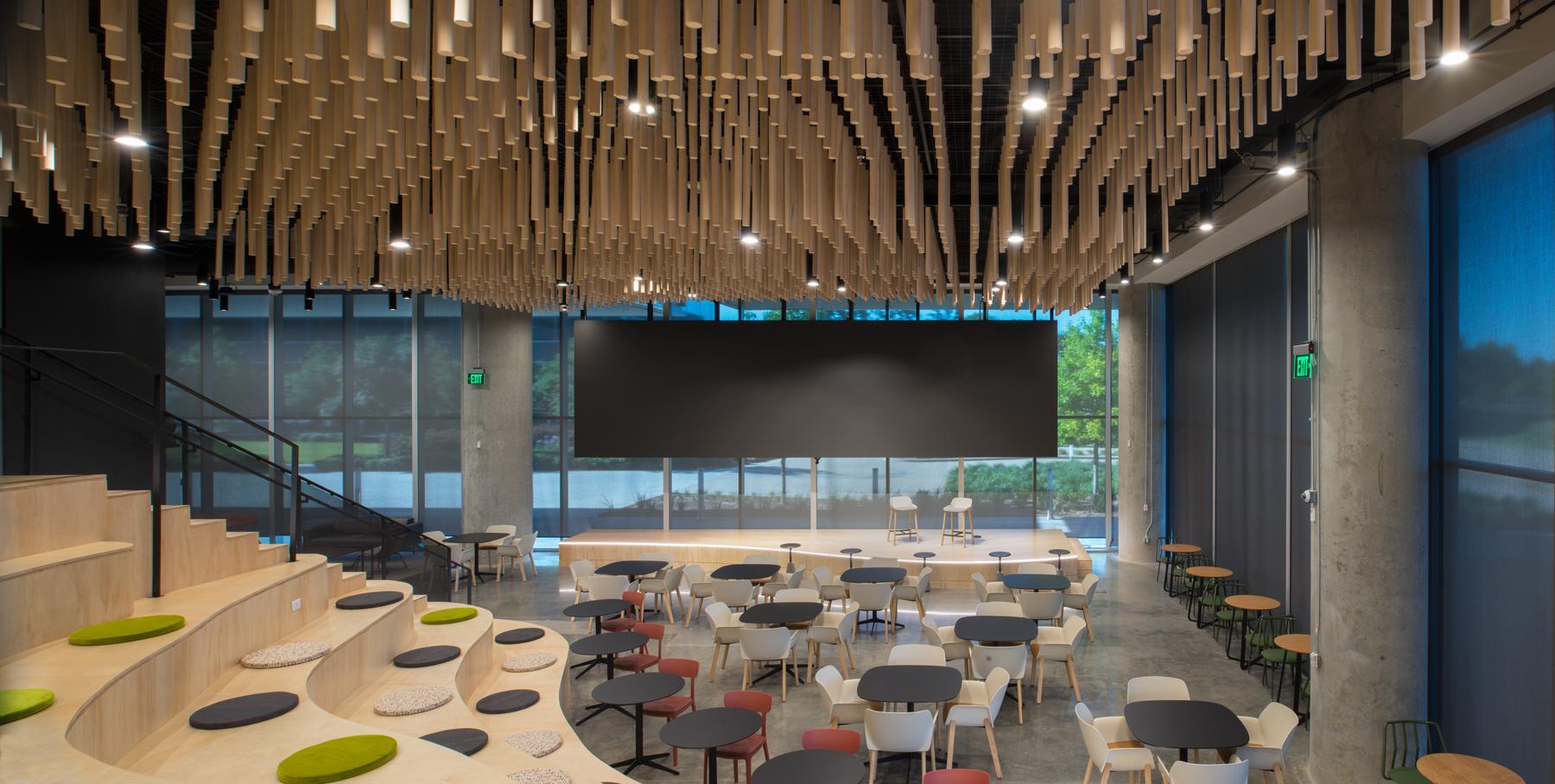 Architectural woodwork firms continued to report strong revenue in 2022, with the growth outlook for 2023 projected to be a little more moderate.
A recent survey by the Architectural Woodwork Institute found architectural woodworkers are "more optimistic in 2022 about the future," despite the rise in materials and other costs, as noted in the annual AWI Cost of Doing Business Survey (see chart). The Business Sentiment Index rose to 64%, up 10 points compared to last year.
Meanwhile, architecture firm billings dipped in October, according to a report from the American Institute of Architects, following what had been a positive third quarter. October's Architecture Billings Index (ABI) score was 47.7 compared to the 51.7 reported in September. Although firms specializing in residential (46.1), as well as commercial/industrial projects (45.9), saw billings decline even further since September's below 50 rating, those specializing in institutional projects saw billings remain positive at 54.3, although less than the 58.9 recorded in the previous month.
Click on the infographic to enlarge. Find more market data in the December 2022 FDMC Wood Industry Almanac.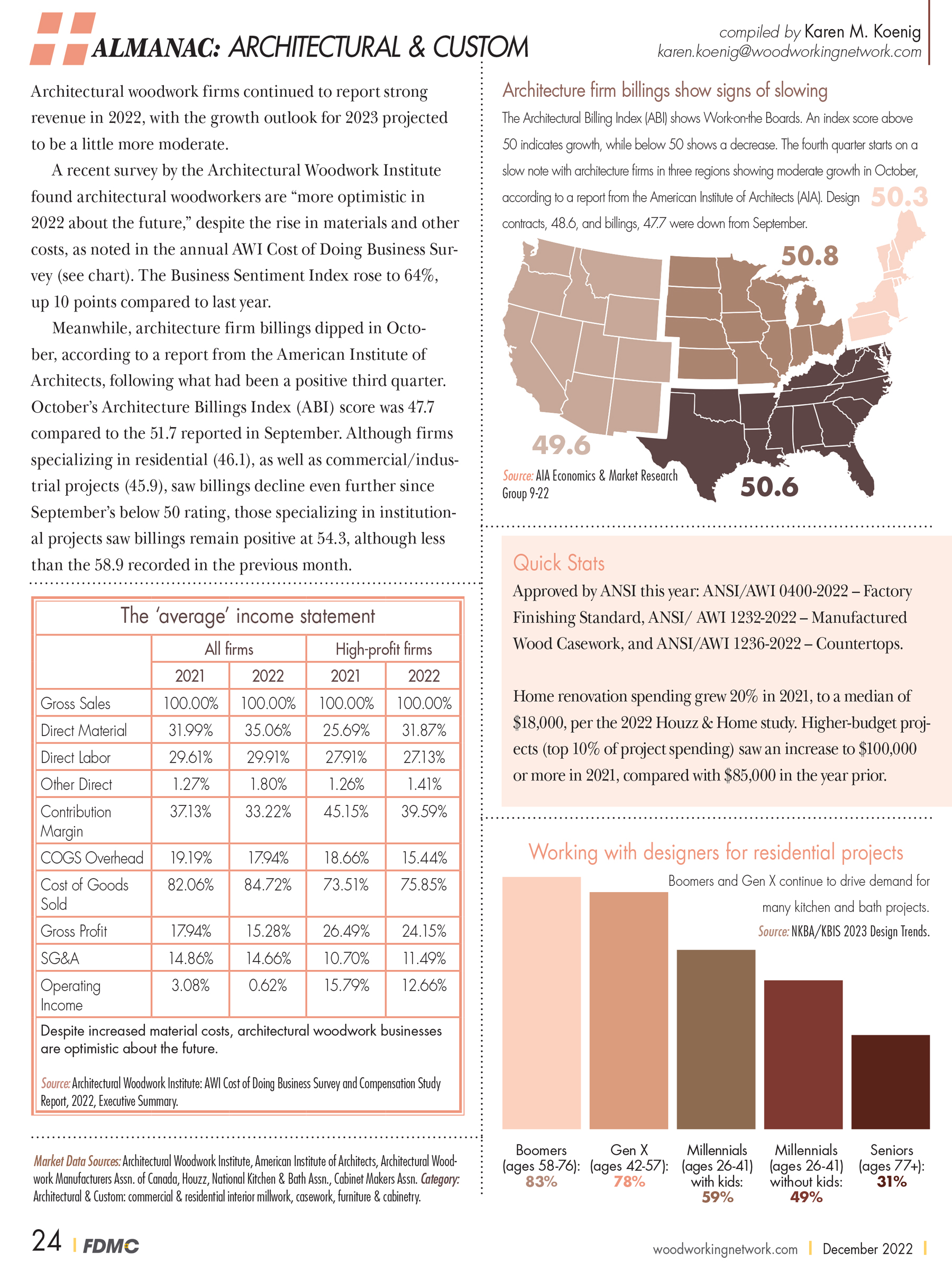 Quick Stats
• Three new AWI standards have been approved by ANSI this year: ANSI/AWI 0400-2022 – Factory Finishing Standard, ANSI/ AWI 1232-2022 – Manufactured Wood Casework, and ANSI/AWI 1236-2022 – Countertops. The Manufactured Wood Casework Standard supplements ANSI/AWI 0641-2019 – Architectural Wood Casework. The Countertops Standard supersedes Section 11 of Architectural Woodwork Standards, Edition 2.
• According to the 2022 Houzz & Home: Overview of U.S. Renovation in 2021 & 2020 study, the trend toward hiring pros for renovations continues. Nearly 9 out of 10 homeowners hired professional help during their renovations in 2021, consistent with previous years. They continue to hire more than one professional per project including specialty service providers (49%), construction professionals (38%), and professionals with design services (20%).
• Home renovation spending grew 20% in 2021, to a median of $18,000, per the 2022 Houzz & Home study. Higher-budget projects (top 10% of project spending) saw an increase to $100,000 or more in 2021, compared with $85,000 in the year prior.
• A survey of architect firms by the AIA shows the average revenue for 2023 is projected to grow just 0.8%. The breakdown of respondents shows: 2% project a major increase (25% or more), 8% projecting "up a lot" (10-24%); 26% anticipate gains of 5-9%; 34% about the same (within 5% of last year); 20% a decrease (down 5-9%); and 10% forecasting revenues will be significantly down (by 10% or more.)
• The North American Architectural Woodwork Standards (NAAWS), which detail the minimum acceptable standards for the differing elements of architectural woodwork, have been updated. The development and maintenance of the NAAWS is a joint project of AWMAC and the Woodwork Institute.
Market Data Sources: Architectural Woodwork Institute (AWI), The American Institute of Architects (AIA), Architectural Woodwork Manufacturers Association of Canada (AWMAC), Houzz, National Kitchen & Bath Assn., Cabinet Makers Assn. (CMA). Category: Architectural & Custom: commercial & residential interior millwork, casework, furniture & cabinetry.
More data on North American woodworking and the specific wood product market segments can be found in the December 2022 FDMC Wood Industry Almanac. Also, find market data year-round at WoodworkingNetwork.com/news/almanac-market-data.
Have something to say? Share your thoughts with us in the comments below.