2021 CMA/FDMC Benchmark Survey shows shops facing growing pains
By Amanda Conger
December 14, 2021 | 4:21 pm CST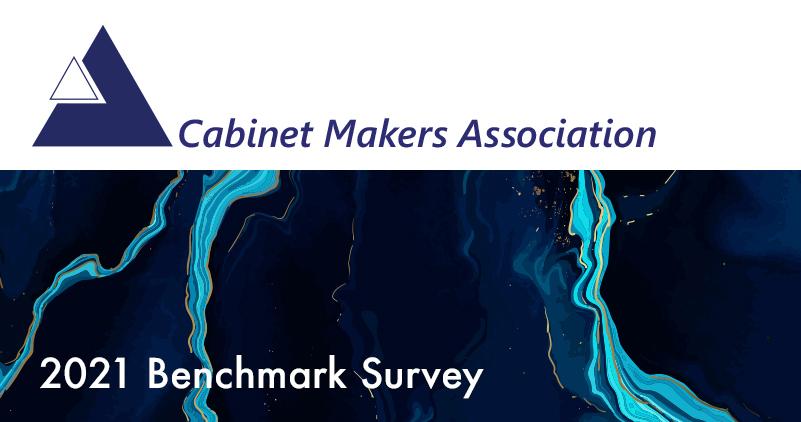 "I have never seen things this busy before. I keep trying to squeeze just a little more out of our shop. We are producing more now than ever before despite challenges with supplies and employees."
Taking in stride the supply chain situation and continued concerns about workforce development, the woodworking industry's small shops are showing their resiliency.
In the 2021 Benchmark Survey conducted by the Cabinet Makers Association (CMA) and Woodworking Network, respondents from the United States and Canada report that after surviving one of the hardest years imaginable and dealing with everything connected with COVID-19, they are now thriving.
The annual survey is intended for owners, and the first question asks, "What is your role in your company?" Since small shop owners are in charge of many things, other roles are listed, along with an "All of the Above" option; 15 percent of respondents selected that choice in the 2021 survey, showing how often small to mid-size shop owners wear "all the hats."
You don't have to be a CMA member to participate in the survey, and only 49 percent of respondents are currently members of the organization.
This year, one of the incentives to complete the survey was a free year of membership, and the lucky winner is Randall Laborde of Laborde Bros. Cabinets in Bossier, Louisiana.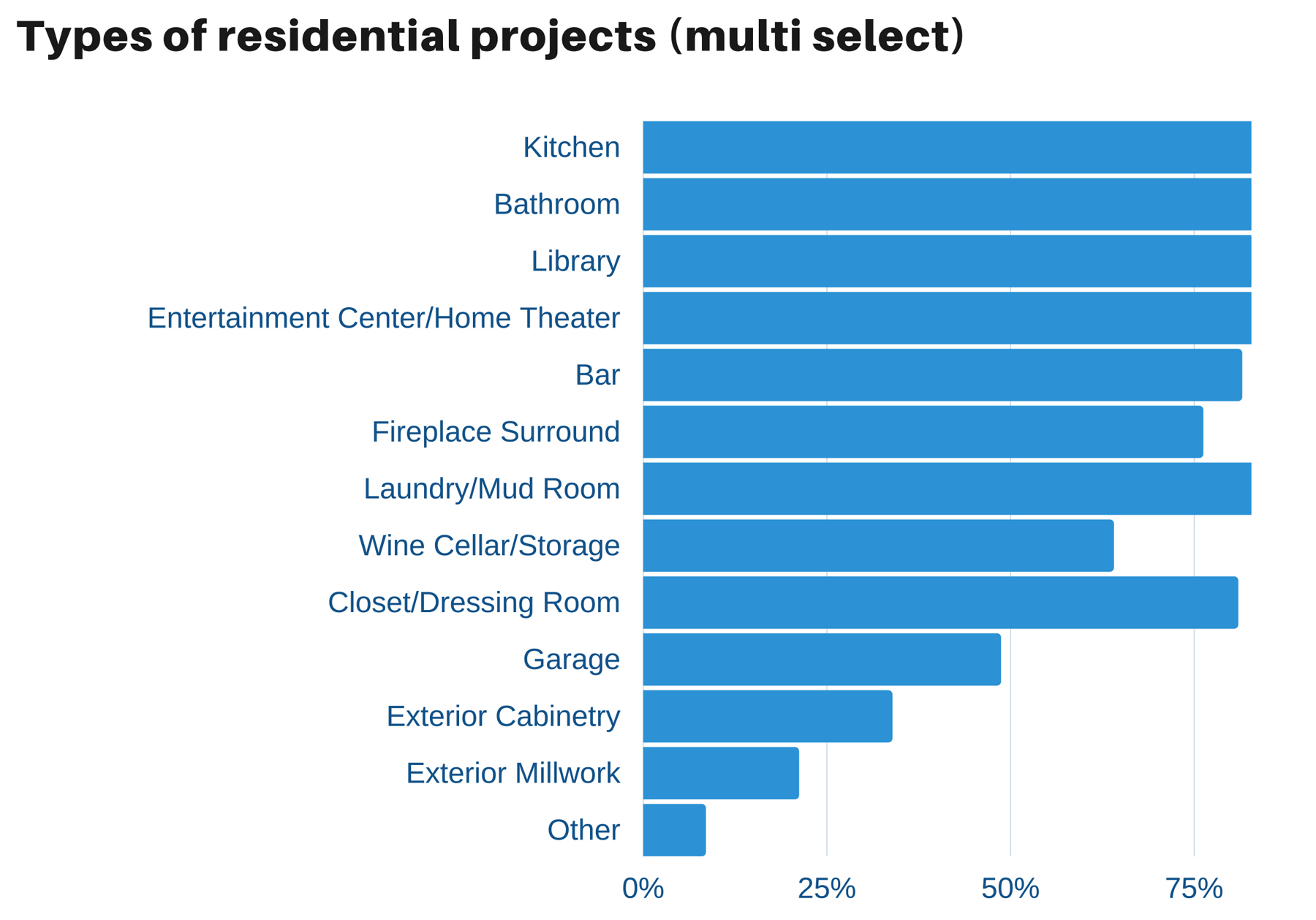 The majority of this year's 188 survey respondents work in shops of less than 10,000 square feet. They have fewer than 20 employees (most have fewer than five), and some 60 percent have been in business for more than 20 years.
A majority of respondents do both residential and commercial work. Top commercial projects include office (78%), retail (60%), and medical (59%). Leading the list of residential work are kitchens (93%), bathrooms (89%), entertainment centers or home theaters (89%), and laundry or mud room projects at (86%).
See additional comments at the end of the article.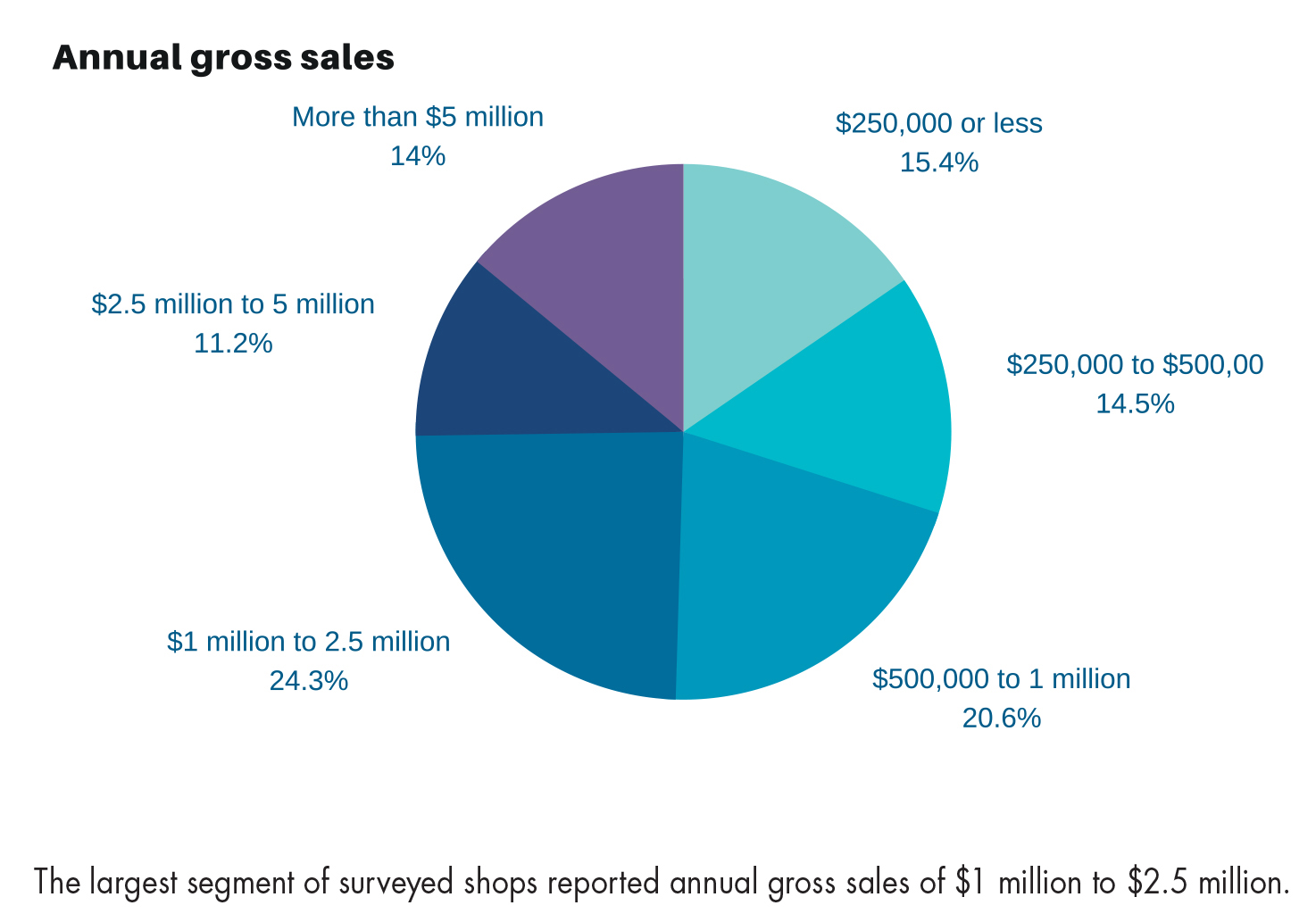 Sales and compensation
"Business is very good right now. So far customers are fairly understanding of lead times and deliveries."
Some 44 percent of respondents reported annual sales in 2020 better than 2019 despite 2020 being a challenging year for the economy in light of the pandemic.
One quarter of respondents said business in 2020 was about the same, and about 31 percent reported lower sales.
But the vast majority of respondents are bullish about how 2021 will turn out.
Nearly two-thirds (64%) say they expect 2021 to turn out better for sales than 2020. About 28 percent expect sales for 2021 to be about the same as last year, and only 8 percent are predicting lower sales this year.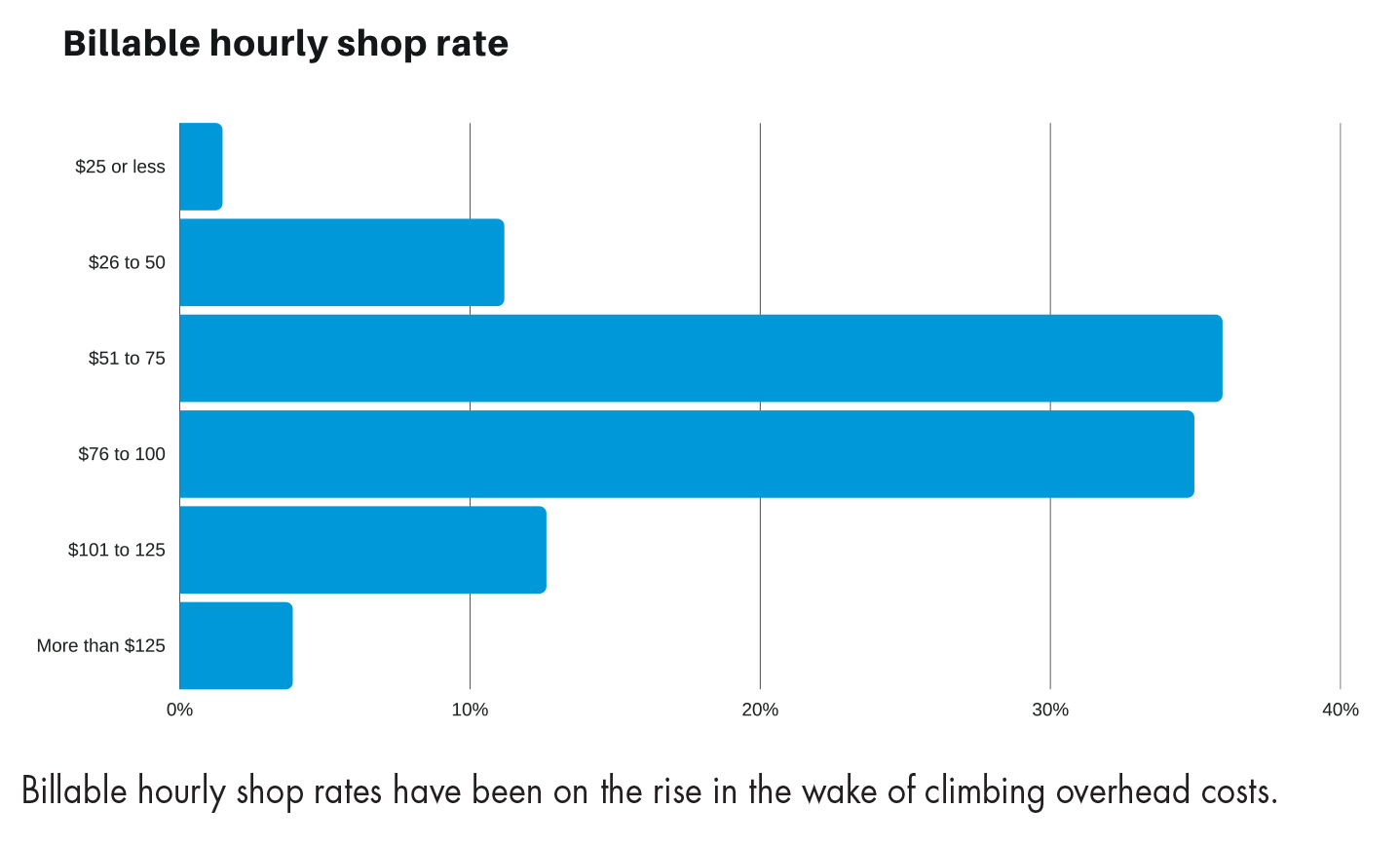 Over the years, we've noticed billable hourly shop rates have been creeping upward, no doubt reflecting across the board increases in overhead and better cost management by shops. The sweet spot for the billable hourly shop rate this year appears to be somewhere between $51 and $100.
Typically, the most requested portion of the survey results is the compensation data. This year, the CMA revised how these questions were worded and was able to determine an average for each job type based on level of experience. See the accompanying chart above for those numbers.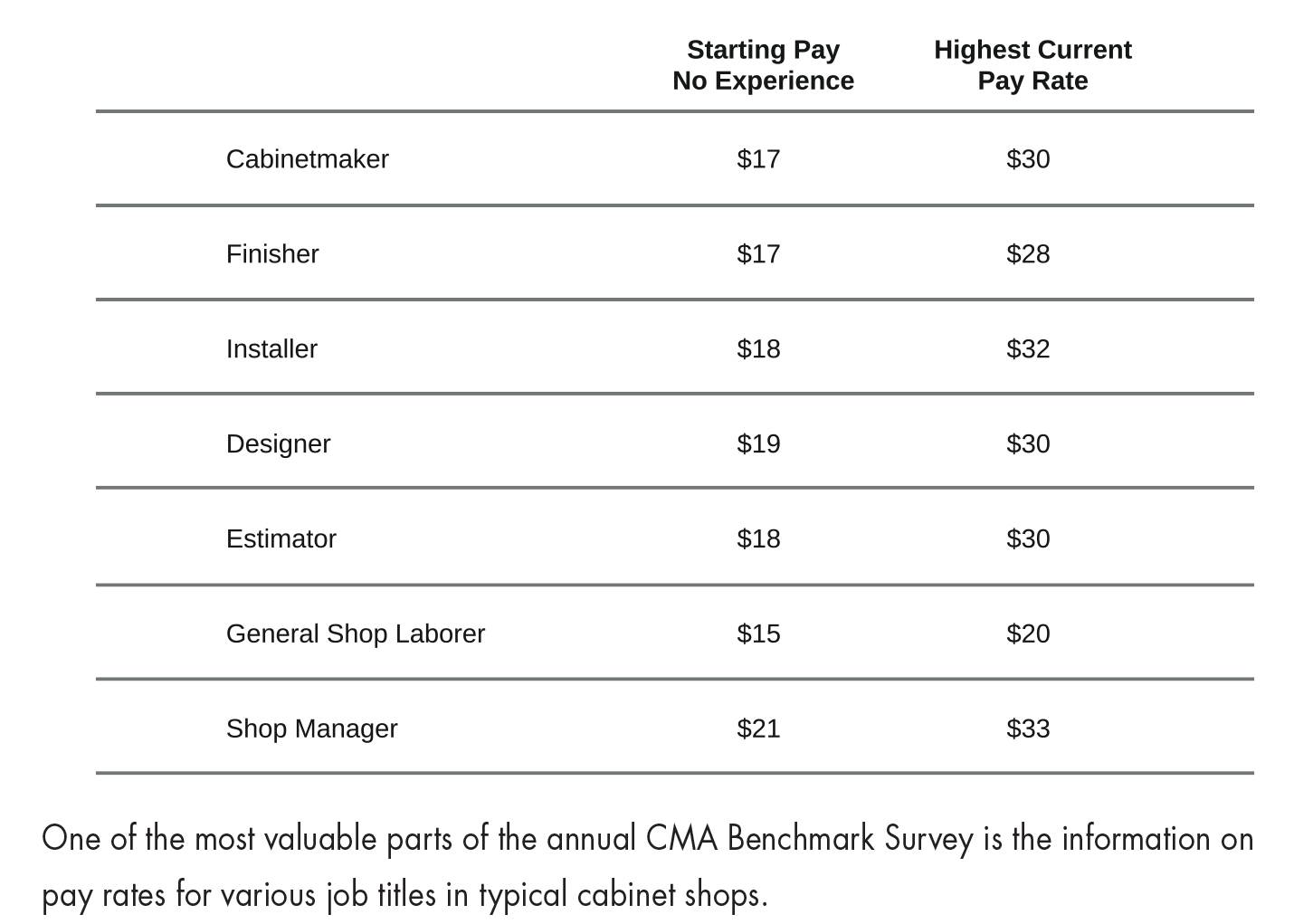 Other survey questions probe into the construction methods (face frame vs. frameless cabinets), assembly methods; the type of raw materials used for case goods; if they finish and if so, what type of finish is used.
When asked if they install what they make, 85 percent of respondents said they do.
Outsourcing and supply chain issues
"Scheduling projects has become more challenging due to delays in receiving materials and an increase in business. Now we are scheduling projects out over four months in our contracts."
After years of increasing outsourcing in the industry, shops have been hit by supply chain woes that make outsourcing less reliable than it has been.
Still, the survey shows strong dedication to outsourcing, with only 7 percent saying they don't outsource at all.
The most popular products or services to outsource products are doors (62%), drawer boxes (53%), turnings (52%), and carvings or onlays (48%).
Countertops (45%), millwork and mouldings (41%), and installation services (23%) are also heavily outsourced.
Automation
"We purchased the business four years ago and have invested heavily in processes, equipment, and technology. Our business is growing and has become profitable."
Increasingly, even smaller shops turn to adopting technology to improve production processes, increase capacity, and improve their bottom line.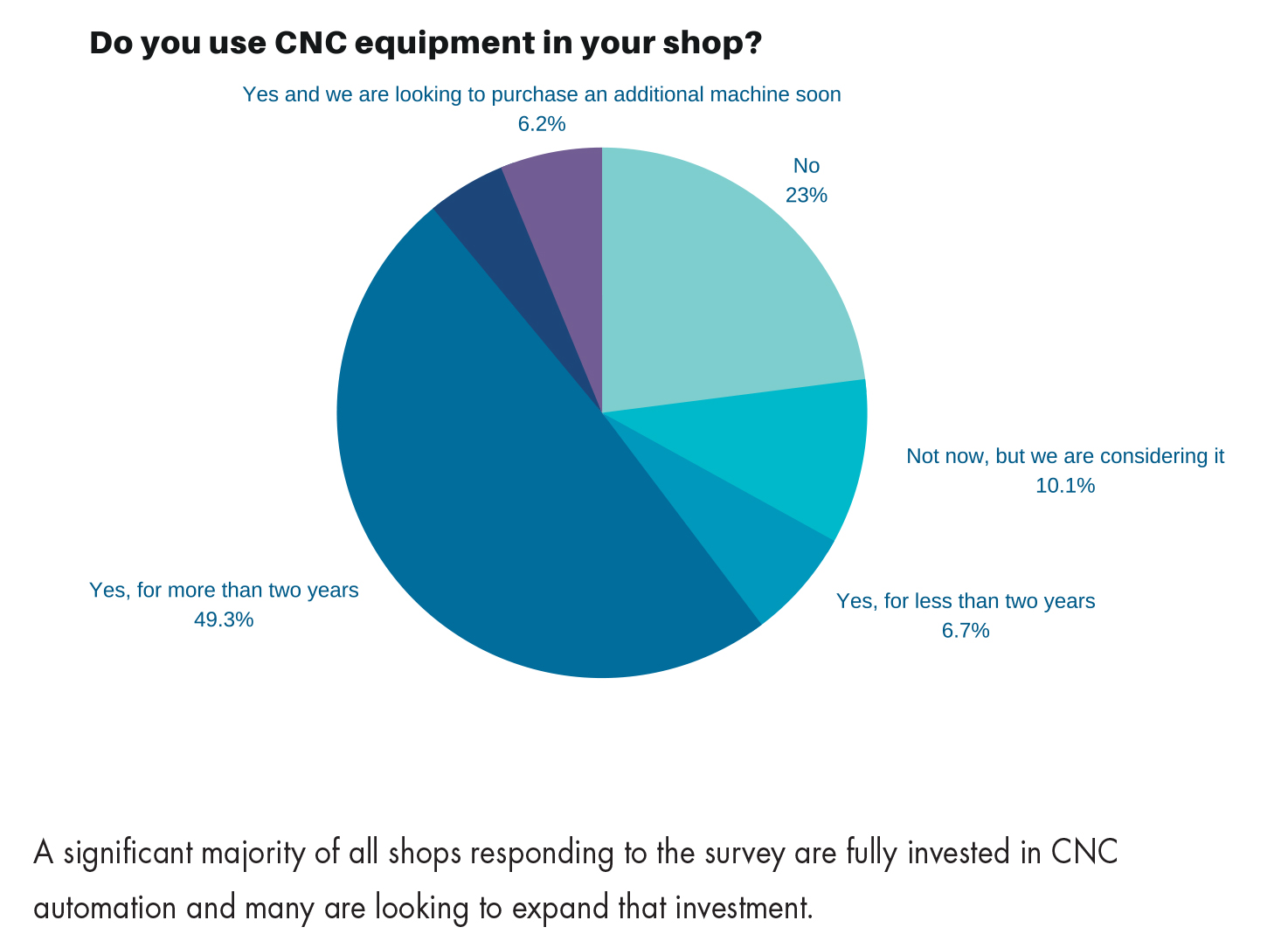 The overwhelming majority of respondents in the survey are already using CNC equipment.
When asked about CNC automation's impact on manufacturing capacity, 75 percent of respondents said the impact is "significant." The majority say they are more profitable with the CNC.
Thirty-six percent have an edge-boring machine, and 8 percent are considering purchasing one in the near future.
The complete survey also dives into the software shops are using, from design to accounting to project management.
Workforce issues
"Students who choose and show an interest in our field of work are certainly better candidates right from the start. They also have formal training."
It's no surprise that the biggest obstacle to business success according to 85 percent of respondents is finding qualified workers. Employee motivation is listed as a problem for 23 percent.
Thirty-five percent of respondents use local technical schools as a source of new employees.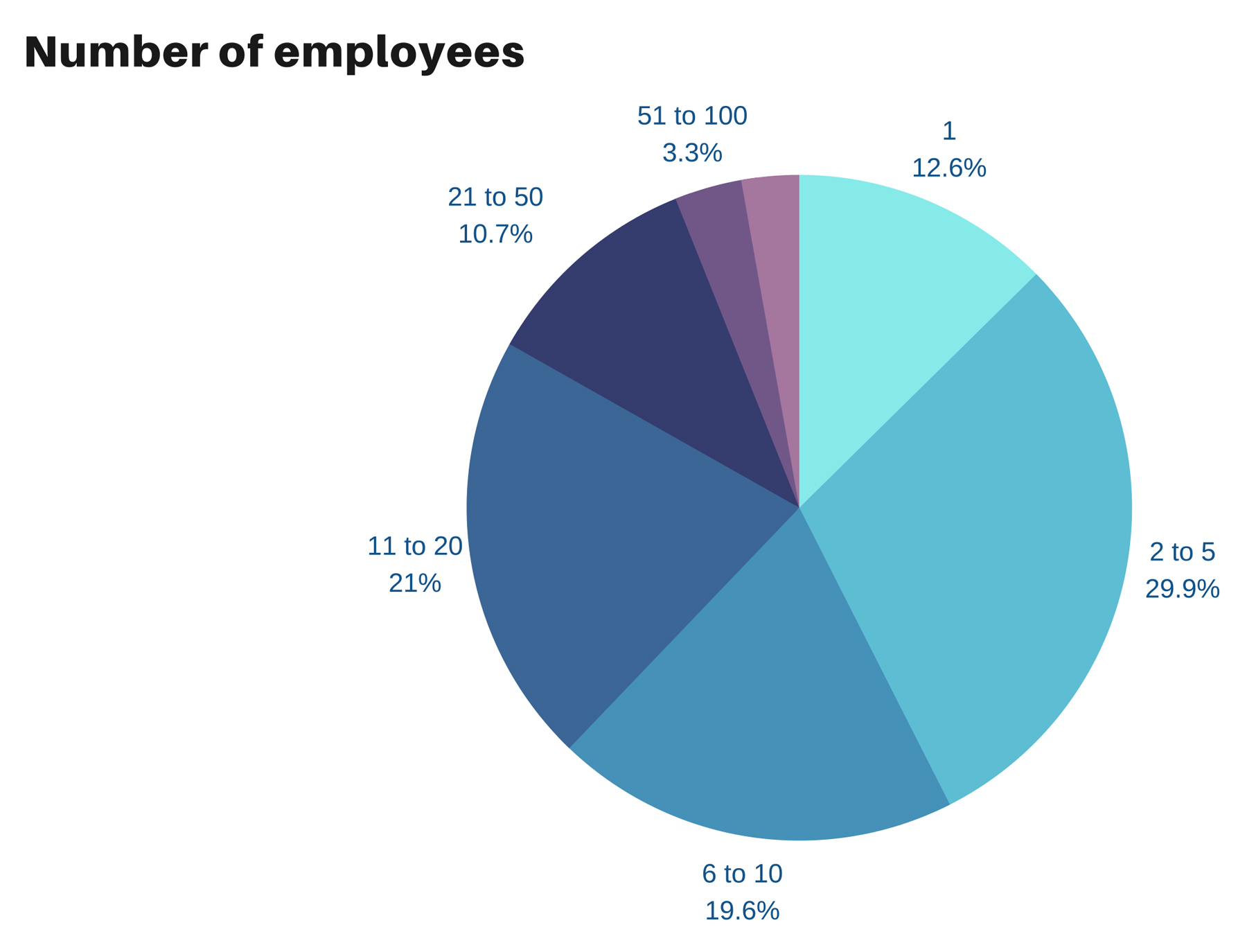 The CMA presented an in-depth look at the survey data in a webinar on December 1 as part of the organization's ongoing webinar program, which is free for members. Non-members interested in participating can sign up to join the CMA at the annual rate of $275 or $35/month. The recorded webinar archives are also available to all members, so even if you missed the Dec. 1 broadcast, you can still access the recording of the webinar.
The complete survey results are shared with all participants and CMA members. Non-members can purchase the data for $39.99 at cabinetmakers.org/benchmark-survey.
We want to thank Lockdowel for sponsoring this year's survey.
Author: Amanda Conger is the executive director of the Cabinet Makers Association. Founded in 1998, the association includes hundreds of small to medium cabinet shops, millworkers, furniture makers, and suppliers throughout the USA and Canada.For information about the CMA visit cabinetmakers.org or email [email protected].
EXTRA: Survey comments paint vivid pictures
Some of the most insightful information in the survey comes from the verbatim comments of respondents. They speak about dealing with growth, finding help, supply chain disruptions and other challenges. Here is a sampling of those responses.
"We are feeling the pains of accelerated growth due to moving to a larger building, buying out another company, doubling our workforce over the course of three months, and a market saturated with demand. Our company is strong, and we have a clear vision of where we are going, but we are feeling limited by lack of cash flow and lower margins due to increased material costs and supply chain delays. Our limitations include hiring and training as well as lack of time to standardize our processes to efficiently accommodate growth."
"My business has spent the last 16 years building a great reputation in our local community. If I can find qualified help, we are in a good position to make another jump forward in our sales."
"We are experiencing our highest demand ever and the longest lead times in our company's history. This is first and foremost a blessing, but it does bring challenges as well. Our lead time is about six months, and it is impossible to predict timing and pricing that far out. We are also having to turn away new customers because the demand from our repeat contractors is so high."
"We are in a unique position in that there are few custom cabinet companies in our area and there is a lot of work here. Right now, the future looks good."
"Our business is healthy and growing. We are currently taking major steps to codify and establish our processes so that we can function better as a true business rather than a collection of people."
"There is a stable need for quality custom work in my area. There are a vast number of financially-enabled homeowners who seek fine woodwork. Having survived the past 20 years, sometimes by a thread, I now have a sufficient reputation."
"Our business has become smaller, more focused, and more efficient and continues down this path moving into 2022. I am investing in more efficient equipment and continue to find ways to remove wasteful costs. I am attempting to increase sales and profitability without adding staff."
"The general health of our business is exceptional. The only down side for us right now is demand is exceeding our capacity, so it is hard to keep customers satisfied. We are positioned well to raise capacity and meet demand, though, so I see only upside to our business right now."
"Everything is pointing to a very strong 2021 and 2022. We are sold out for the first three quarters of 2022."
"It's a crazy time for a newish, small company to figure out how to grow in a sustainable manner. We want to capitalize on the current demand but make sure we are well positioned when it tapers off."
"Excited for the future. Finally getting through the 'first 5 years' and starting to see where the grinding may really pay off."
"We are finding that our closet business is booming as many customers have the means to make these improvements."
"The future of woodworking relies on all of us promoting our industry in order to attract new talent."
Have something to say? Share your thoughts with us in the comments below.