What's driving cabinetry & countertop growth: Facts & figures
December 6, 2021 | 9:42 am CST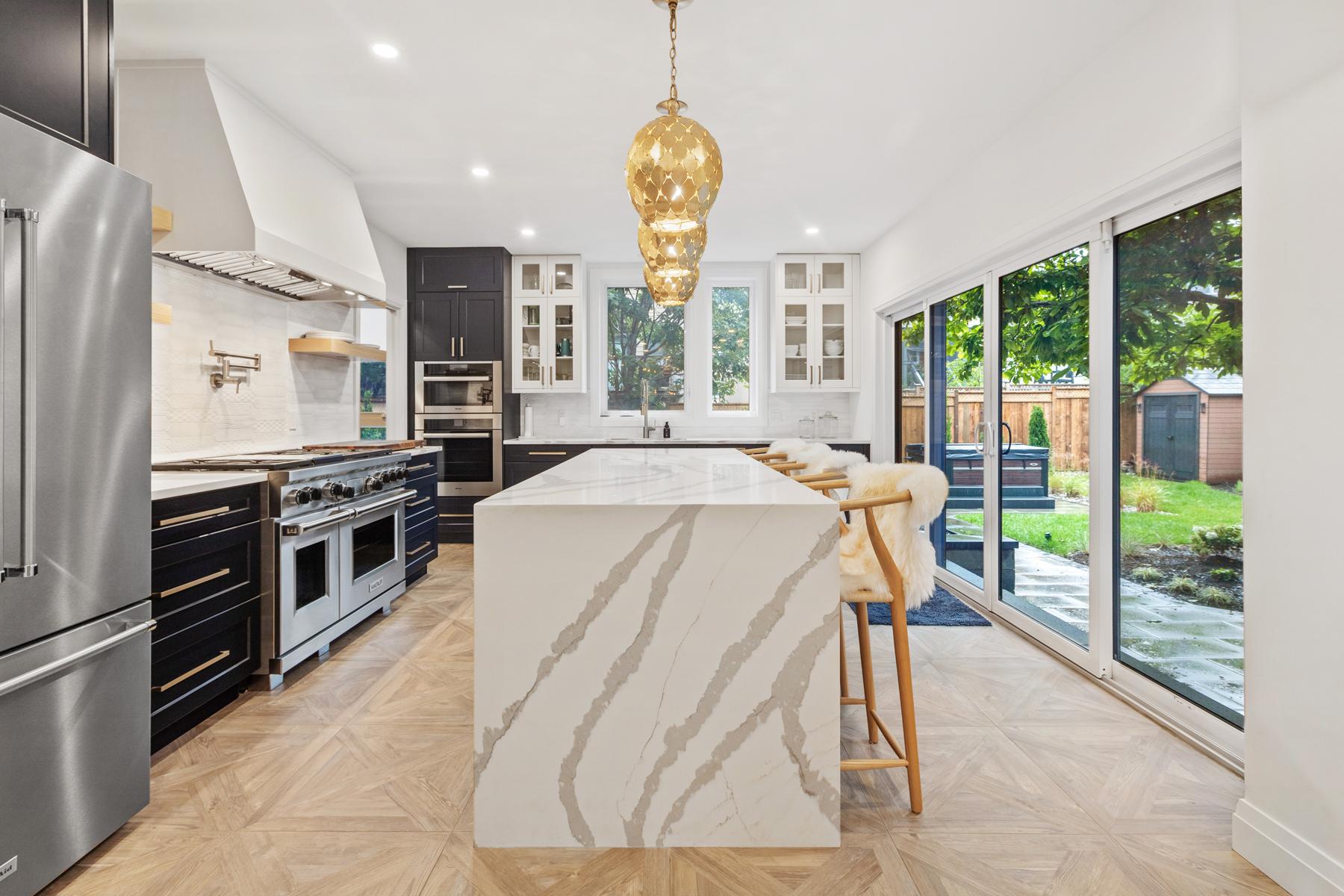 Photo By Point3D Commercial Imaging Ltd. (via Unsplash)
New options, designs, storage needs, and the renovation bug continue to drive demand for kitchen cabinets. According to The Freedonia Group's Cabinet study, global demand for kitchen cabinets is projected to rise 4.6% annually to $17.3 billion by 2023, with unit demand totaling 101.8 million. Although base cabinets make up the largest share of kitchen cabinets, demand for tall cabinets will see the greatest growth, rising 5.0% annually to $2.8 billion in 2023.
Meanwhile, demand in the $128 billion global countertop industry is forecast to rise 2.6% per year to 602 million square meters in 2024, according to Freedonia's Global Countertops study. Solid surface will remain the leading countertop material, although engineered stone will see the fastest growth. Demand for marble/natural stone countertops will be bolstered by their rising popularity and increased access to marble and travertine in Central and South America. Laminates will experience the slowest growth of any major countertop material through 2024, as the material continues to lose market share to higher-end materials in North America and Western Europe.
See the infographic below. Find more market data in the December 2021 FDMC Wood Industry Almanac.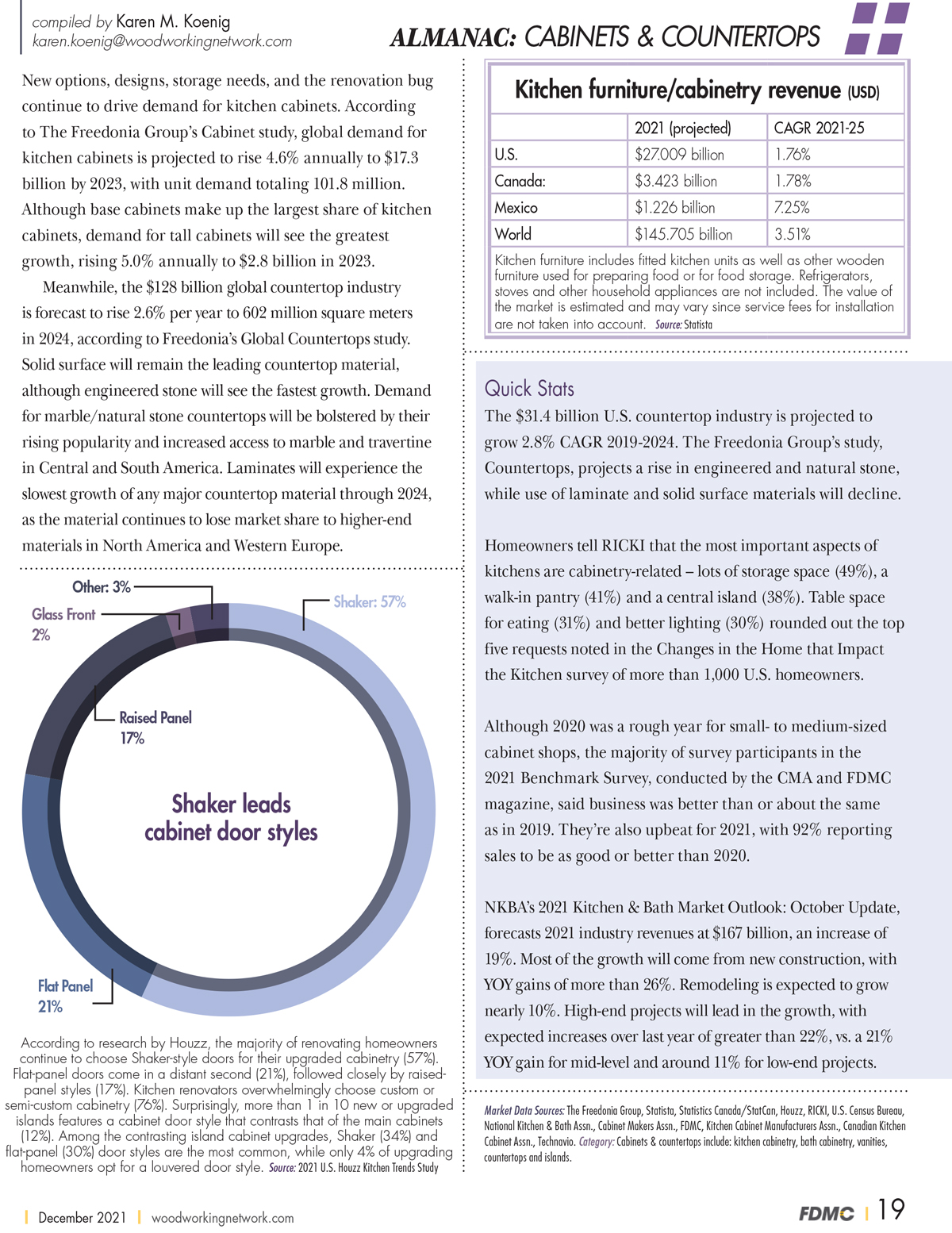 Quick Stats
• Demand in the $31.4 billion U.S. countertop industry is projected to grow 2.8% CAGR 2019-2024. The Freedonia Group's study, Countertops, projects a rise in engineered and natural stone, while the use of laminate and solid surface materials will decline.
• Homeowners tell RICKI that the most important aspects of kitchens are cabinetry-related – lots of storage space (49%), a walk-in pantry (41%) and a central island (38%). Table space for eating (31%) and better lighting (30%) rounded out the top five requests noted in RICKI's Changes in the Home that Impact the Kitchen 2020 survey of more than 1,000 U.S. homeowners.
• Although 2020 was a rough year for small- to medium-sized cabinet shops, the majority of survey participants in the 2021 Benchmark Survey, conducted by the CMA and FDMC magazine, said business was better than or about the same as in 2019. They're also upbeat for 2021, with 92% reporting sales to be as good or better than 2020.
• NKBA's 2021 Kitchen & Bath Market Outlook: October Update forecasts 2021 industry revenues at $167 billion, an increase of 19%. Most of the growth will come from new construction, with YOY gains of more than 26%. Remodeling is expected to grow by nearly 10%. High-end projects will lead in the growth, with expected increases over last year of greater than 22%, vs. a 21% YOY gain for mid-level and around 11% for low-end projects.
• According to the KCMA's monthly Trend of Business Survey, cabinet manufacturers reported an increase in overall cabinet sales of 7.9% for September 2021 compared to the same month in 2020. Custom sales jumped up 27.2%, semi-custom dipped slightly 0.1%, and stock sales rose 9.6%. Year-to-date, overall cabinet sales are up 15.8% compared to 2020, with custom up 21.3%, semi-custom sales growing 13.1% and stock sales increasing 16.6%.
• According to Technavio, incremental growth of $7.88 billion (USD) is expected in the global modular kitchen market during 2021-2025, at a CAGR of 6.33%. Growth opportunities will come from an increasing demand for customized kitchens, efficient space management and growth in residential construction. 31% of the market's growth will originate from Europe during the forecast period.
Market Data Sources: The Freedonia Group, Statista, Statistics Canada/StatCan, Houzz, RICKI, U.S. Census Bureau, National Kitchen & Bath Assn. (NKBA), Canadian Kitchen Cabinet Assn. (CKCA), Kitchen Cabinet Manufacturers Assn. (KCMA), Cabinet Makers Assn. (CMA), FDMC, Technavio.
Category: Cabinets & countertops include: kitchen cabinetry, bath cabinetry, vanities, countertops and islands.
Find more market data in the December 2021 FDMC Wood Industry Almanac.
Have something to say? Share your thoughts with us in the comments below.