La-Z-Boy uses augmented reality on its website
October 4, 2023 | 6:30 am CDT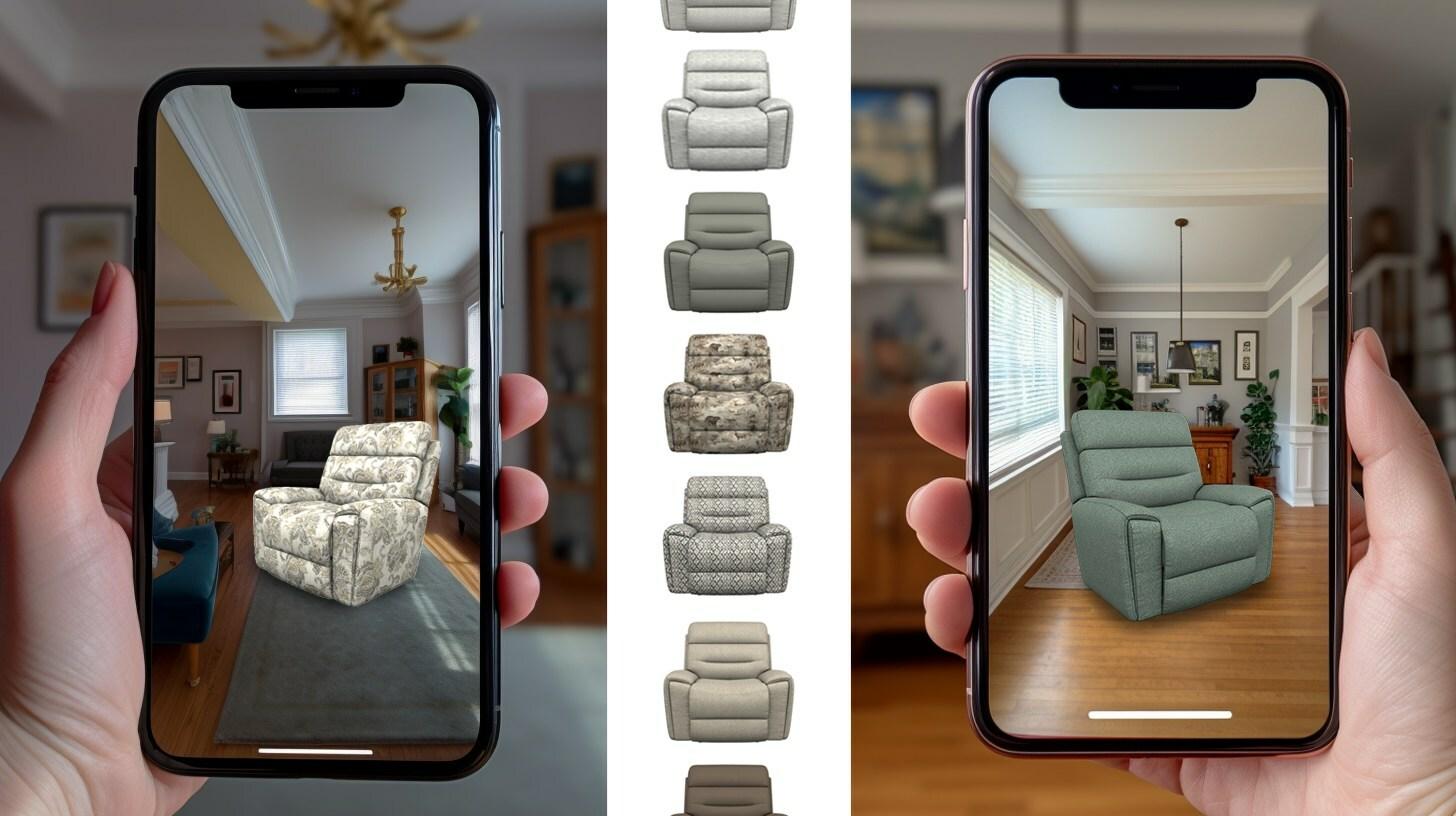 ST PETERSBURG, Fla. — La-Z-Boy, an iconic leader in the furniture industry, today announced the launch of next-gen 3D product configuration and WebAR OnDemand technology, now available on the la-z-boy.com website. Powered by 3D Cloud by Marxent, the innovative tech initiative is part of La-Z-Boy's Century Vision strategic plan.
Aimed at delivering the transformational power of comfort with a consumer-first approach, La-Z-Boy is investing in a range of innovative new shopping and brand experiences for both digital platforms and brick-and-mortar shopping environments. The upgraded product configurators and the addition of appless AR provide an immersive brand experience that bridges online product research with the in-store experience. With over 29 million possible configurations quickly and easily available to consumers, WebAR OnDemand brings a new level of convenience to shoppers who want to research, configure, and plan furniture purchases online before visiting a physical retail location.
This marks a significant departure from conventional approaches to augmented reality for retail. La-Z-Boy's innovative approach uses 3D Cloud WebAR OnDemand to automate 3D content creation and deploy WebAR at scale.
"AR is table stakes for today's furniture shopper. La-Z-Boy customers love it, so we set out to provide AR for every buyable option in our highly configurable catalog," said Jill Brown Thomas, Senior Director of Digital Commerce at La-Z-Boy. "The 3D Cloud product experience platform and 3D Cloud Product Configurator make personalization at scale easy. Shoppers can configure their desired products from millions of possible combinations and preview them in AR without any catalog knowledge and without an app," Brown Thomas said.
With WebAR, sessions are up over 150% versus in-app AR usage when the company was relying completely on app-based AR. 
How it works
Visit any La-Z-Boy upholstered furniture product page on a web browser or mobile device. Try the Soren Rocking Recliner or the Joel Reclining Sofa.
Configure on a desktop or mobile device.
View from any angle.
Download a JPG or PNG at any angle.
If using a mobile device, view the configured product in AR. QR code support will be added for desktop users later this year.
"La-Z-Boy was early to 3D product configuration and augmented reality," said Beck Besecker, CEO and Co-Founder of 3D Cloud by Marxent. "Their upgrade to WebAR OnDemand gives shoppers the tools to customize quickly, collaborate with loved ones on designs, and buy with confidence," Besecker said.
"This program exemplifies the Century Vision strategic plan in action. We're eager to continue our history of innovation by introducing cutting-edge digital shopping tools like WebAR," Brown Thomas explained. "La-Z-Boy customers spend valuable time researching and customizing products to ensure they find the perfect fit. Our data show that when customers conduct online research they arrive at the store better informed, resulting in a more satisfying buying experience and ultimate product satisfaction," she added.
In addition to WebAR and 3D Cloud Product Configurators, La-Z-Boy's in-house design program uses the 3D Cloud Room Planner to deliver customized floorplans with photorealistic 3D renderings to design clients. Engineered with efficiency and scale in mind, all of their 3D applications are powered by the 3D Cloud product experience platform and utilize the same 3D models and materials.
"La-Z-Boy is a model for omni channel 3D innovation within the furniture industry," Besecker said. "They have outstanding digital leadership. As a long-time innovation partner, it's been our pleasure to help them deliver on their vision. Congrats to both the La-Z-Boy and 3D Cloud teams on an impressive feat," he said.
Have something to say? Share your thoughts with us in the comments below.