Contract furniture & retail markets on rebound
June 4, 2021 | 4:06 pm CDT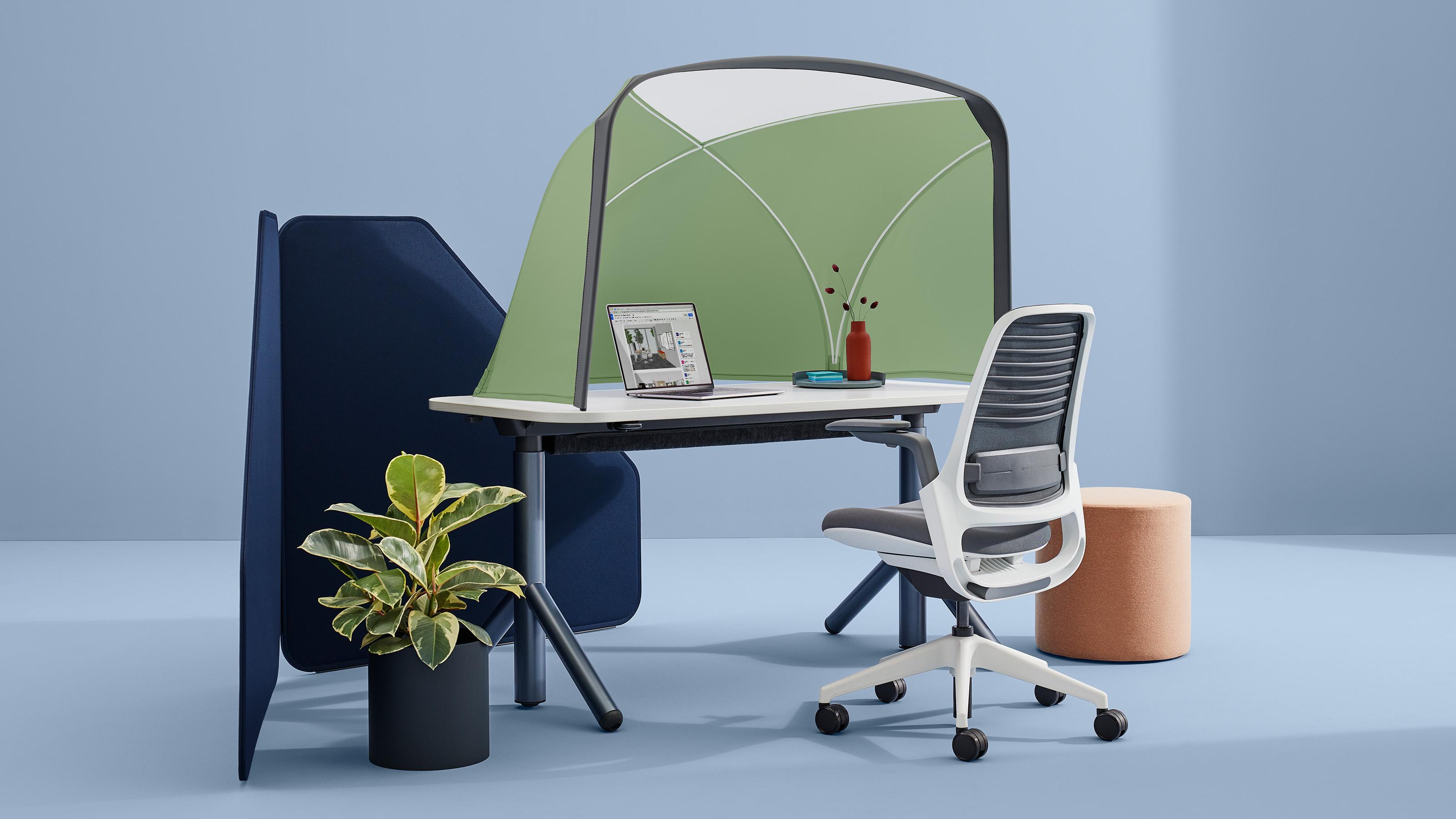 Although the North American commercial market may not see a return to pre-COVID levels immediately, there have been signs of resurgence as workers begin returning to the office and consumers resume in-person shopping.
Early indications call for fewer employees coming into the office building (hybrid work model), while those that do return will most likely want to engage with the space – and each other – differently than pre-pandemic. Updates to corporate common areas as related to social distancing, a return to cubicles and private offices, and other methods are just some of the changes already underway.
How does this bode for the contract furniture industry? Although preliminary estimates by BIFMA and IHS Markit for 2020 show a 12.9 percent decrease in sales by the North American office furniture market, to $14.48 billion, post-pandemic looks to be much improved.
Growth projected for contract furniture
Research analysts are projecting growth over the next few years for the overall contract furniture industry. A recent report by MarketPrimes projects the global contract furniture market to reach $96.11 billion by 2025 at a CAGR of 4.4 percent, while Technavio is projecting the global office furniture market to reach $95.36 billion by 2024, at a CAGR of almost 6 percent.
Likewise, the global education furniture segment is also anticipating growth. According to ResearchandMarkets.com, the global school furniture market is projected to reach a revised size of $6.7 billion by 2027, growing at a CAGR of 5.7 percent from the $4.5 billion in 2020; for perspective, the school furniture market in the U.S. was estimated at $1.2 billion in 2020. Seating furniture, another of the segments analyzed in the report, is projected to record a 5.6 percent CAGR and reach $3.4 billion globally by the end of the analysis period.
Closer to home, contract furniture makers in the FDMC 300, an annual ranking of North America's largest wood products producers, say they are already seeing an increase in business, with 2021 sales on pace to exceed 2020.
Assuming the economy continues to reopen in Q3 and Q4, Groupe Lacasse could see double-digit sales growth, said Sylvain Garneau, president. "In our case, the reopening of the economy should impact demand for our products as employers will also bring back employees in office towers and their professional environments. Even if some continue to work from home, employers will also need to readapt workspaces for the ones coming back," he added.
Others echoed his remarks.
"Yes, we definitely expect to see sales growth in 2021," said Ryan W. Menke, senior vice president of Sales + Marketing at OFS. "We've seen great momentum building all year and are expecting a very strong second half across all sectors." Projections for 2022 are also good, he added.
Mike Evans, president and CEO of eSolutions Furniture Group (the new corporate brand name of Bestar-Bush Industries), concurred. "We continue to see strong growth despite labor, carrier capacity shortages and inbound container/cost challenges."
Sales projections for 2022 are "excellent." "We expect to be up over 20%," he added. "Keys to the growth for the last five and continuing over the next two years are continued new product additions/category expansion and our strong performance in the e-commerce channel."
Market opportunities
Garneau also noted growth opportunities in the private and public sectors, including the adaptation and/or renovation of working environments in order to reduce risks of contamination, and e-commerce sales, particularly in the work-from-home market segment.
"We believe the pandemic accelerated digital disruption by roughly a decade, so we believe there is a lot of opportunity for companies that are agile enough to capitalize on this transformational period," added Menke.
They're not the only ones taking advantage of opportunities offered by e-commerce and work from home.
"At Kimball International, we have been actively engaged in understanding 'The Future of Work,'" CEO Kristie Juster said in a recent statement.
"At the center of the new forming hybrid model is a belief that flexibility in where you work will allow employers to attract, retain and develop the most qualified and diverse workforce. It is clear the office plays a crucial role as the centralized hub for collaboration, learning and teamwork, complemented by both work from home and satellite locations," she added. "Our third quarter activity shows the rapid pace at which we are launching new products to support wherever work happens."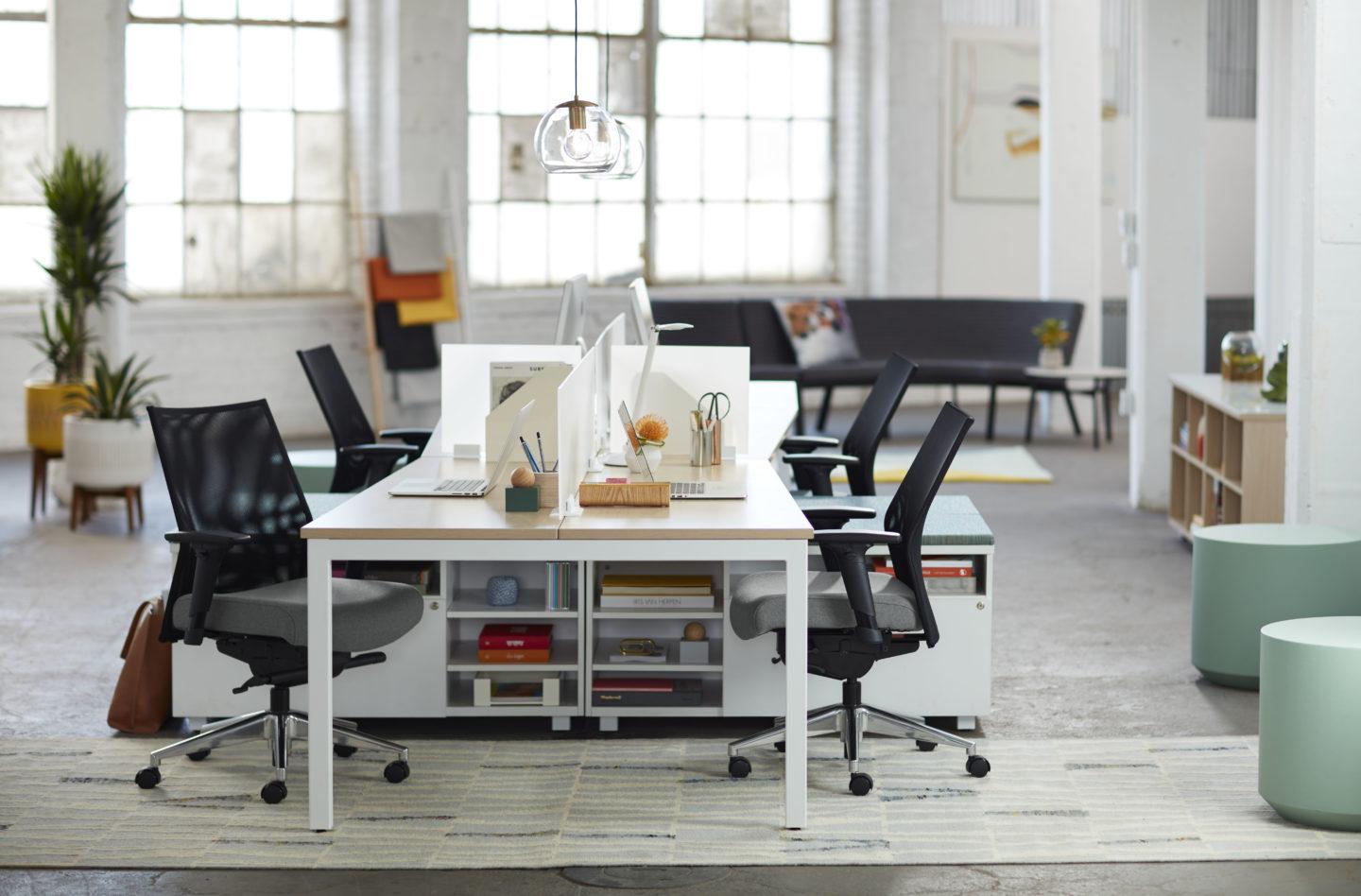 Among those also announcing new product categories aimed at the hybrid workplace is Sauder. In May the RTA manufacturer introduced a new division, Sauder Commercial Office, which it says will provide commercial grade office furniture for both public and residential environments.
Steelcase's Allan Smith, vice president of global marketing, noted, "People's experiences at home have shaped what they want to see in the office. Our research found that while many people enjoyed working from home for its flexibility, there were also many challenges including increased isolation and drops in productivity."
He added, "After nearly a year at home, organizations must use this moment to support workers' desires to feel safe, a sense of belonging, greater productivity, enhanced comfort and higher levels of control. This diverse range of products [in the new workplace collection] was developed to meet new demands and create better work experiences for people."
Herman Miller didn't add just a collection, it added a whole company. Marking the biggest news to date this year to hit the industry was April's announcement that Herman Miller will acquire Knoll for $1.8 billion.
In making the announcement, Andi Owen, president and CEO of Herman Miller, noted, "As distributed working models become the new normal for companies, businesses are reimagining the office to foster collaboration, culture and focused work, while supporting a growing remote employee base. At the same time, consumers are making significant investments in their homes. With a broad portfolio, global footprint and advanced digital capabilities, we will be poised to meet our customers everywhere they live and work."
Retail industry on road to recovery
One of the hardest hit markets during the pandemic, the retail industry, specifically the brick-and-mortar segment, is also seeing a resurgence of business.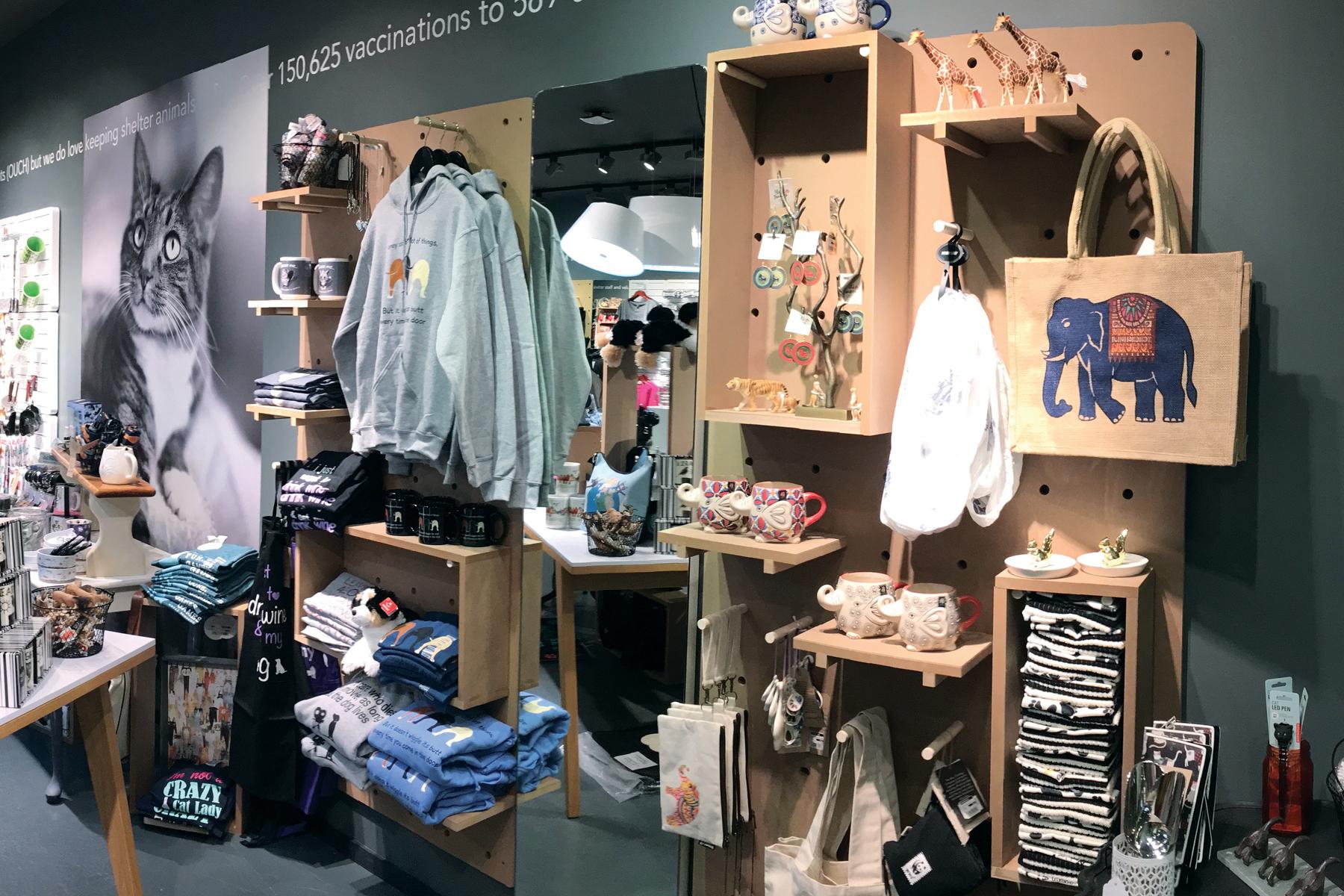 After the pandemic caused a sharp decline in foot traffic at retail stores, 60 percent of commercial real estate leaders and 55 percent of retailers surveyed say they expect to see a return to pre-pandemic levels by the end of the year, according to a recent survey from ICSC (International Council of Shopping Centers).
A recent report by Placer.ai also indicates foot traffic at top-tier malls is improving. The analytics firm found traffic in malls in March was just 23.7 percent off the numbers from a pre-pandemic March 2019, with April figures closing the margin, down 18.7 percent from 2019. Other research groups also are forecasting rebounds in 2021, including eMarketer which projects retail sales (overall) to rise 3.8 percent to $5.856 trillion, with a 2.2 percent rebound for brick-and-mortar.
Another sign that bodes well for the retail fixture manufacturing market is the number of physical stores set to open this year. According to Chain Store Age, Target has opened 12 stores already this year, LL Bean has announced plans to open seven stores in 2021, Chipotle Mexican Grill is planning to open 200 new locations this year, and Whole Foods has 40 stores in the pipeline, with more announcements expected as the post-pandemic recovery continues.
About the FDMC 300
For more than three decades, the FDMC 300 annual report has tracked North America's largest wood products manufacturers, including those involved in cabinetry, residential and contract furniture, architectural millwork, retail fixtures, fenestration and home organization, ranking them by sales. Published in February, the 2021 FDMC 300 is sponsored by Pollmeier Inc.
As a group, the FDMC 300 recorded 2020 sales of $57.883 billion. The more than 40 companies identified as contract furniture manufacturers, based on their primary product line, accounted for 22.2 percent of the sales total, or $12.840 billion. Those identified as retail fixture manufacturers accounted for 2.9 percent, or roughly $1.664 billion in sales.
View more on these and other FDMC 300 wood products manufacturers at WoodworkingNetwork.com/FDMC-300. For information or how to become included in the FDMC 300, email karen.koenig@woodworkingnetwork.com.
Have something to say? Share your thoughts with us in the comments below.