What's ahead for architectural woodworkers: Special report
May 4, 2021 | 6:25 pm CDT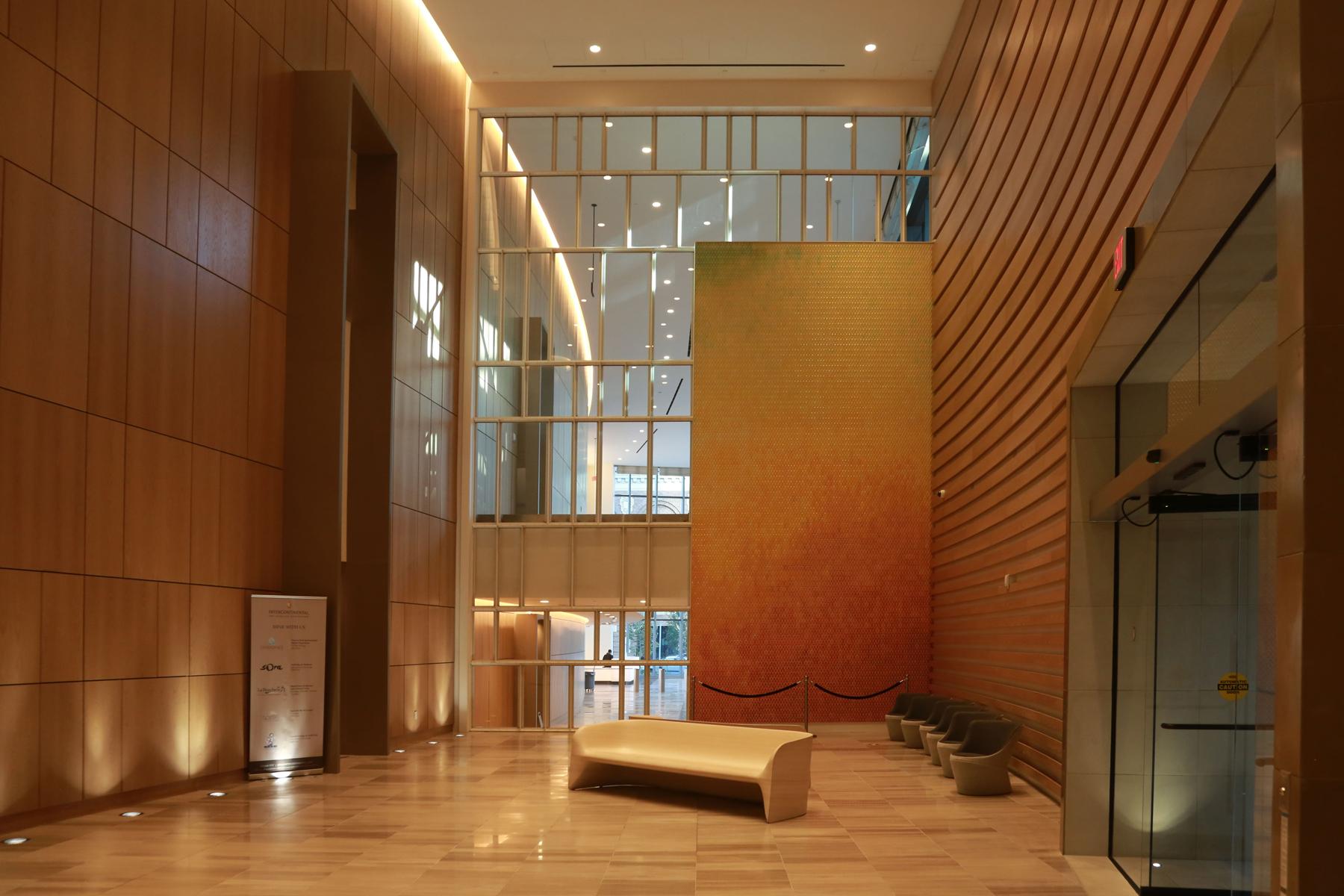 Due to its unique positioning in both the commercial and residential markets, the architectural woodwork industry survived the COVID-19 pandemic relatively unscathed, with many companies already seeing projects back on schedule.
"Commercial construction is experiencing a boomerang effect from delayed and canceled projects during 2020, creating a surge of business in the first half of 2021," said Sebastien DesMarais, Architectural Woodwork Institute president.
He noted that while the AIA's Architectural Billings and Inquiries index improved slightly during the second half of 2020, the numbers remain well below past levels and the mark AIA considers healthy and growing. And although 2022 projections are largely dependent on regional responses to COVID and the construction sector, "the good news is that new inquiries are beginning to trend into positive territories, providing a positive leading indicator for construction and wood manufacturing," added DesMarais, who is also president of Hollywood Woodwork.
Optimism for 2021 & 2022
Already, some of the large architectural woodwork firms in the FDMC 300 annual ranking of North America's largest wood products producers, say they are seeing a rise in business, with 2021 sales projected to outpace 2020.
"We were basically shut down for half of March and April 2020, which really impacted sales for the year," said Patrick Dickinson, CEO of USA Millwork. "We don't expect to recover to pre-pandemic activity levels until late 2021 or 2022, but 2021 should still be better than last year." Looking ahead to 2022, he added, "It's still early to tell, but it feels like the momentum will be there and that the commercial side will be catching up from a slow 2020 and 2021."
Backlog kept Bernhard Woodwork busy for part of 2020, said Mark Bernhard, president. After a few months of slowdown, "it seems like things are finally starting to shake loose," he said. And with funding now available and projects, including corporate, ramping up, the outlook for 2021 and 2022 is positive.
That assessment is shared by others. "During 2020 we were busy budgeting projects given that no one know what would happen with the economy," said Ana Rothman, Design director & VP of Business Development, at Montbleau & Associates.  "One area that kept us busy was hospitality," she said. Public closure gave hotels the opportunity to remodel public areas and guestrooms. 2021 sales are already on the rise.
"We feel that 2022 sales will be excellent," Rothman added.  "We see lots of indicators that clients are feeling very good about the next 18-24 months."
Fetzer Architectural Woodwork is also expecting 2021 to outpace 2020 sales, said Larissa Hunt, Business Development. "The uncertainty caused by COVID-19 in Q1 and Q2 of 2020 largely put the construction industry on pause. Now that uncertainty is subsiding, we are seeing a steady increase in sales. We had several projects slip their completions due to COVID and they are now completing in 2021."
She added, "We are sold out for 2021 and focusing on our sales for 2022. Q2 of each year is historically our best."
"There is a lot of new work and our clients' project schedules are demanding 15% faster timelines for completion than we have typically seen in the past," added Gina Borovica, director of Sales & Marketing at Merritt. "We are currently booking work for 2022 and 2023 and the outlook is very promising."
Challenges & opportunities
"Construction has not stopped even through the worst of the pandemic," said Rothman. "We are being proactive in searching new market opportunities and of course servicing our existing clients."
Existing clients can often lead to new opportunities as they adapt to a post-COVID environment. Projects to add or upgrade corporate common areas was one example cited by Bernhard.  
Yet along with opportunities, the pandemic has also brought new challenges.
"The wood industry is experiencing extreme pressures from sharp material escalation and volatility," noted DesMarais. "This is caused by a combination of a surge in post-COVID demand and global shipping activities, delays in ports, and the deep freeze in Texas which forced unplanned shutdowns on numerous petrochemical plants."
Along with those in the AWI, "this has the potential to hurt contractors and manufacturers who are tied to fixed-price subcontracts, many of which were estimated and awarded in 2019 and 2020 before the material escalations occurred."
Not surprisingly, pricing and availability was a top concern of all queried. "Our major concerns are the difficulty procuring materials and continued increases in costs of both materials and logistics. These obstacles create challenges in maintaining production schedules, project deliveries and project budgets," said Borovica.
Hunt concurred. "Supply chain is the company's biggest concern. We are seeing many traditionally available products experience massive cost increases and availability decreases," she said.
"We still have capacity to fill for the mid to latter half of the year," Dickinson noted. "This has been our primary concern for the last 6 months, but as the market outlook improves, we are increasingly focused on the risks associated with procurement, both inflation and simple material availability."
The president of AWI, DesMarais offered the following advice: "To be successful, closely monitor your costs, both material and labor, and try to find ways to stabilize the fluctuations and create certainty in an uncertain world. Talk with your clients early about the challenges facing our industry, negotiate contractual protections to level demand and cost volatility, and negotiate deposits to try and lock in pricing. Track your markets to see how they are trending. Watch the leading indicators that provide insight into future sales for your company and pursue and develop opportunities there. Finally, closely monitor both profitability and most importantly cash flows to ensure that you can continue to remain liquid and viable to delivering on your projects."
The AWI's annual Cost of Doing Business survey will be available this summer. For information visit AWInet.org.
About the FDMC 300 rankings
For more than three decades, the FDMC 300 annual report has tracked North America's largest wood products manufacturers, including those involved in cabinetry, residential and contract furniture, architectural millwork, retail fixtures, fenestration and home organization, ranking them by sales. Published in February, the 2021 FDMC 300 is sponsored by Pollmeier Inc.
Listed are the architectural woodwork firms in the 2021 FDMC 300 based on reported sales and our estimates where sales were not available (FDMC 300 rankings in parentheses). View more on these and other FDMC 300 firms at WoodworkingNetwork.com/FDMC-300.
USA Millwork: $200M (#45)
Glenn Rieder LLC: $80M (#96)
Fetzer Architectural: $75M (#103)
Imperial Woodworking: $60M (#121)
Merritt: $55M (#125)
Island Architectural: $50M (#143)
Montbleau & Assoc.: $50M (#145)
Parenti & Raffaelli: $30M (#187)
Leeman Architectural: $25M (#203)
Mark Richey Woodworking: $25M (#204)
Roomi Group Corp.: $25M (#210)
Washington Woodworking: $25M (#213)
Bernhard Woodwork: $20M (#221)
Gaithersburg Architectural Millwork: $20M (#234)
Mystic Scenic Studios: $19.3M (#247)
Eastern Millwork: $19M (#249)
Giffin Interior & Fixture: $17M (#257)
Mock Woodworking: $17M (#258)
American Millwork: $11.8M (#281)
Bruewer Woodwork: $10M (#282)
Millwork One Inc: $10M (#294)
For information or how to become included in the FDMC 300, email karen.koenig@woodworkingnetwork.com.
Have something to say? Share your thoughts with us in the comments below.