FDMC 300 cabinet companies expand in pandemic
March 31, 2021 | 11:44 am CDT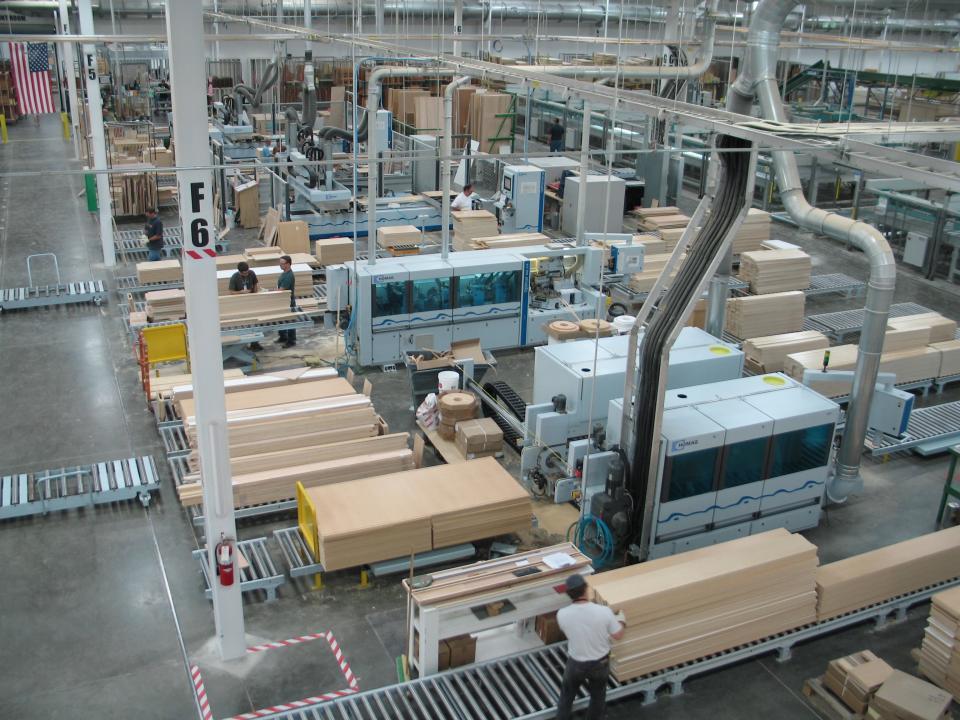 While the coronavirus pandemic ravaged the economy, many of the larger cabinet companies in the FDMC 300 had a solid year and posted modest sales gains.
Makers of residential furniture, store fixtures and retail displays suffered during the slowdown, dealing with their own shutdowns and the closure of their customer's stores, They had to comply with new rules and regulations that in many cases made it difficult to remain in operation.
Cabinet manufacturers faced these challenges also, but they had some factors in the market working in their favor.
Customers remaining at home took a longer look at their kitchens and decided this would be a good time to upgrade. Instead of taking a cruise to Cancun, they bought custom cabinets. An unusually strong residential housing market has also buoyed cabinet and furniture sales.
Sales for the overall FDMC 300 group of companies reached $57.883 billion in 2020, a gain of 1.25 percent over the previous year. This was the ninth consecutive year of sales expansion for these cabinet, millwork, furniture and store fixture manufacturers.
The FDMC 300 is a group of the 300 largest cabinet, furniture, millwork, store fixture, office/contract and component producers in North America. This summary of wood manufacturing firms' sales performance is published annually by FDMC magazine.
Additional information and the full list of 300 companies is also online.
KCMA reports higher sales
According to the Kitchen Cabinet Manufacturers Association's monthly Trend of Business Survey, participating cabinet manufacturers reported that overall 2020 cabinet sales were up 2.0 percent when compared to the same time period in 2019. Custom sales increased 0.4 percent, semi-custom sales decreased 1.9 percent and stock sales increased 5.1 percent.
KCMA reported an increase in overall cabinet sales of 11.6 percent for December 2020 compared to the same month in 2019. Custom sales were up 19.3 percent, semi-custom increased 12.5 percent and stock sales increased 9.6 percent.
Overall sales were down 0.2 percent in December 2020 compared to November 2020. Custom sales increased 1.8 percent, semi-custom sales decreased 2.2 percent and stock sales increased 0.7 percent. Survey participants include stock, semi-custom and custom companies whose combined sales represent about 75 percent of the U.S. kitchen cabinet and bath vanity market.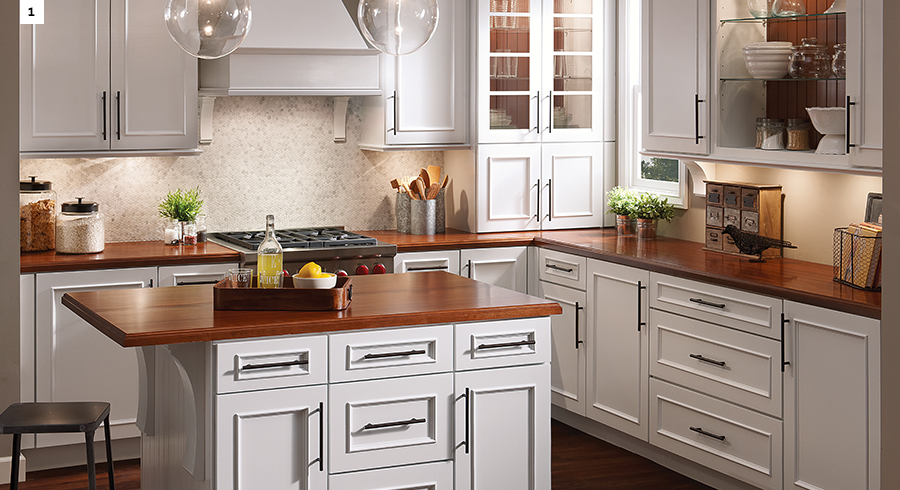 KraftMaid, pictured, Merillat and Quality Cabinets are now part of ACProducts after that company's purchase of Masco's cabinet operations.
Largest cabinet manufacturers
These companies are the largest cabinet manufacturers in North America, according to reported sales and our estimates where sales are not available.
1. MasterBrand Cabinets. Fortune Brands Home and Security's kitchen and bath cabinetry segment's sales figure, $2.418 billion, was based on 2020 third quarter sales and was slightly higher than the 2019 estimate. The company is based in Jasper, Indiana, and makes stock, semi-custom and custom fully assembled kitchen and bath cabinets; and frameless RTA. Divisions include Aristokraft, Decora, Diamond, Dynasty, HomeCrest, Kemper, KitchenCraft, Norcraft, Omega, Schrock, and WoodCrafters
2. Cabinetworks (formerly ACProducts, Inc.) Reported sales from the company increased to $1.8 billion with the purchase of Masco's cabinet operations. Masco's cabinetry division includes the KraftMaid, Merillat, Quality Cabinets, and Cardell Cabinetry brands. Other ACProducts include ACPI, AWP (former Elkay Cabinetry), Cabinets2000, Master Woodcraft and Smart Cabinetry. Company makes stock and semi-custom kitchen and bath cabinets. Earlier, Elkay Wood Products cabinetry division and Master WoodCraft Cabinetry were purchased by ACProducts.
3. American Woodmark Corp. Sales figure of $1.650 billion is based on 2020 fiscal year, slightly higher than the previous year. Divisions include Timberlake, Shenandoah Cabinetry and Potomac. Company makes stock and semi-custom kitchen and bath cabinets. Company had acquired RSI several years earlier.
4. W W Wood Products Inc. Annual sales were reported by the company to be $170 million, a large increase over the previous year and continuing the trend of higher sales. The company's manufacturing plants in Dudley, Missouri, make kitchen and bath cabinets, millwork and mouldings, and cabinet doors.
5. Wellborn Cabinet Inc. Annual sales were estimated to be $150 million. Manufacturing plants are in Ashland and Lineville, Alabama; and Salt Lake City, Utah. Products are stock, semi-custom and custom kitchen and bath cabinets; closet cabinets and storage systems.
6. Kith Kitchens. Sales figure of $108 million in 2020 was reported by the company. Employment was also higher in the company's Haleyville, Alabama, operation. Company makes semi-custom kitchen and bath cabinets and related components
7. Bertch Cabinet Mfg. Inc. Iowa company makes stock/custom kitchen and bath cabinets. Manufacturing plants in Oelwein, Jesup and Waterloo, Iowa. In January, Dura Supreme announced the acquisition of Bertch Cabinet Mfg. as part of the company's expansion in the semi-custom cabinetry market.
8. Kountry Wood Products. Nappanee, Indiana, company produces kitchen and bath cabinets. Sold Borkholder division in 2019. Sales figure was our estimate.
9. Republic Elite (LDC Stone Inc.) Annual sales of $100 million is our estimate. Products are kitchen and bath cabinets, mouldings, laminate and solid surface countertops, and sinks. Manufacturing plants are in Marshall, Texas.
10. Huntwood Industries. Annual sales were $95 million, reported to be higher by the company. Company makes custom kitchen and bath cabinets; commercial cabinets, desks, bookcases, mouldings, closet and garage cabinets, house doors and millwork in a single operation near Spokane, Washington.
The biggest change for 2020 was the departure of Masco, which a few years ago represented the largest cabinet manufacturer on the list. Their operations are listed as part of Cabinetworks. Also listed a year ago was Leedo Mfg., a Texas company making stock/custom kitchen cabinets, bath vanities, and countertops. They reported lower sales in 2020. Foremost Groups Inc., also listed a year ago, is primarily an importer but they do manufacture in the United States. Also, Wood-Mode LLC in Kreamer, Pennsylvania, is active in the market but sales are lower than several years ago.
Have something to say? Share your thoughts with us in the comments below.