Bassett sales drop; writing new business 'very difficult'
September 28, 2023 | 10:58 am CDT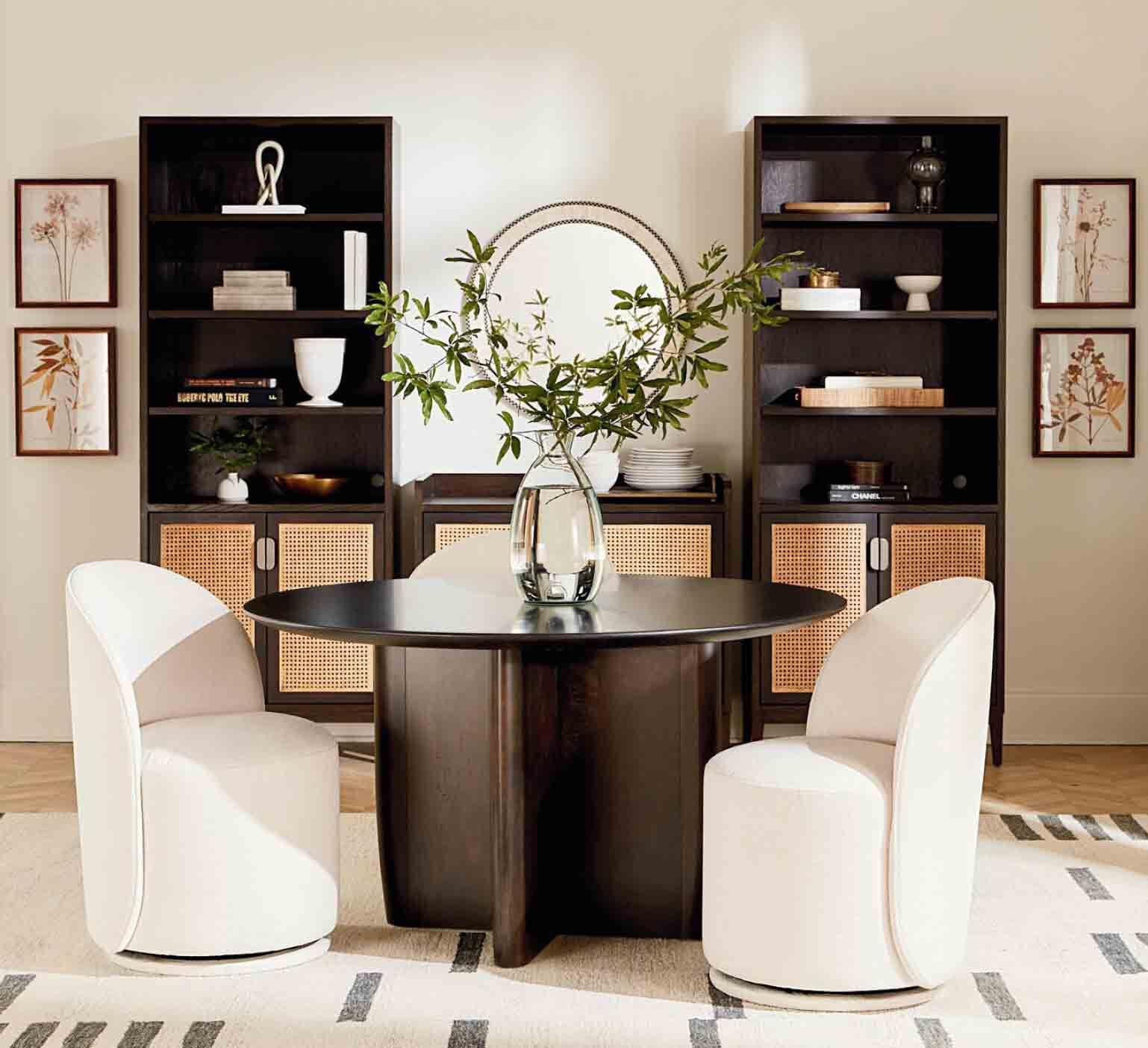 Photo By Bassett Furniture Industries
Saying that writing new orders between big events remain very challenging, Bassett Furniture Industries Inc. on Thursday, Sept. 28, reported a fiscal third-quarter loss of $2.6 million, on revenue of $87.2 million in the period, after reporting a profit in the same period a year earlier. On a per-share basis, the Bassett, Virginia-based company said it had a loss of 30 cents.
"Writing new business, both at wholesale and retail, proved very difficult in the twelve weeks between Memorial Day and the start of our Labor Day promotion in late August," said Robert H. Spilman, Jr., Chairman and CEO.
Spilman said the company continues to see increased business around the important holiday events, "day-to-day store traffic and wholesale order writing between the big events remain very challenging."
In his summary of the results, Spilman added that despite a drop in wholesale shipments there was a reason for optimism. "Work schedules in our two domestic wood plants improved as the quarter wore on and continued on that path in the first weeks of the current quarter. It is hard to see the positive in a quarter where wholesale shipments declined by 28%, but we do have several trends that point to better results moving ahead."
Bassett is an FDMC 300 listed company, ranking #38 on the list of top North American wood products' manufacturers.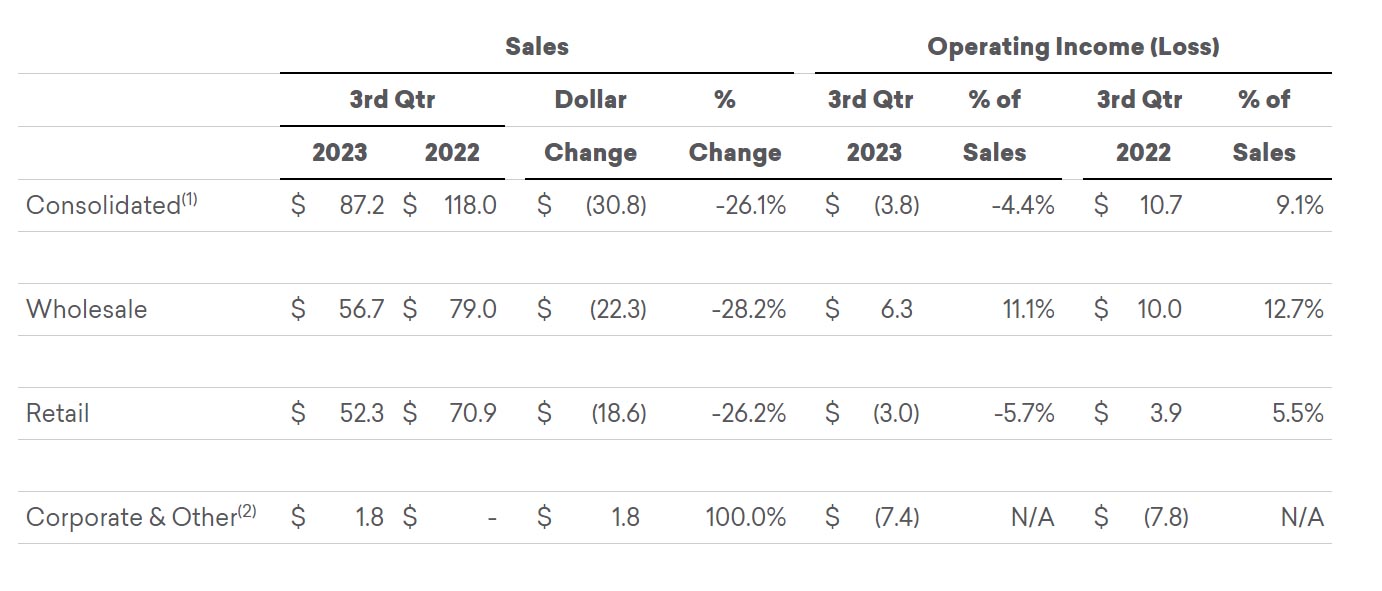 Spilman said that the company saw signs of a slowdown in the third quarter of 2022 and this year's period represented another 4.6% decline in wholesale orders. "Despite this softness, we continue to maintain a strong balance sheet while executing on the elements of our growth plans with the expectation of returning to profitability," he said.
Summary hightlights:
Wholesale margins of 11.2% were comparable to our second quarter margins despite an 8.5% sequential decline in wholesale revenue.

"Once again, we wrote down the value of certain slow-moving styles of our Club Level imported motion line, this time to the tune of $800 thousand. Recall that our Club Level inventory peaked at $22 million at the end of August 2022. At the most recent August close, our inventory was slightly over $11 million, or some 49% less than last year. Recognizing that we have some $6 million of excess and discontinued inventory, we still have several good selling styles in the Club Level line which produce good margins. Ultimately, we believe that $5 to $6 million of inventory will be sufficient to support this strategically important assortment," Spilman said.
A counter-balance to this situation is the steady performance of its domestic upholstery team that was able to improve margins over last year while dealing with a 31% decline in shipments. Their ability to drive efficiency and manage costs in such a demanding environment is impressive. Imported wood margins declined compared to last year but improved sequentially as compared to the second quarter on reduced shipments. The pandemic-related freight costs imbedded in its oldest import wood inventory is beginning to burn off, a trend which should accelerate and result in margin expansion in the coming months.
According to Spilman, "Work schedules in our two domestic wood plants improved as the quarter wore on and continued on that path in the first weeks of the current quarter. It is hard to see the positive in a quarter where wholesale shipments declined by 28%, but we do have several trends that point to better results moving ahead."
Our retail results for the quarter constituted the primary basis for the Company's overall operating loss. Things have changed dramatically from 2022, our best retail year ever. In short, for the period, we did not generate enough retail revenue to break even. Actually, retail gross margins were comparable to prior year amidst a 26% decline in sales, but we were unable to reduce our fixed and variable SG&A costs enough to maintain profitability with the reported level of sales. In the five weeks prior to this writing (which include the first four weeks of Q4), average weekly sales have improved markedly, but were aided by the expected Labor Day boost and by several new product introductions that coincided with the promotion. Although we cannot predict the longevity or the depth of the furniture industry's current slump, we are once again focused on the disciplines of margin improvement, customer service, digital outreach, and store upgrades as we head toward 2024. Over the next four months, we also look forward to opening two new stores and re-opening an existing location that has been closed for remodeling.
August 10 marked the debut of our new bassettfurniture.com website. The project was three years in the making and included the complete re-architecture of our product data, which now serves as the foundation of the new platform. "We believe that, over time, we will improve site traffic and enhance both e-commerce and store conversionsi as a result of this investment. We are already seeing that engagement has improved as consumers are spending more time on the new site with each visit compared to previous metrics with our old platform. The launch of the new website coincided with the mailing of our fall catalog and the styling of the merchandise and its corresponding imagery represents a fresh new style direction for Bassett and the sell-through of the new items is off to a good start."
The company has now completed its first year of Noa Home ownership and continues to use its perspective to provide insight for Bassett's e-commerce journey and to build the future of the Noa brand. Advertising efficiency has been the recent focus at Noa as they have been able to reduce spending significantly while keeping their web traffic largely intact. A targeted entry into the U.S. market is imminent as is our expansion of their product offerings. Noa management is also evaluating the contributions of their global markets as they strive to further build North American penetration in Canada and the U.S."
Balancing investment in the business, returns to shareholders, and cash flow planning is particularly important in a tough sales climate, Spilman said. To date in 2023, the company has returned approximately $8.5 million to shareholders in the form of dividends and share repurchases, including the 12.5% dividend increase, which was approved by our Board of Directors in July. Capital expenditures will likely come in between $17 and $19 million this year. Operating cash flow for the third quarter was $3.8 million.
"Our capital expenditure plan for 2024 is currently being formulated but will be significantly less than this year's level of investment. We will continue to evaluate our capital allocation strategy closely as we better understand the implications of the current business landscape."
Have something to say? Share your thoughts with us in the comments below.