October 15, 2009 | 7:00 pm CDT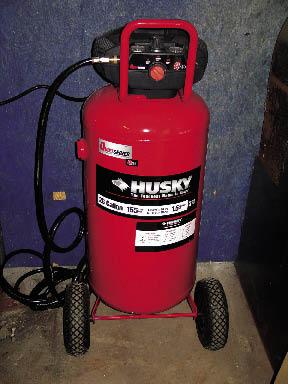 Pneumatic tools have a lot going for them, but dealing with a typically loud compressor all day is not one of them. That's why I was pleased to test the new Husky air compressor that offers multi-power options to cut the noise down.
The QuietSeries Husky compressor is a single-stage, oil-less unit. The actual compressor and 1.5 hp motor are mounted on top of a vertical 26-gallon tank. The compressor is rated to deliver a maximum 155 psi and operates on 110-volt power.
Quiet difference
What sets this compressor apart is the three power settings on the front. In the Heavy Duty setting, you get maximum power to quickly fill the tank and drive tools needing more air. At that setting, I measured the compressor sound level at 92 dB from 5 feet away. That's a noticeable improvement to the compressor I've used for decades that roars along at 94 dB. But when you set the Husky down to Medium Duty, that drops the noise level to 85 dB. At the Light Duty setting I measured noise at just 82 dB. That's a huge improvement.
Since decibels are calculated on a logarithmic scale, cutting only a few dB can be significant. For comparison, a jackhammer rates about 100 dB, and a common household vacuum cleaner is about 80 dB.
How does it work?
Of course, these reduced power settings do limit the tools you can drive. Typical woodshop applications like pneumatic nailers and staplers will run just fine even on the lowest setting. Spray guns may require more depending on the type of gun. Continuous use of sanders all day long would likely tax the capacity of this compressor, but I found intermittent use was fine on both the medium and heavy duty settings. The compressor is rated to deliver 4.0 CFM at 90 psi and 6.0 CFM at 40 psi.
Extras in the package
Although the Husky works well as a stationary unit for a small shop I plugged it right into my air line system it also comes with wheels to be portable. For those just getting started with pneumatic tools, the compressor is currently being sold as a package including a die grinder, inflator, air ratchet, air hammer, impact wrench and spray gun.
In the final analysis, if you are already committed to pneumatics and have multiple users working simultaneously in the shop, this is probably not the machine you want as your only compressor. But if you're just a one- or two-person operation or you're looking for secondary or occasional use, this is a great quiet alternative.
Husky compressors are sold only through Home Depot where this unit with the six-tool kit retails for $299. For more information, go to www.homedepot.com.
Have something to say? Share your thoughts with us in the comments below.