Design Portfolio: New guide for sustainable design solutions
March 13, 2023 | 12:10 pm CDT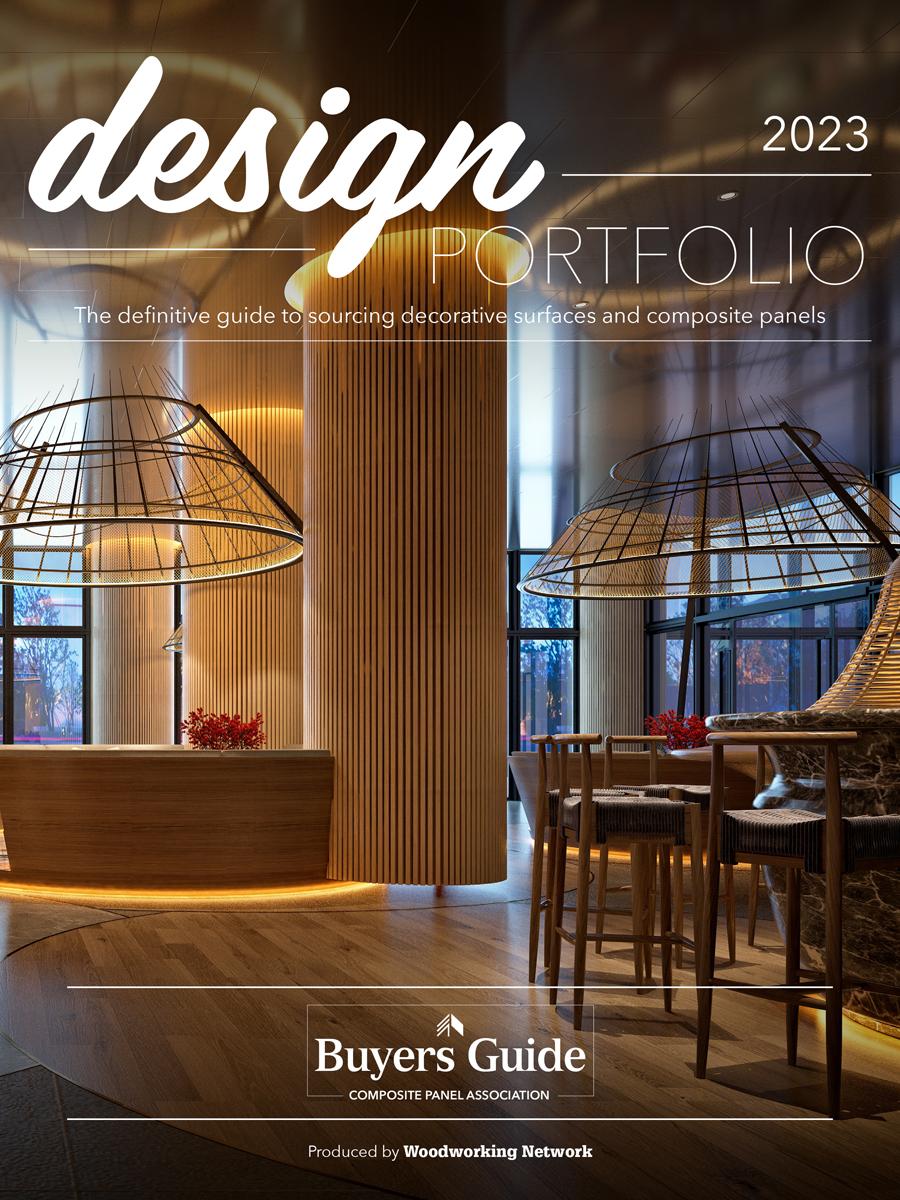 The Composite Panel Association (CPA) is pleased to debut the Design Portfolio, the definitive Buyers Guide to specifying composite panels and decorative surfaces.  For more than 20 years, CPA has published this Guide showcasing North American composite panels and decorative surfacing products. We are very excited to embark on a new partnership with Woodworking Network to elevate the Guide by transforming it into this Design Portfolio.
Composite panels combined with decorative surfaces offer an endless array of solutions that create safe, clean, and stylish designs. This Design Portfolio provides solutions for a wide array of standard and specialty products commonly specified in residential, commercial, retail, healthcare, and education.
Decorative Surfaces: Design Possibilities are Endless
Decorative surfaces continue to defy the limits of realism. Deep textures and sophisticated matte and gloss finishes have an appeal that improves natural materials with superior fidelity, durability, and reproducibility.
Decorative surfaces are enthusiastically accepted by consumers worldwide. Architects and designers specify without hesitation, knowing that any "look and feel" is achievable and, more importantly, desired in the built environment.
Decorative surfaces made with composite panel substrates:
Exceed the challenges of the built environment, including durability, reproducibility and cleanability
Offer limitless design options from deep textured woodgrains to realistic stone to color design with high gloss or matte
Can be specified in most residential and commercial applications for:

Cabinets  
Closets  
Store fixtures  
Partitions  
Countertops  
Wall panels
Mouldings
Furniture
Doors
Flooring
Shelving
Learn more about decorative surface options on pages in the 2023 Design Portfolio issue.
North American Composite Panels: Durable • Uniform
Composite panels provide an ideal and sustainable substrate for decorative surfaces that is affordable, consistent, uniform in strength and free of defects. North American wood-based composite panels, such as medium density fiberboard (MDF), particleboard, engineered wood siding and trim (EWST) and hardboard, provide architects, designers, specifiers, and manufacturers with a unique and unmatched combination of design capability, quality, and sustainability.
Composite panels can be engineered to meet any project requirement. Customers can specify physical and mechanical properties, as well as surface characteristics, to create end-products with ideal attributes.
Learn more about composite panels in the 2023 Design Portfolio issue.
Environmentally Sustainable & Verifiable: Excellent Carbon Store • Recycled • Near Zero Waste • Certified
Composite panels are manufactured using recycled wood fiber with almost zero waste. Designers and builders should also ask for composite wood panels with the CPA 4-19 Eco-Certified Composite (ECC) Sustainability Standard seal, the world's leading sustainability certification standard. ECC certification includes regular audits based on life cycle inventory and other verifiable environmentally responsible practices.
Read Design Portfolio or visit the CPA's website for more about ECC and how to earn credit with green building standards.
Choosing North American composite wood products can help the design and build community earn points toward major environmental building certification programs, including the most prominent U.S. green building certifications:
USGBC LEED v4.1 Rating System
Green Building Initiative (GBI) Green Globes
National Green Building Standard (NGBS)
Read Design Portfolio for information on:
Specifying Composite Wood Panels:  Introduction and overview of the sustainable attributes of these substrates and where they are specified.
Decorative Surfaces Trends: The world of decorative surfaces and a look at current trends.
Product Overview:  Learn about each decorative surface and composite panel, including where they are used and key properties.
Product Guide:  Company-specific product details on leading manufacturers and suppliers of composite panels and decorative surfaces products, with a special designation for Eco-Certified Composites (ECC)-Certified companies, no-added formaldehyde (NAF) and Ultra Low Emitting Formaldehyde (ULEF) products.
Sales Info:  Contact the manufacturers and suppliers in the composite panel and decorative surfaces industries.    
About the Composite Panel Association
For more than 60 years, CPA has been advancing the North American composite panel and decorative surfaces industries. Members include the leading manufacturers of MDF, particleboard, engineered wood siding and trim, and hardboard that represent more than 90 percent of North American manufacturing capacity. Members also include manufacturers of decorative surfaces, laminators, finished products and equipment, as well as distributors.
The association offers extensive information about the products referenced in this Design Portfolio and a wider range of information about these industries. Learn more by visiting CompositePanel.org.
Composite Panel Association, 19465 Deerfield Ave., Suite 306, Leesburg, Virginia 20176
International Testing Center (ITC), 73 Lawson Road, Suite 101, Leesburg, VA  20175
(703) 724-1128, CompositePanel.org
Have something to say? Share your thoughts with us in the comments below.