October 14, 2009 | 7:00 pm CDT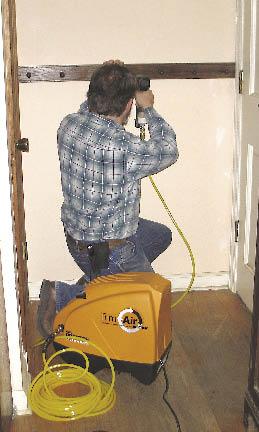 When it comes to jobsite installation work, most cabinet shops don't have nearly the requirements for on-site compressed air as other construction trades. So, why cart around a big and bulky compressor just to run a small finish nailer for some isolated trim work?
That's the theory behind a new compact portable air compressor, the Stanley Bostitch TrimAir. Weighing in at less than 20 pounds, this sleek yellow unit fits easily in the truck and on the jobsite.
How does it work?
The promotional motto for the TrimAir is "less is more," and it may be true. Besides its light weight, the unit draws fewer amps (7.8 amps at 115 volts and a working pressure of 0-116 psi), so it's not going to trip breakers and demand electricity the way bigger units do.
But can such a small unit deliver the necessary power? Rated to deliver 2.7 CFM at 40 psi and 1.8 CFM at 90 psi with a 1.6-gallon pressure tank, the TrimAir was plenty adequate to power a finish nailer in normal usage in our tests. More air-intensive applications would stretch the machine, but that's not what it was intended for. This is the kind of compressor that is just right for the little trim jobs or last-minute, on-site assembly work. It's not for running a battery of pneumatic sanders and similar air-hungry tools. And this unit is really quiet at just 75 decibels.
We paired it with the new Stanley Bostitch Prozhose, lightweight polyurethane flexible air hose with quick couplers for a great combination.
Clean and simple
The streamlined compact design of the unit makes it a dream of portability. For anyone who has muscled the wheel-barrow-style, twin-tank compressors on and off a jobsite, in and out of trucks, the TrimAir is a breeze. The power cord wraps up neatly underneath and convenient hand grips provide versatile carrying options. Controls are simple with no major unprotected protrusions to grab or bang into things as you maneuver in tight places.
With street prices running under $170 for the unit, it makes another argument for the company's "less is more" promotion. To learn more about the TrimAir compressor,  go to  www.bostitch.com.
Have something to say? Share your thoughts with us in the comments below.