Review: Hand-held CNC router
August 17, 2018 | 12:16 pm CDT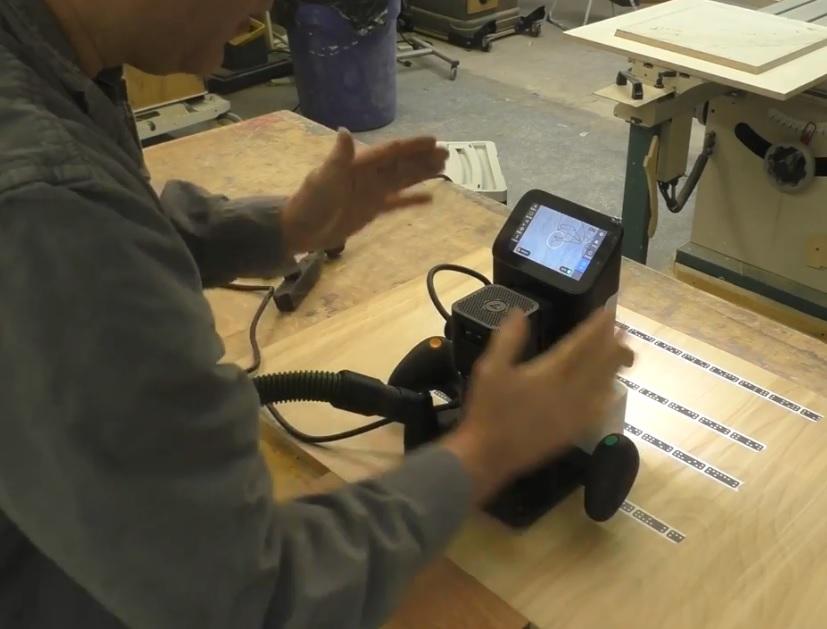 When I first saw the Shaper Origin in Vegas at the 2017 AWFS show, I knew then that this technology would be an industry game changer.
When I actually got one I anxiously wanted to fire it up right out of the box, but since I knew nothing about the Origin, and less about CNC in general, I actually read the instructions and watched a few online videos that Shaper offers, and which I highly recommend. They were simple and short, and gave me the confidence to give it a dry run or "air cut," so I could practice before starting on wood.
I tried a pictorial inlay for my initial project. First, I laid down registration "shaper tape" that looks like a bunch of dominoes all in a row. This tape lets the Origin read the cutting surface optically and keep the cuts on track. It also lets you lift the router on and off your working surface without losing registration.
I uploaded my file into the Origin, and the image you want to cut appears virtually in the on-board screen. Once the Origin registers the tape, you simply select a few cutting parameters (depth, bit size, etc.) and then follow the lines on the screen while the Origin makes the cuts.
You keep the bullseye targeting circle somewhat centered on the virtual cutting line as you move the unit. The Origin moves within the baseplate carriage and makes fine adjustments with high tolerance to the line. It has a 1/2-inch (12.7mm) corrective range and will raise the bit if you go outside the line. It's hard to make a mistake.
The unit's auto feed rate can be adjusted to suit, although you aren't likely to be feeding as fast as high production CNC machines. Still, it can do operations that a big boy can't, like going on-site and making precise cuts anywhere; inlaying a gymnasium floor, wall, or ceiling; or cutting precise openings on a large assembled counter.
It can also do very fine engraving and inlay work, and I believe it's great for making precise templates or one-off prototypes. Even better, you don't need to be a computer CNC geek (or employ one) to use it well.
Just a few downsides: The hardest part of my process was converting my drawing into a vector (SVG) file, but luckily, Shaper has a robust online community of people who share advice, files, and services called ShaperHub. They came to my rescue.
Another is that it accepts only a ¼-inch shank bits, and there is a 1/8-inch shank collet option, so it can't hog through ¾-inch MDF or hardwood in one pass. It can make multiple cuts stepping down on each pass.
The Shaper Origin doesn't replace your big CNC machine, but it's a perfect little brother in your family of tools that will increase your flexibility and productivity. And unlike some little brothers, it's fun to play with, too. Learn more at shapertools.com.
Have something to say? Share your thoughts with us in the comments below.