Webinar: Explore new woodworking technology from Taiwan
July 19, 2022 | 11:09 am CDT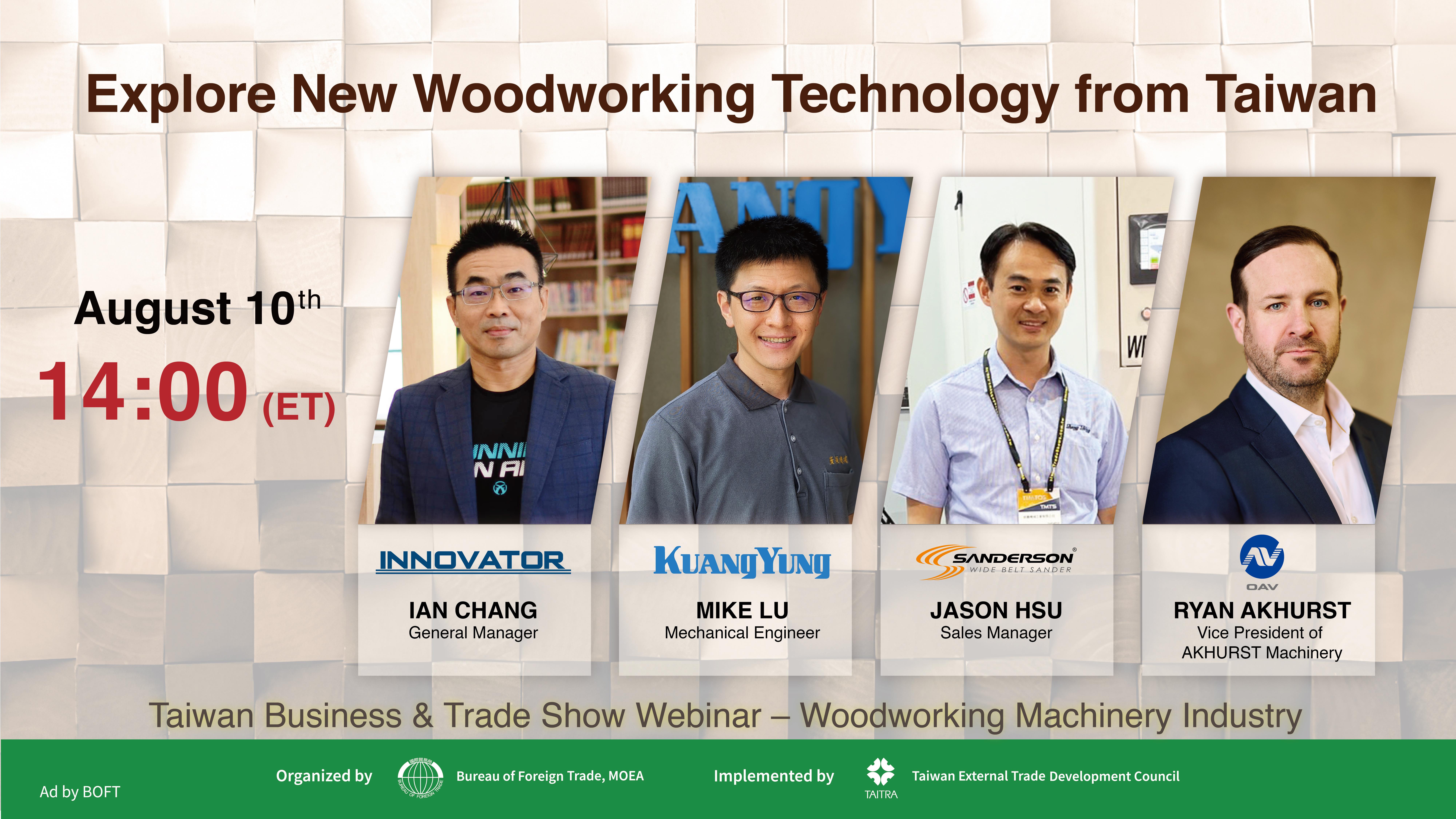 Airs on Wednesday, August 10th, 2:00-3:00pm EDT
 
Taiwan, a major source of sophisticated electronics critical to the global supply chain, is also a key player in global woodworking. In this webcast, principals representing four Taiwanese woodworking machinery companies, Innovator (Box Packaging), Kuang Yung (Rip Saws), Jun Shiau (Sanding), and OAV (Panel Saws and Edgebanders) will discuss how their latest technologies can provide solutions to current woodworking challenges. Taiwan's Bureau of Foreign Trade (MOEA) is the organizer of the webinar. The Taiwan External Trade Development Council, TAITRA, a non-profit government co-sponsored trade promotion organization in Taiwan, is the implementing organization.
Innovator will demonstrate how its flexible box packaging machine can help you become carbon neutral while reducing shipping costs. 
Kuang Yung will introduce its movable rip saw, the MRS-340M2 + joystick and cross infeed, and demonstrate how it can help you reduce nearly half the process time while achieving precision cutting. 
Jun Shiau will introduce its BSD + FSD sander line, which eliminates the need to flip boards, saving up to 30% of process time. 
OAV will focus on its panel saw plus edge bander combination. The panel saw is highly durable and extremely smooth cut is guaranteed, and their edge bander is known for its medium size and heavy-duty performance capabilities. 
All the above four companies will be participating in WOOD TAIWAN 2023, April 20 to April 23 in Taipei.
The webinar will be moderated by Woodworking Network. 


Have something to say? Share your thoughts with us in the comments below.