EBC attendees to tour Traum Woodworking as it transitions to a larger facility
August 25, 2021 | 2:21 pm CDT
COLORADO SPRINGS, Colo. – Traum Woodworking is amid major transformational changes as it prepares to open its doors to attendees for a Sept. 9 tour during the Executive Briefing Conference.

In June, the architectural woodworking company changed its name from Woodshop Millworks to Traum Woodworking. Simultaneously, Traum launched a new website – traumwoodworking.com – to anchor a broader rebranding campaign.
Very soon, the company will move its cabinet manufacturing and veneering operations into a renovated 28,000-square-foot facility that also includes a separate building for its finishing department. 

Each of these coordinated activities has taken place under the direction of Nick Kohli, who purchased the company just over three years ago. Since then, Kohli has positioned the company for growth by building on its solid 30-year reputation for producing high-quality custom woodwork.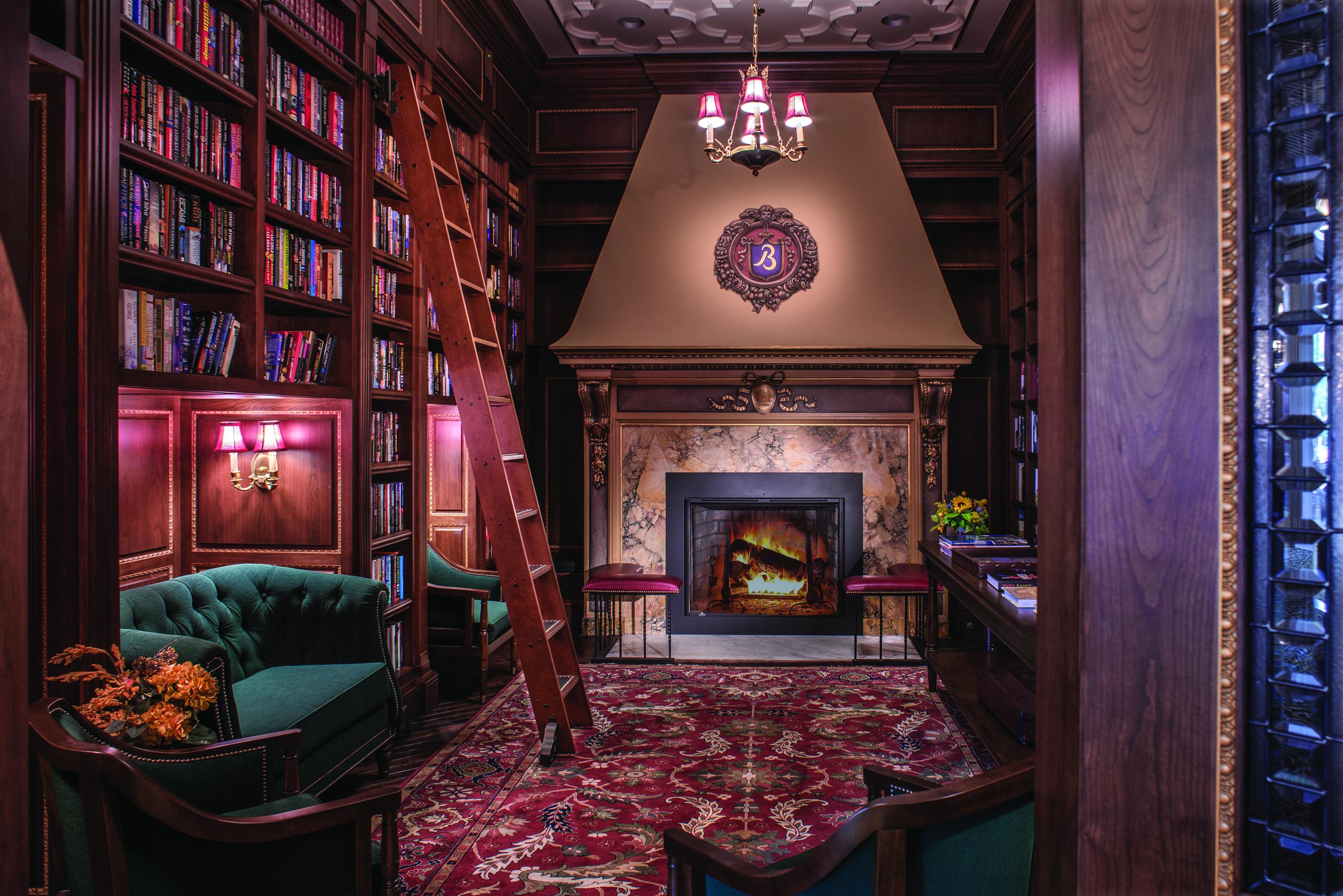 During his tenure as owner, Kohli says the company has just about tripled annual sales and grown its employee ranks from nine to 21. "Our goal is to be around 28 to 30 employees after our new facility fully opens heading into 2022," Kohli says.

Best laid plans
The EBC tour will include stops at company's current cramped facility and the new plant that is nearing completion. The two buildings are about 10 minutes apart from each other.

Traum Woodworking simply outgrew its current 11,000-square-foot plant, Kohli says. Plans call for continuing to use it to manufacture doors and jambs. The new facility will be dedicated to laying up veneered panels, cabinet making and finishing.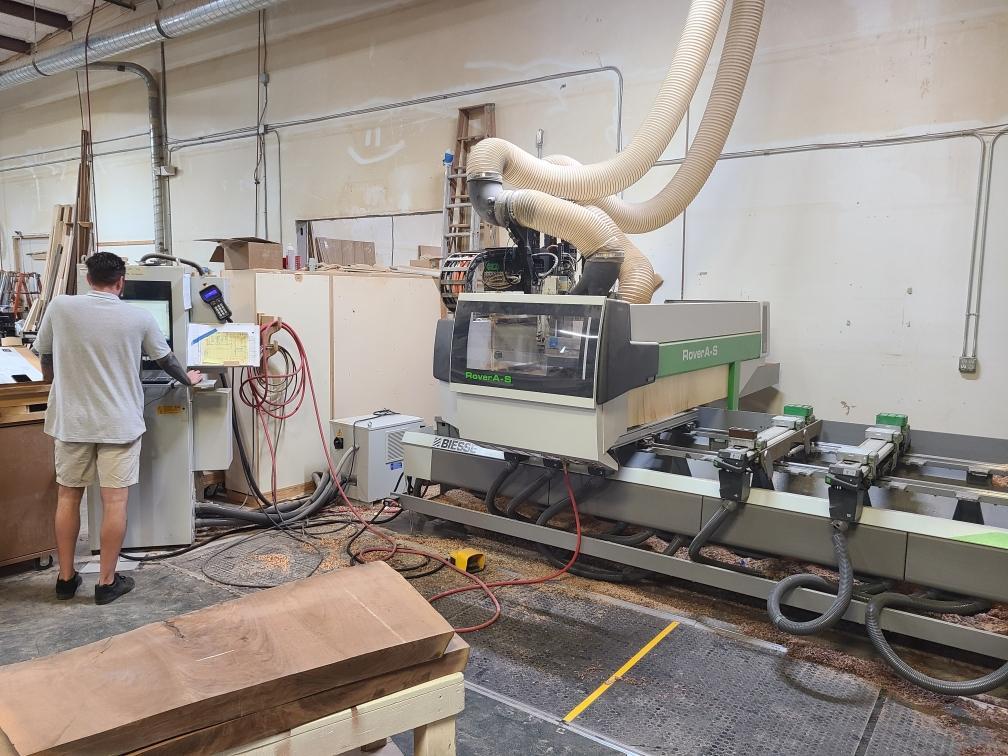 Kohli says veneering is a key focus of Traum's products. "We like wood. We don't work a lot with laminates, hardly ever," he says. "For the most part we veneer the interior of our cabinets and a lot of our clients ask us to finish to match the interiors and exteriors as well. We also apply solid edges on our cabinet boxes. These are processes that not a lot of other companies do. It makes us less efficient on one hand but I think the products will continue looking better for a long time to come than if we just used a veneer edgeband or edgebanding material. I think this is one thing that really separates us from a lot of companies in the high-end market."
The finishing department is in a separate building less than 15 feet from the main facility. "It has a separate loading bay and is fully enclosed so we can keep dust out of our finish," Kohli says, adding, "Right now, we're doing more and more high-gloss finishes."

The new facility used to be home to an electronic road sign business. Kohli says COVID and supply chain related issues, combined with the area's booming construction activity, have been the major factors for delaying completion of the project. 
"I think it's been a problem on a number of fronts," Kohli says. "On the front end of the process, the building department was backed up because there is so much building going on here. Then getting drawings reviewed took several weeks longer than expected. And then it took longer to make design changes because designers and architects are slammed. So, that takes a long time.  After the drawings were finally approved, we experienced backlogs ordering things. The electrical busway that supplies three-phase power down the whole length of the shop was 10 to 12 weeks on order. The fact that construction is booming has created supply chain delays."

Converting the structure to manufacture wood products included opening up the space. "There were five individual units. We cut 12-foot openings into the walls to run all of the way down so that there is a good flow to the shop," Kohli says. 
In addition to the busway, the project has included installing Niederman dust collectors, all new "bright" lighting, a sprinkler system, compressed airlines, and ADA-compliant bathrooms and breakroom.
Vegas shopping spree
Kohli and his team attended the recent AWFS Fair in Las Vegas. They put down a deposit on a Boarke widebelt sander and purchased Innergy ERP software to streamline the company's operations from order entry and inventory through manufacturing and shipping.

Due consideration is being given to investing in a new moulder, a flat table CNC nesting router and a glue wheel for the veneering department. Current key equipment used by Traum includes a Holz-Her Triathalon edgebander, SCM panel saw, Biesse pod and rail CNC router, Kuper splicer and Italpresse veneer press. 


"I rely on the people around me who have much more experience in the industry to help select machinery," Kohli says. "I give the final go ahead based on the budget, but I let my team look at the specs to decide what is best for the shop." 
'Living the traum'
Traum Woodworking's high-end projects include both commercial and residential properties. A shining example of the company's handiwork is the renovated Pourtales Library at the Broadmoor. 

Before acquiring Woodworks Millshop, Kohli worked at Traum Safe, a business started by his mother in New York City. Traum, he notes, is German for dream, a name his mother chose because of her good fortune to be educated in Germany.

"My mom grew up in India and was able to get a scholarship to attend school in Germany," Kohli says. "She got her PhD in biochemistry and then decided to come to the U.S. She always had this dream of owning her own company so when the time came to name her company, Traum was a natural fit."

Traum Safe specializes in "Swiss vault technology" and maintains a showroom on New York's famed Fifth Avenue. To better serve the needs of its high-end clientele, Traum Safe works with Traum Woodworking to offer custom wood surrounds for the safes, cabinets to conceal the safes or full build-outs for a closet or room housing the safe. 

"Having a showroom in New York allows us to have a project manager who can also provide us better access to other projects in the market," Kohli says. "Plus, we have long-standing relations with safe clients so there's a lot of synergy from that perspective as well."

Now living the traum himself, Kohli greatly looks forward to getting the new facility up and running to take his company to the next level. 

Note: The EBC's Sept. 9 plant tour event will also include a stop at the Manufacturing Industry Learning Lab, better known as "The MiLL," national training center.
Learn more about the Executive Briefing Conference and register.
Have something to say? Share your thoughts with us in the comments below.