September 10, 2019 | 9:58 am CDT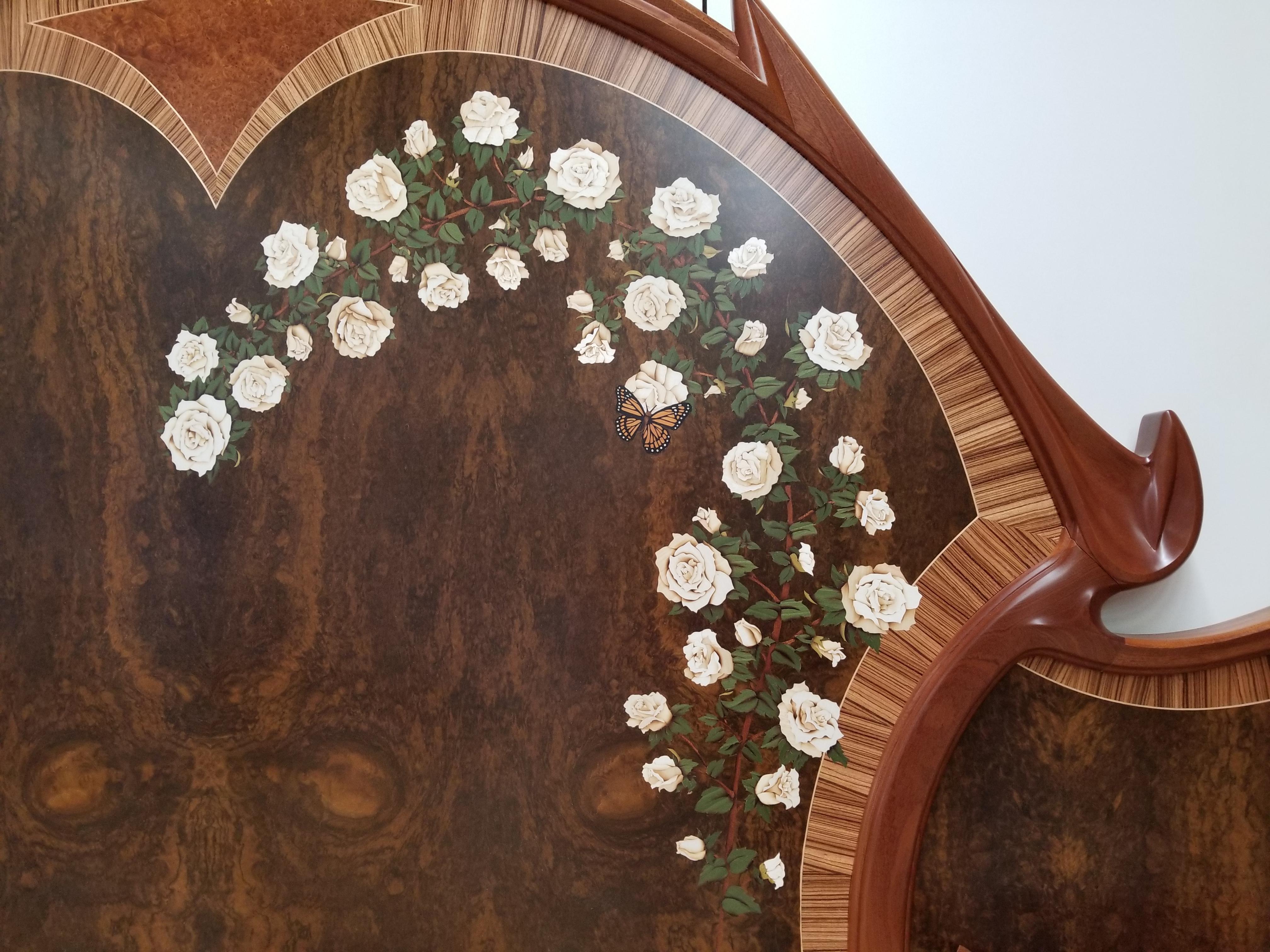 I was honored to judge the Veneer Tech Craftsman's Challenge and AWFS Fresh Wood awards this year. Over the years, I've judged many regional and local shows. If you're considering entering a contest, read below for perspective on the process, what judges look for, and get a step up your competition. 
Besides the bragging rights to winning these prestigious awards (I've won four Veneer Tech Craftsman's Challenge prizes including the grand prize—can you tell I am still very proud of that?), there can be big money to be had, too. 
Nicholas Maraldo won the Fresh Wood Best of Show award for his Nautical Marquetry Table. The award also included a trophy created by one of this year's judges, Judson Beaumont, and a software package from KCD Software.
First impressions
Remember the adage, "You only get one chance to make a first impression?" This is also true when entering a competition. The first thing judges see is a photo of your work, and the quality of the photography heavily influences judges' decisions. Make sure your photos match the quality of your work.
Most competitions start with the preliminary round. Entrants are scored through a grading system by a group of judges working independently. The judges then submit their favorites to the awarding organization.
My first pass starts with a simple pass or fail, and then I take a closer look, create a rank of those that made it through, and submit my results to the award organization. Once scores are tabulated and finalists selected, judges meet in person for another round. At this stage, the finalists are independently re-judged, scores are re-tabulated, and then the fun begins. 
Top ranked pieces are discussed and compared to the runner-ups. We then have an opportunity to point out various features and/or possibly educate each other on particular elements within a piece. Questions are raised and the backup materials are often reviewed to help clarify these issues.
Tiebreakers 
In the case of ties, picking a winner can be a challenge. I look for imperfections in craftsmanship or design (proportion, balance, etc.). If I can't find any, then originality and creativity come into play. Judges also acknowledge and admire risks taken, even if they're not executed perfectly, much like an Olympic skater attempting a triple jump, toe flip thingy. Even if they fall, they still get points for trying.
While the Craftsman's Challenge is judged by only the photography submitted, Fresh Wood finalist pieces are shipped to Las Vegas to be exhibited and judged during the AWFS show. Because we were able to physically inspect the work, judging was more intense and critical. This process revealed imperfections that the photographs did not. In a few cases, the photo was better than the actual piece! 
Scott Grove judged both the Veneer Tech Craftsman's Challenge and the AWFS Fresh Wood competitions this year. He is a previous multi-time winner of the Craftsman's Challenge.
Considerations
Photography - Some entrants submitted only one photo with no details or alternate views, which left us asking questions. Judges can't make assumptions, so they went into the "pass" pile. I can't stress enough how important quality imagery is, and remember, the Craftsman's Challenge judges rely only on photos and supporting material.
Photos do not have to be taken in a studio; shop floor shots are fine. But it's critical to have clear, good lighting, and make sure you submit as many photos as you can, in different angles and close ups of details. A process shot of a complicated technique is also as valuable as a written description.
Finish – The finish quality was a consistent issue; rough or unfinished surfaces disappointed judges. Make sure your finishes are finished.
Dust – Some interiors still had sawdust inside, which is a mark against the piece. Make sure you clean ALL of your surfaces, including interiors.
Pulls – Store-bought door or drawer pulls seemed out of place on some pieces. Make sure you incorporate an entire aesthetic in your piece.
Attention to detail – Paying attention to details sets your work apart. At Fresh Wood, a few pieces had misaligned mechanical fasteners; handwritten labels not sanded off; or a major chip or open joint seam left exposed, which could have easily been filled with at least wax.
CNC or handmade - Many pieces incorporated CNC technology, and the maker used digital design, and it's important to make note of that in the description and process shot. These technologies are fine, and are the way of the future. But with that said, judges often give more weight to finely executed handcrafting; if two pieces went head to head, the handcrafted piece received the higher score. 
One of the judges, Wendy Maruyama, a world renowned furniture artist, noted during an open panel discussion at AWFS that designing on a computer or small scale can skew proportions once enlarged, and this was obvious in some pieces. She recommends creating full scale drawing and/or models. 
Odds of winning – It's worth entering your work, even if you think it won't win, because the odds might be in your favor. In some categories of both contests, there were only a few entrants, increasing your odds. Also, the Craftsman's Challenge has a first-timer category, which helps new makers shine. 
Extra credit – For Fresh Wood, everyone was also required to submit a poster graphic describing the piece both with images and descriptions. This was another opportunity to dazzle the judges with a visual punch.
I encourage more people to enter competitions, including industry pros, students, and hobbyists alike. We have a new generation of craftspeople coming up the ranks and making amazing work, alongside master craftspeople who continue to push their own boundaries. Well done everyone! I look forward to seeing the next round of contestants. 
Have something to say? Share your thoughts with us in the comments below.