Marquetry goes 3D in Scott Grove's breakthrough patriotic creation
October 26, 2020 | 8:30 am CDT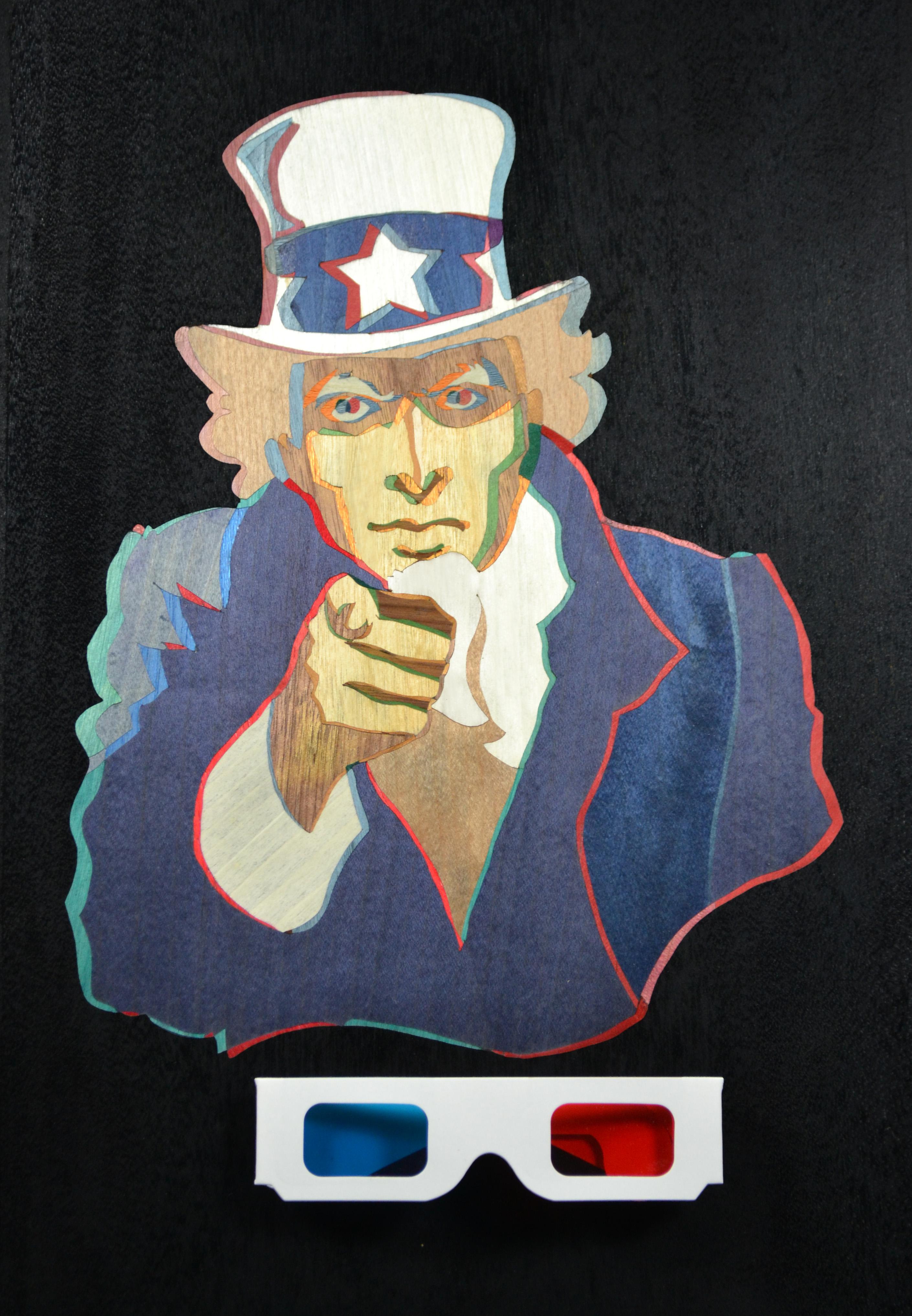 CANANDAIGUA, N.Y -- Master veneer artist Scott Grove has taken his latest marquetry project to a new dimension by applying 3D graphic techniques to make a marquetry image seemingly come out of the wood.
It's Up To You, uses the iconic Uncle Sam's "I Want You" image in a never-before-seen visual 3D effect in wood. Grove says the piece is also a statement about the current political turmoil, the importance of the upcoming election, as well as the fortitude needed to find common ground.
"I'm an artist first and a craftsman second, but expressing my thoughts through art and technique is a vital part of my creative spirit," Grove said. "I'm very concerned about the suffering that Americans have been experiencing, so I took the opportunity to add to my patriotic and political body of artwork. With this piece, I express hope in the country that I love while challenging my veneering skills."
Grove, a multiple winner of the prestigious Veneer Tech Challenge Award, achieved his special effect by combining 32 hand-cut, custom-dyed veneer pieces with chroma color separation in a classic process, creating a completely new method of marquetry. When the work is seen through a pair of red and blue 3D glasses, Uncle Sam's finger jumps off the surface and points directly at the viewer.
Many of the visual elements are made from fine, thin strips of red, blue and green-toned veneer, with a number of them overlapping the central form. One of the technical challenges was to pick the right progression of dyed veneers, and sequencing them was quite challenging; the layup took more than 50 hours of magnified detailed work.
The dyed veneer was a critical part to the success of the piece and carefully selecting and placing each element helped to emphasize the 3D composition. Grove also worked with a computer program to create the color separation while processing the image twice: once for the body and once for the pointing finger.
There are many layers to Grove's creative expression in this piece: He says the blurry appearance of the stand-alone work reflects the turmoil of today's political and social environment and the glasses' red and blue lenses represent the two-party system. "Viewers must interact with the piece: They must put on the glasses and use both colors to find the clarity and compromise that America needs today," Grove said. "All sides merge to form a new image, then suddenly, Uncle Sam is clear in his purpose: It is up to you, America, to make change and heal our nation."
Grove states, "I want to encourage all citizens to take action and accept responsibility, not only in this election, but in our relationships with others in our everyday lives, with our fellow Americans, and with our global neighbors as well." He adds, "Please vote on November 3rd and in every election from this time forward."
Scott Grove demonstrates a sprial match veneer layup.
Grove, who has contributed a number of articles to Woodworking Network and FDMC magazine, is an international award-winning master craftsman, woodworker, woodturner, artist, sculptor, teacher, author, tool designer, small business owner, and YouTuber. He also lectures, demonstrates, and judges at national and international conferences. His work can be found in prominent museum, gallery, and private collections. He maintains a studio in the Finger Lakes region of Western New York, where he produces Zoom classes, commission work, and speculative art as well as limited edition pieces. Visit http://www.imaginewoodworking.com, a portal to Grove's sites, for more information.
Have something to say? Share your thoughts with us in the comments below.